In episode 15, three companies came on the show. First was Hammer by Rohit Gandwani, Second was PNT Robotics and Automation solution by Pratik Pedenekar and Ashish Patil and Third was  Coco-Fit by Shashikant, Sunil Kumar, and Pawan.
At the end of the episode, the shark lesson of the day was given by Ashneer about the execution game. He shared that execution is the most important thing to be done along with customer and manufacturer relationship development. Pitch is good or bad that's not much important but the execution of your products must be extreme.
Do follow us on Instagram and remain updated with Indian Startup Updates!
Index:
Hammer Lifestyle:
A smart brand for smart people. It manufactures the latest edition of Bluetooth headphones, electric toothbrushes, Wifi plugs, wireless chargers, and digital watches. It was started in 2019 and till 2022 they have served 1.5 lakh customers. It has a total of 14 SKU ( Stock Keeping Unit ). Hammer Bash, Watch, and Wireless chargers are the top 3 SKUs of it.
In 2020, it had total revenue of 2.5 Crore. In 2021, it was increased to 5 crores and in 2022, till now, it has achieved 6 Crore and Hammer is forecasting to touch 10 Crore this year. Basically, it is a brand that manufactures key electronic gadgets. An electric brush is a completely new and unique start-up product in India.
Who is the founder of Hammer?
Rohit Gandwani is the founder of Hammer Lifestyle. Chand Bhatia and Rohit Singla are his business associates. Rohit defines himself as very realistic, practical, and ambitious. Aman was his idol from where he thought to do so.
He also has a vision to make electric brushes available across India as many foreign countries like Germany, the U.S, the U.K, and others are ancient users of it.
Did Hammer get a deal on Shark Tank?
Pitching is good or bad does that matter a lot? No, even if you didn't pitch well but your product has that power, it will pull the investors to put their money into it. With such powerful products, Rohit came into Shark Tank India with a pitch of 30 lakhs in exchange for 3% equity in the business, company valuation is around 10 crore.
After the demonstration, the pitch was getting very interesting to watch. Peyush was continuously trying to compare Hammer with Boat which made Rohit very uncomfortable to respond to it. Namita was first to go as she found this market very cluttered and business with many SKUs is quite hard to handle and went out.
Peyush was not much impressed by his attitude and words and said, "I think I need to take 50% of the company for 5 crores but I know you'll not agree to that" and moved out. Aman, the silent shark, finally spoke as he also has the same field of production. He told Rohit that he is the villain of the market in this field and directly asked him to sell his company for 1 crore to which Rohit asked what would be his role after that. Aman replied that they'll work together and build together.
Anupam and Ashneer gave him an offer of 1 crore for 25 % equity in the business. Rohit asked Aman to revise his offer for equity to which Peyush asked if he was selling it, then he'll also buy it for 1crore. Ashneer also encountered that he'll buy it for 1.5 crores, the pitch was getting more interesting. Anupam went out of the pitch as Rohit was only going with the words of Aman, Ashneer still remained in the pitch with the same offer.
Rohit took a break to drink water, Aman also took advice from Namita, and then Aman revised his offer for 1 crore for 75% equity, Rohit rejected the offer. Aman again changed his offer to 1 crore for 50% of the company, Ashneer encountered and gave an offer of 1 crore for 25% due to which Aman made his offer to 1 crore for 40%, which was non-negotiable.
Ashneer went out with laughter, Anupam said that Rohit was going to get no deal but Aman again repeated his deal which was of 1 crore for 40% equity, Rohit took the deal and his check and moved out.
PNT Robotics and Automation Solution:
PNT is into Machine Learning, IoT, Robotics, A.I and such types of modern technology. It manufactures Robots that can be useful to humankind and can work like them. A robot named Ado is made by PNT which can speak in various languages like Marathi and Hindi. It can save your face image in its memory and can recognize you afterward.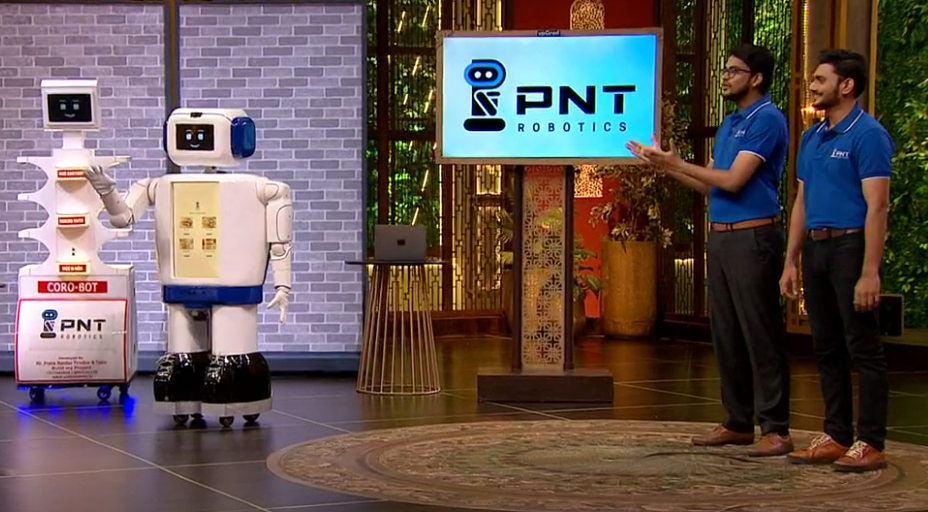 It can also exercise human emotions like Melancholy and Anger. It can catch the actual emotions from an individual face. It can also express certain emotions through certain controls. It also advertises itself in the market. You can also place an order from the screen available on its chest. PNT had also served during the covid-19 in various hospitals to maintain social distancing and safety.
Who were the founders of PNT Robotics and Automation Solution?
Pratik Tirodkar and Ashish Patil are the founders of PNT from Mumbai. Pratik is an instrumental engineer and is specialist in Robotics. He had also delivered training programs in more than 200 Colleges including IIT Bombay, IIT Madras, NITS, and more. He had also made an ordinary factory prototype for the Indian Navy which was named Kavach.
Ashish has knowledge of A.I. ( Artificial Intelligence ). They both together made this company as it is and can be useful in hospitals, schools for practical education, and even on Airports to cut down language barriers.
Did PNT Robotics and Automation get a deal on Shark Tank?
In season 1 episode15, PNT had made a very electrical and Robotic pitch as it was actually pitched by Ado, a robot that is an A.I, automated and interactive. During the pitch demonstrations, all the sharks were impressed by it. Also, the sharks tried it once.
Anupam and Aman moved out as they didn't find that Pratik and Ashish were clear themselves about what they wanted to do. Namita also moved out as she didn't have any expertise in it. Ashneer said that they have made a college project their life, they should leave it and must work for a good company to find the actual problem. Peyush is from the tech field and wanted to give these two youngsters a chance and gave an offer of 25 lakhs for 25% equity and 25 lakhs as debt. Pratik asked to do it for 20% with the same conditions, Peyush said it was nonnegotiable.
Pratik and Ashish discussed and made a deal at 25 lakhs for 25% equity of their business and 25 lakhs as debt. Peyush said that he wanted India to be more developed in the technological field thus he is investing in PNT. After the show, they received an MBA course which is flexible to do from UPGRAD for free.
Coco-Fit:
Coco-Fit, its name only reminds the sweet water and straw. Coco-Fit makes its all products from coconut which includes drinks and eatables. It was started in the year 2019, even after two years of pandemic they managed to start 31 outlets of it in 7 different states. It had also received various franchise offers from different countries.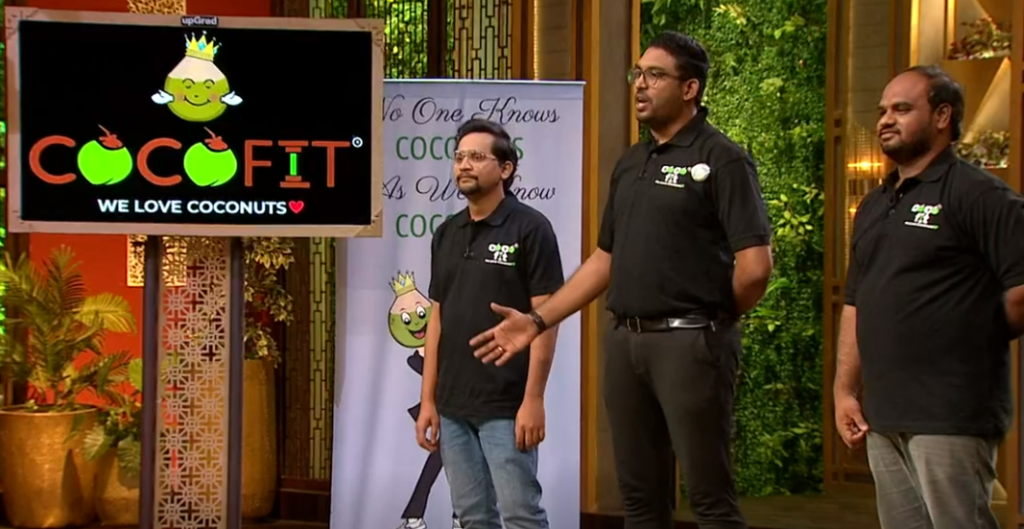 It follows the master franchise concept which means direct selling of franchises in the market and had sold two franchises for 1crore in the last 2 months, and if the franchise sells any units they received 50% of it. It basically follows a franchise business. It has a total revenue of 3.5 Crore till now from which 2.4 crore is the gross margin of it. Net profit 2.10 crore in 2022.
Who are the founders of Coco-Fit?
Shashikant – Founder and CEO of Cocofit, Sunil Kumar – CEO of the company, and Pawan is the director of the company. They all are software engineers and childhood friends and are still working in their respective companies. They shared that India is 3rd largest country in the production of Coconut but still it is a very unhygienic product.
Coconut transportation is also very difficult because of its big size and weight. Healthy nutrition juice was one of the best options to stay fit but sellers use water in it. To overcome all these, Cocofit was born. As it is underrated, unhygienic, and unutilized, it is a great platform to go with.
Did Coco-Fit get a deal on Shark Tank?
It was the funniest pitch of Shark Tank which was for 5 Rs in exchange for 5% equity in the business. Yes, it was the actual pitch given on the show and it is unexpected also. What was the story behind this pitch?
So, the actual story was that they have already earned a huge amount of money but wanted someone who is an expert and can give them some guidance for taking it forward in the market. All the sharks were very impressed by the sales and revenue numbers but were not much convinced with the model of the business.
Ashneer directly went out by saying that even if they were giving it for 1 Re, he wouldn't buy it. Peyush also believed the same and went out. Aman, Anupam, and Namita gave a trio offer to Cocofit for the same pitch as demanded of 5 Rs for 5% equity in the business and also disobeyed Ashneer and Peyush's concept of franchise issue. Cocofit took the deal from the trio and got their check of 5 Rs from sharks. Aman said that he can pay them in cash with a burst of laughter.
Do Share Your Thoughts:
Do tell us all your thoughts in the comments section below, we look forward to reading all the comments in the section below.
Also, do check our Startup Resources section, and don't forget to join our weekly newsletter 📰 which contains pure startup and business wisdom and no bullshit!!
Do follow us:
Related Articles:
Which companies presented in Episode 15?
First was Hammer by Rohit Gandwani, Second was PNT Robotics and Automation solution by Pratik Pedenekar and Ashish Patil and Third was  Coco-Fit by Shashikant, Sunil Kumar, and Pawan.
Who are the investors in Shark Tank India?
Ghazal Alagh – Co-founder and Cheif Mama of Mamaearth
Aman Gupta – Co-founder and CMO of BoAt
Vineeta Singh – CEO & Co-founder of SUGAR Cosmetics
Ashneer Grover, Founder, and MD of BharatPe
Peeyush Bansal – Founder & CEO of Lenskart.com
Namita Thapar – ED of Emcure Pharmaceuticals
Anupam Mittal – Founder and CEO of Shaadi.com