In episode 2 of the Shark Tank show India, which is getting huge popularity due to the new businesses and unique ideas appearing on the show by different entrepreneurs.
In episode 2, three companies came on the show. First was Tagz by Anish and Sagar, second was Head and Heart by Gurunandan Singh and his wife Rajvinder Kaur, and third was Agri- Tourism by Pandurang and Vaishali.
Episode 2 was quite interesting to watch and learn as all the sharks share and suggested a few ideas related to business models. Vineeta Singh explained about the Gross margin, which means the amount of extra profit you earn. For e.g.:- if you sell a product for Rs 100 and it just took 40 rupees in manufacturing then your gross margin is 60%.
At the end of the episode, Anupam gave the lesson of the day about valuation. It means how much your company is actually worth and is measured by its profit margin and sales.
Also read: Who are the judges in Shark Tank India?
Index:
Company 1: Tagz
Tagz is an urban Gen Z snack brand and was launched 1.5 years back in India.
It contains popped chips with 50% less fat, No cholesterol, 0% trans fat -gluten- palm oil, free of artificial colors and flavors. Tagz manufactures six different Lip-smacking flavors and addition to that, 4 international flavored dips.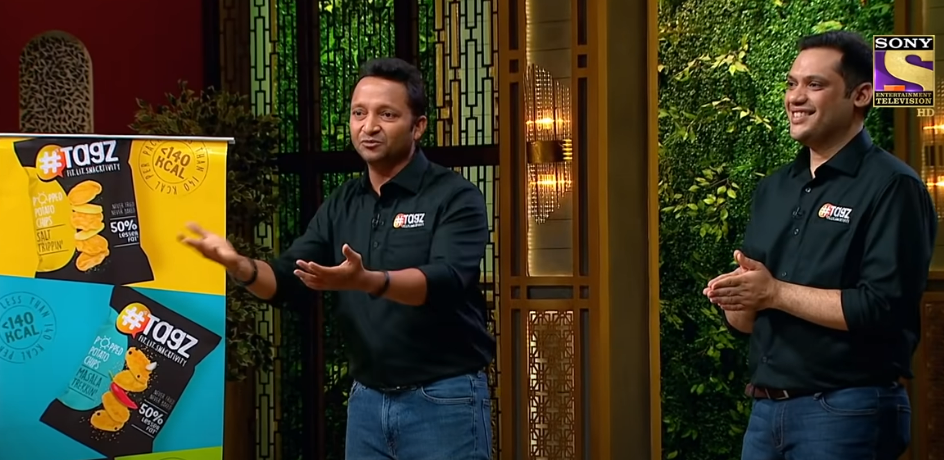 It is available on more than 30 e- platforms including their own website, Amazon, Big Basket, and so on. In simple words, it is a wafer brand that helps to fulfill the cravings of all the customers with healthy eating. It has a retail market in more than 2000 stores.
Founder story and details:
Anish and Sagar are the founders of Tagz. The story behind is quite practical and logical which everyone thinks of but doesn't take a step towards it.
Here, Anish and Sagar decide to change the food quality, not the habit of India. The day they found that the Indian market is flooded with Junk and Fried snacks, which is usually growing across the world, especially among youngsters, to which they decide to somehow reduce the ratio of eating such fried oil chips and other eatables and that's how Tagz, popped chips was Born.
The vision of the founder is to replace fried chips eatables from the consumers' hands with Tagz, as people already know the drawbacks of eating junk items, even then they cannot resist having it. So, Tagz's founders are focusing on replacing it.
How was their Shark Tank Pitch?
Anish and Sagar came on Shark Tank India in search of investment of 70 lakh rupees for a 1% stake in the company, which means company valuation is around seventy Crore rupees and all the sharks were shocked by this pitch.
Anish and Sagar served a few samples with their international dips, all the sharks were very impressed by the taste of Tagz. Anupam went out first. He appreciated their confidence, taste, even from their sales but turned himself out by pointing to the company's valuation.
Vineeta Singh didn't find the number of retailers as per their 100 crore forecasting business and went out. But behind that Aman and Namita seemed to be talking to each other and they gave the combined deal of 70 lakh rupees for 4% equity and justified their deal by suggesting that they not only needed money, they also needed expertise, networks, distribution channels, and branding to which Ashneer encountered and gave an offer of 70 lakhs for 3.5% equity and pulled Aman and Namita down by criticizing their suggestions as he had already made 'Too Yumm' a brand.
Tagz founders gave a counteroffer of 70 lakhs for 2.5 percent for both the offers they received, Aman and Vineeta changed their offer to 3% equity in return to encounter that Ashneer cut down his offer to 2.75% for 70 lakhs investment, Anish requested to Ashneer to low down to 2.5% but Ashneer directly said No and unfortunately, they didn't have any option, as they needed an investment.
They accepted the offer and made a deal. Ashneer handed over the check and the entrepreneurs moved out with hope and confidence along with thanksgiving gestures towards the Sharks.
Company 2: Head and Heart
Head and Heart is not a product or good, it is a technique which seems to be magical but practically there is no magic. It's just a practice of Japanese Scientific Technique, which is popularly famous as Brain Optimization.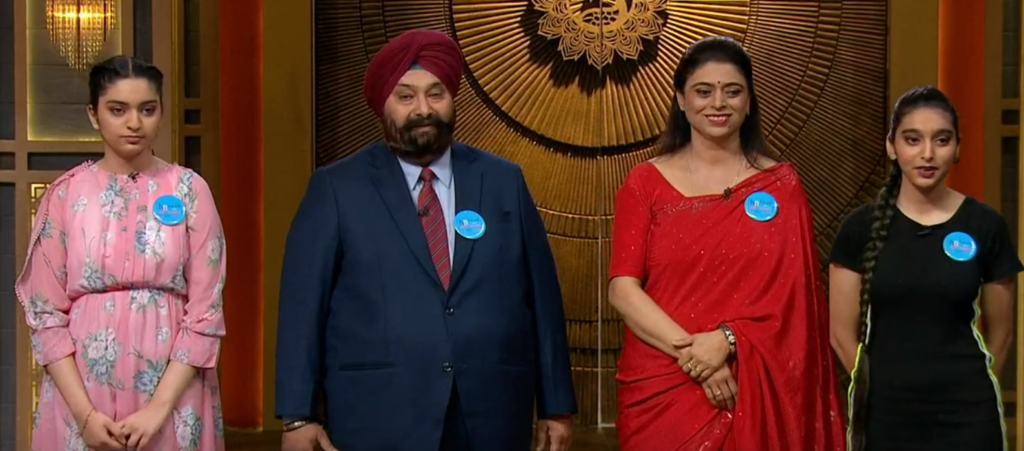 Head and Heart is a team or group of people who gives training on this technique and have already trained around 5000 participants. It helps to develop the brain's capabilities of performing activities, increases focus. It has gained 1100 participants from Seven different countries when they took their first pilot session in New Delhi. This technique helps to take Brain Capabilities to next level. They have also tied their knot with the Himalayan education board as an elective subject for grades 9 to 12.
Founder Story and details:
Gurunandan Singh and his wife Rajvinder Kaur are the founders of the Heart and Head training business.
Gurunandan used to work in the corporate world for 23 years. For some official work, he went to Malaysia, and there he had seen this technique in a seminar. His wife Rajvinder Kaur is an educationist from where he got an idea of implementing this technique in India.
He discussed this technique with his wife and they planned to organize and call a trainer for a batch of 15 students and they got a complete positive result. Head and Heart is the only approach of its founders with a vision of increasing their focus, brain capabilities for their benefits as it is a common problem that children get distracted to which is a solution as per their founders.
How was their Shark Tank Pitch?
Singh Family came upon the new popular show in India, Shark Tank with a pitch of 50 lakh rupees for 5% equity in the business, which shows company valuation around 10 Crore rupees.
Gurunanadan showed how this technique works on the show with the help of his daughters Mehak and Cehak. Sharks were completely surprised as it seemed to be magical at the beginning, which made Ashneer very confused and he turned himself out as he found it very tricky.
Anupam didn't find this technique to be competitive on the online platform to which he also went out with wishing him all the best. Aman and Vineeta found the same issue of clarity about the Head and Heart model or training and moved out.
Namita Thapar suggested Mr. Singh focus on Corporate training and went out of the pitch. Mr. And Mrs. Singh didn't find any investment and went out with disappointment by thanking all the Sharks.
Company 3: Agri- Tourism
Agri – Tourism was started in the year 2003. It is not a unique concept but it is a new approach in India.
It's like the tourism industry. When tourists from other cities come to villages, this business team helps them as a guide and show them the Village, tradition and gives information about its culture, explains about the living of farmers.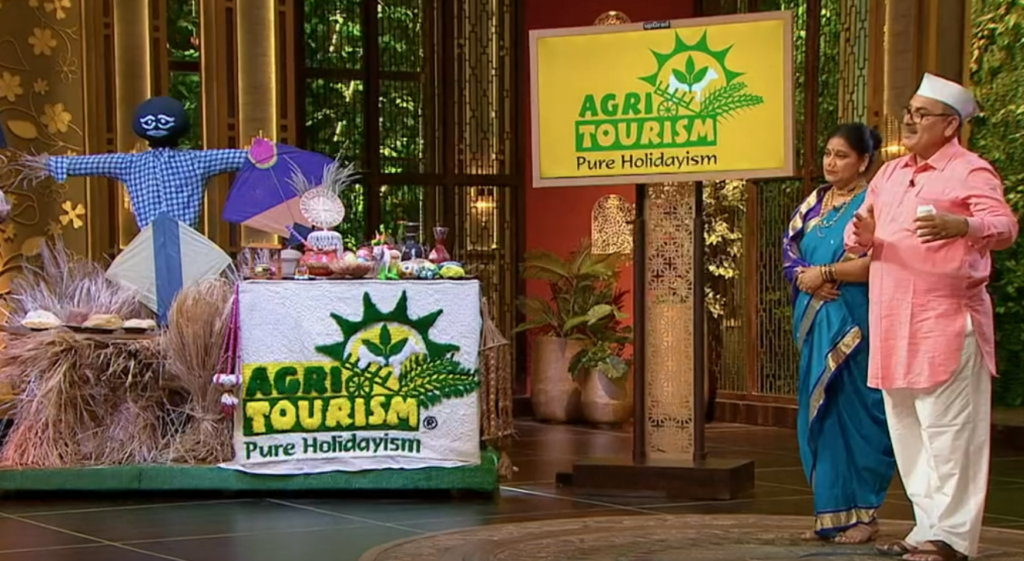 This tourism industry tries to connect cities to the villages. It has 600 farmers' support teams. In year 2018- 2019, they attracted around 7 lakh tourists and earned an income of 53 Crore rupees.
It focuses on domestic tourism, not on international, helps to increase the income of other farmers joining to this up to 5 times than their current income. Agri – Tourism also trains and builts the farmers and the team.
Founder story and details:
Pandurang and Vaishali Taware from Maharashtra are the founders of Agri- Tourism industry.
Pandurang is the son of a farmer. He had an experience of 12 years in Pune in the sales and marketing department. He decided to start this business because of his father's dream. As in today's world, the son of a doctor wants to become a doctor but the son of a farmer doesn't want to become a farmer, which is a very shameful thing to hear. Pandurang has also received a National Award from the Prime Minister of India. He was one to draft Agritourism policies in 2002 and those were implemented by the government in 2018- 19.
Pandurang came back to the village to fulfill the dream of his father and to give value to the farmers, which they respectfully deserve but haven't received yet.
How was their Shark Tank Pitch?
Pandurang wanted to expand his Agri- Tourism business for which he needed investment and came to Shark Tank India in Season 1, Episode 2, seeking 50 lakh rupees for 5% means the company's valuation came around 10 Crore rupees.
He wanted investment so that he could join with more farmers and could attract more tourists from other cities at the domestic level. Namita appreciated their pitch and their work.
Aman went out by suggesting Pandurang join his tourism with Make My Trip and other such platforms from where it will automatically help him and his team to gain tourists.
Vineeta didn't find the industry related to her so, she moved out. Anupam gave a piece of advice that he didn't need investment as he is already earning a good amount of revenue and turned himself down.
Ashneer Grover also moved out as he thought they were focusing on the wrong model of demand whereas, as per him, they should focus on the supply channel. Navita gave a lesson to Pandurang that it is not necessary for all the businesses to have funds and technology and didn't give any offer.
All the Sharks went out with a suggestion, not an investment.
Do Share Your Thoughts:
Do tell us all your thoughts in the comments section below, we look forward to reading all the comments in the section below.
Also, do check our Startup Resources section, and don't forget to join our weekly newsletter 📰 which contains pure startup and business wisdom and no bullshit!!
Do follow us:
Related Articles:
Which companies presented in Episode 2?
In episode 2, three companies came on the show. First was Tagz by Anish and Sagar, second was Head and Heart by Gurunandan Singh and his wife Rajvinder Kaur, and third was Agri- Tourism by Pandurang and Vaishali.
Who are the investors in Shark Tank India?
Ghazal Alagh – Co-founder and Cheif Mama of Mamaearth
Aman Gupta – Co-founder and CMO of BoAt
Vineeta Singh – CEO & Co-founder of SUGAR Cosmetics
Ashneer Grover, Founder, and MD of BharatPe
Peeyush Bansal – Founder & CEO of Lenskart.com
Namita Thapar – ED of Emcure Pharmaceuticals
Anupam Mittal – Founder and CEO of Shaadi.com