Sneaker enthusiasts, are you tired of keeping your precious kicks spotless? Say hello to Sneakeraser, the ultimate solution to all your sneaker cleaning needs! Will the sharks be able to step up their game and invest in this innovative product? Let's find out!
Have you ever had an incomplete outfit when going to the office, or just had a hard time cleaning the grease, scuff marks, and dust on the shoes you wear?
Well, all your worries are over from this day! Let me present to you Sneakerasers! The perfect, portable instrument to clean those miserable marks or stains on your shoes in a matter of minutes.  
Sneakerasers– The sneaky way to clean shoes
Sneakerasers at a glance:
| | |
| --- | --- |
| BUSINESS Idea | Advance Erasers that help in cleaning strain from Shoes |
| ENTREPRENEUR(S) | Chris Pavlica And Kevin Consolo |
| ASKED FOR | $200,000 For 8% |
| ACCEPTED OFFER | $200,000 For 20% |
| SHARK | Lori Greiner And Alex Rodriguez |
| BUSINESS STATUS | In Business |
| Buy on Amazon | Buy Now! |
Index:
Who invented SneakERASERS?
SneakERASERS saw the light when the founders Chris Pavlica and Kevin Consolo came together across the most common problems with shoes. The soles were dirty!! This led to an adventure of its own.
The founder had to clean the soles for more than 20 minutes before they could find their shoes as bright and new as before. They were looking for an idea to start their own business and the two of them found their answer with Sneakerasers!
Initially called Sole rubbers was a premoistened, two-sided cleaner, a product that can be moistened with two substances, they being alcohol and water.
Did SneakERASERS get a deal on Shark Tank?
The two innovators Chris Pavlica and Kevin Consolo clubbed their expertise and were seen on the shark tank's episode seeking an investment of $200,000 for an 8% of stake in the business.
Kevin and Chris presented their idea of how to make their sneakers clean with instant cleaner. The cleaning buff comes with strong cleaning power and enables the user to remove dirt with just a soft and smooth swipe.
Till now the duo has been able to achieve sales of $1.1 million and would like to close the year at $1.8 million. With only 12% of their business from e-commerce sales, their next important step was to revamp their online business to expand reach.
Duo already knew that Lori and the guest shark Alex Rodriguez had invested in a similar venture of product that was to remove odor for sneakers and gloves.
Both Lori and Alex did show interest in the business and made an offer of $200,000 for a 20% stake. The idea of Sneakerasers was good and had the potential to grow in retail outlets, sports outlets, and gymnasiums. Mark comes with another proposal of $200,000 for 12.5% equity to allow shoe manufacturing to tie with packaging companies. The duo made a counteroffer and Mark was out of the deal.
Chris and Kevin quickly came back to Lori and Alex's offer for agreement and sealed the deal at the shark tank episode. Chris and Kevin left accepting an offer of $200,000 for 20%.
What happened to SneakERASERS after Shark Tank?
Their growth was in small steps forward as they found their retail partners to showcase the product to customers. They started online and slowly after appearing on shark tank they expanded their retail reach. They found that in the year 2019 alone they expanded from 200 to 3000 stores across the country.  Some of the names are Krogers, CVS Costco, and many more.
The rating on Facebook is a mesmerizing 5 stars and the customers are finding it a useful product. There is a need for this product in every household.  
The current business of Sneakerasers was acquired by FITbrands. While talking of revenue it got changed from 1 million to 1.8 million from 2016 to 2018.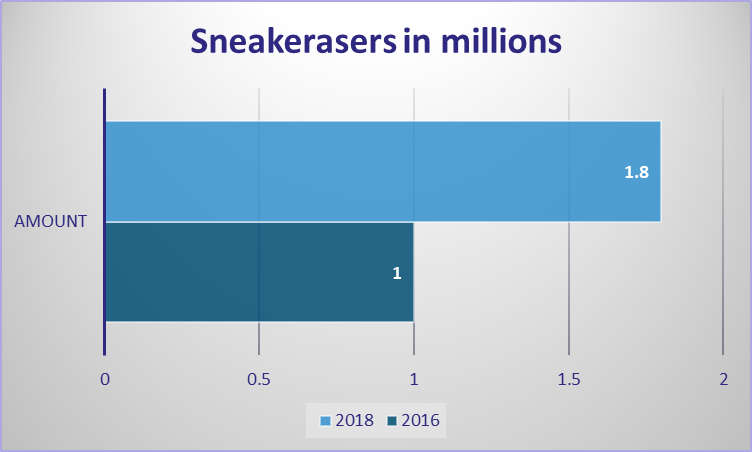 The company introduces two more lines of products called golf erasers and auto erasers and wants to expand the retail outlet part of the business far and wide.
What is SneakERASERS net worth?
At the time of the shark tank appearance, SneakERASERS was valued at around $1 million. As of now, it is acquired by FITbrands.
Product Analysis:
This is a complete on-the-go shoe shiner that makes your shoes look new in a matter of minutes. It uses substances to clean your shoes i.e., water as well as alcohol. It is a two-sided cleaning sponge that absorbs the dirt, grease muddy patches, and wipes even the toughest of stains in one wipe.
The product can be used on leather shoes and sneakers.
Interesting facts:
The company also expanded into golf erasers and auto erasers
They used the fact that they were in 3500 stores in the country to attract the sharks
They came up with the idea when they were late for a meeting.
The company sells its product for as cheap as $10 for a pack of 10.
The average rating for the product is 4 out of 5.
Is SneakERASERS still in business?
Yes, this company has grown by leaps and bounds over the years and has seen mighty steps of change toward progress. This small product company has made big changes in the lives of millions of consumers alike.
Starting in 2016 and having a turnover of $1 million in just two years and still growing is miraculous.
Do Share Your Thoughts:
Do tell us all your thoughts in the comments section below, we look forward to reading all the comments in the section below.
Also, do check our Startup Resources section, and don't forget to join our weekly newsletter 📰 which contains pure startup and business wisdom and no bullshit!!
Related Articles:
What is Sneakerasers?
Sneakerasers are the perfect, portable instrument to clean those miserable marks or stains on your shoes in a matter of minutes.  
Who founded Sneakerasers?
The founders Chris Pavlica and Kevin Consolo came together across the most common problems with shoes. The soles were dirty!! This led to an adventure of its own.