Boobie Bar – The superfood for super moms…
Are you having a hard time in your pregnancy and face problems in lactation and raising a family well here is the answer. We present to you the "present-day superfood"- Boobie superfoods. With a highly nutritious range of products made from organic ingredients and a special herbal mixed with your favorite ingredients like oatmeal, cookies, and even chocolate, it's ideal to increase lactation when it's needed the most.  
This product comes with numerous benefits like non-GMO, Dairy-free, Gluten-free, vegan, and soy-free.
Boobie Bar at a galnce:
| | |
| --- | --- |
| PITCH | Herbal lactation snack bar |
| ENTREPRENEUR | Wendy Colson |
| ASKED FOR | $150,000 For 10% |
| DEAL | $150,000 For 20% |
| SHARK | Daymond John |
| STATUS | In Business |
Index:
Who is the owner of Boobie Bar?
Boobie Bar surely has a medical history, as its creator, Wendy Colson was a nurse and a lactation specialist who came up with the idea to help breastfeeding moms.
She came up with an organic trio mixture of turmeric, moringa, and Shatavari which has become an unknown hit among its consumers.  This business was a dream until the creator injected $50,000 of her family inheritance to start the production. Had a good start on this business as women started pre-ordering before production was underway. The products have gained a retail presence at major stores like Walmart. 
Did Boobie Bar get a deal on Shark Tank?
Wendy Colson came into Shark Tank seeking an investment of $150,000 for a stake of 10% of Boobie Bar under the Boobie brand. The hottest bar in the country is the comment that created a doubt in the mind of Mark Cuban who later had the patience to hear her out.
But he still was out due to her not having proper medical trials on only her own patients. The guest of the show Sarah and Lori were given the bars to taste. Sarah liked it as well as Daymond John.
Firstly, Mark was out, then came the turn of Sarah, Lori was out due to similar reasons and finally, Daymond and Kevin remained. Kevin gave her an offer of $150,000 for 20% that was rejected by Wendy and finally Daymond came with the same offer asking if she would be the face of the brand. Without hesitation, she accepted the deal.       
What Happened to Boobie Bar after Shark tank?
Progress and success are closely related and in the case of Boobie Bar success came in one step at a time. Today the company has had a wide presence on the social media handles. The presence of Boobie bar on Amazon and Walmart, a box of six for $17.99 is great.
While checking its revenue growth it has grown from $777,000 to 1,620,000 from 2015 to 2021.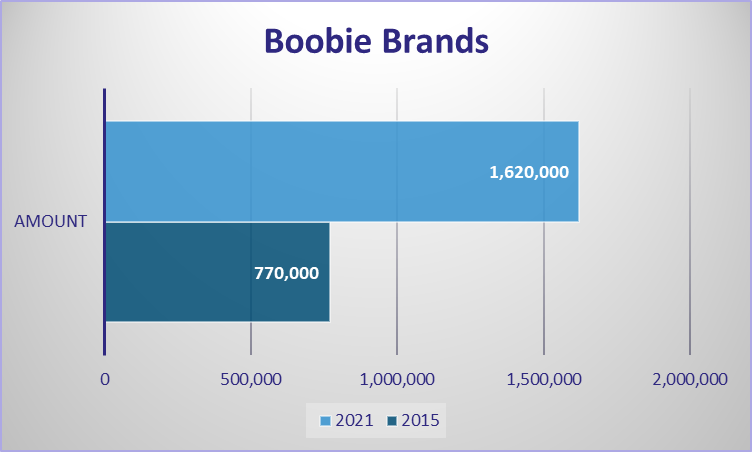 While talking about the product line:
Old:
The first product to come out of the Boobie brands company was the Boobie bar that has been sold itself online quite well and is seeing its place in retail as well.
New:
Multiple new products were inaugurated, like Hydro mom, Boobie body, Boobie bears, and Boobie bark.
Boobie body is a range of protein shakes, which is completely plant-based. It comes in sachets and bottles that can fulfill 6 servings. They are available in two delicious flavors namely Chocolate bliss and Vanilla cookie.
Hydro mom is basically an electrolyte drink for the stages of motherhood and comes in a sachet with 15 servings.
The two newcomers to the family of products are Boobie bears and Boobie bark.
Boobie bears are gummies bears that help in maternal health. They include the three ingredients for better health namely:
Lactogenic superfoods 300g
Biotin 5000mcg
Zinc and elderberry 55mg
Boobie bears are now available in many variants on the website of Boobie brands for just $20.00.
Boobie bark is an on-the-go snack that is made of organic ingredients and delectable chocolate. It majorly constitutes granola a well-known superfood. Ideal to be added to cereals or eaten on its own.
What's the net worth of Boobie Bar?
Began the story of sales on Amazon and on their own boobie superfoods web. They expanded their horizon to new stores like Walmart and Target. Sales grew to $770,000 on Amazon. Enhanced selling of their products online on Walmart where the bars came for a cost of $20.00 for a pack of six bars. Lastly, they saw the bar raise in sales as they are currently in 1000+target stores and 2000 stores in the US.
Also, valuation has shown decent growth over the period. At the time of the shark tank appearance, Boobie Bar was valued at around $750,000.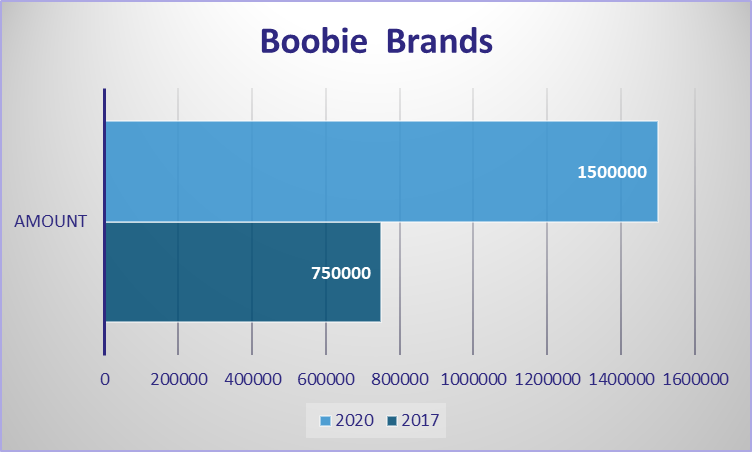 Competitor's analysis:
This company has numerous competitors here are some of them:
Interesting Aspects:
One of the most interesting perks is, to join the Boobie Ambassador Crew to get great benefits.
Have launched a Boobie referral program too.
Niche products for pregnant and lactating mums.
Boobie bark and hydro mom are the most recent products of the Boobie brands.
New recipes are shared within the community for future moms' welfare.
Is Boobie Bar still in business?
As long as the everlasting energy of brand owner Wendy Colson is alive there will be more and more product lines added to Boobie brands. In spite of their competition being strong, I hope they will still grow forever and live long in the health foods market for would-be Moms.
They have targeted to be in 2000 + stores in the US in 2020 and have brought new products like Boobie bears and Boobie body products as well as Boobie bark.
Boobie brand has earned its name in every pharmacy, grocery store, and mega mart giant after their show was aired on shark tank episode. The inventors of superfoods for super moms everywhere have seen themselves in 1000+ target stores around the state and hope to grow more.
Do Share Your Thoughts:
Do tell us all your thoughts in the comments section below, we look forward to reading all the comments in the section below.
Also, do check our Startup Resources section, and don't forget to join our weekly newsletter 📰 which contains pure startup and business wisdom and no bullshit!!
Do follow us:
Related Articles:
What is Boobie Bar?
Bobbie bar is an Herbal Lactation Snack Bar.
Who founded Boobie Bar?
This product surely has a medical history, as its creator, Wendy Colson was a nurse and a lactation specialist who came up with the idea to help breastfeeding moms.