For many teenagers, their minds are preoccupied with their own world be it an upcoming math exam or whether they are cool in front of others.
Richard Branson is the investor of the Virgin group and Carson pithed the product locker board on the shark tank. Carson, the inventor was proud to bring his own first non-folding skateboard that can fit inside a backpack and his college locker.
While Shark Tank is a reality show with the aim to hunt down to invest in the best businesses of America. This teen walked away with a handsome deal from Shark Tank as one of the youngest ones to make it happen.
Locker Board at a glance:
First non-folding skateboard that can fit inside a backpack and college locker.
Founder: Carson Kropfl
Asked For $60,000 for 15% at $400,000 valuation on Shark Tank.
Received $65,000 for 20% from Richard Branson.
Index:
Founder Story:
In September 2016, as a preteen in San Clemente, California Carson like any other kid was a thriving skate and surf enthusiast. The school locker was the place where Carson could not keep his skateboard. 
What did he do, left it – no never? Carson decided to come up with a solution. 'Let me make my own skateboard'.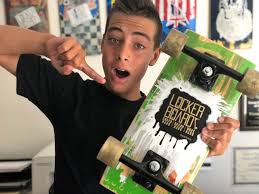 The key was the shape. "I made it kind of rectangular-shaped,"
First, the Locker Board Carson created was 14 inches long, ultimately he created a 17-inch skateboard after discovering it would fit in his locker if he angled it correctly. (A traditional skateboard is 33 inches.)
That's where the idea of the Locker Board was born and pitched to the shark tank by Carson.
Did Locker Board get a deal on Shark Tank?
Carson has been developing his ideas since he was 11. The first idea was Streetubez which led him to accidentally meet the Shark tank series producer, Max Swedlow in one of the vacations with family.
Carson was in touch with Max for almost four years, every six months. Finally, when he found out about Locker Board, Max said Carson now you are ready for 'Shark Tank.'
Did you know in 2017, Carson had made over 400 skateboards. Carson claimed he was a little nervous about the television debut but in fact, the night before filming, he practiced his pitch (asking for $60,000 in exchange for 15 percent equity) for four hours. Locker Board product, Carson pitched for his business on Shark Tank in March 2017 for an investment of $60,000 against 15% equity.
What Happened to Locker Board After Shark Tank?
The 13-year-old Carson Kropfl is one of the youngest teens to have struck the Shark Tank deal and guess is worth $325,000 already.
The hard work paid off. Carson's pitch was so compelling, two sharks and a guest shark fought to invest: Mark Cuban, Robert Herjavec, and guest judge Richard Branson. Richard Branson invested $65,000 for 20 percent of the Locker Board, giving it a $325,000 valuation.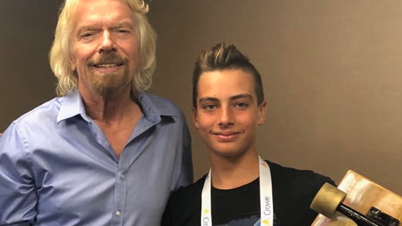 Once Carson struck the deal at Shark Tank with Sir Branson he was thrilled to know that the number of people on his website jump from five to 1,500 in a matter of seconds, thanks to the shark tank show. Orders kept rolling, making Carson "pretty dang happy."
Revenue – $68,000
How do they make money?
PS. Stix was brought as a manufacturer after Branson made an investment. Decks were constructed from 100 percent recycled wood derived from "blemish" boards.
With four different skateboard options:  24-inch designed for the skate park for $128, a 17-inch designed for tricks for $98, and two different 17-inch boards designed for cruising, each for $116 is a treat for the skateboarders.
Sustainability is important to Carson, so he donates $1 for each skateboard sold to Ocean Unite, Branson's conservation nonprofit. After Shark Tank was Aired, Locker Board has grown over 300 percent, according to the company. The boards are now sold on, Amazon and at a few local retailers. Locker Board has two patents pending, four trademarks with $68,000 as lifetime revenue.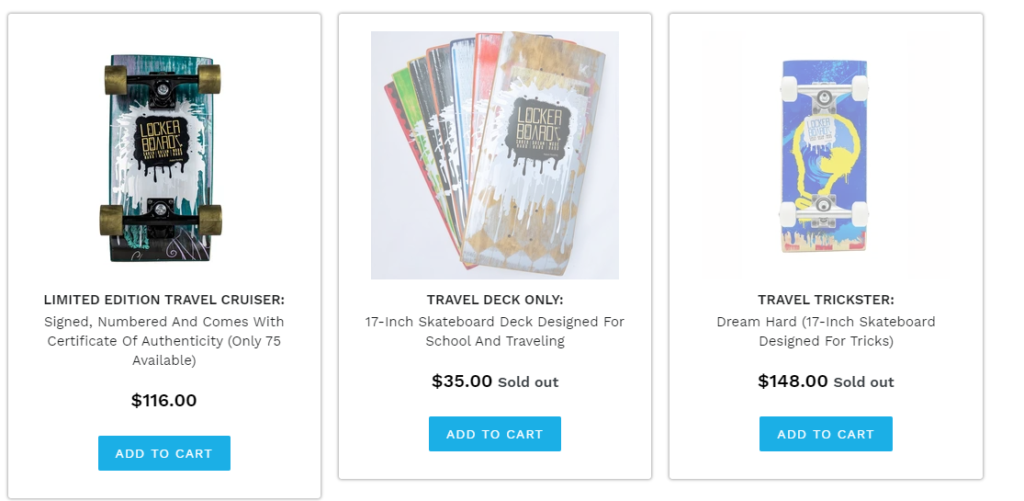 Investors in the company:
The investor's name is Richard Branson, with a net worth of $6.5 Billion.
Virgin Group, founded in the 1970s, today controls more than 400 companies.
In March 2000, Branson was knighted at Buckingham Palace for "services to entrepreneurship".
Product Alternatives:
| | | | |
| --- | --- | --- | --- |
| Product | Locker Boards | Kryptonics | Cold Stone Creamery |
| PATENTS | 2 | None | None |
| Size | 17 Inch Fits Backpack and Locker | 19 Inch Skateboard | 19 Inch Skateboard |
| Material | Maple Wood and high quality materials | Wood | 100% Bamboo Wood |
| Price | $116 | $66.07 | $99 |
| Look | | | |
Interesting Aspects:
The Locker Board possesses 2 PATENTS.
FUN TO RIDE – These Cruiser Boards were designed to cruise the streets and campus.
Carson invented this mini cruiser board was unique due to its squared-off edges to allow more room for riders to provide stability. The large, soft wheels roll right over pebbles for a smooth ride.
PORTABLE – Only NON-FOLDING CRUISER Skateboard on the market that fits inside a BACKPACK and LOCKER too.
SUSTAINABILITY – The sustainable Locker Board is handcrafted from 100% recycled maple wood.
Certain proceeds were donated to Ocean Unite for ocean conservation as a noble cause.
Is the company profitable?
The company is now growing and made $68,000 in revenues in its lifetime.
Carson hopes to see more sustainable products in the skate world. Over 13 million skateboard decks are thrown away in the US each year and here is where Carson already has an idea. Once the industry embraces this with innovative solutions, Locker Boards could be leaders in the sustainability movement.
Over 55 percent of people purchased Locker Boards on Lockerboard.net, from their mobile phones. This industry is moving online and mobile devices are important. Carson and Branson are also collaborating with Nike on a project.
Do Share Your Thoughts:
Do tell us all your thoughts in the comments section below, we look forward to reading all the comments in the section below.
Also, do check useful Startup Resources and Tools below and do join our newsletter 📰 for free for more interesting Business Case Studies 💰, Startup Insights 🚀, and Startup founders podcast 🎙️ delivered to your inbox every Sunday morning.
Do follow us:
Related Articles:
FAQs:
What is Locker Board?
Locker Board is the first non-folding skateboard that can fit inside a backpack and college locker.
Who founded Locker Board?
First, the Locker Board Carson Kropfl created was 14 inches long, ultimately he created a 17-inch skateboard after discovering it would fit in his locker if he angled it correctly. (A traditional skateboard is 33 inches.)