In episode 12, three companies came on the show.
First was Auli by Ashwariya Biswas, Second was Swee Desi by Suman Chaudhary and Vinod Kulhari and Third were Loka by Krishnan Sundararajan.
Episode 12 was quite interesting to watch and learn as all the sharks shared and suggested a few ideas related to business models. 
At the end of the episode, Anupam shared the shark lesson of the day which was for the young entrepreneurs that they should think of big ideas only as small or big things require the same amount of work. So, go to achieve the bigger one.
Also read: Who are the judges in Shark Tank India?
Index:
Company – Auli
Auli is a skincare brand. It has a completely different formulation. This industry is a B2C industry. They have their own websites and have their own workshops, classes, and live seminars from where they gain revenue. It is chemical-free and organic in nature.
Who are the founders of Auli?
Ashwariya Biswas from Kolkata is the founder of Auli. She loves to take care of her skin, she also gained knowledge about it and she had maintained her skin like a 20-year-old and she is 40.

When she goes out her friends be like where are your wrinkles? How your skin is so soft and beautiful to which she got the idea about sharing her secret tips, tricks, and formulations, which gave birth to Auli.
How was the pitch of Auli?
Ashwariya is a very confident and graceful entrepreneur which we saw in Shark ta Tank India. She came up with a pitch of 75 lakhs for 4% equity, company valuation is around 18.75 crore. Ashwariya said if they were ready to invest, she needed monitoring and their network.
Anupam went out as he didn't feel that Ashwariya is cleared or ready about marketing and all. Peyush thought that this would require a huge amount of investment in the future and moved out.
Ashneer went out with a suggestion that if she'll add a co-founder, then he or she can add value to her company. Aman said that he really wanted to invest but she is not in the right position and was turned down.
Namita always adores women entrepreneurs and said that she can run the business solo, she just needed an investor who can be the right mentor for her and gave an offer of 75 lakhs for 20% equity.
Ashwariya rejected the offer and requested to lower down her equity percentage to which Namita did it to 18%, Ashwariya again encountered 15 %, Namita agreed and signed a check of 75 lakhs for 15% equity in her business, and the pitch was closed.
Company 2 – Swee Desi
Sweet is such a word that brings water into the mouth of everyone, especially Indian people. Swee Desi is a platform that fulfills the taste of the people of any sweet from anywhere in just 24 hours, they deliver it to the door.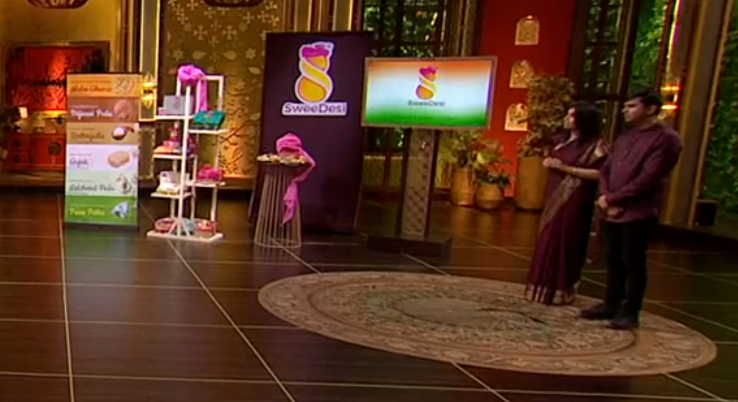 Swee Desi manufactures all the famous sweets from all the famous places like Agra ka Petha, Gewar from Jaipur, Kachodi from Jaipur, and all other sweet dishes. It has a delight factor that binds you with the taste. They serve it with love, prosperity, and small gifts.
Who are the founders of Swee Desi?
Suman Chaudhary and Vinod Kulhari from Pune are the founders of Swee Desi. Suman is from Jaipur.  She loves to eat sweets and after her marriage, she got shifted to Pune where she missed the taste of Jaipur sweets.
From there, she got an idea of making sweet and delivering it to the sweet lovers within just 24 hours. Suman herself takes the feedback.  80% of the business is located in Pune.
How was the pitch of Swee Desi?
During the pitch, they first served the sweets and Kachodi to the sharks in a unique presenting style and placed a pitch of 40 lakhs for 3% equity, company valuation is around 13.33 Crore.
They were on Shark Tank India mainly for marketing help and to scale up their business. Aman went out for the reason that they didn't have scale in the business. Namita also went out due to scaling but ensured that she will be their customer.
Ashneer shared that the problem is of frequency, as it is a festival market game, due to which it is not profitable and moved out. Anupam didn't find their market huge and went out as it is a specialization market.
Peyush said that anyone can copy her to which Suman replied that if anyone tries to copy her, till then they would have gone 5 times higher. Even then Peyush was not convinced and went out. No investment took place, but the sharks enjoyed the dishes a lot.
Company 3 – LOKA
Misso is the company name which is the combination of the founder's mother and father's name. Loka is the brand of application. It is India's first metaverse app.
It takes it to the immersive world, where you can have a conversation between the two cities. It gives real-time experience via a third party. Loka provides its user to start with an avatar first, then Gender selection.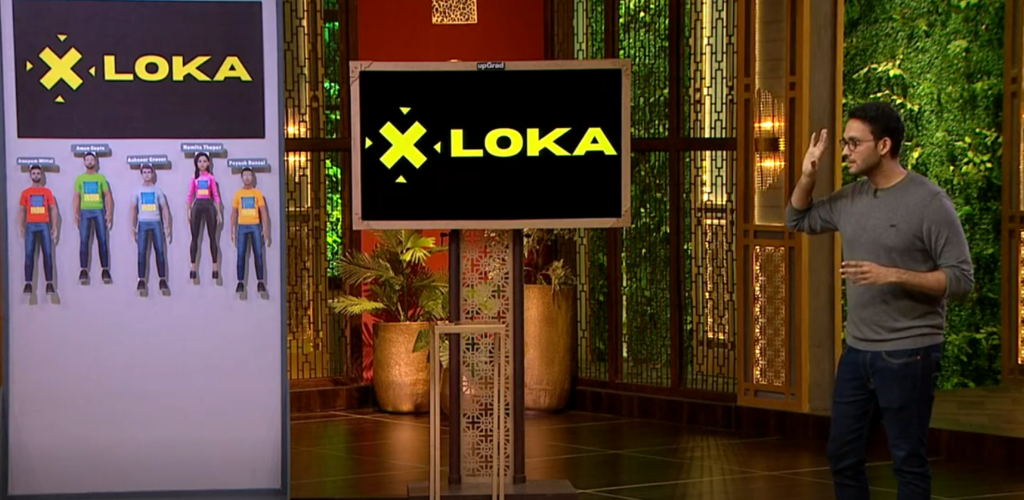 In this, you can talk to new people and make friends. It also has various e-commerce websites like Flipkart, Myntra, and 1000s more.
It has three attractive zones – Amphitheatre, where you can enjoy dancing with your friends, secondly theatre and lastly, the game zone.
Who are the founders of LOKA?
Krishnan Sundararajan from Delhi is the founder of Loka. He holds a degree in B.Tech from SRM University. He had done a Udacity Android Development course, he is a repeat entrepreneur. In 2015, he had started a food tech company called Foodie Baba.
How was the Pitch of Loka?
Krishnan came up with a pitch of 40 lakhs for 5% equity in his business, company valuation 5 crores. Ashneer went out as he found Krishnan's personality very impressive but the model was not up to the mark.
During the pitch, Peyush asked about the 3 learning he had learned after the Foodie Baba closing. He shared that never understand yourself completely right, should have a good team, and must have a mentor or co-founder.
Namita was also very impressed but went out with a statement that it's a complete tech game and she can't help him in it.
Aman said that he invests on two factors, either an entrepreneur or business, and he was ready to take a bet on him, to which Anupam and Peyush also joined him and they gave an offer of 40 lakhs for 25%, Krishnan accepted the deal and took the check from the sharks.
Do Share Your Thoughts:
Do tell us all your thoughts in the comments section below, we look forward to reading all the comments in the section below.
Also, do check our Startup Resources section, and don't forget to join our weekly newsletter 📰 which contains pure startup and business wisdom and no bullshit!!
Do follow us:
Related Articles:
Which companies presented in Episode 12?
First was Auli by Ashwariya Biswas, Second was Swee Desi by Suman Chaudhary and Vinod Kulhari and Third were Loka by Krishnan Sundararajan.
Who are the investors in Shark Tank India?
Ghazal Alagh – Co-founder and Cheif Mama of Mamaearth
Aman Gupta – Co-founder and CMO of BoAt
Vineeta Singh – CEO & Co-founder of SUGAR Cosmetics
Ashneer Grover, Founder, and MD of BharatPe
Peeyush Bansal – Founder & CEO of Lenskart.com
Namita Thapar – ED of Emcure Pharmaceuticals
Anupam Mittal – Founder and CEO of Shaadi.com