Episode 6 of season 1 on Shark Tank India, which is getting huge popularity due to the new and unique business ideas appearing on the show by different entrepreneurs.
In episode 6, three companies came on the show. First was Skippi Ice Pops by Ravi Kabra and Anuja Kabra.  The second was Menstrupedia by Tuhin Patel and Aditi Gupta and the third was Hecoll by Dipti Nathala.
Episode 5 was quite interesting to watch and learn as all the sharks shared and suggested a few ideas related to business models. In this episode, an unexpected moment took place where all the 5 sharks invested in a single business model.
At the end of the episode, Vineeta Singh shared the lesson of the day about entrepreneurs that if any individual is going for a start-up, he or she should stay in it for a long duration. Coming into the field for the short term is not helpful always but in long term, it will shine your path. Episode 6 covered the introduction of the new shark Peyush Bansal, who is the founder of Lens-kart.
Index:
Company 1: Skippi Ice Pops
Skippi Ice Pops taste of childhood is India's first and only Ice pop brand. It is 100% Natural in terms of colors, flavors, preservatives, and sweeteners. It is manufactured in liquid form and supplied in the same state, consumers have to freeze it and they can enjoy the taste of it.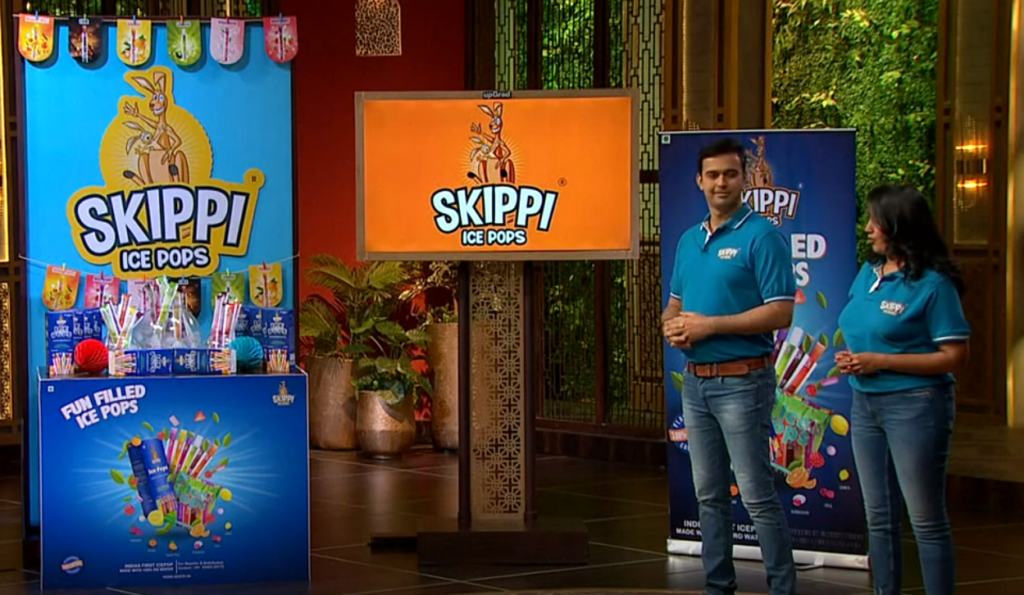 It is for everyone from children to old age people. It comes in different flavors and colors.
Who are the Founders of Skippi Ice Pops?
Ravi Kabra and Anuja Kabra are the founders of Skippi Ice Pops. They are from Hyderabad.
He used to live in the USA with his wife and children but when his father died due to cancer, Ravi came back to India and planned for his own start-up which gave birth to Skippi.
Ravi was in the food and beverages industry for the last 16 years. The vision of Skippi founders is to make it a national and then an international brand too. As he used to live in the USA, he knew the demand of this in that trade.
How was Skippi Ice Pops Shark Tank Pitch?
This was till date the most remarkable pitch on Shark Tank India, where Ravi and Anuja were looking for an investment of 45 lakh rupees for 5% equity, company valuation is around 9 crore.
They served a few flavors to sharks and everyone was overwhelmed with the product. Anupam at the moment gave the same offer as pitched- 45 lakh rupees for 5% equity in the business, Ashneer, and Namita encountered that by offering a combined deal of 60 lakh rupees for 5% equity.
Aman, Anupam, and Vineeta together offered a deal of 60 lakh rupees for 6% equity. They asked if all the 5 sharks can join and offer them a deal, Anupam gave an offer from the side of all sharks of 1 crore for 15% equity, they took a moment to discuss and then gave a counteroffer of 1 crore rupees for 10%.
Sharks didn't agree but eventually, Ravi and Anuja accepted the deal which included all 5 sharks, then went out with the signed amount.
Company 2: Menstrupedia
Menstrupedia – Puberty education for all. It is a comic book that helps the girls about understanding Puberty and its effect and Periods. It is an innovative idea of spreading awareness.
It is the first Indian comic book with images and comfortable media used in it. It follows the B2B business model for sales. Periods are still taboo in India and to reduce the traditional beliefs about it, it is the best step taken by its founders to change the world and the way it thinks.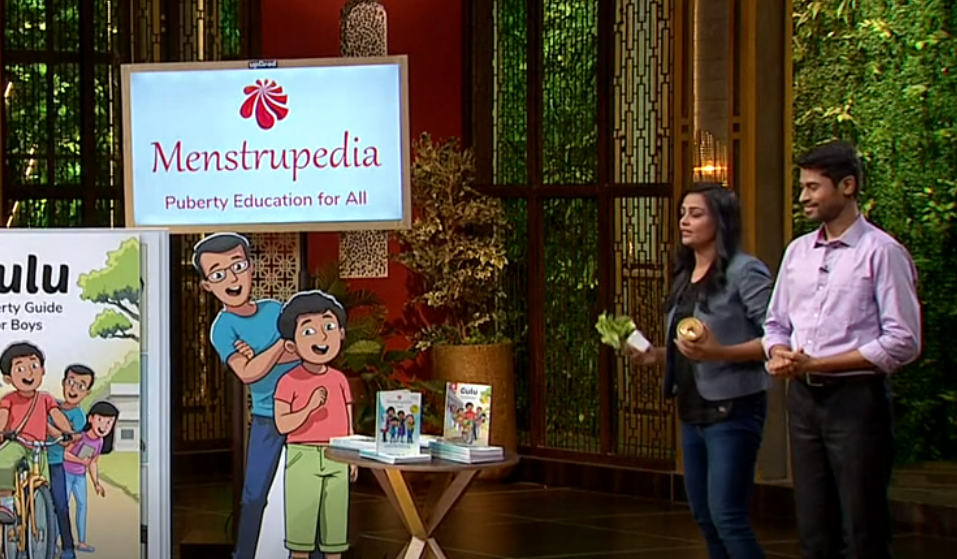 It is also going to launch its application in the upcoming future as the prototype is already made.
Who are the Founders of Menstrupedia?
Tuhin Paul and Aditi Gupta, a couple from Ahmedabad, are the founders of Menstrupedia. They left their jobs in 2013 and decided to find a solution to this problem of hiding the awareness of Periods, which is a great initiative.
They have used all their life savings till date in 2013 for the creation of this informative product. They have a vision that upcoming generations of females should be free from traditional restrictions. They are working together for it, which is actually not an easy task. They have separated the department of work into two.
How was the Menstrupedia Shark Tank Pitch?
Menstrupedia business model came on Shark Tank India, seeking an investment of 50 lakh rupees for 10% equity of the business, company valuation is 5 crore rupees.
Namita appreciated their work along with all the sharks. She also mentioned that she had read a few comics of it and it is really amazing as she belongs to the pharmaceutical industry. She found it investable and gave an offer of 50 lakh rupees for 25 % equity.
Anupam went out as he didn't find it relatable, Aman suggested that Namita is the one who can really help them and moved out. Vineeta didn't find it useful as per funding in future aspects and went out, which was opposed by Namita.
Ashneer Grover offered 50 lakhs for 22% with a condition that they have to sell sanitary pads. Aditi asked if they can do both Sanitary and Comics together but Ashneer didn't change his mind. They gave a counteroffer to Namita Thapar, which was 50 lakh rupees for 20%, all other sharks suggested her to go for it and Namita signed the check for 20%.
It was actually a great deal because Namita holds a large distribution channel in the Pharmaceutical line.
Company 3: Hecoll
Hecoll is a brand that manufactures masks, nurse dresses, baby sleepers, Army uniforms, and many more fabric products. It manufactures a total of 20 types of products. It serves safety from 95% pollution, 99% UV rays and kills bacteria, viruses and protects from Covid -19 too.
It is an eco-friendly and sustainable product. As per the current market, it manufactures and follows 75% B2B fabric business and 25% in stitching Production. It is available on Amazon.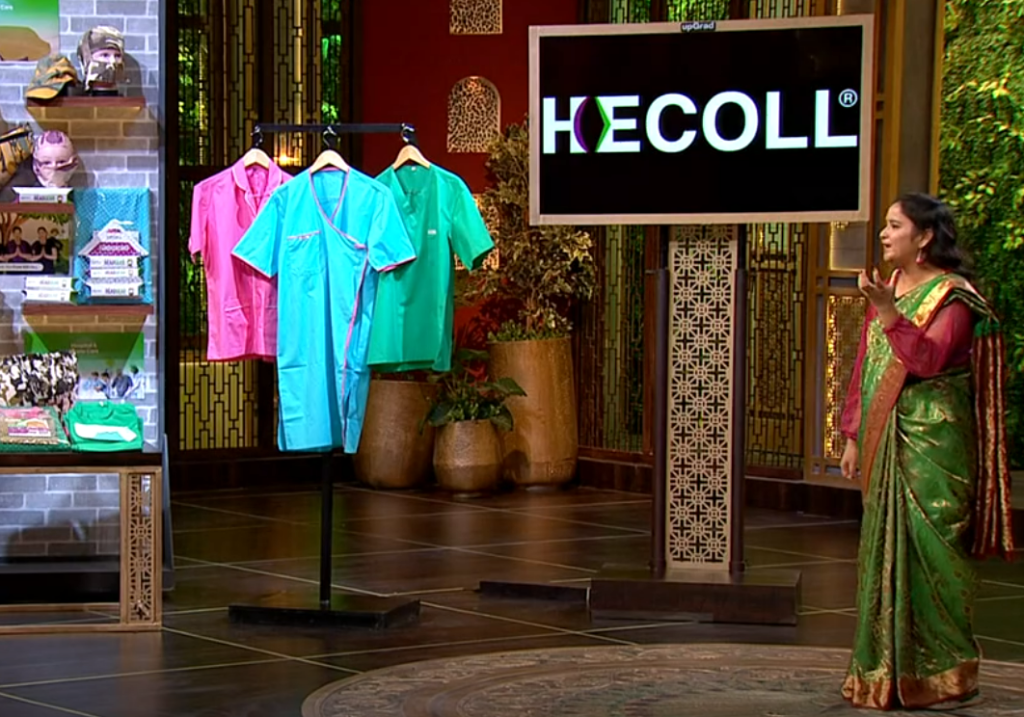 It is tested and approved by many labs including NABL and others, which says that it is safe to use and even free from environmental hazards.
Who are the Founders of Hecoll?
 Dipti Nathala is the founder of Hecoll, from Bangalore. She has graduated from IIT and is a very confident businesswoman. She holds a specialization in Nanotechnology and has worked in many countries during her working periods.
She had an idea of starting a Fabric business through B2B and B2C business models. During the Covid period, the government ordered them to manufacture gloves and masks for the warriors and public, which somehow expanded her business in the field of stitching.
How was the Hecoll Shark Tank Pitch?
It is a quite memorable pitch for Dipti as she was recognized by Vineeta Singh. Vineeta was the senior of Dipti in IIT and was happy to see her as an entrepreneur.
She came here to expand her business with a required investment of 1 crore rupees for 1% equity of her business, company valuation is around 100 crore rupees. Ashneer directly went out and said that she didn't have self–realization yet about what she wanted to do.
Also, she needed a co-founder. Anupam went out with a suggestion that she is good in Research and Development and should focus on the same stream. Namita didn't find her relatable to this business as it has a huge market and competition.
So, she went out. Vineeta didn't find the valuation of the company appropriate and turned herself down. Aman was very impressed by the technology but along with other sharks, he also found Dipti's product under work and moved out. Dipti took the feedback positively and decided to work on it.
Do Share Your Thoughts:
Do tell us all your thoughts in the comments section below, we look forward to reading all the comments in the section below.
Also, do check our Startup Resources section, and don't forget to join our weekly newsletter 📰 which contains pure startup and business wisdom and no bullshit!!
Do follow us:
Related Articles:
Which companies presented in Episode 6?
In episode 6, three companies came on the show. First was Skippi Ice Pops by Ravi Kabra and Anuja Kabra.  The second was Menstrupedia by Tuhin Patel and Aditi Gupta and the third was Hecoll by Dipti Nathala.
Who are the investors in Shark Tank India?
Ghazal Alagh – Co-founder and Cheif Mama of Mamaearth
Aman Gupta – Co-founder and CMO of BoAt
Vineeta Singh – CEO & Co-founder of SUGAR Cosmetics
Ashneer Grover, Founder, and MD of BharatPe
Peeyush Bansal – Founder & CEO of Lenskart.com
Namita Thapar – ED of Emcure Pharmaceuticals
Anupam Mittal – Founder and CEO of Shaadi.com