In episode 5, three companies came on the show.
First was Revamp Moto by Jayesh tope, Pritesh Mahajan, Pushkaraj Salunke. The second was Hungry Head by Yash, Rahul Daga, and Arpit Kabra, and the third was Navel Sakuru and Fukai by Baldevi Jummani and Jayashree Jummani.
Episode 5 was quite interesting to watch and learn as all the sharks shared and suggested a few ideas related to business models. Anupam Mittal's story of the struggle of making  Shaadi.com India's top marriage platform for men and women was covered in the episode.
At the end of the episode, the shark's lesson of the day was shared about TAM- Total Addressable Market. It is an estimated amount that helps to forecast yearly sales and opportunities.
All the sharks wished Merry Christmas at the end of the session.
Index:
Company 01: Revamp Moto.
Revamp Moto is the firm that develops an amazing concept of an EV start-up.
It manufactures two models in EV- one is Revamp Mitr and the other is RM 25. It is the first modular utility platform in India. It runs 140 km in one charge and can gain a speed up to 65km/hr.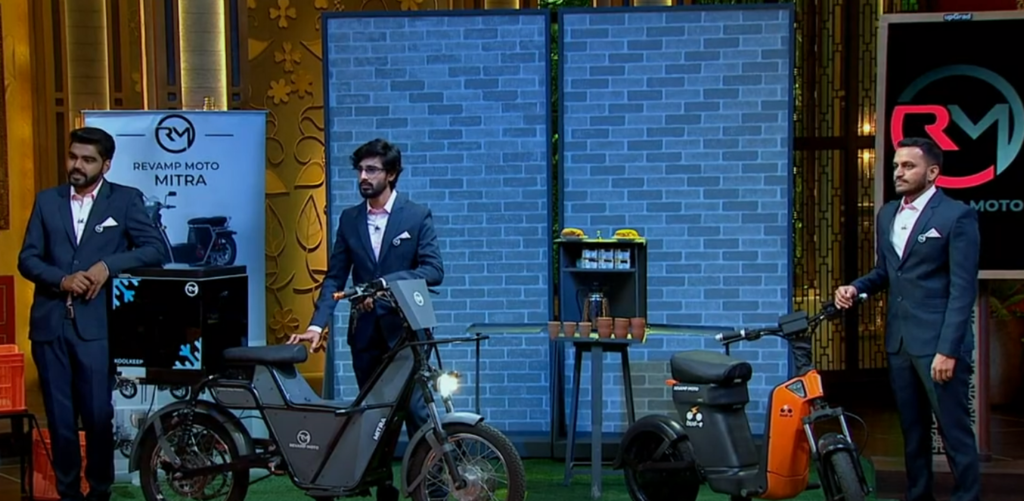 It can also hold a weight of up to 200 kilograms. It can connect with your mobile and share all the details there. It comes with a few attachments which turn it into a moving shop. It includes two battery packs. It includes various attachments which turn it into a folding table, e-commerce, delivery basket, cool keep which is chargeable from the bole itself.
Who are the Founders of Revamp Moto?
Jayesh Tope, Pritesh Mahajan, and Pushkaraj Salunke are the founders of Revamp Moto EV models.
Jayesh used to work in a government job, all the three quit their jobs for the start-up. People use two-wheelers basically for traveling, but they had a vision that they should be used as small trucks by small retailers, but there was no two-wheeler which can perform all the work and that's how it was born in the market.
Pritesh is the backbone of the technical area. They are following the 90 to 95% made in India Scheme.
How was the Revamp Moto Pitch?
A very amazing and interesting pitch happened on the show.
Founders of Revamp moto came on the platform of Shark Tank India seeking an investment amount of 1 crore for 1% equity means, company's valuation is around 100 crore.
Aman Gupta offered 1 crore rupees for 3%, as taking 1% is waste of time. They gave a counteroffer to Aman for 2% for the same amount.
Ashneer jumped into the pitch and gave 1.2 crores for 2.5 % equity during which, Aman and Anupam took a moment and gave a combined offer of 1 crore rupees for 2% equity.
Vineeta Singh went out as it will require more capital in the future. Namita went out as she was a bit unclear about the charging and other electrical aspects.
Ashneer suggested the sales would not be done only through the B2B model as he had a huge distribution channel and changed his offer to 1 crore rupees for 1.75% equity which led to a tough talk among Anupam,  Ashneer, and Aman.
Ashneer again changed the offer to 1 crore for 1.5% equity, Aman passed the tantrum that he was buying them for money.
Aman and Anupam matched the offer for 1 crore at 1.5% equity, Ashneer encountered that with 1.25% equity demand. Revamp EV founders took a moment and accepted the deal of Aman and Anupam for the success of their business.
Company 02: Hungry Head
Hungry Head is all about Maggie.
Maggie is comfort food, it serves Maggie not only in 1,2, or 3 types but in 80 variations, flavors, and tastes.
Maggie is the core product of Hungry Head. They just add flavors in it which include Pizza with a layer of Maggie on it, bowl Maggie, Mac burger with crunchy Maggie patty, Maggie missile, Maggie Bhel, and many more.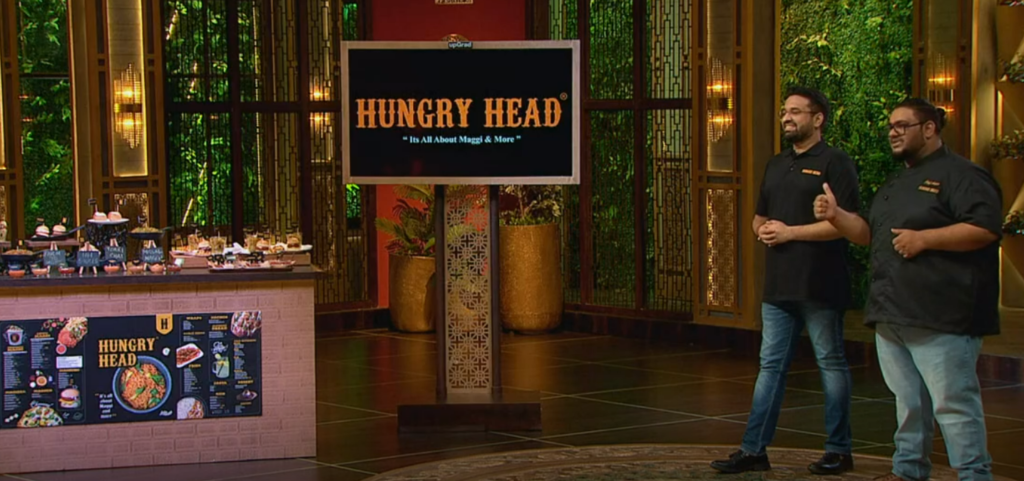 They also serve different sauces with Maggie's dish which changed "Hunger Head- it's all about Maggie" to "Hunger Head its all about Maggie and more".
Currently, it has only one restaurant and they are planning to grow more in taste and numbers. It is available on Zomato and Swiggy.
Who are the Founders of Hungry Head?
Rahul Daga, Yash, and Arpit Kabra ( Chef ) are the founders of Hungry Head – Three heads of it.
Yash, unfortunately, passed away in an accident in 2018. They are old friends and thought, in 2013, to do something unique and new other than regular fast foods available in the market.
They have a vision of making Hungry Head the biggest concept restaurant in India. They are fulfilling the appetite of people by making them hungry.
How was the Hungry Head Shark Tank pitch?
Hungry Head came to Shark Tank India for an investment with the purpose that they can increase their franchise. They pitched for an amount of 50 lakh rupees for 5% equity in the business.
Vineeta Singh ( shark) shared that she had Peri- Peri from Hungry Head and appreciated the taste. Ashneer went out directly as he didn't find Maggie as fast food in the business.
Aman and Anupam suggested them to leave the idea of Hungry Head and should try some other job or business and went out. Vineeta suggested that they still need to learn about the management of the business and move out.
Namita Thapar loved the creativity but personally, she couldn't relate to this sector and turned herself down from the pitch. Rahul and Arpit went out without investment but full of confidence.
Company 3: Shrawani Engineers
Navel Sakuru and Navel Fukai is the name of a product, which means deep and round. Sakuru and Fukai are Japanese words.
It is the first and unique product that helps you to make your belly button beautiful by making it deep and round without any surgery or medicines. It is a complete package product as it serves a sanitizer and custard oil with it.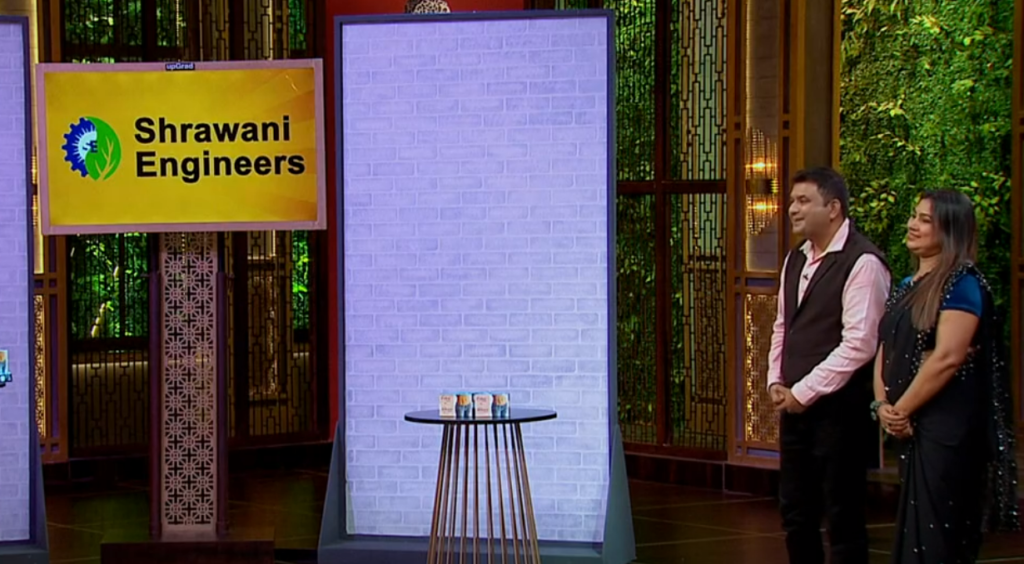 It is placed in the middle of your belly button and you can perform all your activities like sleeping, working, cleaning, and cooking by wearing it, which is actually a plus point of the product.
Who are the Founders of Shrawani Engineers?
Baldevi Jummani and Jayashree Jummani are the founders of this unique product Navel Sakuru and Fukai, from Nagpur.
Baldevi had a fantasy which is quite interesting and funny. His fantasy was to have a round and deep beautiful belly button. They found that this is a huge market business especially in Film Industry and for the bodybuilders with six-packs. For the fulfillment of his dream, he gave birth to this product. Baldevi has past experience in a Pharmaceutical company as an MR.
How was their Shark Tank Pitch?
Baldevi and Jayashree came on the show of Shark Tank India for the expansion of their fantasy. They were looking for an investment of 10 lakh rupees for 20% equity in the business.
When he shared the details and showed the process of using it, all sharks were not able to control their laughter during the pitch. The company's valuation is around 50 lakhs. Vineeta said that we should accept our body as it is, thus she went out.
Anupam appreciated the uniqueness but didn't find it relatable to him and went out. Namita didn't find it as an investable business and moved out, Aman also followed suit.
Ashneer was quite disappointed as an entrepreneur and said that there are lots of problems to be solved and what path were they on? He found it a gimmick and went out with a suggestion that the founders should get serious in their lives.
No investment took place during the pitch.
Do Share Your Thoughts:
Do tell us all your thoughts in the comments section below, we look forward to reading all the comments in the section below.
Also, do check our Startup Resources section, and don't forget to join our weekly newsletter 📰 which contains pure startup and business wisdom and no bullshit!!
Do follow us:
Related Articles:
Which companies presented in Episode 5?
First was Revamp Moto by Jayesh tope, Pritesh Mahajan, Pushkaraj Salunke. The second was Hungry Head by Yash, Rahul Daga, and Arpit Kabra, and the third was Navel Sakuru and Fukai by Baldevi Jummani and Jayashree Jummani.
Who are the investors in Shark Tank India?
Ghazal Alagh – Co-founder and Cheif Mama of Mamaearth
Aman Gupta – Co-founder and CMO of BoAt
Vineeta Singh – CEO & Co-founder of SUGAR Cosmetics
Ashneer Grover, Founder, and MD of BharatPe
Peeyush Bansal – Founder & CEO of Lenskart.com
Namita Thapar – ED of Emcure Pharmaceuticals
Anupam Mittal – Founder and CEO of Shaadi.com