In episode 8, three companies came on the show.
First was Beyond Snack, Kerala Banana Chips by Manas Madhu Sood, Second was VIVALYF by Varshita and Vimal Kumar and third was Motion Breeze by Kartikya, Anantraj, Shivrajsin, and Deepen Bhai.
Episode 8 was quite interesting to watch and learn as all the sharks shared and suggested a few ideas related to business models. In this episode, an introduction about the new shark Peyush Bansal and his struggle during Lens-kart accuracy and achieving the top position in the market was presented.
At the end of the episode, Namita Thapar shared the shark lesson of the day about Failures and setbacks. People go down and in India, failure is still a taboo. She suggested that we should welcome failure to learn and grow from it.
Also read: Who are the judges in Shark Tank India?
Index:
Company 01: Beyond Snack, Kerala Banana chips
Beyond Snack, Kerala banana chips are the brand of banana chips that is healthy, clean, chopped properly in the same slice, and is very thin as compared to the other banana chips. It is available in 4 different flavors which include original, Cream and Onion, Peri – Peri and Salt, and Black Pepper.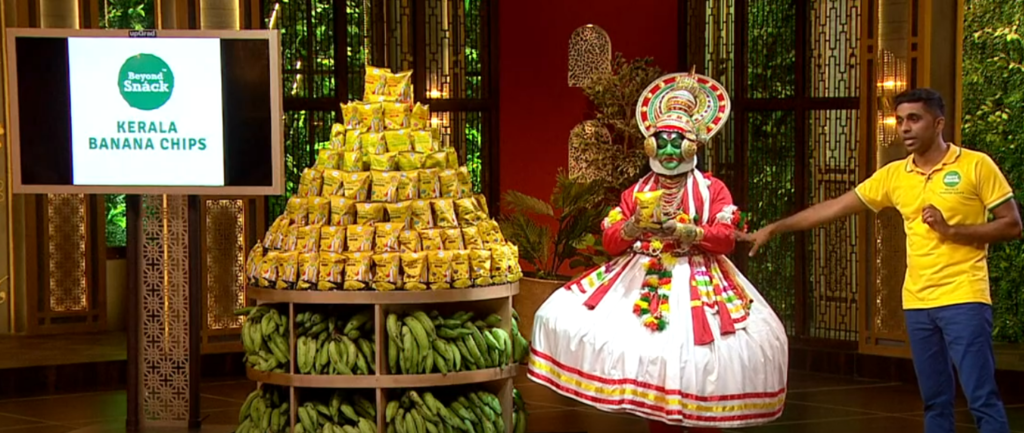 It is available on online platforms like Amazon and Flipkart. Beyond Snack is made up of special and unique bananas known as 'Nendran Bananas'. It also claims that it will achieve a gross margin of 75 to 80% within a few years. Beyond Snack is planning to spread this across all the major cities and states including Mumbai, Goa, Delhi, Gujarat as it is mostly getting orders from the Northside of India.
Who are the Founders of Beyond Snack?
Manas Madhu from Kerala is the founder of Beyond Snacks. He is a very confident businessman. He used to do a 9 to 6 job in his city but he never wanted to do that.
One day, he was sitting near the river and saw that tons of bananas were getting thrown as waste material. He performed a survey and found that 40% of bananas are regularly thrown as wastage due to less consumption.
Manas left his job and decided to do something with this and gave birth to the Beyond Snack brand of Banana chips. As banana chips are the emotion of Kerala, he has the vision to make and spread the demand of it in the globe as the best snack to have.
How was the Beyond Snacks Shark tank pitch?
Manas Madhu, with a dream of carrying forward the emotion of banana chips, came on Shark Tank India with the need of an investment of 50 lakh rupees for 2.5% equity in the business, company valuation is around 20 crores.
He had already taken an investment before. Anupam was very impressed and gave an offer of 50 lakhs for 20 % equity, Peyush asked Anupam and joined the same offer for 50 – 50 partnerships among them.
Manas revealed about their earlier investment of 1.5 crores for 15% to which Peyush and Anupam changed their offer to 50 lakhs for 10% equity. To encounter that, Aman and Ashneer gave the exact offer as demanded by Manas, which was 50 lakhs for 2.5% equity, Manas took the deal with in a second.
Namita went out as Manas already got what he needed. Ashneer and Aman handed over the check and got their picture clicked.
Company 02- VIVALYF
VIVALYF is the name of a company, which manufactures a product named Easy Life. It causes no blood, no pain, and no prick. It is a one-time investment product that helps to check your glucose or sugar level.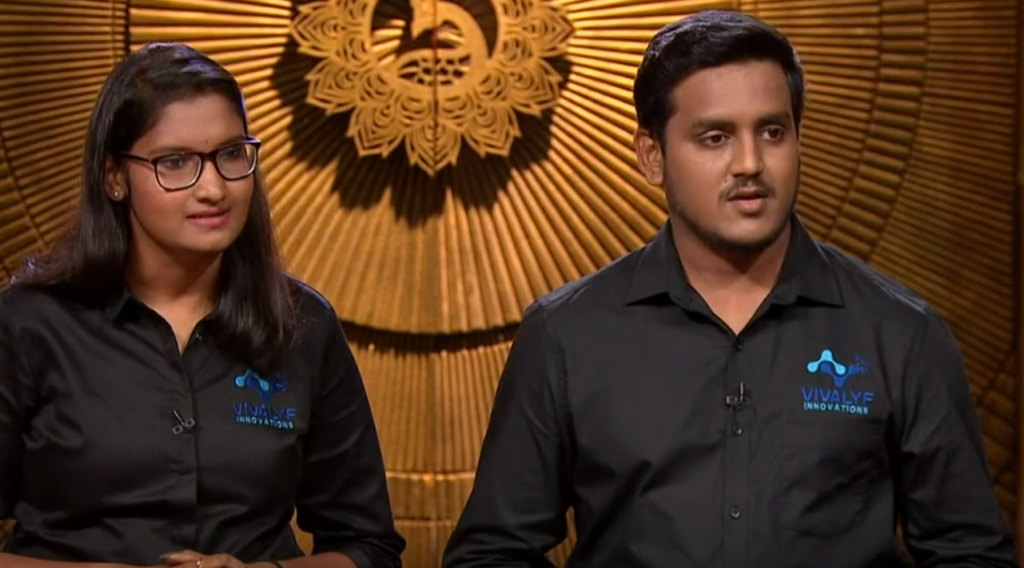 It is made for diabetes patients. Vivalyf is focusing on a major problem of India. It holds a technology known as a spectrometer, which helps to identify the level. Currently, it gives only 90% accuracy. Its founders are working on it to make it a 99.7% rate.
Who are the Founders of VIVALYF?
Duvvuru Varshita and Vimal Kumar are the founders of Vivalyf, from Hyderabad. Duvvuru Varshita is a diabetic girl from her birth.
She has Type 1 diabetes in which the body is not able to produce its own insulin, due to which she has to take insulin and prick her finger for a glucose check-up 3 to 4 times a day. Duvvuru started taking her insulin by herself when she was 9 years old and shared that her parents were not able to see her pricking.
She promised them that one day she was going to find the solution for it. Duvvuru started searching for an engineer who can help her to build a device when Vimal came as the co-founder of  VIVALYF.
How was the VIVALYF Shark Tank Pitch?
Varshita and Vimal came to Shark Tank India platform with a pitch of 56 lakh rupees for 7.5% equity in their business, company valuation is around 7.47 crore. They had the vision to solve the pricking problem of pain and blood with the Easy Life device.
Namita Thapar was the first to speak and said that she would help them by providing an area of sample testing but she would not be able to invest and went out. Aman was not able to relate himself to the business and also, he was unclear about the product's accuracy and moved out.
Peyush found the accuracy as a tough game as he is the founder of Lens kart. Even then he gave an offer for 1/3 of the company for 56 lakhs rupees. Ashneer also went out due to an inaccurate rate as during the demo, it showed the wrong glucose level. After taking a moment, they gave a counteroffer to Peyush of 36 lakhs for 15% and the remaining amount as debt, which they would return in 3 years as bullet payment.
Peyush didn't change his offer and eventually, Varshita and Vimal didn't have any choice. They took the deal for their vision. Peyush handed over the check and gave hope of growing to them.
Company 03- Motion Breeze
Motion Breeze is a business model which manufactures an electric vehicle, Motor Bike. It is made by aligning nature and technology, uses its power and resources for manufacturing such Motorbikes.
Motion Breeze is the world's first adaptive, smart and electric bike that provides comfort and flexibility as it handles moves up and down with a click of a button. It gives 180 km/ hr speed, requires 1 to 3 hours of charging as per the outlet.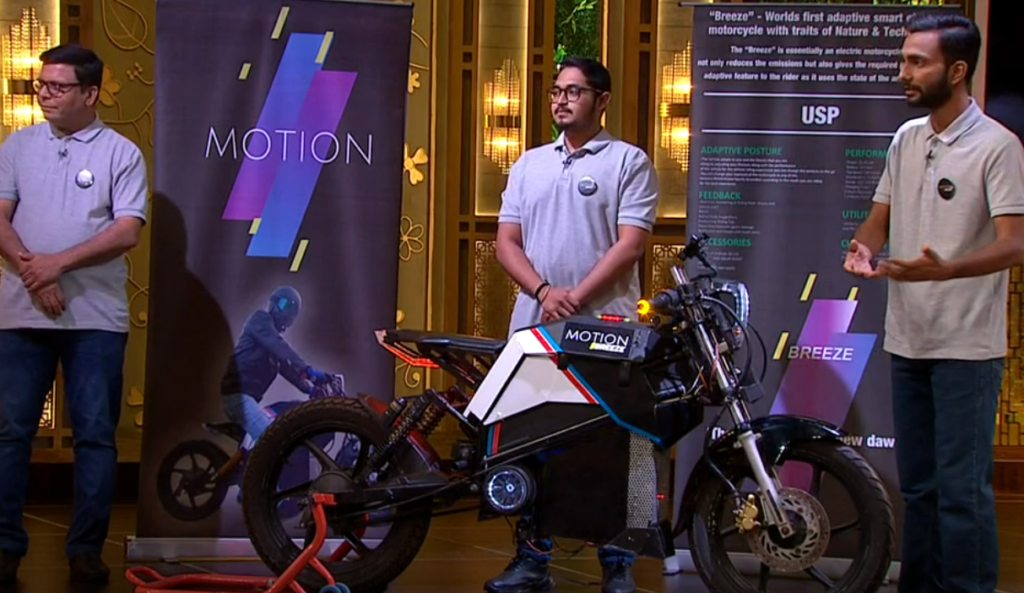 It provides utility space where a rider can keep their helmet, charger, phone, etc. Its price ranges from 1.5 to 3 lakhs. Currently, it is in the final stage of manufacturing.
Who are the Founders of Motion Breeze?
Kartikya, Anantraj, Shivrajsingh, and Deepen Bhai are the founders and started to make it so that they can bring all the different features and styles of different niche models in one bike.
They are planning to hire YouTube influencers so that they can increase their customers. They all are college students. Deepen Bhai is the first investor of Motion Breeze, who had shown trust in them.
How was the Motion Breeze shark tank pitch?
 They are here for the amount of investment so that they can get their testing process done freely. They came with a pitch of 30 lakh rupees for 3% equity in their business, company valuation is around 10 crore rupees.
Ashneer took a ride on it but he found it stiff to sit and it was also making a chain sound. Namita is a big fan of specialization but she didn't get a clear idea about their product. So, she went out.
Aman found the electric bikes a hugely competitive market but the product is not yet ready to go in the market and moved out. Anupam praised them but he was not able to understand the base of their market and suggested them to use their skills in a place where they can achieve their goals and turned himself down with the best of luck.
Peyush also went out as they needed a lot of work on it as they are in their early stage. Ashneer was a bit quiet for a moment and had a few questions with Motion Breeze founders.
Then he gave an offer of 30 lakh rupees for 6% equity, they took the deal and got the check with the condition that Ashneer will be playing a role of investors only, not as a founder.
Do Share Your Thoughts:
Do tell us all your thoughts in the comments section below, we look forward to reading all the comments in the section below.
Also, do check our Startup Resources section, and don't forget to join our weekly newsletter 📰 which contains pure startup and business wisdom and no bullshit!!
Do follow us:
Related Articles:
Which companies presented in Episode 8?
First was Beyond Snack, Kerala Banana Chips by Manas Madhu Sood, Second was VIVALYF by Varshita and Vimal Kumar and third was Motion Breeze by Kartikya, Anantraj, Shivrajsin, and Deepen Bhai.
Who are the investors in Shark Tank India?
Ghazal Alagh – Co-founder and Cheif Mama of Mamaearth
Aman Gupta – Co-founder and CMO of BoAt
Vineeta Singh – CEO & Co-founder of SUGAR Cosmetics
Ashneer Grover, Founder, and MD of BharatPe
Peeyush Bansal – Founder & CEO of Lenskart.com
Namita Thapar – ED of Emcure Pharmaceuticals
Anupam Mittal – Founder and CEO of Shaadi.com