In episode 3 of Shark Tank India, three companies came on the show.
First was Qzense labs by Rubel Chib and Dr. Shristi, the second was Peechute by Siddhant Avrawala, and the third was NOCD by Siddharth Mishra and Vinay Kumar.
Episode 3 was quite interesting to watch and learn as all the sharks shared and suggested a few ideas related to business models. Ashneer Grover gave an explanation about equity and debt.
Equity means you'll have some money that is non-payable but you have to give a number of shares of your company whereas debt means you have to pay that amount back along with interest.
Also read: Who are the judges in Shark Tank India?
Index:
Company 1 – Qzense labs:
It is a Q scan patented technology that is made in India. Qzense labs give you 95% accurate results about the inside conditions of fruits and vegetables whether it is good or decayed from the inside.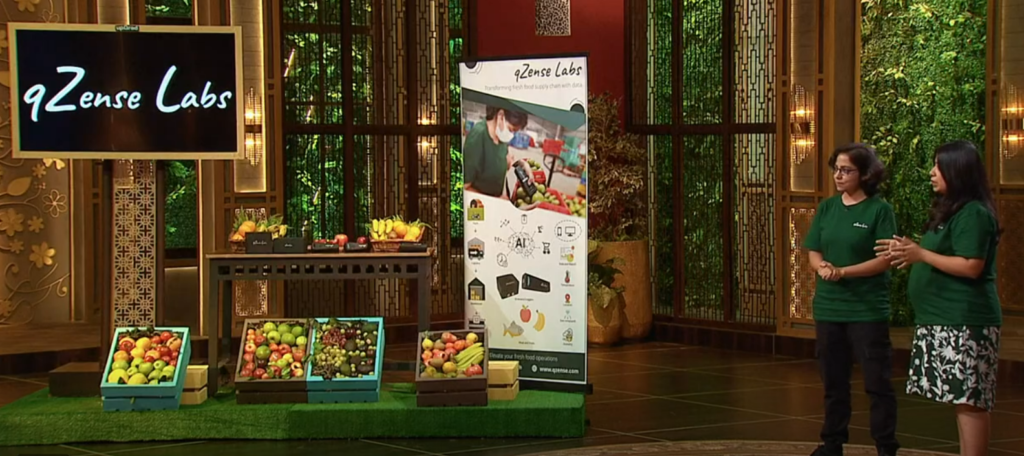 Q scan is designed to help the farmers and traders as it helps to find the shelf life of the eatables. This is a device that is very easy to operate and has a sensor inside it, which turns into red and green light. Greenlight means food is good from the inside and the red light indicates it's not good to have. It also detects the sweetness in limited fruit items.
Founder story and details:
Rubel Chib from Mohali and Dr. Shristi from Delhi are the founders of Qzense labs.
Rubel comes from an engineering background and Shristi is a Ph.D. in computational biology and studying food data from where they found about this problem that around 92000 Crore worth of food items get wasted due to this issue of not having an idea of food conditions from inside.
Rubel and Dr. Shristi met 3 years back and decided to do something and turn it into business. They have the vision to reduce the loss which farmers and traders face and that's how this device came into existence.
How was their Shark Tank pitch?
Founders of Qzense labs came with a very shocking pitch till now in the Shark Tank season 1, which was for 1 Crore rupees for 0.25 % equity in the business.
All the Sharks were stunned by this pitch. It says the company has a valuation of 400 Crore rupees. Anupam was first to go out as he didn't find the product useful and the company valuation structure. He was very disappointed and said it's not even a deal, 0.25% for 1 crore is nothing. He said that they were there to just popularize their products and addition to that, Aman also went out with a quote 'You had me at 400 crores' relatable to 'I had you at hello' and went out.
Navita appreciated the women's efforts but went out. Ashneer was highly disappointed and felt disrespected and said that they were there for a joke. To encounter that Rubel replied they were not there for a joke by showing the condition of Shristi as she was pregnant and they had come from Bangalore.
Ashneer still found their pitch as a joke and went out of the pitching. Vineeta Singh gave an offer of the same amount for 5% equity means the company's valuation was now 20 Crore and said she was offering a fair price as per their past sales.
Rubel and Shristi had a discussion and gave a counteroffer of 1 Crore rupees for 0.5% shares. Vineeta politely said that she had given a fair offer and went out of the pitch with the best of luck to them.
Company 2: Peechute
Peechute is a pocket-sized disposable urine bag that solidifies human urine. It is a concept of uniqueness as it can remove the infrastructure, usage of water, plumbing, and other urinal needs.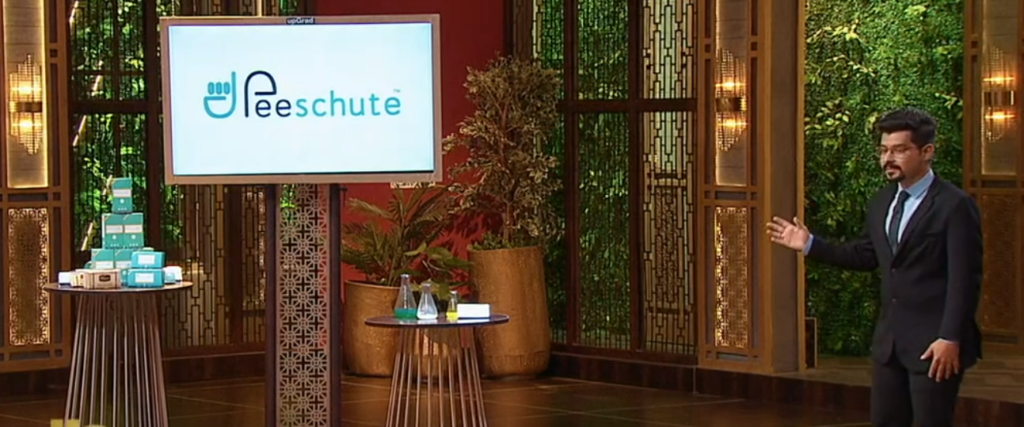 It is made up of paper holding and is a unisexual product and has a unisex funnel. It also cuts down the smell, leakage, and kind of trouble. It changes the liquid state into solid once an individual Pees.
Founder story and details:
Siddhant Avrawala from Maharashtra is the founder of Peechute. As experiencing nature's call is a common problem and everyone has definitely faced this problem. Even the founder has shared that he had to pee twice in a bottle due to the unavailability of toilets nearby to which he decided to solve this situation and gave birth to Peechute.
He is planning to install private chambers for use in public places, bus stops, railway stations, and other premised places. This concept of the chamber will vanish the toilets completely, which was quite unique and useful but not practical. He has the vision to use a safe and hygienic toilet and provide a pleasant urine experience.
How was their Shark Tank Pitch?
Siddhant came on the show to make his dream come true of installing chambers and expanding the Peechute business. He came up on Shark Tank India in episode 3 of season 1 with a pitch of 75 lakhs for 4% equity in his business.
Ashneer Grover was the first to go out and suggested Siddhant focus on his product solely rather than planning about all these chamber things and also gave an offer of 75 lakh rupees for 7%  equity in his business.
Namita went out as the plus points about which Siddhant was talking hadn't come into existence and she went out.
Vineeta gave an offer of 75lakh rupees for 10% equity. While pitching, Aman asked that what he would do if he gets the money, Siddhant replied that he needed the expertise in marketing along with the investment.
Aman also gave an offer of 75 lakhs for 10% shares in the business, Siddhant gave a counteroffer of 75 lakhs for 6% and asked if Aman can accept the deal, Aman said yes and accepted the deal.
All the other sharks were in shock as the deal was done quickly. Anupam asked Siddhant if he was there just for Aman and Siddhant replied that Aman is a marketing expert and his expertise would prove really beneficial to him.
Company 3 – NOCD ( No Carbs Drink)
No Carbs Drink is a healthier drink for a healthier boy. It includes Amino acid, Folic acid, Biotin,  Green coffee beans, Multivitamins. It is also sugar-free and contains only 5% Calories. It is the kind of energy drink for refreshment.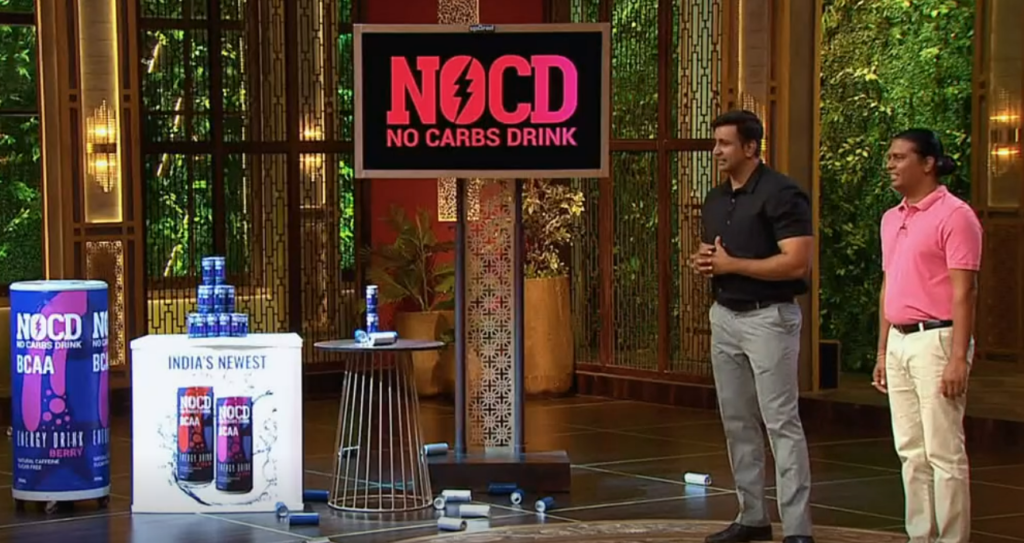 It has a retail market among 1100 stores, out of which 300 are in Mumbai and others are in different cities. It is also available on various e- platforms like Amazon, Flipkart, Big Basket along with their own website.
Founder story and details:
Siddharth Mishra and Vinay Kumar are the founders of NOCD. They are childhood friends and had worked together in the same firm in the sales and marketing department. They had started their journey from Bangalore city and both of them are marketing professionals.
They are themselves health freaks and suggest to others what to have or what not to, but they themselves do the same. Siddharth and Vinay decided to make something healthy for everyone and gave birth to the NOCD in the business world.
How was their Shark Tank Pitch?
Founders of NOCD came on the Shark Tank show with a motive to expand their business across the world mainly into 5 Cities and 2 abroad countries for which they needed an investment of 50 lakh rupees for 2% equity means the company's valuation is around 25 Crore rupees.
Siddharth and Vinay served a few sample drinks to them. Namita loved the drink whereas Aman was quite disappointed by the taste.
Anupam was first to go and said the overall story foundation was good but the marketing story and distribution channel were still absent from it and for that reason, he went out of it.
Namita Thapar said she couldn't relate to this business and went out. Vineeta was in quite a chaos of branding and its packaging but gave an offer of 20 lakh rupees for 20% equity and 30 lakhs as a loan.
Ashneer was also confused about its branding and said it seemed to be like drugs and went out. Aman didn't find that their business was ready to invest and he didn't link the taste of it personally.
Siddharth and Vinay gave a counteroffer to Vineeta of 20 lakhs for 10% equity and 30 lakhs as debt. Vineeta said that she had given them a fair deal and she would not go down, she also put a demand that they have to change their product name and its packaging to which NOCD founders accepted the deal and showed thanks to the sharks.
Do Share Your Thoughts:
Do tell us all your thoughts in the comments section below, we look forward to reading all the comments in the section below.
Also, do check our Startup Resources section, and don't forget to join our weekly newsletter 📰 which contains pure startup and business wisdom and no bullshit!!
Do follow us:
Related Articles:
Which companies presented in Episode 3?
First was Qzense labs by Rubel Chib and Dr. Shristi, the second was Peechute by Siddhant Avrawala, and the third was NOCD by Siddharth Mishra and Vinay Kumar.
Who are the investors in Shark Tank India?
Ghazal Alagh – Co-founder and Cheif Mama of Mamaearth
Aman Gupta – Co-founder and CMO of BoAt
Vineeta Singh – CEO & Co-founder of SUGAR Cosmetics
Ashneer Grover, Founder, and MD of BharatPe
Peeyush Bansal – Founder & CEO of Lenskart.com
Namita Thapar – ED of Emcure Pharmaceuticals
Anupam Mittal – Founder and CEO of Shaadi.com