It is a universal problem that the food will fall on the floor and stick to it. This becomes very difficult to remove when it dries out.
Shane panel came up with the product called "Sweep Easy" with the solution to those sticky problems. Sweep Easy is a broom that came with a built-in scraper that will help the cleaner scrape off any dirt, food, or stickers off the floor.
Shane approached the sharks in season 2 episode 6 of the show seeking an investment of $40,000 for 25% of the company. The owner of the company left the show with more than he asked for without any sales prior just with the help of the amazing product which would change the way people sweep.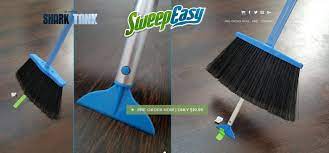 Sweep Easy at a glance:
| | |
| --- | --- |
| BUSINESS IDEA | Broom With An Attached Scraper |
| FOUNDER | Shane Pannell |
| ASKED FOR | $40,000 For 25% |
| ACCEPTED OFFER | $80,000 For 25% |
| SHARK | Kevin Harrington And Daymond John |
| BUSINESS STATUS | In Business |
| WEBSITE | Sweep Easy |
| BUY ON AMAZON | BUY NOW! |
Index:
Founder story
Shane Panell was a stay-at-home father who would often find things stuck to the floor and he would have to scrape that off with a butter knife.
During one such occasion after their kinds playtime he found himself scraping the food off the floor with a butter knife, he thought to himself that he has to find a better way to do this task and that's how he came up with the idea for the Sweep Easy broom which came with a scraper that could be released with the help of a screw.
After talking with multiple dealers, restaurants, and movie theatres he decided he had to bring this prototype into an actual product. To get the production started Shane decided to approach the sharks in season 2 of the show.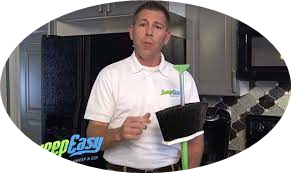 How was the Sweep Easy Shark Tank pitch?
Shane panel walked on the show with beaming confidence on his face. He approached the sharks for an investment of $40,000 for 25% of the equity.
Shane stood in front of the dirty tile floor which had dried food on them. He starts demonstrating the product by saying that we have been in a situation where while sweeping the floor we will have to find something stuck to the floor and it will become a hassle to get it off.
He tells that with Sweep Easy the cleaning of such places becomes easy. After that, he unscrews the top to reveal a scraper being released below which would help the cleaner scrape the dried stuff like food, dirt, gums, bandages, and sticker from the floor.
Robert Herejavec seemed interested and asks if he can use it. Shane hands Robert the product to show how easy it was to use. The sharks seemed impressed with the product. Kevin O'Leary asks how many products he has sold.  Shane lets them know that he still hasn't sold the product but he has multiple prototypes.
Robert asks Shane about what he wants to do with the product. He asks if he wants to license it or sell the product as his. To that Shane states, he wants to do both. Kevin Herrington asks why he hasn't done licensing yet to which Shane says he considered it.
Kevin O'Leary asks about the price of the product. Shane lets them know that everyone he has asked from restaurants, movie theaters, or any shop told him it would be $19.95. Sharks seem happy with the price. Kevin O'Leary steps forward to offer Shane $40,000 for 25% of the equity but he wants to license the broom to different broom companies.
Shane Panell seemed very happy with the offer but Kevin Herrington stepped in, to let the founder know that he can make a lot more money with the direct-to-consumer business. Kevin further states that he can help him make his business worth $10 million.
As Kevin Herrington stepped in the bidding war started. Mr. O'Leary increased his investment money to $50,000 for 20% of the business to get him on board with him. Daymond john right after states that he can see Shane wants to have this product as his own. He wants to build and run his own business and later introduce new products. Shane agrees to that.
Daymond John offers to pay $75,000 for 33% of the equity he says he doesn't want to license the product but rather create a whole company. Robert Herejavec later decides to partner with O'Leary and offers $40,000 more than 20% of the stakes which is $80,000 for 40% of the equity for the licensing deal. Kevin O'Leary later makes the deal at $80,000 for 25%.
Later Daymond asks to Join Herrington for the same amount but to create the company. Shane with so many deals seems nervous and asks to call his wife. O'Leary asks to speak with his wife and Daymond states that he would reduce his offer to $30,000 if he calls his wife.
After a short debate on the stage, Shane states that if Daymond Is ready to go back to their original offer he would want them as partners. Shane Panell accepts the offer from Kevin Herrington and Daymond John and receives $80,000 for $25% of his business.
Investors of SweepEasy:
Kevin Herrington assured that he has contacts with many television agencies and Sweep Easy deserved and commercial Shane agreed to that. Shane received $80,000 for 25% of the equity of the business from Kevin Harrington and Daymond John during the Shark Tank to build his business.
What is sweep easy worth now?
At the time of the shark tank appearance, SweepEasy was valued at around $320,000. Shane Panell had a plan to sell the products to restaurants, theatres, and bigger places when he appeared on the show. After Shark Tank, Shane started selling his products in multiple stores, and his online website.
The product is available in three colors Green, Orange, and Blue all these brooms retail for $28.97 on the website. The website has introduced an enclosed dustpan which retails for $15.97. The product is also available on Amazon for $29.99.
What happened to SweepEasy after shark tank?
The Sweep Easy broom received recognition after Shark Tank. As promised with the help of Kevin Herrington they advertised the commercial for the broom. The broom was selling various stores.
According to some sources the company's socials had been shut down in 2012 and the website wasn't available to take any orders as all the items seemed out of stock.

In 2017, the company seemed to be back in business as all the websites and company social were newly set up. The founder introduced a new and improved product the scrapper was better than the last time and it had a push button to release and retract the scrapper. They also introduced a dustpan that had a handle so cleaner won't have to kneel to collect the dirt.
Do Share Your Thoughts:
Do tell us all your thoughts in the comments section below, we look forward to reading all the comments in the section below.
Also, do check useful Startup Resources and Tools below and do join our newsletter 📰 for free for more interesting Business Case Studies 💰, Startup Insights 🚀, and Startup founders podcast 🎙️ delivered to your inbox every Sunday morning.
Related Articles:
What is Sweep Easy?
Sweep Easy is a broom that came with a built-in scraper that will help the cleaner scrape off any dirt, food, stickers off the floor.
Who founded Sweep Easy?
Shane Panell was a stay-at-home father who would often find things stuck to the floor and he would have to scrape that off with a butter knife, to overcome this problem he came up with Sweep easy.