Did you ever know Cheese can be extracted from Plant-based extracts? Yes, of course.
Heidi Ho is made of only plant-based products to make cheese substitutes. The brainchild of food innovator Heidi Lovig, who wanted to solve what she saw as a problem with vegan cheese products, Heidi Ho has soared from its creation in 2011 to now available in the largest retail stores across America.
Lovig discovered they weren't the only vegans dissatisfied with substitute cheese choices on the market. They not only brought Vegan Cheese into life but also with taste. The products introduced by Heidi Ho contain no gluten, soy, or corn, either, for good measure.
"I founded Heidi Ho! In order to develop crave-worthy, plant-powered foods made with clean ingredients that are better for people and the planet," Heidi Lovig said.
Heidi Ho at a glance:
Plant-based products to make cheese substitutes.
Founder: Heidi Lovig
Asked For $125,000 for 25% at a $500,000 valuation on Shark Tank.
Received $125,000 for 30% from Lori Greiner.
Currently in business.
Index:
Heidi Ho Founders Story:
How do you make it happen – Organic Agriculture, plant-based food and make them accessible?
Heidi was confident "YOU START WITH THE TASTE". In 2012, Lovig presented her vegan cheese to a skeptical customer at the Portland State University farmers market. With lots of probing questions on the ingredients and not-so-great taste, he opted out.
Heidi learned from this episode and observed, the first wave of vegan cheese was less than palatable due to additives, fats, oils, and chemicals.
Heidi was on a mission, traveled the world, and after her training at Cordon Bleu,  returned to Portland to: "Remake vegan cheese". She truly believed in the philosophy of keeping it simple: Instead of extracting and processing potato starches, "just use the potato."  She uses chia seeds for viscosity, cashews for natural fat, and red peppers, parsnips, and turnips as her food coloring.
Heidi proudly states – that's about it. "I use real food," she says. "I know that sounds crazy."
Did Heidi Ho get a deal on Shark Tank?
Lovig is a professional chef from Cordon Bleu who has been educated in Hawaii as a vegan chef. She believes her cooking and her Heidi Ho Cheeze are locally sustainable, organic.
The inventor behind Heidi Ho's product, Heidi Lovig, pitched her business on Shark Tank in November 2014. Heidi sought investment of $125,000 against 25% equity.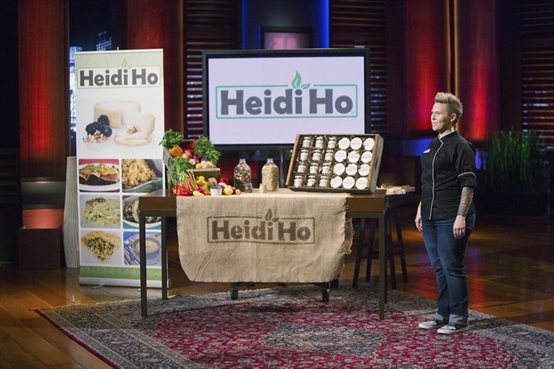 What Happened to Heidi Ho After Shark Tank?
Post her successful pitch of the Vegan products, Lori Greiner loved the concept and Heidi Ho products too.
Portland-based entrepreneur Heidi Lovig closed the fastest deal in "Shark Tank's" history — from Lori Greiner at $125,000 investment for 30% equity in her business, Heidi Ho! Organics. That was a poignant moment," Lovig says.
Heidi Ho Networth and Revenue:
Once Heidi Completed her Shark Tank to pitch her products and was successful in getting a deal from Shark Lori Greiner. This resulted in a significant increase in national and international media coverage. Not to forget, a high-profile new fan: Ellen DeGeneres who also played a role in increased awareness of Heidi Ho!.
The no. of employees- 23.
Revenue – $750,000
Valuation – $8 Million.
How do they make money?
After the Shark Tank episode in 2014, there was a significant increase in their orders. To be specific, orders had gone up from local stores to a large store like Nationwide in 2015, which initially, the grocer gave the company $20,000, later offered an additional $100,000 if Lovig could go nationally with her product. She did !!!.
12 months prior to Shark Tank, Heidi Ho's sales were $140,000. In the four months since shark tank views, the sales skyrocketed to $750,000.
Lori likes Heidi's social consciousness work ethic and support from a marketing perspective and allowed them to grow their product in 500+ Whole Foods stores – and growing!
Valuation of company Year over Year has grown from $600,000 from inception to now currently at $8 million in 2020.
Heidi Ho Investors:
The investor's name is Lori Greiner, with a net worth of $150 Million.
Lori is "Warm Blooded Shark" and known as "The Queen of QVC"
Two years later her investment in Scrub Daddy, a company that produces a texture-changing household sponge was noted as a huge success with sales of over $100 million.
Heidi Ho Product Alternatives:
Some of the primary Cheese Vegan Products in the market against Heidi Ho are Miyoko's Kitchen, Dr. Cow, Parmela Creamery, Tree Nut Cheese, Kite Hill, Vtopian Artisan Cheeses, and Hochland Group.
Some interesting features of Heidi Ho :
Heidi Ho! delivers authentically awesome plant-powered foods that are packed with veggies and wildly delicious!
Heidi Ho set out to create vegan cheeses that were all-natural and tasted good.
Heidi Ho's line of cheeses: Chia Cheeze Sauce, Spicy Chia Cheeze, Feta Crumbles, Smoked Gouda, and Monterrey Jack.
Proudly these cheeses are with no soy, dairy, gluten, or corn.
A great option for vegans who are lactose intolerant and/or gluten-free.
Is Heidi Ho profitable?
Heidi Ho is profitable both perspective of units sold and revenue. With a revenue of $750,000 at a current net worth of 8 Million in 2020, the story speaks for itself.
The new brand will offer a diverse line of vegan products, like Queso, Beer Cheeze, and Smoky Bourbon Cheeze Dip. Apart from retail products, Lovig is collaborating with partners to develop their plant-based offerings, like breakfast eatery Spielman's Bagels on a Vegan Cream Cheeze, ice cream shop Salt & Straw with the introduction of Heidi Ho!
With Heidi Ho …plant-based Vegan Cheese is ready to rock the world as the future prediction is Global Vegan Cheese Market expect to skyrocket to almost $4 Billion.
Do Share Your Thoughts:
Do tell us all your thoughts in the comments section below, we look forward to reading all the comments in the section below.
Also, do check useful Startup Resources and Tools below and do join our newsletter 📰 for free for more interesting Business Case Studies 💰, Startup Insights 🚀, and Startup founders podcast 🎙️ delivered to your inbox every Sunday morning.
Do follow us:
Related Articles:
FAQs:
What is Heidi Ho?
Heidi Ho is made of only plant-based products to make cheese substitutes.
Who founded Heidi Ho?
The brainchild of food innovator Heidi Lovig, who wanted to solve what she saw as a problem with vegan cheese products, Heidi Ho has soared from its creation in 2011 to now available in the largest retail stores across America.