Shark Tank India is getting huge popularity due to the new and unique business ideas appearing on the show by different entrepreneurs. In episode 7, three companies came on the show.
The first company was Raising Superstars by Raghav and Shraddha Himatsingka. The second was Torch – it by Hunny Bhagchandnai and the third was LKD – La Kheer Deli by Shivang, Shivika, and Supermom Soniya Sood.
Episode 7 was quite interesting to watch and learn as all the sharks shared and suggested a few ideas related to business models. In this episode, a new shark Peyush Bansal was seen on the platform.
At the end of the episode, Ashneer Grover shared the shark lesson of the day about Boot Step, which means only the founder's money is invested and they grow their business by their own profit, no other investors are involved.
Index:
Company 01: Raising Superstars
Raising Superstars is an application for the parents, which helps to teach them about developing the skills and intelligence of their child from the age of 0 to 3 years. It provides all the available tools through which a child develops his abilities- intelligence, maths, music, personality, and other skills.
Raising Superstars is a screen-free mode of learning for children. It provides or updates short videos, exercises, and math games with expert guidance to the parents. It also manufactures physical support systems like Flashcards, booster cards, etc.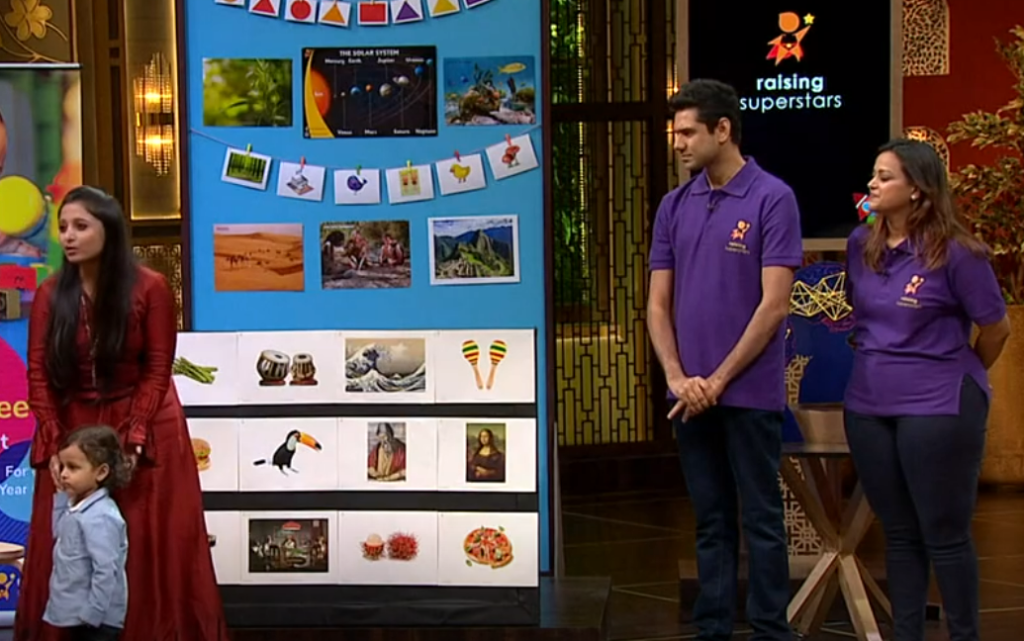 They also do home delivery and it requires only 5 minutes per day, which also helps to bond the relationship between Parent- Children and is growing high on the scale.
It includes 4 programs which range from 500 rupees to 39,000 rupees which comes in various options like weekly, monthly, or yearly payments.
Who are the Founders of Raising Superstars?
Raghav HimatSingka, second-time entrepreneur, Stanford graduate, and Shraddha HimatSingka are the founders of Raising Superstars.
Its evolution is the personal story of its founders because when they had their first baby, they were very confused about developing skills and Intelligence in their child as whatever skill develops at an early stage, stays during our life.
Raghav used to work in a company named Truck Ola Technology and Shraddha used to give offline counseling about this. During the lockdown, Raghav's company got closed where and when the couple decided to develop this Application for parents.
They started this with an investment of just 20,000 rupees and currently hold a gross margin of 80%.
How was the Raising Superstars Shark Tank Pitch?
Raising Superstars came on the platform of Shark Tank India to give rise to their product, seeking an investment of 1 crore for 2 % of equity, company valuation is around 50 crore.
During the pitch, they brought a parent with her child for a demo and sharks were surprised to see the results.
Anupam firstly turned himself down due to the high competition in the market. Namita believed that till 3 years, everyone should leave the child as it is to grow and learn by themselves. As a mother, she didn't find it relatable to her and went out.
Vineeta shared that she was not much passionate about this area or market and went out. Ashneer believed that it is a good technique as per today's technology and modern era and gave an offer of 1 crore for 5%,
Aman Gupta also liked the product and offered 1 crore for 4% equity. The next moment Aman and Ashneer decided to give a combined offer for 1 crore rupees for the same equity amount of 4 %, Raghav accepted the deal and took the checks.
Company 02: Torch It
Torch It, empowering vision beyond sight, is manufactured and designed for the cons of visually impaired people who daily face this problem. It helps them as guidance through different modes of vibrations. Torch it gives 99.7% accurate device and is even pocket-friendly.
It helps them to live easy and impactful life easily. Torch it has a huge revenue model business. They use sonar in it which helps to perform vibrations. Sonar is the audio waves, which are used by the original sharks and radiation.
In simple words, Torch It is a walking stick with various technicalities for the blinds. The product ranges from 1500 to 2000 rupees.
Who are the Founders of Torch It?
Hunny Bhagchandnai from Ahmedabad is the founder of Torch- It. He started this business to earn a profit, which is the basic motive of any company but with a vision to ease the life of people with blindness.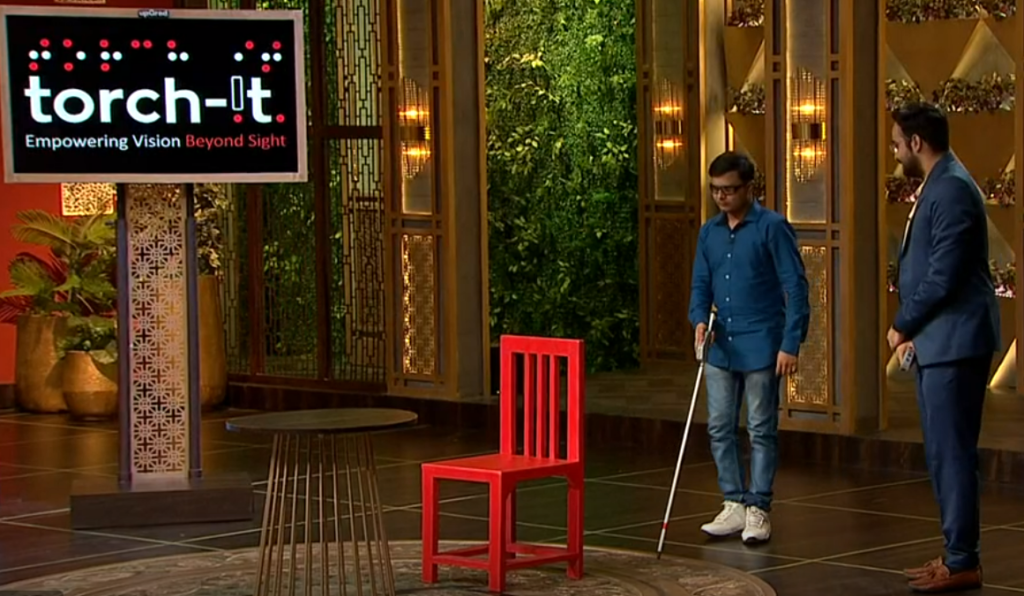 He is also planning to add other products in it like sunglasses, which will give all the information in audio form through a small device directly to the ears. They have the vision to provide sight to curves of individuals facing them.
How was the Torch It shark tank pitch?
The founder of Torch It came on Shark Tank India so that he can have an investment of 75 lakh rupees for 1%, company valuation is around 75 crore rupees, for the addition of new products. He shared the details and showed a demo with the help of a blind man and impressed all the sharks.
Vineeta did not find this business relatable and investable, so she went out. Namita and Aman were ready to give an offer but as Hunny shared that he already has an 18.5 crore rupees order, they didn't place their offer on the table. Anupam was quite impressed and gave an offer of 50 lakhs for 2.5% equity and 25 lakhs as debt.
Ashneer went out as he knew his offer of 1 crore for 25 % in business. Hunny encountered Anupam with an offer of 50 lakhs for 1% equity and 25 lakhs for debt, Anupam said his offer was non-negotiable. Hunny showed his thankfulness to the sharks and showed his conviction by saying 'NO' and going out.
Company 03: LKD- La kheer Deli
LKD- La kheer Deli is an Indian dessert brand. It makes 9 different flavored kheers. Kheerstarji is the Brand Ambassador of LKD.
It is simply delicious and out-of-the-world taste-holding kheer. LKD is a pre-packaged gourmet kheer. It is available offline and online.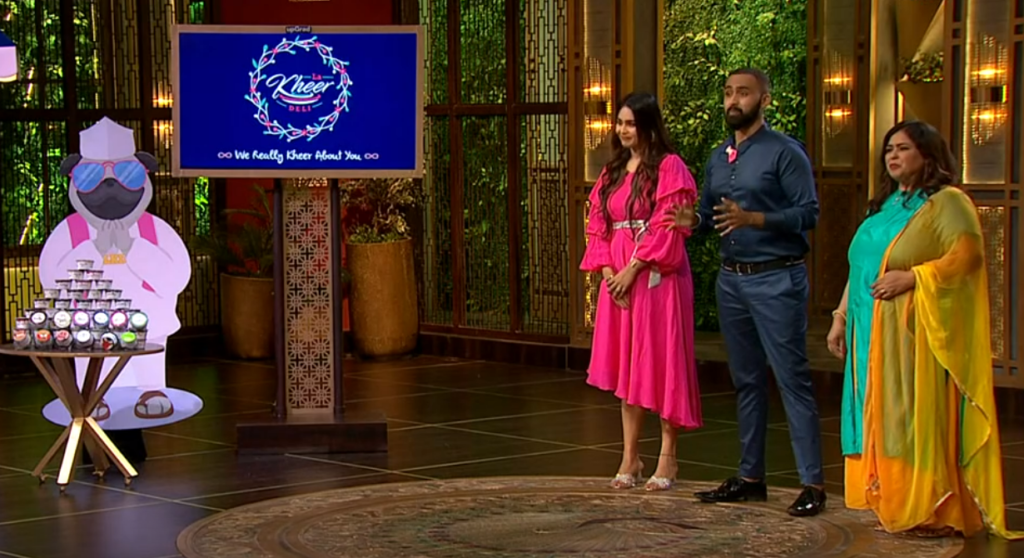 It includes variations of tastes like Nutella kheer, dry fruits, Mocha for coffee lovers, Patakha kheer, Gulkand, Oreos, and many more. It has a shelf life of 6 days and they manage the cold chain through iceboxes. They have a specific premix for it.
Who are the Founders of LKD- La kheer Deli?
Shivang, Shivika, and Supermom Soniya Sood are the founders of La Kheer Deli from Pune. Soniya has once made kheer for her children, to which Shivika passed the tantrum that her mother always made the same plain kheer.
Soniya got offended by the statement and went into the kitchen to try something new and offered a bowl of kheer to Shivika. After having it, she went crazy and from there, they had the thought of La Kheer Deli Startup.
They first started selling it on the roadside of Pune, in front of Starbucks, on a small cart.
How was the LKD- La kheer Deli Shark tank pitch?
The triplets came on Shark Tank India with the required investment of 50 lakh rupees for 7.5 % equity in the business. They came with a vision to make it a household name and a global phenomenon.
After a few discussions, during the pitch along with sharks especially on the distribution channel, Ashneer said no directly as the shelf life of kheer is not more and they didn't have the confidence in themselves. Aman suggested that they should focus on the shelf life and should open more franchises in Pune.
Namita asked when they would be ready to sell the premix with a minimum of 20 flavors, then they are welcome to get an investment from Namita in the future. Anupam offered a deal of 50 lakhs for 25% with a condition that they have to make it a pilot into a premix.
Shivang asked Anupam if they can do both the factors. Anupam suggested to him that during a start-up, one cannot focus on all the variables. He gave a counteroffer of 50 lakh rupees for 15%. 
Anupam didn't lower down himself and thus no investment took place.
Do Share Your Thoughts:
Do tell us all your thoughts in the comments section below, we look forward to reading all the comments in the section below.
Also, do check our Startup Resources section, and don't forget to join our weekly newsletter 📰 which contains pure startup and business wisdom and no bullshit!!
Do follow us:
Related Articles:
Which companies presented in Episode 7?
First was Raising Superstars by Raghav and Shraddha Himatsingka. The second was Torch – it by Hunny Bhagchandnai and the third was LKD – La Kheer Deli by Shivang, Shivika, and Supermom Soniya Sood.
Who are the investors in Shark Tank India?
Ghazal Alagh – Co-founder and Cheif Mama of Mamaearth
Aman Gupta – Co-founder and CMO of BoAt
Vineeta Singh – CEO & Co-founder of SUGAR Cosmetics
Ashneer Grover, Founder, and MD of BharatPe
Peeyush Bansal – Founder & CEO of Lenskart.com
Namita Thapar – ED of Emcure Pharmaceuticals
Anupam Mittal – Founder and CEO of Shaadi.com