OfferUp is an online mobile-first C2C marketplace with an insistence on in-person transactions. OfferUp is founded by Nick Huzar and Arean Van Veelen in April 2011. Its headquarters is in Bellevue, Washington, U.S. In 2015, Forbes named OfferUp as Hottest Startups, citing the company's explosive growth between funding rounds throughout the year and was well placed to take over the place Craigslist had once held in the marketplace. Since then OfferUp has become the largest marketplace for buyers and sellers and it was also named as one of The 7 Most Innovative Startups in Seattle, Washington by Inc.
OfferUp has begged too many achievements till date, they have also broken the Top 50 most downloaded free apps on Google Play as well as Apple Appstore. On March 25, 2020, OfferUp announced about them acquiring their rival Letgo and raising $120 million. Letgo was then merged into the OfferUp app on August 31, 2020.
Index:
How OfferUp works?
OfferUp company's sellers can list items for sale and buyers can browse through listings on the app or even search the products to find what you are looking for. 
Once you find out the item that you want, you can then interact with the seller over the app. You can ask for clarifications regarding the product or can also negotiate the price.
 After a price has been fixed upon, the buyers and sellers meet to buy or sell the products advertised on the platform.
After the transaction is done, buyers and sellers can rate each other and can review each other's profiles. This can result in the trust of buyers and sellers on the platform and as a result, makes OfferUp better for everyone on the marketplace.
Business Model:
Key Partners:
OfferUp wants its partners to get the best services and therefore is partnered with companies like Upright Labs' Upright Lister, Goodwill, etc.
Key Activities:
OfferUp provides Pay-per-use services such as Bump and Promote, to sell your item faster. You can buy a Promote or Bump option so that it can be seen by more people and Promote your items on OfferUp. The bump feature automatically relists your item and moves it to the top of the list.
Key Resources:
OfferUp has achieved a strong place for 2 reasons. First, it has achieved massive scale and secondly, it has a very engaged community that spends a lot of time on the app, and more users spending more time translates into more listings and definitely a higher probability for people buying the objects posted.
Value propositions:
There are in total 3 advantages as to why OfferUp has a strong value proposition.
Users take pictures of the object they want to sell from their phones, and as OfferUp removes friction from the process as the user doesn't have to transfer his pictures on the laptop first.
OfferUp has an integrated messaging feature that allows users to complete the negotiation process within the app itself.
Thirdly, as it has a strong background verification process it allows transactions to happen in a safe environment.
Customer Relationship:
OfferUp provides its customers with all services possible. OfferUp website also includes a customer service section, which provides policies of the company, FAQs, contact information so that customers will always be in touch with the company. One can choose to use OfferUp's Promote Plus service as it is there for the use of customers. One can also link their Facebook account to connect with their friends who also buy and sell on OfferUp. OfferUp has seen consistent growth in the number of users since it started.
In August 2019, the total number of app downloads was 80 million with 44 million users, both active and passive. Also, the transaction volume on OfferUp increased from $2.5B in 2015 to $14B in 2016, according to certain reports.
Customer Segments:
OfferUp's target market is everybody with a smartphone as it's just as easy as it looks, it is not at all tough to buy and sell the products and there are no extra efforts needed to take a picture and no need to transfer the photos on the laptop and then put on the app, one can directly sell products through the smartphone and those who wants to buy and sell items locally in a secure environment can use OfferUp.
Channels:
OfferUp connects with its customers through its website, app, and other social media platform. OfferUp tries to keep in touch with its customers and offers them services whenever they need them.
Cost Structure:
OfferUp allows sellers to pay for service when they sell a product that needs to be shipped. Charges start from either $1.99 per sale or 12.9% of the sales price. OfferUp also allows sellers to export the items to 48 states over the U.S. through its partnership with the US Postal Service. The company in addition makes money through promotional listings and a dedicated program for car dealerships.
Revenue Streams:
OfferUp's revenue is less than 1 million with 280 employees. There is no accurate revenue as OfferUp declined to disclose its figures.
OfferUp revenue streams include:
Sellers Fee: When a product is shipped by the seller then Offerup collects $1.99 or 12.9% of the sales price.
Listing: When a buyer wants to push their product to the top of the listing or needs a bump they can opt for Promote or Promote Plus feature.
Dealership Program: Through its verified car dealership program, OfferUp allows car dealers to be verified and sell easily with trust.
Valuation, expenses, and revenue:
OfferUp has declined to disclose its net worth, but it was reported to be valued at $1.4B after the funding round in August 2018, according to PitchBook.
Investors Details and funding:
OfferUp has raised $393.7 million in 8 funding rounds from investors such as Andreessen Horowitz, GGV Capital, Tiger Global Management, Warburg Pincus, T. Rowe Price, and Allen & Company, and others, as of May 2020. The latest $120 million funding was raised in May 2020, along with an agreement to acquire Letgo. OLX Group, a Netherland-based firm led the latest investment round. OLX already had a stake in the firm Letgo and after the acquisition, it was agreed that it will have a 40% stake in the combined entity. Existing investors who have a stake in OfferUp are Warburg Pincus and Andreessen Horowitz which also participated in the funding round.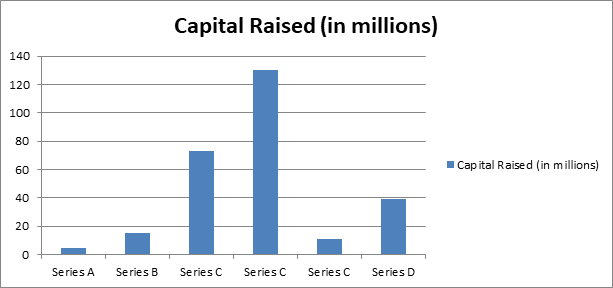 Is OfferUp profitable?
The OfferUp app has become one of the most prominent digital entities for buying and selling goods by using smartphones.  The app of OfferUp apparently makes a visible profit-making its net worth of approximately 1 billion dollars.
Do Share Your Thoughts:
Do tell us all your thoughts in the comments section below, we look forward to reading all the comments in the section below.
Also, do check the useful Startup Resources and Tools below, and do join our newsletter 📰 for free for more interesting Business Case Studies 💰, Startup Insights 🚀, and Startup founders podcast 🎙️ delivered to your inbox every Sunday morning.
Do follow us:
Related Articles:
FAQs: