Peloton Interactive Inc. is an American-based exercise equipment and media company headquartered in New York City. It was founded by John Foley on January 3, 2012, and launched with the help of the Kickstarter funding campaign in 2013. Peloton's main products include stationary bicycles which cost US$1,895 to US$2,945 and treadmills which cost US$2,495 to US$4,895. They also allow monthly subscribers to remotely participate in classes via streaming media. There are in total 3,281 employees in the U.S., 283 in the U.K. and Germany, and 71 in Taiwan in 2020. The number of locations is 95 showrooms and 2 studios.
Index:
How does Peloton makes money?
Peloton makes money on three major streams of income. They are Apparel, Connected Fitness Products, and Subscription Revenue. Now, let's dive deeper into them:
Apparel & Accessories: The company sells its fitness clothing under its Peloton Apparel brand. The brand includes clothing such as t-shirts and leggings as well as accessories like gym bags and caps.
Connected Fitness Products: The company sells two different workout products, the first one is Peloton Bike which is an indoor cycle with a touch screen monitor. The base price of this product is $1,895 with the option of monthly payments. Furthermore, the customer can choose from different packages that include add-ons such as headphones and shoes. Next, the company also sells Peloton Tread. Similarly, to the bike, the treadmill also comes with the monitor and its base price is $2,495 and Peloton tread+ starts from $4,295.
Subscription Revenue: Peloton customers can subscribe to exclusive sports content streamed directly to their monitors. The cyclists can either join a live class and compete against other participants or simply follow pick a class from the exclusive library of Peloton. The monitor shows them how to give a tough competition to other participants or whether they are improving their workouts while being directly connected with the instructor. There is a monthly subscription price that comes out to be around $39. Additionally, customers can also download the Peloton app and subscribe to numerous classes such as yoga or strength training.
Business model:
Key Partners:
Peloton includes investors such as GGV Capital, Kleiner Perkins, Tiger Global Management, True Ventures, Wellington Management, Fidelity, NBC Universal, all participated in the round, joined by new investors and other mutual fund partners.
Key Activities:
Peloton's key activities are to renew the subscription of the customer, to attract new customers by giving them benefits, to increase the number of classes taken, increase the number of new instructors joining the platform. Peloton develops its value proposition based on the customers' goals, ambitions, and challenges, adapting a catalog of solutions and services to support these objectives.
Key Resources:
Peloton represents a huge part of Affirm's revenue as well as merchants. Peloton has over 4.4 million members with 1.67 million people subscribe to Peloton's connected fitness membership.
Value Propositions:
The value proposition of Peloton is to bring boutique fitness classes into your home, to provide you with utmost convenience. At Peloton, they continually think through and discuss the critical elements of an innovative system. Peloton always provides its customer with good quality and therefore as such we don't see any other boutique fitness classes as competition, in fact, they are broadening the market by making people realize how important and fun instructor classes can be.
Customer Relationship:
Peloton defines a "member" as any individual who is having a Peloton account. According to a company shareholder letter report, Peloton has over 4.4 million members on the platform, as of December 31, 2020. The total number of members has grown 22.22% since the previous quarter, up from 3.6 million users which tend to be a remarkable growth. Peloton always thinks about his customers and offers a large range of products:
Peloton Bike
Peloton Bike+
Peloton Treadmill
Customer Segments:
Peloton's target market in the demographic of U.S. is 35-65 years old. There fastest growing demographic are the individuals under the age of 35. According to Facebook Insights, between 25-34 age groups are people who come under 32% of people who use Peloton. By this, we can say Peloton has a very large age spread.
Channels:
More than 100 showrooms are there to provide services to the customers. Customers can also buy the product and apparel online. In the coming future, Peloton can launch its products in China, Korea, Israel, Mexico, New Zealand, Singapore, Philippines. Peloton also announced the plans to expand in Australia to later 2021.
Cost Structure:
The subscription price of Peloton products comes at $39, which can be saying as a bit over the price of a boutique fitness class as compared to companies like Flywheel. Customers can also download the Peloton app and can also subscribe to various classes such as strength training or yoga at $19.49 per month.
Revenue Streams:
The total revenue of the fiscal year 2020 is $1.825 billion. For the third quarter of 2020, the company has posted revenues of $524.6 million, which represents 66% of year growth.
Valuation, expenses, and revenue:
The company raised another $1.2 billion, during its IPO.  Peloton was valued at $8.1 billion. Today, that valuation has more than doubled to over $19 billion. As the majority of consumers were forced to stay home (and couldn't access public gyms) during the lockdown because of Covid 19 pandemic, many went on to buy home gym equipment to compensate for the lack of outdoor activity.
For the third quarter of 2020, the company has declared revenues of $524.6 million, representing a 66 percent year-over-year growth. The company generates annual revenues of $1.825 billion for 2020. Now, let us have a look at annual sales of Peloton bike equipment and digital content in the form of a graph: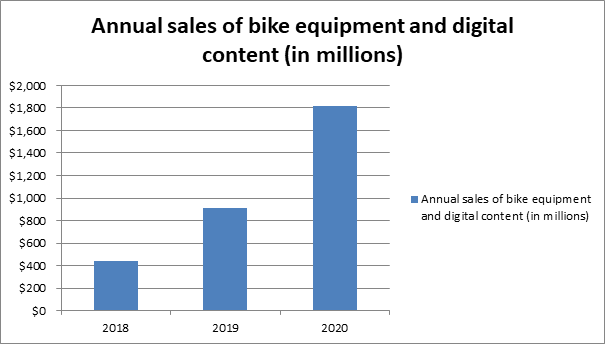 Investor's details and funding:
Peloton has raised a total of $994.7 million across 8 rounds of venture capital funding. Prominent investors into the company include GGV Capital, Kleiner Perkins, Tiger Global Management, and many more.
Competitor Analysis:
Precor: CEO of Precor is Rob Barker, number of employees is 800, and revenue is $426.7 million.
Life Fitness: CEO Christopher Clawson, number of employees 2,460 and revenue is $1 billion.
Soulcycle: CEO Evelyn Webster, number of employees 1,500, revenue is $125 million.
NordicTrack: CEO Jim Bostic, number of employees 109, revenue is $125 million.
FLY: CEO Travis Frenzel, number of employees 1,200, revenue is $425 million and funding is $121.9 million.
Is Peloton profitable?
Yes, Peloton is a profit making company. Peloton connects and aims fitness subscriptions to reach 1.98 million and a gross profit margin of about 35% in the current period.
Do Share Your Thoughts:
Do tell us all your thoughts in the comments section below, we look forward to reading all the comments in the section below.
Also, do check useful Startup Resources and Tools below and do join our newsletter 📰 for free for more interesting Business Case Studies 💰, Startup Insights 🚀, and Startup founders podcast 🎙️ delivered to your inbox every Sunday morning.
Do follow us:
Related Articles:
What is Peloton?
Peloton is media and fitness equimnet company that provide fitness content, equipments.
Who founded Peloton?
Peloton was founded by John Foley on January 3, 2012, and launched with the help of the Kickstarter funding campaign in 2013.