Paul and Bill started their Computer Journey from their school and later went out with Paul Gilbert, Allen, and Bill started their first company Traf-O-Data which sells computers to the City of Seattle for Counting City Traffic.
Eventually, Paul Allen and Bill Gates co-founded Microsoft, were avid computer geeks in an age when access to computers was hard to come by.
Index:
The Birth of Microsoft:
It all began the New Year 1975, when Allen read an article in Popular Electronics magazine about the Altair 8800 microcomputer and was keen to discuss with Gates. Both were excited and stepped into the bigger called, when Gates called MITS, makers of the Altair and offered his and Allen's services to write a version of the new BASIC programming language for the Altair.
Both were keen to prove their worth and after eight weeks of hard work, Allen and Gates demonstrated their program to MITS, which was a success indeed. It was then agreed to distribute and market the product under the name Altair BASIC. This deal struck the two brilliant minds to start something big, Gates and Allen were inspired to form their own software company. Microsoft began on April 4, 1975, in Albuquerque, New Mexico—the home of MITS—with Gates as the first CEO.
History of Microsoft Products:
Microsoft Operating Systems
An operating system is a fundamental software that allows a computer to operate with its software. Microsoft's first operating system product called Xenix was a version of UNIX, released in 1980. Xenix later was used for Microsoft's first-word processor Multi-Tool Word, a predecessor to Microsoft Word.
Microsoft's first prominently successful operating system was MS-DOS (Microsoft Disk Operating System), written for IBM in 1981 and based on computer programmer Tim Paterson's QDOS (Quick and Dirty Operating System). Being the deal of the century, Gates licensed MS-DOS to IBM but retained the rights to the software which was an awesome idea. Guess, Gates made a fortune for Microsoft, which had become a major soft vendor.
Microsoft Mouse
Microsoft's mouse was released on May 2, 1983.
Windows:
The Microsoft Windows operating system, the best innovation in 1983 that shook the growth of Computers had a novel graphical user interface and a multitasking environment for IBM computers. In 1986, the company went public and the real success meant that Gates became a billionaire at age 31.
Microsoft Office:
The release of Microsoft Office, a software package in 1989 is a collection of programs for use in an office. It was an ingenious idea and tool that still used today and relevant, it includes a word processor, spreadsheet, mail program, business presentation software, and now much more.
Internet Explorer:
In August 1995, Microsoft released Windows 95, which had technologies for connecting to the internet, built-in support for dial-up networking, TCP/IP (Transmission Control Protocol/Internet Protocol), and the web browser Internet Explorer 1.0.
Xbox:
In 2001, Microsoft introduced its first gaming unit, the Xbox system. Xbox faced stiff competition from Sony's PlayStation and eventually, Microsoft discontinued the Original Xbox in favor of later versions. In 2005, Microsoft released the Xbox 360 gaming console, which was a success.
Microsoft Surface:
In 2012, Microsoft made its first foray into the computing hardware market with the announcement of Surface tablets that ran Windows RT and Windows 8 Pro. Now with Microsoft TEAMS, YAMMER has taken the leap into the Communication Software products of Microsoft.
Acquistions:
Microsoft has made twelve acquisitions worth over one billion dollars: Skype (2011), aQuantive (2007), Fast Search & Transfer (2008), Navision (2002), Visio Corporation (2000), Yammer (2012), Nokia's mobile and devices division (2013), Mojang (2014), LinkedIn (2016), GitHub (2018), Affirmed Networks (2020), ZeniMax Media (2020) and Nuance Communications (2021).
Business Segments:
Microsoft is an information technology company that provides software products and services to its consumers. It reports three business segments:
Productivity and Business Processes:
This segment comprised 33% of Microsoft's revenue in 2019. It consists of products and services in Microsoft's portfolio of productivity and information services which include:
Office Commercial/Consumer — Revenue is derived from users subscribing to Microsoft's Office software suite. Services in this segment are intended to enhance personal and organizational productivities and have been the core business from the past. This segment is a significant driver of revenue in this business segment of Microsoft.
LinkedIn — Professional social network makes money by offering three varieties of monetized solutions in the market: Talent Solutions, Marketing Solutions, and premium subscriptions. This was a recent Microsoft acquisition.
Dynamics CRM — Business provides cloud-based and on-premises business solutions for Enterprise business applications like enterprise resource planning (ERP) and customer relationship management (CRM). Dynamics revenue is driven by the number of users licensed, expansion of average revenue per user. Shift to Dynamics 365 — the cloud component of Dynamics.
Intelligent Cloud:
This segment comprised 31% of Microsoft's revenue in 2019. It consists of Microsoft's public, private, and hybrid server products and cloud services that power modern businesses:
Server Products and Cloud Services — Microsoft's server software provides integrated server infrastructure and middleware designed to support software apps built on Windows. Server products include Microsoft's SQL Server and Windows Server. Server products revenue is driven through volume licensing programs, licenses sold to original equipment manufacturers, and retail packaged products.
Microsoft does provide a comprehensive suite of cloud services through Microsoft Azure. In line with the secular growth of cloud computing as opposed to managing on-premises hardware and software. Azure makes money through users subscribing to its cloud service.
Enterprise Services like Microsoft Consulting Services are project-based engagements to help customers plan and implement Microsoft products in order to reap the best value from Microsoft's products.
More Personal Computing:
This segment comprised 36% of Microsoft's revenue in 2019. It consists of products and services mainly structured to improve the user experience:
Windows – the operating system is the most used desktop operating system in the world. Windows original equipment manufacturers' (OEMs) revenue is derived from the purchase of Windows licenses by OEMs which they pre-install on the devices they sell to the consumers.
Devices — including Surface tablet, PC, and other Microsoft intelligent devices. Revenue is derived from this segment from the sale of these devices.
Gaming — Microsoft generates gaming revenue from the sale of Xbox consoles and games.
Search – Microsoft's search engine, Bing, generates advertising revenue.
Breakdown of Microsoft's segmental revenue for FY2019: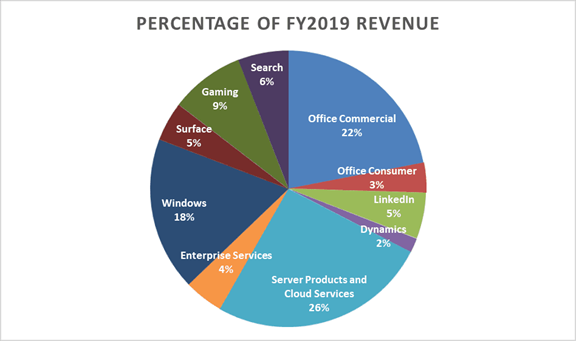 Microsoft's server products like, Office, and Windows comprised more than 69% of Microsoft's revenue in FY2019, which we can see in the chart above. Economic moats are created from business processes/plans.
Economic moats:
Economic moats of Microsoft have been established.
High switching costs:
This is due to the industry-standard Microsoft has created with its Microsoft Office software. Accounting functions like accounting procedures are often centered around Microsoft Excel. The user who is not familiar with the new platform finds it a lot of work to upload their financial statements.  Microsoft office has a psychological and economic sense.
Microsoft's Windows Server is what forms the backbone of many IT companies. Being extremely costly for any company to replace any part of an enterprise's IT environment, expect many companies to continue using Windows Server. The unique Microsoft server environment has users because there is a customer lock cost.
Network effect:
For starters, Microsoft's network effect is established with the increased number of participants of Microsoft products, which improves the value of Microsoft's platforms for users.
software developers the financial incentives and economies of scale when they create a variety of add-ins for Excel – such as integrating popular finance platforms like Bloomberg and Capital IQ into Excel. It is estimated that a user base of over 750 million uses excel. The financial community wants to analyse financial figures via Bloomberg or Capital IQ, they would have an easier time doing so with Excel.
The key point is Microsoft's ability to move clients from an on-premises Microsoft environment to a cloud Microsoft environment via Azure has led to a wide variety of developers joining the ecosystem with applications and development tools. CIOs and IT managers love this environment so do developers and users. This is a strategic move that is reaping benefits for Microsoft now.
Growth drivers:
Cloud computing:
Cloud computing presents secular growth opportunities for Microsoft's cloud business, Azure. Benefits like cost savings on hardware and automatic software integration many companies are moving to the cloud.  Gartner says the global cloud computing market size is expected to grow at a CAGR of 15.9% from 2018 to 2022, making it a US$354 billion industry by then. He also added that, by 2022, up to 60% of organizations will use an external service provider's cloud-managed service, double that of 2018. Microsoft Azure's revenue grew at an astounding year-on-year rate of 91% and 72% for FY2018 and FY2019 respectively. Note: Amazon Web Services (AWS) still dominates the industry with 32.3% of market share in 2019. AWS at second place with 16.9% of the market share.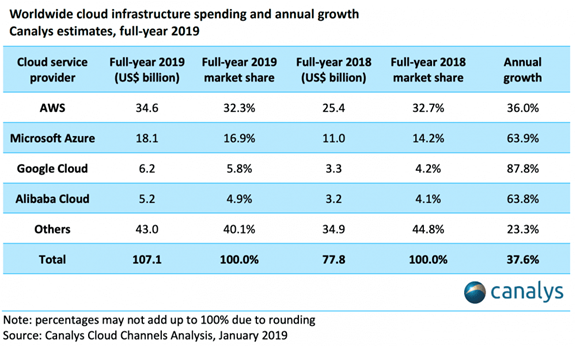 Microsoft is picking up fast and closing on the gap. Just late last year, Azure pulled off a stunning deal to win a US$10 billion Pentagon technology contract. Definitely, such changes underscore Azure's growing reputation in the industry.
The three cloud providers today — Google Cloud, Azure, and AWS — will be competing fiercely to capture market share in the cloud computing industry in the upcoming years to come. The cloud business is very technical, here is an article to help you understand the competition in the cloud industry better.
Office 365:
 Microsoft Office 365 is part of CEO Satya Nadella's vision for remaking Microsoft into a company where customers rent rather than buy the software. Customers benefit as they no longer have to manage software on their own computers or data centers. Users do not need to upgrade anything if they have Office 365.
This indicates that Microsoft has been successful in convincing enterprise customers to upgrade to the subscription-based Office 365 licenses due to the increasing number of users. With these recurring license revenues, their growth is eminent.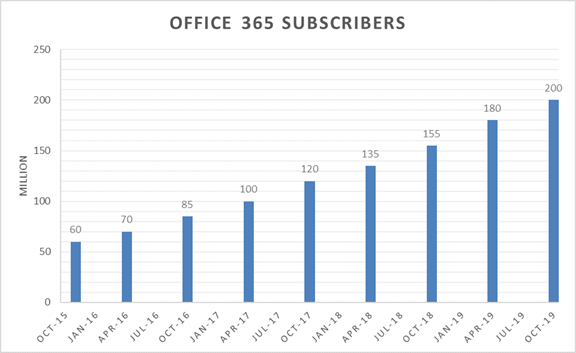 Financial performance:
Microsoft has steady revenue and net income growth over the past five financial years. This displays it can expand its user base and increase its average revenue per user.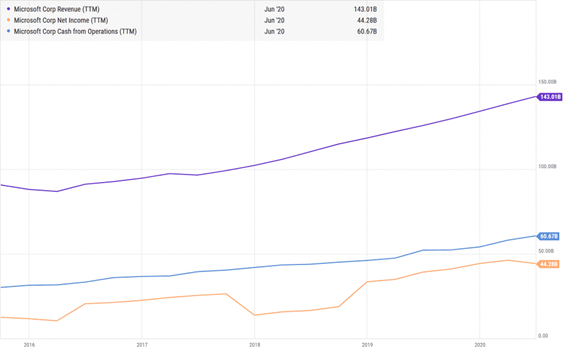 Due to the Tax Cuts and Jobs Act which was enacted in December 2017, Microsoft's net income fell in FY2018. $13,7billion was the amount to be incurred by Microsoft and this was not filed in the information of the state of the USA. 
With its operating cash flow comfortable trending above its net income over the past five years, the company Microsoft is making a good earning in this time.  In the year 2020, Microsoft generated $1.37 in cash for every dollar of profit, which is a great business to be in.
Microsoft also  generates a high return on equity (ROE) relative to its peers.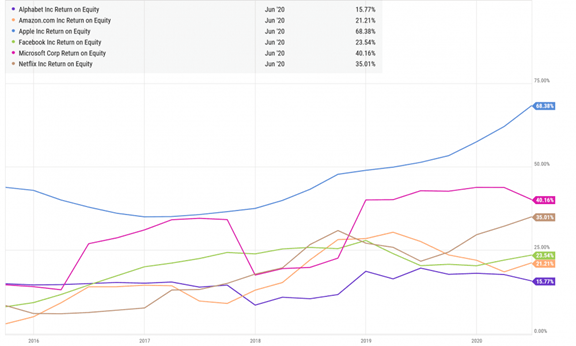 Microsoft's ROE is higher than the FAANG stocks bar Amazon as it is currently 40.16%. Its debt/equity ratio in FY2020 is just 0.54.
Risks:
Business model competition:
There are a growing variety of business models with which Microsoft competes. Microsoft products are functional-rich modules and grown over the years. The competitors make money by advertising and giving away free subscriptions.  The scenario is that now the cost of the product given by the competitors are none and they are, competing directly with Microsoft's revenue-generating products.
Modifying and then distributing open-source software at little cost to users without having to bear the full R&D costs for the open-source software are just some of the things that the competitors do. The functionality and features of Microsoft's products are very similar to other products.
Cloud computing risks:
Microsoft's increasing focus on cloud-based services definitely presents execution and competitive risks. Microsoft incurs costs in developing and maintaining infrastructure to support its cloud computing services. There should be sufficient market share to understand the profits of a business in the market. This depends on its execution in several areas.
For example, Making a suite of cloud-based services platform-agnostic, available on a wide range of devices and ensuring its cloud services are secure and reliable for its consumers. Microsoft has the ability to fiercely rival the competitors' google and amazon.
The fifth perspective:
Microsoft is clearly a high-quality company. Microsoft has high profitability a high profile and economic moats, it also has a large customer base. Microsoft is a company that is heavily involved in the software space with technical concepts that can be hard to understand for the layman.
As the technological market is heavily competitive it is important to assess the competitors in an in-depth analysis and also the company to find out if it will be able to last for years to come.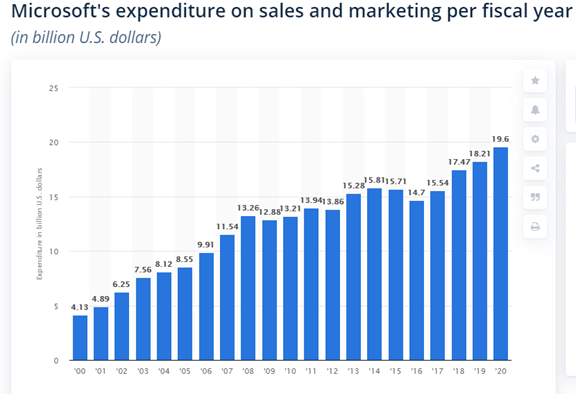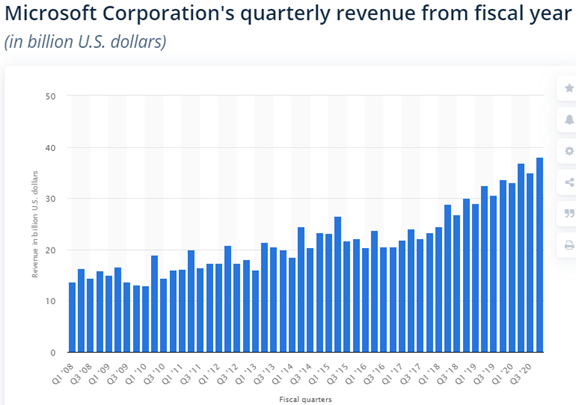 Business model:
Customer Segments:
With a variety of services and products, Microsoft targets two types of customers that can typically be divided into commercial clients and general consumers.
It offers software and cloud computing solutions through its productivity suite Office 360, email platforms Outlook and Exchange, and online calling platform Skype, which are utilized by both end-users and businesses. Now Skype has been transformed into Next Generation product called MICROSOFT TEAMs. Microsoft products cater to two types of customers namely the server environment is for cooperate clients while the gaming and mobile phone is for the retail market.
Online marketing oppurtunities are available with, its MSN portal and Bing search engine and serves developers with its suite of development tools for the community.
Value Propositions: 
Microsoft is a market leader. Products are available free of charge and can be accessed either via the MSN portal or through the Company's various apps. Content of Microsoft's products can also be synced across multiple platforms, including the Company's own brand of phones.
The Operating system and suite of Office 360 products are widely considered the tools of choice within the cooperate world. Microsoft has a large customer base that is benefited from it's expertise now and then.
Channels:
Things like- Outlook, Office, OneNote, OneDrive and Skype, Teams – are available online via its MSN web portal at www.msn.com. A number of separate desktops, Apple iOS, and Google Play apps for its products are available. Only some of the Microsoft products must be downloaded and installed directly onto user computers in order to be accessed. The other services like customer support and technical support are handled by the Microsoft team of marketing and sales.
Customer Relationships:
Microsoft's various customer segments require differing levels of communication with the Company itself and after sales service.
The software and hardware products are largely self-service and do not require any interaction with sales and marketing representatives. The provision of enterprise productivity services definitely requires a greater degree of personal assistance in order to properly fulfill the required individual needs of each client.
Direct collaboration with Microsoft representatives is essential in providing consulting and support solutions and advertising services. Social networking profiles are the most common way for the team of sales and marketing to contact the customer.
Key activities:
It develops, licenses and supports a range of enterprise and consumer software products and services to its consumers. This includes operating systems for personal computers, servers, and phones, server applications.
Things like PC accessories, mobile phones, and video games consoles and accessories are designed and delivered by Microsoft. In addition, Microsoft provides ancillary IT consulting and product support services to clients across multiple sectors in various parts of the globe.
Key partners:
Microsoft has an extensive network of partnerships to manage, organized under the Microsoft Partner Network, with the aim of enabling tech companies to build their businesses around Microsoft technologies and to provide services on the Company's behalf and grow as a key partner. This network comprises companies that provide systems integration, application development, digital advertising, data analytics, manufacturing, marketing, distribution, telecommunications, data management, cloud services, and internet hosting services, in addition to authorized resellers and independent software vendors.
 Microsoft Certified Partners receive support and tools directly from Microsoft and are provided access to products at a discounted price in return to the participation. Software companies like Jasper, Venture production studio ConsenSys, Chinese electronics manufacturer China Electronics Technology Group, and gaming software firm Valve VR, among others have made partnerships with Microsoft.
Key resources: 
Microsoft's key resources are relating largely to its server management and software products and bring into concern things like intellectual property and proprietary rights. This includes its physical data centers and servers.
The Company's personnel, particularly within its research and development teams, are key to maintaining Microsoft's market position, hiring only the most qualified candidates after an extensive vetting process lets them remain on the top.
Another key resource to the company was the forward and innovative thinking gates himself. One of the world's largest companies by revenue, the company is flexible in investing is R&D mainly due to the large sums of money it has.
Cost structure:
Retention of expert personnel and R&D investments are the backbone of its cost structure. The Company also accrues costs in relation to the maintenance of its secure data centers and servers.
The company also has a substantial marketing budget and a large sales team in order to remain competitive in an increasingly saturated field. The significant fixed costs incurred by Microsoft, include office rental and utilities.
Revenue streams:
Microsoft is ranked among the world's top 100 companies organized by revenue. The revenue is divided into three principal segments:
Productivity and Business Processes
Intelligent Cloud
More Personal Computing
The sale generated by the segment of Business process and productivity includes -the sale and licensing of its various software products and cloud services across a range of devices and platforms in the world. It comprises commercial and consumer licensing of Microsoft's suite of productivity products and cloud services and also includes those pertaining to the Office 365 suite, email platforms Exchange and Outlook.com, content management tools SharePoint and OneDrive, and call services provider Skype.
The revenue generated by its server products and cloud storage services, including the sale and licensing of Windows Server, Microsoft SQL Server, Visual Studio, System Centre, and Microsoft Azure services to commercial clients and general consumers across the world is in the segment of Intelligent cloud. The aim to develop innovative IT solutions for businesses – are also grouped into this segment to provide the relevant services required to implement their products.
Microsoft's More Personal Computing segment relates to end-users, developers, and professionals on multiple devices and platforms. It includes licensing of Windows operating systems, Microsoft patents, and phones on Windows, the sale of Microsoft devices, including mobile phones and PC accessories, and the sale of licenses and products relating to the Microsoft Xbox gaming platform, including Xbox Live subscriptions, transactions, third-party video game royalties, and advertising.
SWOT Analysis of Microsoft:
Strengths:
International Presence – Microsoft's Multinational Status and Global Brand phenomenal presence are seen in almost 190 countries. The main strength of the company. Microsoft's Global presence replicates huge sales and takes a vast reach of the brand and is a monopoly considering the computer software segment. Microsoft operating system is used in most computers.
Huge Portfolio – Compared to its nearest competitor Apple, Microsoft has a huge product portfolio. This is a major strength that helps to achieve a higher sale. The huge product portfolio includes the following:

Operating system
Server applications
Cross-device productivity applications
Business solution applications
Software development tools
Video games
Desktop and server management tools
Video games
Training and certification for developers and computer system integrators
The brand also makes and sells various devices like the following:
Tablets
PCs
Gaming and entertainment consoles
Intelligent devices and connected accessories that integrate with cloud services
Microsoft is famous in the online advertising world.
Rising Cloud Business – The vision of Satya to move into the cloud industry and expanding on its boom for the past few years is a true visionary success. Microsoft's well-timed entry into the cloud business, investing a huge investment, and coupled with leading innovation it has been a big hit for the Microsoft brand. Cloud-based services have been in great demand and it has also led to higher growth and contributes significantly to Microsoft revenues. Microsoft sees huge growth in cloud-based services and its cloud segment includes private, public, and hybrid server products and various cloud services that can empower the current businesses and contains mainly of the following:

Server products and cloud services that include Windows Server, Microsoft SQL Server, System Centre, Visual Studio, and Azure.
Enterprise Services that includes Microsoft Consulting Services, Premier Support Service.
Imagine the revenue from the cloud Products and Services has reached about 27.4 billion dollars for Microsoft. This is a transformational journey which has brought this phenomenal revenue for the company thereby seeing it as biggest strength for it.
Innovation – One of the strongest features of Microsoft is its whopping investment in its Research and Development even in 2017, almost 13 Billion dollars for cloud services. Microsoft has seen enormous growth in the cloud and computing domain based on its innovation strategies. Microsoft is ahead of its competitors in multiple areas that include Mixed Reality and AI. Mixed reality is an innovative technology that is full of potential as it can change the gaming world and knowledge work to provide great experiences to its end users. Microsoft has made the best decision to invest in cloud technology.
Brand Image – For any brand to be well-recognized, it must rule the global market and create a strong brand image. For such a large Multinational organization, having a strong brand image is a must become big support in the long-term to achieve the brand's goal and drive faster growth. Brand Image is linked with the brand's market position together with its profits and sales. Microsoft is indeed a leading brand in the market with regards to its technology and over the years has been a highly trusted partner among its customers.
Microsoft's large product range has aimed to maximize the user's productivity in the international market. Microsoft software has helped users to reach a high degree of productivity and efficiency that has led to gain trust among the brand's users as one of their own. A global brand with a local presence is seen in Microsoft products.
Weaknesses:
A Decline in the PC Market – PC usage has seen a huge decline over recent years where the shift is towards a huge rise in sales in tablets and smartphones. This way, the decline in the PC market is a great weakness for the brand thereby damaging its profit.
Failure in Phone Segment – In spite of Microsoft's acquisition of Nokia in the phone segment, there couldn't make a breakthrough like the competitors.
Slower with regards to its Innovation – During recent years, Microsoft has increased its investment in the Research and Development area. Microsoft's innovation frequency with its near competitors like Apple and Amazon speed has been slower. The search engines are not as interesting as google.  This has made them moved into one more reason for its market share on online advertising and search is less compared to Google.
Low Market Share from Advertising – The competitors of Microsoft Facebook, and Google are very good at advertising.
Vulnerable to Cyber Crime – Microsoft's products are very susceptible to cybercrime. For example, Cybercrime has been high on windows operating systems. Their investment into security aspects will be key to survive in newer cloud markets for consumers to gain confidence.
Opportunities:
AI and Innovation IT industry see significant growth and trending areas that include AI and many other technologies like Mixed Reality. The gaming industry as well sees a huge lot of opportunities. Microsoft must invest in innovation in these areas that would help to achieve huge growth.
Acquisitions – Microsoft has entered many acquisitions over the past years, out of which few were not that effective for the company. Recently, it has acquired LinkedIn that has proved an effective acquisition and allows it to connect to a large customer base and to also link it to a new opportunity of Dynamic CRM market worldwide. Being a financially strong company, it can get into more acquisitions selectively. The company should be careful while acquiring, it should acquire only those businesses that would increase its core business value. Acquisitions would indeed bring a lot of advantages to the brand.
Affordable Services – Market penetration level is dependent on its price. Microsoft sees a huge opportunity by creating products and services that are affordable and available across 190 countries in the world. By decreasing the prices for its products, it would help to get higher sales and thereby increasing its market share also.
Threats:
Competition – The IT industry sees strong competition from all angles. Being one of the Big Giants always leads to rising pressure for all giants in the industry. Microsoft sees huge competition from Apple, Google, Oracle, IBM, etc. Even though having a large product range, it does see strong competition which is a threat to the brand.
Technology Market – The technology market keeps changing fast and undergoes a paradigm shift. The fast-changing situation makes it challenging for big companies like Microsoft. Brands would have to focus more on innovation and marketing to get a huge customer base and for their customer retention.
The SWOT analysis of Microsoft mentioned in this article has highlighted the main strengths of the brand that comes up from its global presence, having a huge portfolio, having a huge domain in the cloud, showing its innovation in various products, and its brand image.
The company has its weaknesses from the decline in the PC market, Phone market and slower frequency in its innovation, having low market share from advertising, and being vulnerable to cybercrime.
The company has its opportunities to venturing into more innovation and AI technologies, entering into feasible and effective acquisitions and partnerships, and selling products at affordable prices. It sees a huge threat from its competitors and from the ever-rising technology market.
Do Share Your Thoughts:
Do tell us all your thoughts in the comments section below, we look forward to reading all the comments in the section below.
Also, do check useful Startup Resources and Tools below and do join our newsletter 📰 for free for more interesting Business Case Studies 💰, Startup Insights 🚀, and Startup founders podcast 🎙️ delivered to your inbox every Sunday morning.
Do follow us:
Related Articles:
What Microsoft means?
The name, a portmanteau of "microcomputer" and "software," was registered with the New Mexico secretary of state on Nov. 26, 1976. "Micro-Soft" came into existence to rock the world.
Who owns Microsoft?
These are some major shareholders Satya Nadella, Bradford L. Smith, Jean-Philippe Courtois, Vanguard Group Inc., BlackRock Inc. (BLK), and State Street Corp. Bill Gates owns around 1.3% as of 2019.