How often is that you carry out cash transactions these days? No doubt, cash transactions have their advantages. But like each coin has two sides, cash as a mode of settlement of transactions has its share of drawbacks.
With the evolving times, many mobile payment services have come into existence to overcome these limitations. And one such mobile payment service is Venmo.
Venmo is a safe and secure online social payment system. It is helping people in settling transactions among businesses, family members, and friends for 12 years with its headquarters situated in New York, United States.
It was initially acquired by Braintree in 2012 for $26.2 million. But Braintree got acquired by PayPal in 2013 for $800 million eventually making both PayPal and Braintree the Parent Company of Venmo.
Index:
Founders Story:
Andrew Kortina and Iqram Magdon-Ismail co-founded Venmo in 2009. Both were freshman-year roommates at the University of Pennsylvania. The major reason that drove them to develop a mobile payment service was to overcome the difficulties of cash transactions. Kortina and Iqram came up with the name 'Venmo' after combining two words that are Vendor and Mobile. This was revealed by Iqram himself in a podcast episode uploaded on YouTube.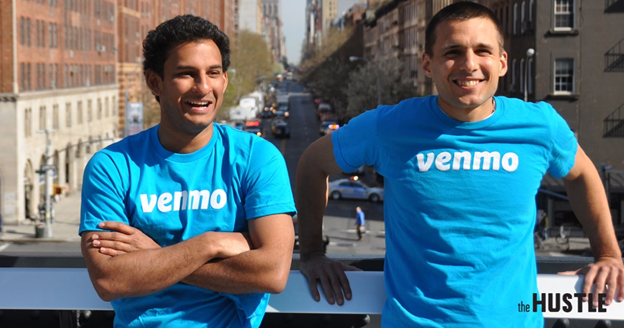 Business Model:
Venmo neither charges fees for signing up nor for sending money using your Venmo account, linked bank account, or debit card. But it does charge a 3% fee of the total transaction for sending money using a linked credit card. Also, it charges a fee of 1% of the transaction (minimum fee- $0.25 and maximum fee- $10) for instant bank transfer whereas for standard bank transfers (which takes 1 to 3 business days) no fee is charged.
Other than this, it makes money via the Pay with Venmo feature where it charges merchants with a 2.9% fee+ $0.30 per transaction. An interchange and withdrawal fee is also charged.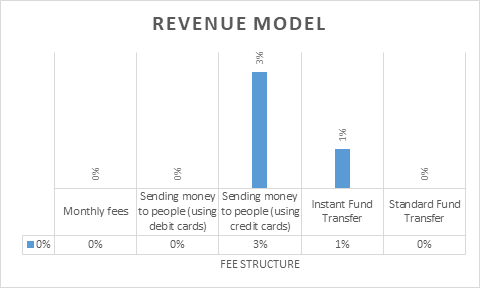 Customer Segment:
Most of the users of Venmo are Millennial belonging to the age group 25 to 40 years old.
Well, why shouldn't it be? The app is designed to attract the young generation using chat options, emojis, etc. making the app a lot for fun and interesting for the users. It is designed for fulfilling the purpose of splitting bills, room rent, etc.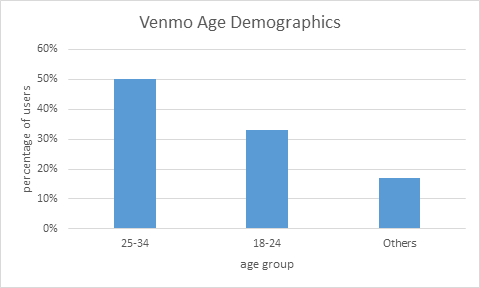 As the data below suggests, the app is used more by males in comparison to females. The male users comprise 60% of the total US population female comprises 39% of the total US population.
Key Partners:
According to CNBC reports, Venmo has partnerships with GrubHub, Chipotle, and Uber among many other merchants. More than 2 million merchants accept Venmo in the US.
Key Resources:
According to Crunchbase, Venmo is currently using 19 technology products and services some of which include HTML, Google Analytics, and jQuery.
It's also using 56 technologies for its website as of now.
Value Propositions:
Makes the movement of money swift and easier so that its members can enjoy it at the moment. For example, you can directly deposit your money to your debit or credit cards digitally. This gives you the flexibility and power to handle your money in your way.
Removes distance barriers- Venmo lets the business accept payments from their customer all around the globe without the need to physically transact in cash.
Creating friends and relations along the way- Along with sending and receiving money, Venmo gives the option to chat and provides the option to use emojis and stuff to give the whole process a personal touch.
Channels:
The channels through which one can connect himself to Venmo are-
Venmo has its app for both android and IOS.
It has its official website.
Key Activities:
What services does Venmo have to offer?
Helps its customers in receiving and sending money digitally.
As of the latest, Venmo also has a feature with which a customer can buy and sell cryptocurrency. One can buy crypto for as little as $1.
Helps in managing the money one has in its Venmo account by providing him with the required tools.
Valuation and Revenue of the Company (YoY):
Revenue of the company has somewhat been like as displayed in the following chart.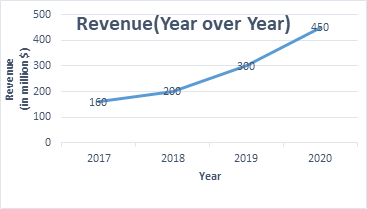 The below chart shows Venmo's valuation year over year. It was valued at $38 billion as of 2020.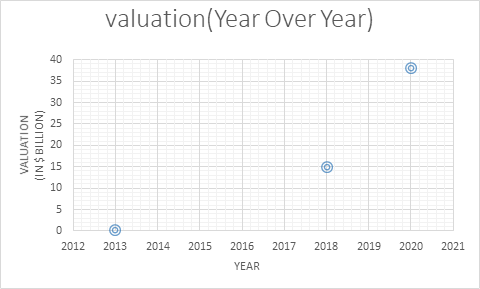 With an increase of approximately 60% year on year increase, Venmo made a total payment of $160 billion in 2020.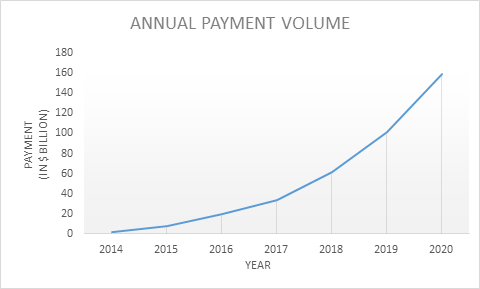 VENMO'S Competitors:
| | |
| --- | --- |
| | Google Pay– Both the apps are similar and used for the same purpose. The only difference being that Venmo is available only in the US whereas Google Pay is used worldwide. |
| | Apple Pay– Accessible only by IOS users, the app is used to make payments for in-store purchases. |
| | Zelle– Both the apps are used only by people of the US and for the same purpose. But according to the stats, Venmo is typically used to make smaller payments of around $10 on average. Zelle is used to making comparatively larger payments. |
| | Popmoney– It charges $0.95 to send money from a debit card whereas Venmo offers this service free of cost.   |
| | CashApp– The app is built by Twitter co-founder, Jack Dorsey. Alike Venmo, the app charges no fee for transferring money through a debit card.   |
Investors and Funding:
With a total funding amount of $1.3 million, Venmo is funded by
Lerer Hippeau
RRE ventures
Accel
Greycroft
Dave Morin
Vayner Media
Dustin Moskovitz
Interesting Facts:
Venmo offers a 'trust' feature that helps the app user to autopay rents and bills.
It's more than just a payment app and can also be used to connect to friends and family with its chat option and emojis which rather gives it a personal touch.
Not all purchases can be made using Venmo. The payment from the app is accepted only by the stores which approve of the facility.
The non-users of the app can also accept the payment sent by Venmo. They only need to sign up in the app.
An insufficient balance in the Venmo app won't stop you from sending money as the amount is retrieved from a primary funding source which can be your bank account, debit, or credit card.
Venmo has grown exponentially over the years and looks forward to growing more in the future. PayPal estimates that Venmo would be making a revenue of $900 million in the future and become profitable in the years to come.
Do Share Your Thoughts:
Do tell us all your thoughts in the comments section below, we look forward to reading all the comments in the section below.
Also, do check useful Startup Resources and Tools below and do join our newsletter 📰 for free for more interesting Business Case Studies 💰, Startup Insights 🚀, and Startup founders podcast 🎙️ delivered to your inbox every Sunday morning.
Do follow us:
Related Articles:
What is Venmo?
Venmo is a safe and secure online social payment system.
Who founded Venmo?
Andrew Kortina and Iqram Magdon-Ismail co-founded Venmo in 2009.