Satisfaction is what a buyer seeks. And what gives him this satisfaction? The best deals on the products he wishes to spend his money on. Now, getting this 'best deal' is a time-consuming task.
To make the consumer's lives easier Honey Science Corporation was launched.
It offers a variety of tools such as automatic coupons, promotional codes, etc. to find the best deals, the best value for a product, and many other benefits. And all of this for free of cost!
Honey is a company that operates a browser extension offering a variety of tools to its users that apply coupons automatically to e-commerce websites. It's just one of so many functions performed by the company. Other than this, the company's tools help to know the past trends of a product, the actual value of products, etc.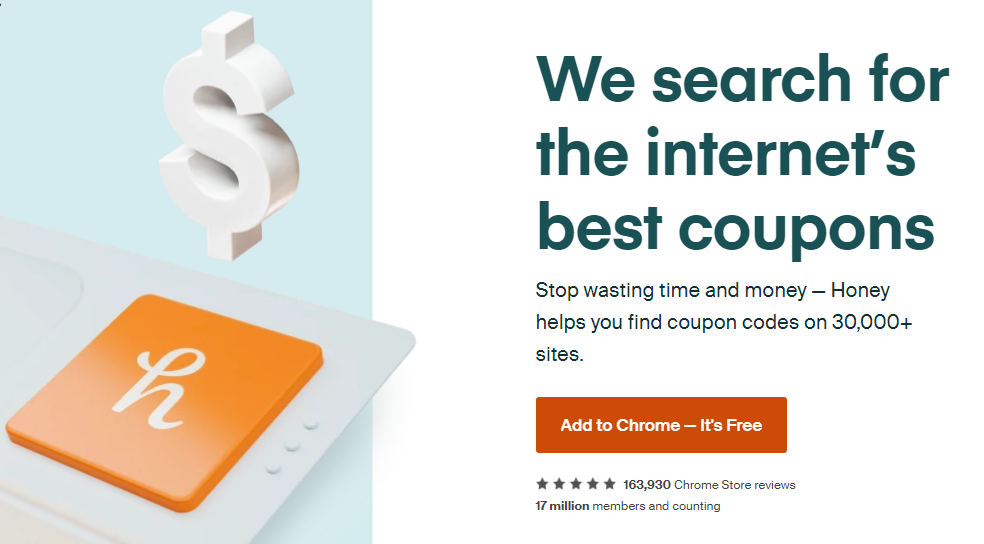 Honey has its headquarters situated in Los Angeles, California, and is currently providing its services to shopping sites in the US, UK, Canada, and Australia.
Honey relies on heavy advertisement and paid sponsorship on popular YouTube channels as a way of marketing.
With the help of seed funding, Honey was able to raise $1.8 million. Recently on 6th January 2021, the company was acquired by PayPal for $4 billion making Honey a subsidiary of PayPal.
Index:
Founders Story:
George Ruan and Ryan Hudson co-founded Honey in October 2012. Ryan Hudson saw how tedious of a task it was to find a coupon code online and that too a valid one. He realized that the buyers deserved better- better opportunities, better deals, and better value for the money they pay to buy a product.
To lift some burden off from the buyer's shoulder, within 6 weeks Ryan went on building a browser extension with George Ruan and this browser extension was the Honey.
There were a lot of other companies which have already come up with this coupon idea.
Honey was unique in the way it offered unexpected coupons or a spin cartwheel while browsing a site to its customers. Retailers were attracted to Honey because it helped them in increasing their sales and customer base.
Business Model:
Revenue Stream:
Honey provides free services to its members.
It generates revenue when a buyer uses Honey to get a benefit on a purchase made by him. It earns a commission from its merchant partners by confirming a purchase made by the buyer from the merchant.
Moreover, Honey gives back its members a certain part of its commission under its Cashback Programme in the form of Honey Gold Rewards.
Apart from this, according to Honey's official website, "Honey requires a minimum of a 3% commission in order to partner with us which is applied to each purchase a member makes on your site. Honey requires a minimum of a 5% commission in order to for us to enable Honey Gold on purchases members to make on your site. Remember, all opportunities with Honey are performance-based, so the commission is only paid to Honey when a transaction occurs, so ROIs will always be positive."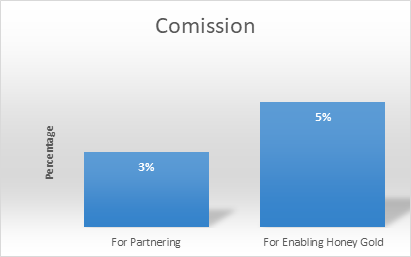 Customer Segment:
Currently providing its services to shopping sites in the US, UK, Canada, Australia, and some more, Honey's focus is on customers involved in the E-Commerce space. Most of its members are millennials belonging to a young generation of both male and female.
As of now, Honey's monthly active users are around 17 million.
Value Propositions:
Why should customers prefer Honey? Here is a list of values delivered by Honey to make customers lives simple and easier-
Time Saver– The customers need not browse here and there to get a valid coupon or promotional code to get the best deal for a product. Honey does this task. It automatically does the entire process thus, saving a lot of time and effort.
Saves Money– With a host of tools that Honey has to offer to its members, it helps them in getting a cost-effective deal. Along with a valid coupon, they might have a chance to win a cashback in the form of 'Honey Gold'.
Lessen the workload– One can add products in an electronic basket called the Droplist and can easily track prices without the need for visiting the merchant's site. This feature is offered by honey which automatically sends a notification to the customer when the price of the product drops.
Key Partners:
Currently, Honey is working in partnership with 40,000+ merchant stores which include Macy's, Adidas, Nike, Pizza Hut, Make My Trip, Stubhub, Target, Myntra, and many more.
Channels:
The channels through which Honey delivers its services are
Browser Extension
Apps available for android and IOS
Honey's official website.
Key Activities:
The company offers a bunch of tools to grab a cost-effective deal. These tools are-
Savings Finder
Honey Gold
DropList
Price History
Amazon Best Price
Mobile App
Key Resources:
As a part of its intellectual resources, Honey uses a patented browser extension and is currently using 19 technologies for its website, according to Crunchbase which automatically finds coupon codes, other offers for its users to get the best deal.
Valuation and Revenue of Company:
VALUATION-Honey was acquired by PayPal in January 2020 for $4 billion, in cash.
REVENUE– According to PayPal, the annual revenue shown by Honey in the 2018 audited report was $100 million and the company is currently growing at a rate of more than 100% annually.
Investors and Funding:
According to Crunchbase, Honey was able to raise a total of $31.8Million in over 6 rounds of its funding.
It is funded by 14 investors. Some of them are-
Citi Ventures
Trend investment group
Anthos Capital
Ludlow ventures
Mucker Capital
Cedana Capital
Wonder Ventures
BAM Ventures
Plug and Play
SGH Capital
Competitiors:
Future Aspects:
As of now, Honey got acquired by PayPal for a hefty amount of $4 Billion. With its increasing number of active monthly users, PayPal is aiming at integrating Honey's technology with PayPal's line of products to grow and expand within its user base.
Interesting Facts:
Ryan Hudson and George Ruan built a model of browser extension which was leaked by a bug testing tool on Reddit.
Honey indirectly makes money. It neither deals with the merchants directly nor earns a commission from them. It works with the partner's affiliate network and earns affiliate commissions.
Amazon once deemed Honey to be a security risk that collected the private data of its users.
Along with its wide range of services, Honey also provides tips to its members to make better buying decisions. This feature is at present, only available in the US.
When anyone joins Honey through a referral link, both the referred friend and the referral can receive a 500 Honey Gold Referral bonus.
Do Share Your Thoughts:
Do tell us all your thoughts in the comments section below, we look forward to reading all the comments in the section below.
Also, do check useful Startup Resources and Tools below and do join our newsletter 📰 for free for more interesting Business Case Studies 💰, Startup Insights 🚀, and Startup founders podcast 🎙️ delivered to your inbox every Sunday morning.
Do follow us:
Related Articles:
What is Honey?
Honey is a company that operates a browser extension offering a variety of tools to its users that apply coupons automatically to e-commerce websites.
Who founded Honey?
George Ruan and Ryan Hudson co-founded Honey in October 2012.