Affirm, legally known as Affirm Holdings, Inc. is a public traded company founded in 2012 and its headquarter is in San Francisco, United States. The company acts as a financial lender and gives credit to the customers to use to finance a purchase.
The company was founded by Max Levchin, Jeffery Kaditz, Nathan Gettings, and Alex Rampell. Levchin who is also the co-founder of one of the largest online payment processor company PayPal became CEO of Affirm in 2014. The company was initially the portfolio of the startup studio HVF. The company in October 2017 launched a consumer app that will allow loans for purchases at any retailer.  From affirm you can actually buy any products just now and can pay later and guess what with actually "no late fees or any compounding interest or any other surprises". So, now by reading all these there can be a question arose in your mind.
Is Affirm legit?
Index:
"Is Affirm legit?"
So, the answer to your question is yes affirm is cent percent safe to use and have quick access to cash, you can actually make an urgent purchase if you do not have a credit card, you just have to provide the credit card number and you're good to go and by this, you will definitely get an additional layer of safety to your purchase against any kind of mishappening or fraud. The interest rate offered to your purchase is much lower than anywhere else.
How Affirm works?
Now, you may be wondering how you can shop in here, so let me tell you it's like a cakewalk, yes you read it right it's as easy as ABC. You just have to follow these instructions and you're good to go:-
FILL YOUR CART: Shop your favorite stores and then select Affirm at checkout. Enter the information to make sure your things landed by your side and then take the real-time decision.
CHOOSE HOW TO PAY: Select the payment schedule that works best for you, and then confirm your loan. And we can assure you that you'll never be charged more than you see in the front, it is more transparent than your credit card.
MAKE EASY MONTHLY PAYMENTS: To make your life easier just download the Affirm app or sign in at affirm.com. We'll send you email and text reminders so that you never miss a payment.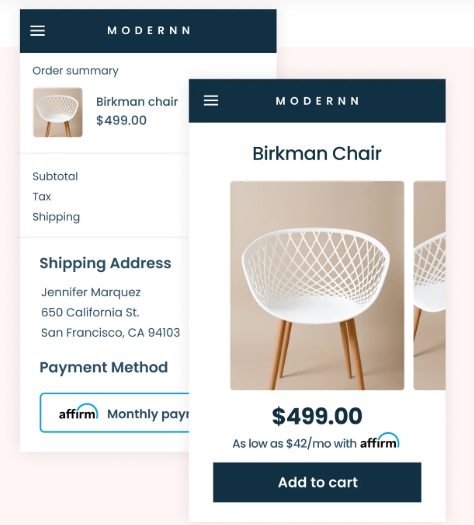 Business Model of Affirm:
Now let us see the business model of the company
Key Partners:
The company announced a partnership with Walmart in February 2019 and by this affirm actually gotten the access to be available to customers in-store and on the Walmart website. Affirm has partnered with so many e-commerce platforms since its founding like Shopify, Zen-cart, and BigCommerce. Affirm partnered with 6,000 U.S. merchants like Walmart, Peleton, Audi, Oscar de la Renta, and Expedia.
Key Activities:
Affirm deals in the financial sector, grasping and leveraging technology through its app and by partnering with retailers to instant installment plans and to sell the loans both in-store and online.  With an ecosystem of partners, Affirm develop their value proposition based on the customers' goals, ambitions, and challenges, adapting a catalog of solutions and services to support these objectives. The company thus moves from a "catalog-centric" to a "customer-centric" business model.
 Key Resources:
Affirm has over 6,500 merchants on the platform as of November 2020 with 6.2M consumers have completed 17.3M transactions. There are around 400+ online stores that accept Affirm i.e. to buy now and pay later. Some of the stores are Adidas, Alen Corp, All Modern, Austin Kayak, Allurez, Brooklyn Bedding, Candid, Dream Cloud, eEuroparts, Gucci, Johnston & Murphy, and many more.
Value Propositions:
Affirm has the straightforward proposition," Buy things now pay later". In this consumers can take out individual loans instead of moving around the line of credit. Affirm always take care of his customer by providing a great product with affordable prices. Affirm has an omnichannel solution and is mobile-friendly for e-commerce, in-store transactions, and telesales. You can see the growth of the company enabling merchants to see an 85%increase in average order value and 20%reapeat purchase rate. At Affirm, they continually think through and discuss the critical elements of an innovative system. They cover some of these elements, including the importance of broad risk management philosophy, effective methods for detecting fraud swiftly and accurately. Affirm is available in the U.S. and all U.S. territories, with a few exceptions.
Customer Relationship:
New customers are the growth engine of nearly every business today. Affirm provides what many shoppers want the flexibility and wide variety to buy and make fixed payments over time. There are many factors which make Affirm a company who attracts and wins new customer:
Buy Now Pay Later Facility: Affirm gives the option to his customer to split the purchase price into small increments over time.
Transparency: Affirm assures his customers that they will always be transparent about the total amount the customer has to pay and assures the number will never go up.
Flexible: Affirm always give his customer the choice to choose the payment schedule that works for them.
Fair: Affirm assures that they won't charge any late fees or penalties of any kind ever from their customers.
Customer Segments:
Affirm believes that for acquiring customers a company doesn't have to involve expensive demographic research and targeting nor does it need hefty discounting. Affirm designed to grow with the modern customer. Affirm always expand awareness and reach new customers. Affirm makes the potential customers, into subgroups of consumers based on some type of characteristics.
Channels:
Affirm has an Omnichannel experience because of the customers who like to take divergent paths in their shopping journeys. From mattresses to apparel to furniture to fashions and the largest retailer in the world. Affirms  Omnichannel product prepares customers for the future of retail.
Cost Structure:
Interest rates on the loans of Affirm range from 0% to 30%. Like most installment loans, here also the interest is fixed and won't compound as it does on credit cards. Affirm generates revenue on the loans that it issues to consumers. The biggest draw for Affirm is that it does not impose any hidden fees and makes the interest rate transparent in front of customers.
Revenue Streams:  
Total revenue for the second quarter of fiscal 2021 was $204.0 million, a 57% increase when compared to the second quarter of fiscal 2020. Total revenue is around $646.3 million. Such growth requires conceptualization. Affirms aim is to deliver honest financial products that improve lives.
How Affirm makes money?
So, basically Affirm makes money through the interest that customers pay on the loan. Talking about figures, the company's average APR is 18 percent. In addition to this, merchants furthermore pay the company a percentage fee of the product's sales price in exchange for managing the payment and taking out the risk of default.
Valuation and revenue:
On November 18, 2020, Affirm filed with the Securities and Exchange Commission in preparation for an IPO. On December 12, 2020, it was reported that Affirm had decided to postpone its IPO. On January 13, 2021, Affirm had launched its initial public offering on NASDAQ. 24,600,000 shares of common stock were issued to the public at a price of US $49.00 per share.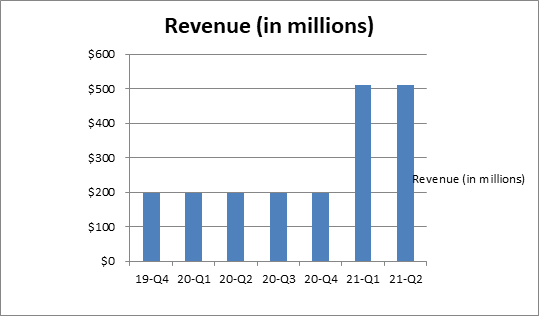 Investors details and Funding:
Affirm has raised $2.9 billion in total funding. There is a total of 23 investors and GGV Capital and Baillie Gifford are the most recent investors.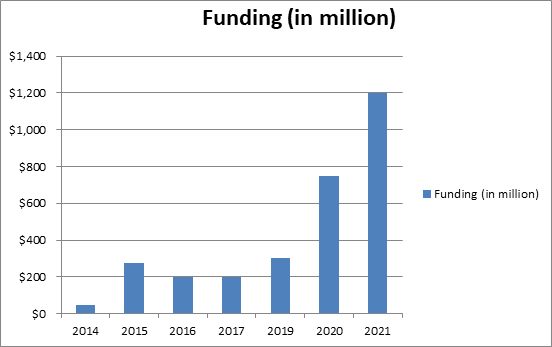 Competitor Analysis of Company:
Affirm's top competitors are Klarna, Sezzle, Revolut, Splitit, Zest, Square, Earnest, Peerform, Wonga, Zebit. These companies are analyzed on the basis of CEO Rating, Employees, Funding, and Revenue.
Is Affirm profitable?
Affirm is forthcoming profitability and if the company can grow 70% or more in 2021 then it will going to generate consistent profits.
Do Share Your Thoughts:
Do tell us all your thoughts in the comments section below, we look forward to reading all the comments in the section below.
Also, do check useful Startup Resources and Tools below and do join our newsletter 📰 for free for more interesting Business Case Studies 💰, Startup Insights 🚀, and Startup founders podcast 🎙️ delivered to your inbox every Sunday morning.
Do follow us:
Related Articles:
What is Affirm?
Affirm acts as a financial lender and gives credit to the customers to use to finance a purchase.
Who founded Affirm?
Affirm was founded by Max Levchin, Jeffery Kaditz, Nathan Gettings, and Alex Rampell.