In the opening episode of Shark Tank India, which was getting huge popularity due to the business ideas appearing on the show by different entrepreneurs.
In episode 1, three companies came on the show. First was BluePine  Foods by Aditi Madan, second was Booz by Rutvij Dasadia and third was Heart Up My Sleeves by Riya Khattar.
Episode 1 was quite interesting to watch and learn as all the sharks shared and suggested a few ideas and concepts related to business, which make the show more interactive and full of learning.
Now, let's see which all companies pitched in the 1st episode of Show.
Also Read: Who are the Judges in Shark Tank India?
Index:
Company 1: BluePine Foods Pvt. Ltd
BluePine Foods is the business of frozen momos, for the last 5 years. It is made of 100 percent natural and preservatives-free ingredients from Himalayan regions which gives it a delicious taste with safe health benefits.
Shelf- life of this brand momos is more than four months from the date of its manufacturing. It has its own Front end QSR, which is a quick-service restaurant by Yankees. BluePine has a direct attachment with HORECA ( Hotels, restaurants, and cafe area). It has B2B packaging. BluePine is handcrafted and comes in different shapes, tastes, and variations.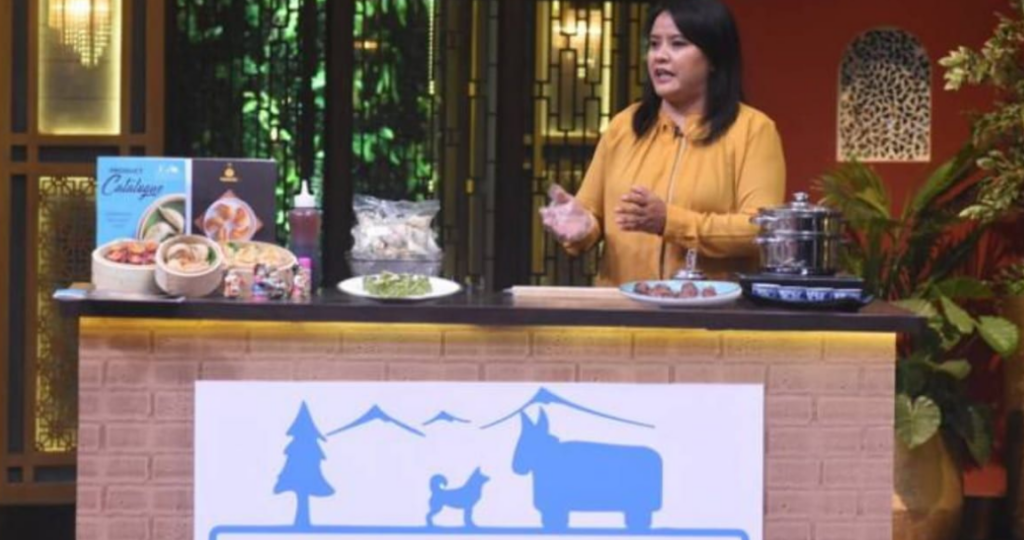 It is made of different skin flour along with Corn and Wheat flour and it is completely gluten-free. BluePine has both Vegetarian and Non-vegetarian momos.
Founder story and details:
Aditi Madan is the founder of BluePine Foods. She was born and brought up in Darjeeling and currently, she is living in Delhi.
Aditi is also famous as Momo Mami in her working area. When she shifted to Delhi, she used to have momos but didn't feel satisfied as she was craving for the Himalayan taste and flavors. Momo Mami said that it wasn't soul-nourishing food, from where she decided to change the way India ate and planned to launch her own momo business which is now a popular brand- BluePine foods.
Aditi has two more co-founders along with her- Naveen Pawar and Rohan Singh. She started her business with a vision of making BluePine India's number one Himalayan food processing company.
How was their Shark Tank Pitch?
Aditi Madan and her co-founders were looking for an investment for the expansion, opening of more outlets, infrastructure enhancement, and capital for working and operational department with a pitch of 50 lakh rupees for 5% shares in her business.
Sharks were seemed very impressed by the momos to which Ashneer Grover gave an offer of 50 lakh rupees for 7% equity in the business with a statement that if she goes further to listen to any other offers then his offer would get extinguished.
Anupam was quite interested but turned himself out by saying that Ashneer's offer was good, she must grab it. Namita Thapar said that she couldn't relate to this industry and went out.
Vineeta Singh gave an offer of 50 lakhs for 20% shares which was quite high. Aman and Ashneer jumped together and gave a deal of 50 lakhs for 12% equity and gave her the idea about the cloud kitchen model to which Aditi gave a counteroffer of 50 lakhs for 10% or 75 lakhs for 12% equity to which Vineeta, Aman and Ashneer joined and gave an offer of 75 lakhs for 16% which was the last and final offer on the table. She agreed and made a deal and sharks handed over the checks to her.
Company 2: Booz
Booz is South- Asia's first application-based electric scooter operator business that serves in Business parks, commercial – residential – industrial parks, tourist spots, public spots, Hotels, Clubs, resorts, and educational campuses.
It provides services on a rental basis, even charging stations, installation, daily maintenance, charging plug-in,s and out are offered on a monthly subscription which fulfills your confide and leisure purpose. Booz is a simple concept of service-providing scooter and it also pays per go facility.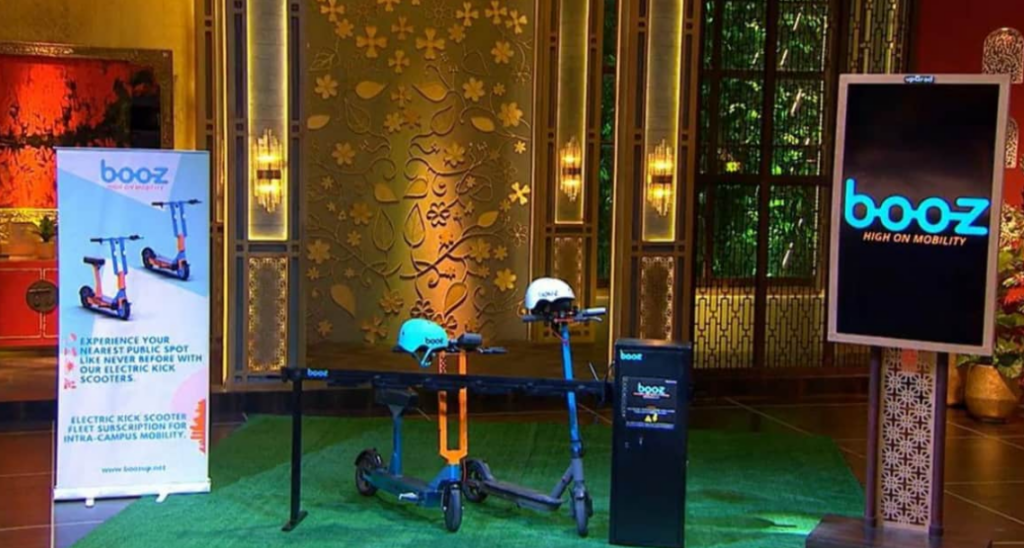 It is the only platform that gets you high on electric mobility as per his founder. Booz has three access methods- firstly through its application, secondly from the managed station, and lastly, through RF- ID card means just tap and get the access.
Booz doesn't manufacture any scooter. It gets it from their dealer, it just operates it. It is also trying to join with Lalit and The Fun Chain in Goa.
Founder story and details:
Rutvij Dasadia is the founder of Booz's business operating model. He is an auto- motive engineer by profession. He is from Ahmedabad and was born and brought up in Bhavnagar.
When he was in his graduating stage, he got an idea of Booz as he used to live in a P.G., which was at quite a distance from his college from where he decided to do something for it and converted his thought into business.
He started it finally after his graduation in the year 2019 but after that, Covid -19 came into existence due to which Rutvij's business just worked for 10 months as per current dates and has earned only 4 lakhs rupees. He didn't take any salary from it and has invested around 10 lakhs in it. It operates fuel-free.
The founder of Booz has a vision of eliminating fuel vehicles and making areas pollution-free and a leisure experience for recreational spots.
How was their shark tank pitch?
Booz needed to expand their business and change India into a pollution-free India for which they appeared on Shark Tank India with a pitch of 40 lakh rupees for 15% shares of the company means company valuation is around 2.67 Crore rupees.
Rutvij asked the sharks to try a ride and taught them about how to drive it. After that, Anupam ( The Shark) explained that it was not a scalable business and following Intra- Campus is of no use and value. So he turned himself out and showed gesture by saying sorry for not investing in it.
Namita Thapar also went out as she couldn't relate herself to Booz. Aman didn't understand the company investment and its return structure and moved out to which Vineeta Singh and Ashneer Grover gave a combined deal of 40 lakh rupees for 50 percent which would low down the company valuation if they accept the deal.
Rutvij took a pause and talked to his dad and gave a counteroffer of 33% for the investment amount of 40 lakhs, Ashneer directly said No, as the founder didn't have an option to go with. He made a  deal. Aman was quite shocked at this moment. Rutvij accepted the check from both the sharks with the confidence of taking his Booz faster.
Company 3: Heart up My Sleeves
Heart Up My Sleeves is basically a garment business where it currently makes detachable sleeves which is completely unique, reusable, and sustainable. Its uniqueness is that we can use the same sleeves in different styles and on different outfits.
It's like adding beautiful accessories to simple dresses. Heart Up My Sleeves sell their products on various platforms like Instagram, social media, and on their own websites. They have also made it available on Nykaa Fashion from November 2021.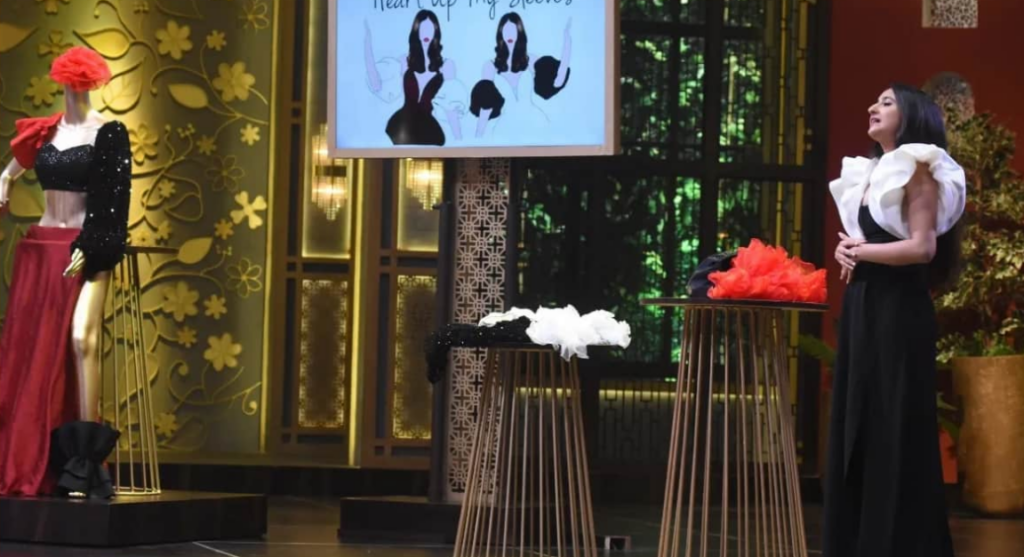 Heart Up My Sleeves are planning to add more items and are focusing on making it a huge collective market like detachable collars, capes, broaches, and many more. Heart Up My Sleeves is also worn by famous celebrities like Hansika Motwani and Neha Kakkar.
Founder details and story:
The founder of Heart My Sleeves is Riya Khattar from New Delhi. She comes up from a fashion background and her dad does wholesale garment business in India. She turned her idea into a business.
Story of making it is quite interesting as during lockdown she thought of cleaning her dress board so that her mother would also get happy but when she opened her cupboard, she found a huge mountain of clothes even though she felt she didn't have anything to wear to which she planned to design a product which can be used on multiple occasions with multiple looks which in turn gave birth to Heart Up My Sleeves.
She posted a few samples on social media and got attached to lots of influencers. She started this business with an investment of 10,000 and has sold around 1003 pieces in just 9 months.
How was their Shark Tank Pitch?
Riya came up on the Shark Tank India show with a motive of increasing her market and adding varieties into it with a pitch of 25 lakh rupees for 10% equity in her business, which means it has a company valuation of 2.5 crores.
She showed some samples to the sharks and they were very impressed by her confidence and her product. Anupam also wore the sleeves and did a catwalk. Ashneer didn't find the product interesting as his market is different and he thought its a lifestyle business, not an investable business.
Aman suggested that as she was planning to expand her business to broaches, collars, and capes, she should change her business name as the business name represents only sleeves, which limits her own business.
Anupam and Vineeta were quite impressed by the additional plan and gave a combined deal of 25 lakh rupees for 40% equity means 20% to each. Riya gave a counteroffer of 30% equity in business means 15% each, they agreed to make a deal and the deal was finalized.
Sharks handed over the check and gave hope of growing to Riya and her Heart Up My Sleeves business.
Do Share Your Thoughts:
Do tell us all your thoughts in the comments section below, we look forward to reading all the comments in the section below.
Also, do check our Startup Resources section, and don't forget to join our weekly newsletter 📰 which contains pure startup and business wisdom and no bullshit!!
Do follow us:
Related Articles:
Which companies presented in Episode 1?
In episode 1, three companies came on the show. First was BluePine  Foods by Aditi Madan, second was Booz by Rutvij Dasadia and third was Heart Up My Sleeves by Riya Khattar.
Who are the investors in Shark Tank India?
Ghazal Alagh – Co-founder and Cheif Mama of Mamaearth
Aman Gupta – Co-founder and CMO of BoAt
Vineeta Singh – CEO & Co-founder of SUGAR Cosmetics
Ashneer Grover, Founder, and MD of BharatPe
Peeyush Bansal – Founder & CEO of Lenskart.com
Namita Thapar – ED of Emcure Pharmaceuticals
Anupam Mittal – Founder and CEO of Shaadi.com