Everyday.me was an Evernote of that time. Gone were the days of writing journals in a diary. It would allow you to record your life and store it forever. Promised for a forever, why couldn't they even sustain for a few years?
Index:
Founder Details
Yu-Kuan Lin, Yu-Te Lin, and Weiting Liu together founded Everyday.me. They describe it as "Evernote for Life". Yu-Kuan Lin was a former Google worker, Yu-Te Lin was an engineering lead at Wyse and Weiting Liu a Y Combinator alum made a team with this idea for their startup.
They wished to create a lifelong journal app for users to record your life and store it forever.
Business Model
This app was a sum of both social media and journal writing apps. Basic feature involved writing a personal journal without making it public, this is a private user only access feature. Other features were plugging into Facebook, Instagram, or Twitter profile so that each feed can be funneled into the app. This made an automatic daily journal furnishing without any self input. You can also tag using twitter style hashtags for generating a group post. Everyday.me had its own feed like a Facebook timeline where pictures can easily be uploaded from the camera and could also use emoticons in writing.
The most important by the app was its availability online as well as offline, on web or phone. Flexibility of usage made users to use it anywhere and everywhere.
Recalling the past memories brings nostalgia among users by the "Blast of the Past" feature. This feature would automatically send an email of a social media update on what you were up to in the past days. This app has the functionality of note-taking and journalizing from their social media feed.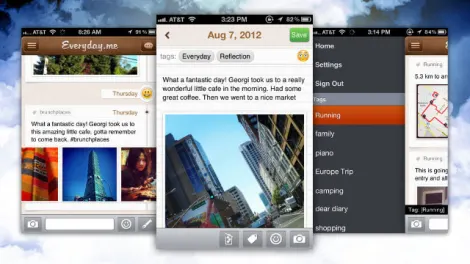 Competitor Analysis
The app faced obvious competition from micro-blogging, journalizing, note-taking, and life-logging apps and services. Moreover, the feature it had of bringing past memories back in the form of a post was already seen on Facebook. Users had no reason to shift to Everyday.me. It couldn't be a social media app, not a journalizing app. Users were first curious to turn their social feed into a journal but soon lost their interest. People could always see their past feed to know their journey of life.
Others who were seriously interested in writing a journal would prefer simple notes writing apps that felt similar to writing on a piece of paper. The idea was good to generate curiosity but it had no long term impact on customers to stick to this app.
Failure Analysis
To start with they didn't study their market. The market was filled with apps of similar services. Though they tried their best to be unique with automatic journal creation features from individual social media feed. A unique idea is not a guarantor of a needy product. People had endless options to keep themselves entertained.
Also, their feature of "Blast of the Past" was an epic fail. Facebook automatically brings our past post in the form of memories. Why would people prefer another app to look at the same thing?
Enough efforts were not put into marketing. Most users were unaware of the features provided. Thus the app couldn't come in the notice.
Possible Fixes
Everyday.me couldn't be any while trying to be both. Nor could we distinguish it as social media apps, not a digitalized diary.
They lacked a lot in marketing towards their target audience. Every company needs something to scale up. If they had targeted people who were not professional bloggers but are interested in writing their thoughts, it would have been very easy to gain a regular user base. Taking examples from apps like TikTok and other short video making apps. They clearly understood the preferences and habits of teens. The same could have been achieved by Everyday.me if they focused on the right customers.
Introduction of features like making people journeys into short videos would be liked by people. They would love to share it to other social media platforms as well. This simplicity in using can fire up interest of users.
It requires a lot of patience and focus to keep up until you take a position in the market. Most of the founders lose interest in their own product if they fail to earn in a few years of their start. How can you expect others to show interest if your app is not evolving to keep users engaged?
The best solution to know what people liked in your app is to get feedback. Feedbacks help in getting direction to new perspectives which you might have not thought of before.
Do Share Your Thoughts
Do tell us all your thoughts in the comments section below, we look forward to reading all the comments in the section below.
Also, do find useful startup resources and tools in our "Startup Resources" section, and do join us for free for more interesting Business case studies, Startup knowledge, and Startup founders podcast delivered to your inbox every Sunday morning. (Link)
Related Articles: