How irritating it is to come back home after work and find heaps of laundry waiting to be washed?
Prim was a solution for this by being an Uber of laundry. They once provided the best laundry service which includes pick up, laundering, dry cleaning, and drop off services as well. Imagine how effortless and time- saving the first world-class problem of laundry would have become.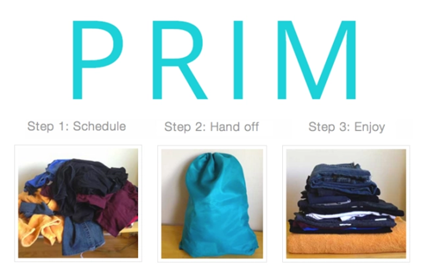 Index
Founder Details of PRIM:
Prim was an online platform providing door to door laundry services. It was launched in July 2013 by Yin Yin Wu and her boyfriend Xuwen Cao; based in San Francisco, United States.
 Xumen Cao worked at Facebook and used to receive a free laundry service. At the end of the day, he would find clean, washed, neatly folded clothes in his drawers. This idea struck his mind and he thought why such services are not provided everywhere. The services by Prim were precise and proper; wrinkled free clothes in drawers as if they were new. Hence the name of the company Prim.
Competitor Analysis
Prim had 3 major competitors as they were not only the one providing laundry services in San Francisco.
Company Sudzee would provide special lockable bags for laundry.
LaundryLocker had public lockers for dropping off clothes.
Customers were also tempted by paying in pounds by using the services of Sfwash.
Such facilities by other companies were as good as Prims in the eyes of customers.
But the real problem lies when business relations started getting sour with local laundromats. They felt their demands were being eaten up by Prim.
How Prim make money?
They would charge $25 on one laundry bag and additional $15 for an additional bag.
2 laundry bags would be done for just $40. Though the cost was more than any other laundry services but gas money for driving to your house, picking up your laundry and paying to the cleaners seemed reasonable.
Funding and Investor Details
Prim passed the Y-Combiator business accelerator program and received seed type funding in 2013. Originally Prim founder's reason to approach Y combinator was to build as an in-video advertising platform. The idea was scattered all over the place having no business. The idea of Prim originated among these.
Business Model: How Prim worked?
Prim gained an early momentum. They worked by simplicity and flat rates. The customer would conveniently book online pickup and delivery of laundry. All they have to do is bag their laundry, the rest is done by Prim. The services and timings were adjusted as per convenience of customer like leaving a copy of keys for Prim to pick up the laundry and putting them back.
Prim had tie ups with the best local laundromat which would provide them bulk discounts. What attracted customers was time saved to stand in lines at the laundromat and also dry cleaning services were a big plus.
Failure Analysis
The basic reason for the failure was a fragile business model. Providing service of pickup and delivery at $25 left a very little or no margin for the company. But at the same time, customers would find it costly.
The whole process was a hassle if the company themselves don't own or rent laundry. Because they had just a verbal commitment with local laundry services. This results in sour business relations with no proper advantages.
The idea was not new to San Francisco; companies like LaundryLocker, Sfwash, Sudzee also had great deals to provide.
They were not passionate about the laundry business itself; they just wanted to act as a courier service of laundry.
Possible Fixes
Lack of critical thinking was seen. What results in poor decision making is the assumption of knowing what people need. Creativity breeds to ideas but what critical thinking does is testing its viability. It is really important to keep a wide horizon to bring the idea to life. In a 2-sided marketplace it is necessary to overcome Chicken and Egg strategy problem but Prim was unable to do so.
Do tell us what you think!
Come on!
Tell us what you think of our Dead startup analysis on "Prim: Startup Failure Analysis" in the comment section. 
Also, do check useful Startup Resources and Tools below(👇) and do join our newsletter for free for more interesting Business case studies, Startup knowledge, and Startup founders podcast delivered to your inbox every Sunday morning.
Do follow us:
Related Articles: