In episode 13, three companies came on the show.
First Annie, a Thinkerbell Labs' product by Aman, Dileep Ramesh, Sanskriti, and Saif. Second, Carrabox, a Carrageen by Surabhi and Chetna Shah. Third, The Yarn Bazaar by Prateek Gadia.
Episode 13 was quite interesting to watch and learn as all the sharks shared and suggested a few ideas related to business models. The episode started with a small fun-interview session between the host Ranvijay and a blind child, Prathamesh Sinha.
At the end of the episode, the shark lesson of the day was given by Peyush Bansal that an entrepreneur should rectify the problem and its cause and must have a vision about what they want to solve.
Stay updated with Indian Startup News, follow us on Instagram for daily visual updates.
Index:
Company 1: Annie by Thinkerbell Labs
Annie is a Braille literacy learning device that is user-friendly and helps the learner to learn writing, reading, and vocabulary in Braille script in a fun way with the help of games and stories.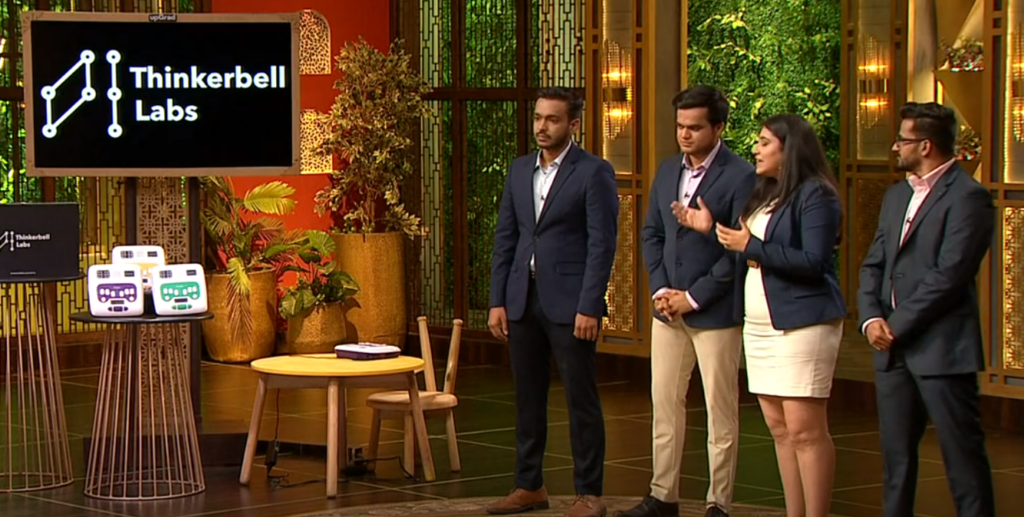 Annie is a pocket-friendly device that a user can carry around and it has a very easy-to-use system that a learner can work with. It costs $1000 (Rs.70,000) and the business people earn a margin of $500 per piece.
Who are the founders of Annie?
Aman, Dileep Ramesh, Sanskriti, and Saif are the founders of Annie. The four engineers met in BITS Pilani, where they pursued engineering and shared ideas for this cause to help the special, visually impaired children from age group 4 to 15 years.
Sanskriti is the CEO, Dileep is the CTO, Aman is also the CEO and Saif manages innovation and hardware. They did a course named New Venture Creation, where they created this company's idea, and "Tech for Good" has been their motto. Their vision is to take the company internationally.
They have signed a contract with America's largest assistive tech distributor for 1.7 million dollars (12-13 crore rupees) and its name is Paulie in the US. The US thinks it's an iPhone moment for Braille literacy. Their investors are Anand Mahindra,  Raman Roy, IIM, and LV.
How was their Shark Tank pitch?
The founders were looking for 30 lakhs for 0.5% equity, making its valuation 60 crores.
Peyush said that nobody in India would buy a product for 70,000 rupees. The product was demonstrated by their 10-year-old blind brand ambassador, Prathamesh Sinha. He was a fan of Aman and his personality was loved by all the sharks.
Ashneer suggested that they should charge per session, not per hardware (product). The founders told the sharks that they want to earn 20 crore rupees in the upcoming years. Anupam loved the idea and mission and put an offer on the table of 30 lakhs for 2%, Peyush offered 1 crore for 5%, Namita offered 30 lakhs for 1%, and help with manufacturing units.
Peyush also offered to put the product in all the Lenskart stores immediately and zero capital cost. Namita also offered to connect them through 70 country networks. Peyush was also ready to match Namita's offer, Anupam offered 30 lakhs for 1% too. Namita put another offer on the table of 30 lakhs for 0.75%. The founders countered a combined offer with 1 crore for 2.5% to Namita, Anupam, Ashneer, and Peyush.
The sharks offered 1 crore for 4% and Peyush was also ready to offer individually for 1 crore for 3%. The sharks went out of the stage to discuss and they came back and offered 1.2 crores for 3% each, meaning 30 lakhs investment by each investor.
Ashneer decided to offer an individual deal of 30 lakhs for 0.75% but when they didn't accept, Ashneer was out. Peyush, Namita, and Anupam offered a final offer of 1.05 crore for 3%.
The founders accepted the deal and the checks were handed over to them. Prathamesh was called on-stage once again and they all thanked each other.
Company 2: Carrabox by CarraGreen
Carrabox by CarraGreen is an eco-friendly box to carry food. It is a cardboard box and hence a way to minimize the use of plastics.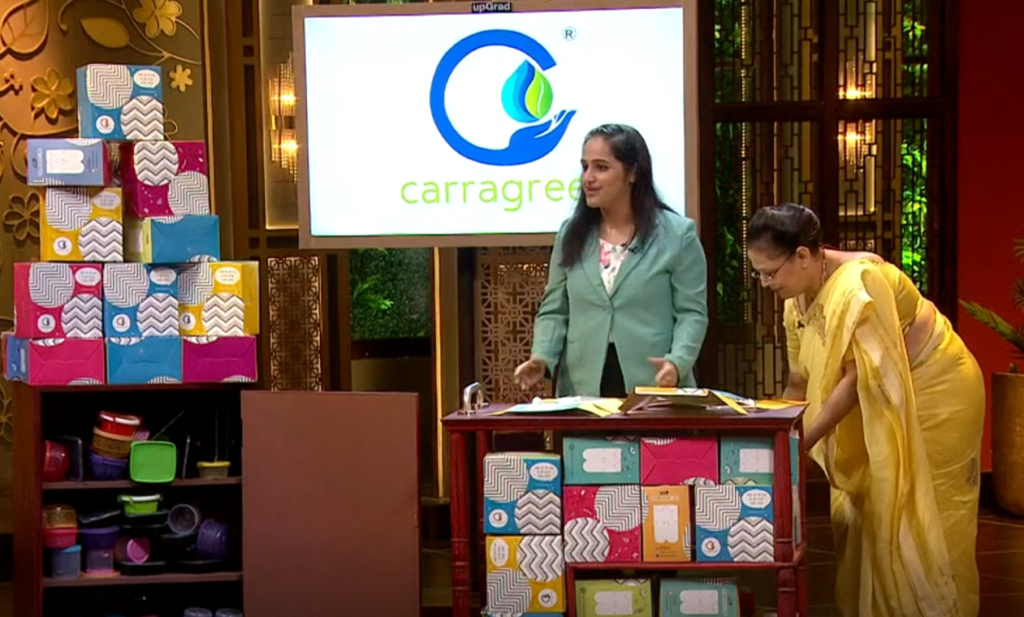 It is an initiative to make the environment free of plastic and work towards a better, pollution-free world. The box comes with an in-built paper plate and paper spoon, which can be used to eat the parceled food.
The cost price is Rs. 11.5 and they sell it for rupees 50.
Who are the founders of Carrabox?
The mother and daughter-in-law duo of Chetna and Surabhi Shah from Indore came on Shark Tank with the idea of Carrabox. They want Carrabox to be used by all the food delivery companies so that plastic can be used at the least.
Surabhi (the daughter) is an engineer, who was selected under Top 100 women entrepreneurs by IIM Bangalore. She started the business 2 years back with the grant money that she received from the IIM, around 7 to 8 lakh rupees.
Chetna had been a baker and the idea for the design of the product was hers. The two of them share a mother-daughter relationship. The idea was inspired by the incident that many Indians face in their lives- a train journey.
When a family travels on a train, they carry a one-time meal with them and if they forget to bring a spoon, they make one with the help of cardboard. This inspired the founders to make Carrabox.
How was their Shark Tank pitch?
The founders pitched for 50 lakhs for 10% equity, making the company's valuation Rs.5 crore, and to present their product, they brought Indore's famous Poha, made by Chetna, and Ratlami Sev.
The sharks liked the idea. They told the sharks that they currently have five big clients including Haldiram's and Balaji Snacks. They took advantage of the plastic ban situation and sent samples of spoons to these big clients. The clients loved it and placed orders.
They have orders of around 4 to 5 lakh spoons and roughly earn Rs. 80,000 to 90,000 per month. They are also trying to tie up with Zomato and Swiggy and they want them to add the option of sending Carrabox instead of cutlery.
Ashneer appreciated the approach but was out, Namita did not find the product greaseproof, so she was out, Aman wished them luck and was out too, Anupam suggested that brainstorming is needed in the business right now because it is in the initial stage.
Selling just spoons will not do. So, he offered them 50 lakhs for 25%, and Peyush combined with him in the offer. Chetna and Surabhi countered with 50 lakhs for 12% each but they were re-countered with 50 lakhs for 20%, no less.
The deal was closed and the founders were happy and hopeful. They also got a great offer from Flipkart to launch their product on its site.
Company 3: The Yarn Bazaar
The Yarn Bazaar is a B2B business model. It connects suppliers and manufacturers directly through a technological system and works as a medium between them. It is a multi-channel system. The founders of this company saw an opportunity in the broken supply chain in the textile industry.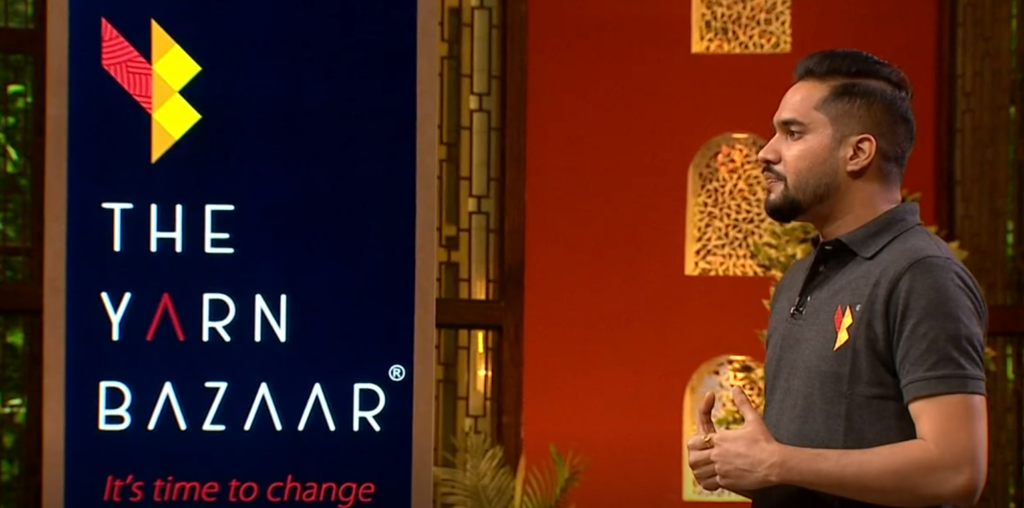 The client sends a message and a bot replies in the chat with possible options of quality, quantity, supplier, and price, according to the demand. The client can select the appropriate quotation and place an order. All the payments are to be done in advance, at the time of dispatch.
Who are the founders of The Yarn Bazaar?
Prateek Gadia is the founder and CEO of the company and he is from Mumbai. He was in the family textile business but did not like it. That's when he decided to commence his own supply chain business in July 2019.
Vishal Darak is the COO of the company and has 18% equity. He has a Master's from a reputed university of Spain and has a similar story as that of Prateek.
Akshat Doshi is the Strategy Head and a CTO, with a 5% stake is going to join in soon.
How was their Shark Tank pitch?
Prateek Gadia came on Shark Tank, seeking an investment of 50 lakhs for 2%, making the company's valuation Rs.25 crores. He told the sharks that since the business was initiated, a total transaction of Rs.212 crores had been made, with 100% advance payment.
The revenue generated by the business in a day accounts for around Rs.15 lakhs. Last month, they made around Rs.10 crore as revenue. There has not been even a single competitor in the market yet. Namita was out because she told Prateek that she doesn't have any expertise in that industry.
Aman was out too, suggesting that their technology should be in-house and not outsourced. He also added that the traders can easily deal with each other and there is no need for this company. Prateek told the sharks that there is a risk of a huge rejection rate in the business.
They are also planning to include small manufacturers and label their names on their products. This idea caught Aman's attention and he was back on the pitch.
Peyush, Anupam, Ashneer, and Aman offered a combined deal of Rs.1 crore for 10% equity each because there are huge risks involved and very much hard work. Prateek encountered Rs.1.25 crore for 10% each.
The sharks were ready only for what they originally offered and Namita also pushed Prateek to take up the deal.
Prateek accepted the deal of Rs.1 crore for 10% equity and he was also offered a Supply Chain Management course by Up Grad.
Check all Shark Tank India episodes here.
Do Share Your Thoughts:
Do tell us all your thoughts in the comments section below, we look forward to reading all the comments in the section below.
Also, do check our Startup Resources section, and don't forget to join our weekly newsletter 📰 which contains pure startup and business wisdom and no bullshit!!
Do follow us:
Related Articles:
Which companies presented in Episode 13?
First was Beyond Snack, Kerala Banana Chips by Manas Madhu Sood, Second was VIVALYF by Varshita and Vimal Kumar and third was Motion Breeze by Kartikya, Anantraj, Shivrajsin, and Deepen Bhai.
Who are the investors in Shark Tank India?
Ghazal Alagh – Co-founder and Cheif Mama of Mamaearth
Aman Gupta – Co-founder and CMO of BoAt
Vineeta Singh – CEO & Co-founder of SUGAR Cosmetics
Ashneer Grover, Founder, and MD of BharatPe
Peeyush Bansal – Founder & CEO of Lenskart.com
Namita Thapar – ED of Emcure Pharmaceuticals
Anupam Mittal – Founder and CEO of Shaadi.com