In episode 17, Four companies came on the show. First was Find Your Kicks India by Harsh, Samir, and Danish, Second was AAS Vidyalaya by Vikas and Leena Kakwani, Third was Outbox by Kaushal and Sakuriti and Fourth was Road Bounce by Ranjit.
Episode 17 ended with a small talk on Black dog cough with Find Your Kicks India. At the end of the episode, the shark lesson of the day was given by Peyush who said that all the big things in the world are not achieved by experienced people, it is possible because of crazy people who believe in them and their ideas and they are the actual entrepreneurs.
Do follow us on Instagram and remain updated with Indian Startup News!
Index:
Find Your Kicks India:
They sell hyped and limited edition sneakers which get released on 'Nike' website at 7:30 a.m. and get sold by 7:31 the same morning. Its demand is very high in the market but supply is limited due to which they are sold at a premium price in the resell market.
It is a reseller, aggregator platform on which all the limited editions in all sizes with guarantee of the original product. It matches all sneakers through its 20 checkpoints list for its originality. Any individual can resell their sneakers from their website just by adding their product to it. Find Your Kicks is currently operating through Instagram and is ready with its own website and application launch.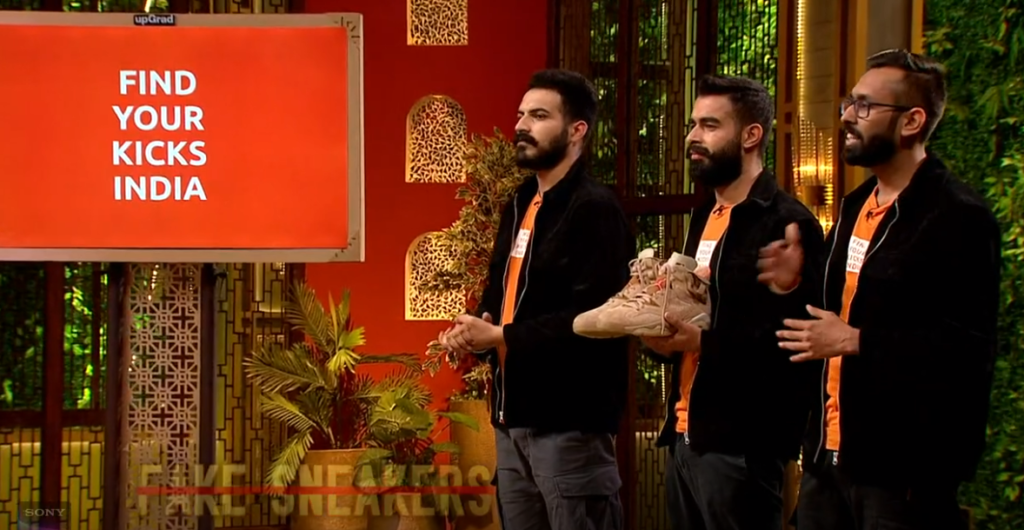 It has earned 26 lakh revenue in the last 8 months before appearing on Shark Tank, and last month before the episode's telecast had 3.5 lakh sales. Its Gross Merchandise Value is worth 5.5 Crore. Net profit is 17 lakhs. It has 4000 plus sneakers on its Instagram store.
Who were the founders of Find Your Kicks India?
Harsh, Samir and Danish are the founders of Find Your Kicks India. They are from Ludhiana, Punjab. Harsh and Samir had completed their education from the same college whereas Samir is an IIT graduate. Just like everyone, they also believe that sneakers are like jewelry for youth and they feel proud after wearing branded sneakers. 
There is a very low chance of getting hyped sneakers from websites due to which people buy it from reselling market, but resell market products can be fake, difficult to get the exact size, and other issues to which these three sneaker lovers had started to Find Your Kicks India.
Did Find Your Kicks India get a deal on Shark Tank?
 Founders of the Find Your Kicks India had come with a pair of hyped sneakers in their hands which made sharks curious and confused. They came on the show for an investment of 50 lakhs for 10% equity, company valuation is 5 crore. Namita appreciated their pitch and also agreed that it is an upcoming business. During the pitch, this information came out and you'll be shocked to know that India has a 9,000 Crore worth sneakers market and its resell market is 10 to 20% of the actual size.
Namita and Ashneer came together to give an offer, Namita pointed out that their business is having lots of weaknesses and gave a joined offer of 50 lakhs for 30% of the company. Anupam and Aman also discussed among themselves, but after a moment, when Anupam asked Aman about his opinion, he told all the 5 sharks to come together.
This happened for the second time that all the 5 sharks were coming together and gave an offer of 50 lakhs for 30% equity. They gave a counter to do it at 20% equity, Ashneer asked them to round the number off and do it for 25% equity which is non-negotiable. Ludhiana boys accepted the deal and also received a free course from Up Grad in Finance.
AAS Vidyalaya:
AAS Vidyalaya brings school in your pocket. It was started in 2017. It is India's first online school that focuses on 45% of the society, who have an average income. It is anytime, anywhere school. It just looks like a real school. In their application, all the subjects, as per the syllabus, are covered with respective classes, even provide tests and report cards.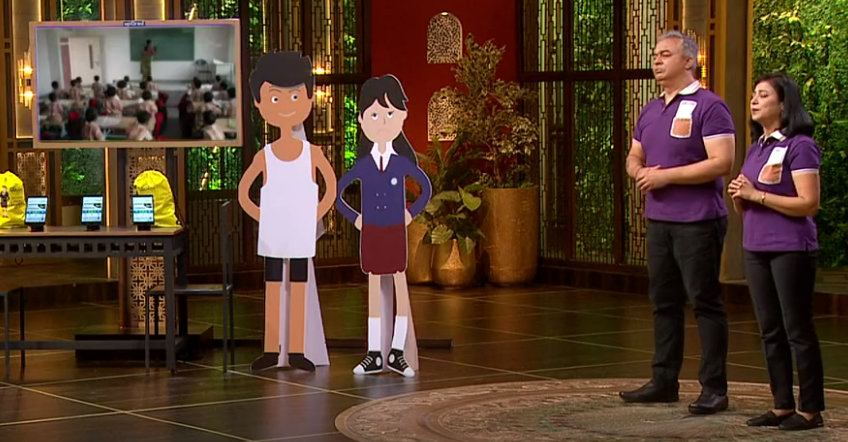 Medium of Parent – teacher meeting for child improvement is also available. They initially followed only NCERT syllabus guidelines but currently added Marathi medium also. It has its own education cafe which has its own tabs and is used only for study purposes. It provides school to all homes. It was started with B2C and is tied up with 5 major corporate companies. It had 70 lakh revenue in 2020, in 2021 it had 1.5 crores, and projecting ahead it to be 5 crores.
Who were the founders of AAS Vidyalaya?
Vikas Kakwani and Leena Kakwani from Mumbai are the founders of AAS Vidyalaya and they are following a CSR model business. They have done a survey and research and shared that there are 8 lakh primary schools, 4 lakh middle schools, and 1.5 lakh secondary schools. Children from rural areas are not able to get an education due to no school in the areas.
Even out of 100, only 30 students are able to pass the board exams due to bad teachers or school circulars and to solve all this, AAS Vidyalaya was born. Vikas is an IIT graduate and IIM postgraduate and had given 20 years in a corporate job as business head in sales and marketing whereas Leena has done a child psychology course.
Did AAS Vidyalaya get a deal on Shark Tank?
Founders of AAS Vidyalaya started their pitch in a very unique manner with the help of two cartoon boards and narrated a story for giving a clear idea of business. They needed an investment of 1.5 crores for 3 % equity in the business, company valuation 5 crores.
Aman was not getting a clear idea of financial stability and thus, went out.   Anupam said that they should go with their business as he felt involving a private investor would not add any value but should focus more on CSR but something unexpected moment happened as Namita, Peyush, and Ashneer gave a trio offer of 1.5 Crore for 15% of the company and would make their company sustainable and developed.
Vikas gave a counteroffer of 1.5 crores for 7.5 % equity, Namita encountered them and asked them to do it at 10% equity. Vikas and Leena took a moment and accepted the deal.
Outbox:
Outbox is India's first premium surprise planning company. It was started in 2017, which gives an unforgettable experience. If you want to plan a surprise for your partner, you can do your bookings from its official website outboxwebsite.com.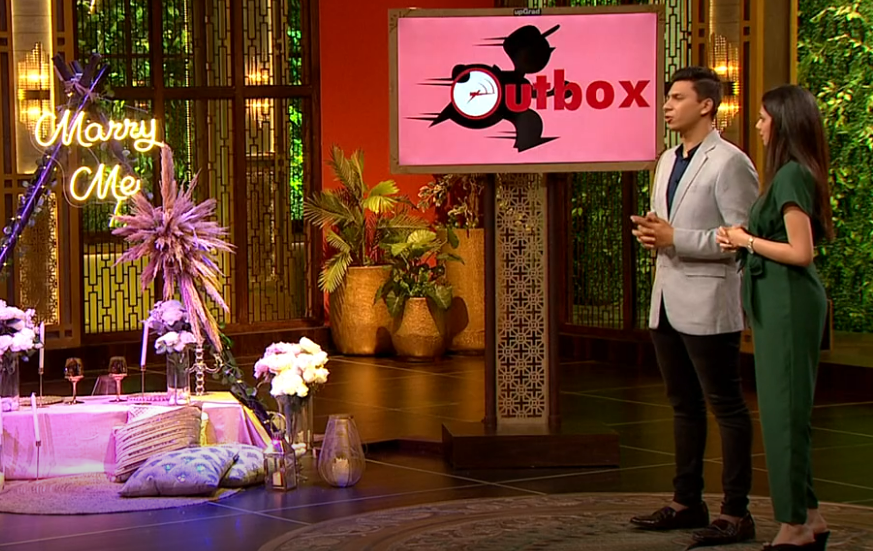 From its initial stage, it has been a profitable and bootstrap venture. It ranges from 3,500 to 1.5 lakh rupees. 3,500 is its cheapest plan which includes a guitarist whereas proposing under a Howrah Bridge on a cruise costs 1.5 lakhs. Last October, it had only 75 lakh sales but before that, it had a revenue of 1.25 crore.
Who were the founders of Outbox?
Kaushal Modi and Sukriti Agrawal are the founders of Outbox. They started it in 2017. They had an idea and executed it through a business model. People started giving them orders as they wanted to plan something but didn't have the idea, for which Outbox came into the market.
Did Outbox get a deal on Shark Tank?
Founders of Outbox came on Shark Tank to pitch, full of confidence and vision. Pitch was started with their basic introduction, after that, special treatment was given to Anupam where a guitarist played a song. Sukriti secretly asked Anupam's wife about his favorite songs.
Ashneer said that their logo indicates that they are a food industry to which he went out. Peyush said that their business was not defensible and suggested them to get a tech co-founder and went out. Aman and Namita also didn't find the business investable, as it is not scalable and turned itself down.
Anupam said that he would give them 50 lakhs but he asked for a reason how they would do it 100x to which Sakuriti said if he would combine with Outbox, they could grow as big as shaadi.com, Outbox's work starts from there. Anupam said that if he wanted that, then he would start his own business, to which Sakuriti said that he needed a team for the same, so why not them?
Peyush appreciated her for her entrepreneurial skills. Unfortunately, Anupam also went out at that moment but said that the conversation was not ended yet and asked them to stay in touch. No deal was made and the pitch was closed.
Road Bounce:
Road bounce is a technology that can be installed on a phone as an application. It measures the vibration of your car and based on that, data is generated about the pressure clinical quality below the road. Till now, they have collected 5000 km of road data.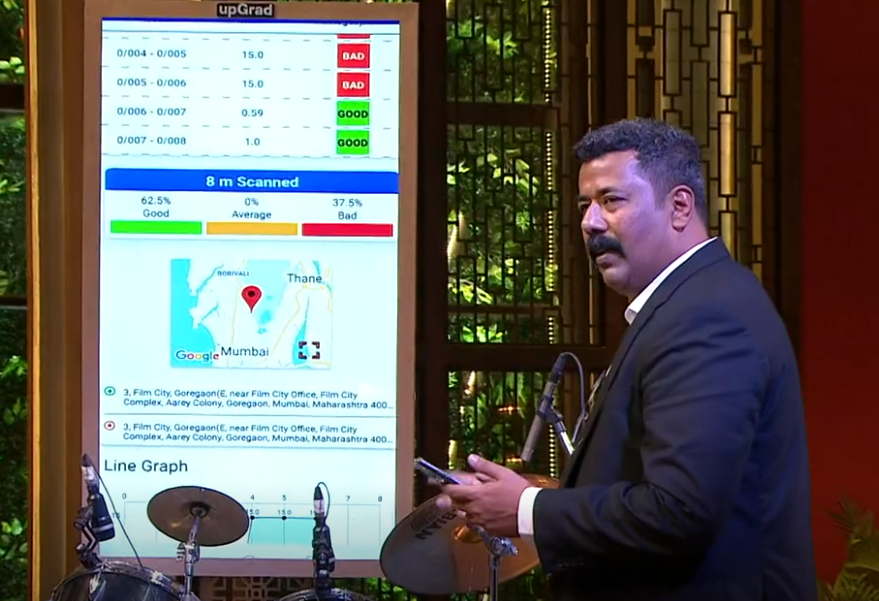 It gives an alert to the vehicles that there are potholes on the road which will decrease the chance of an accident. It had recently signed a 2.5 crore deal. It earns its revenue through road contractors and the government.
Who were the founders of Road Bounce?
Ranjit is the founder of Road Bounce. The problem of Road condition monitoring is very big, not only in India but all over the world to which software named Road Bounce came into the market and is going well as per its founder.
Did Road Bounce get a deal on Shark Tank?
Ranjit came on Shark Tank looking for an investment in his technology, of an amount of 80 lakhs for 10% equity in the business, company valuation 8 crores. He gave a demonstration during the pitch and showed a live demo. It is also working for the small robots company of Singapore.
Anupam asked if he wanted to go with the same government contracts or wished to do something extraordinary with it. During the pitch, it came to know that India is the second-largest road contract company. Anupam didn't understand the actual work of it and went out. Aman didn't find the potholes a problem and moved out. Ashneer said that he was out from the beginning of the pitch whereas Namita said that she was not okay with the product and its idea and turned herself down.
Peyush, a man from a technical background, was the only one left and showed respect towards Ranjit because of the technology and gave an offer of 50 lakhs for 20% of the company. Ranjit said that they both are technology lovers so "Let's do this!" and accepted the offer and went out with his check of 50 lakhs.
Do Share Your Thoughts:
Do tell us all your thoughts in the comments section below, we look forward to reading all the comments in the section below.
Also, do check our Startup Resources section, and don't forget to join our weekly newsletter 📰 which contains pure startup and business wisdom and no bullshit!!
Do follow us:
Related Articles:
Which companies presented in Episode 17?
In episode 17, Four companies came on the show. First was Find Your Kicks India by Harsh, Samir, and Danish, Second was AAS Vidyalaya by Vikas and Leena Kakwani, Third was Outbox by Kaushal and Sakuriti and Fourth was Road Bounce by Ranjit.
Who are the investors in Shark Tank India?
Ghazal Alagh – Co-founder and Cheif Mama of Mamaearth
Aman Gupta – Co-founder and CMO of BoAt
Vineeta Singh – CEO & Co-founder of SUGAR Cosmetics
Ashneer Grover, Founder, and MD of BharatPe
Peeyush Bansal – Founder & CEO of Lenskart.com
Namita Thapar – ED of Emcure Pharmaceuticals
Anupam Mittal – Founder and CEO of Shaadi.com