Is it time to refresh your wardrobe and give yourself a new look? Well, that only comes to you if you know where to look. Let's turn to Grace and Lace. A one-stop destination for all your fashion needs and comforts. Now ranging from accessories to apparel and much more.
This online business started unbelievably with cotton socks made from crochet as their first product. If you can't believe that then there's more. They made massive sales figures in the first year of selling the product online and today have become a hidden gem in the fashion industry with a USP like no other.    
Grace and Lace at a glance:
| | |
| --- | --- |
| BUSINESS IDEA | Women's Apparel Company |
| FOUNDER | Melissa Hinnant And Rick Hinnant |
| ASKED FOR | $175,000 For 10% |
| ACCEPTED OFFER | $175,000 For 10% – Half Goes To Line Of Credit |
| SHARK | Barbara Corcoran |
| BUSINESS STATUS | In Business |
| WEBSITE | Grace and Lace |
Index:
Who owns Grace and Lace?
The incident that graced the business with its presence was when Melisa was pregnant and she created the cotton socks by stitching them with crochet. Things became worse for the couple as they gave birth to a premature baby but they still didn't lose hope.
Many of their neighbors and unknown people approached the house to understand the price of the crochet socks. Rick came across the idea to sell them online. Later they expanded to the retail landscape and got to be known for this product in 230 locations. 
Did Grace and Lace get a deal on Shark Tank?
The husband and wife duo truly graced the occasion and entered the Tank seeking an investment of $175,000 for 10% of the business. Melisa explains how boots are a favorite in terms of women's footwear and how socks need to be worn inside.
She then talks about the hard time her family had to face during her pregnancy and how the product was born from a hobby. Barbara is very enthusiastic and enquires about the sales of the product.
First is Lori who says she loves the product and knows how well they have done to build the niche empire. She goes out. Barbara feels the business is being overvalued therefore she offers them $87,500 for 5%. Kevin offers them the amount they are asking for 20% of the business which will decrease to 10% once the investment amount is paid back.
Robert asked for the exact offer they came looking for and wanted a definite answer from the couple before listening to mark's offer. Mark asks for the same deal as Robert and tells them to reply at the earliest. Meanwhile, Barbara comes up with an offer for the same $175,000 for 10% but half of the investment needed to come in the form of a line of credit. Finally, they accept the offer given by Barbara and go on to a wonderful journey up ahead.
What happened to Grace and Lace after the shark tank?
The sales exploded and they made a sale of $ 1 million in the first year (2013) they started. They have been so successful from that day on, that the love they had for the business took them to do social work for countries like India and Nepal where they have opened numerous orphanages for the needy and humble children of these developing nations.
A couple of years later they reported sales of $6.5 million and $15 million was the revenue they achieved shortly after that.
Their website still sells the socks with numerous other products like Apparel, accessories, sweaters, leggings, and jeans. They also give you a chance to gift many of their products to relatives. The sales increased from $800,000 to $19 million in the years from 2012 to 2019.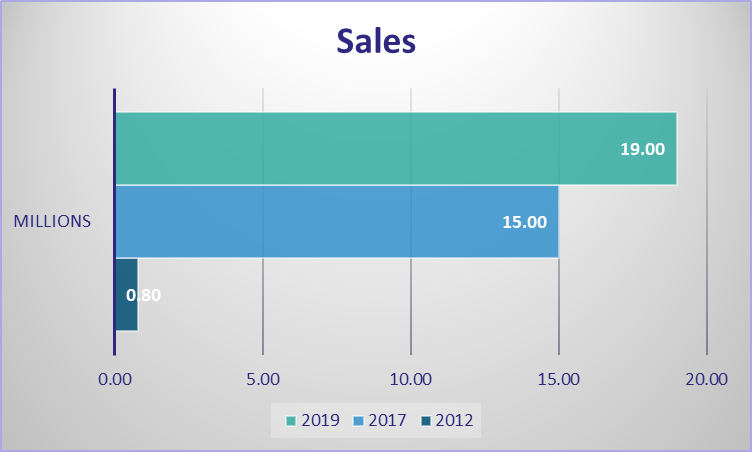 They sell the products on their website www.graceandlace.com and amazon. They have been skyrocketing in sales since they entered the shark tank in 2013 and have been very generous to countries like India and Nepal to provide houses for orphans in these countries. Starting with only $800,000 in sales today they have reached a sales figure of $19 million.  
Competitor's analysis:
Some competitors of the company are:
Pussycat London
South by Sea
Pull and Bear
The Box Fashion
How much is Grace and Lace worth?
At the time of the shark tank appearance, Grace and Lace was valued at around $1.75 million. Grace and Lace are at full speed towards success and plans to build and become more charitable moving forward. Now with $19 Million in sales, and a variety of new product lines introduced the business has flourished.
With Costs within $10 per pair and being sold at $24.95 which allows a whopping 60% margins on their base socks segment. The product lines have expanded to Tops, Bottoms, Sweaters, and accessories also.
Interesting Aspects:
Barbara has given them successful and meaningful contacts to grow their business.
Their story of triumph over tragedy is truly inspirational.
The socks are made of cotton and are soft as silk in texture.
They have partnered with angel house which rescues orphans in India.
They have built two houses that provide shelter for 50 needy children.
Is Grace and Lace still in business?
The business has been generating more than 90% of its sales online. This was due to their strategic investment in the website, www.graceandlace.com which now proudly offers a wide range of new products and fashion accessories. Provides the essential fresh new look for their customers, the grace of God will always be with them as they believe in giving to society by doing good. [Helping the Orphans ..]
Do Share Your Thoughts:
Do tell us all your thoughts in the comments section below, we look forward to reading all the comments in the section below.
Also, do check our Startup Resources section, and don't forget to join our weekly newsletter 📰 which contains pure startup and business wisdom and no bullshit!!
Do follow us:
Related Articles:
What is Grace and Lace?
Grace and Lace is a one-stop destination for all your fashion needs and comforts. Now ranging from accessories to apparel and much more.
Who founded Grace and Lace?
Melissa Hinnant And Rick Hinnant came up with Grace and Lace.