We all know health is wealth and people are conscious about their health these days.
Have you heard of the new low-carb pasta that tastes like ordinary pasta but has numerous health benefits like gluten-free, sugar-free, low on carbs, and made from eco-friendly packaging?
What if I tell you that there is a possibility of a Palmini diet where you can have noodles, pasta of various types, and rice all made from the heart of palms? 
Palmini is a low-carb pasta substitute made from hearts of palm.
Palmini at a glance:
| | |
| --- | --- |
| PRODUCT | Pasta made from the heart of palm |
| ENTREPRENEUR | Alfonso Tejada |
| Investment PITCH | $300,000 for 30% |
| DEAL | $300,000 for 25% |
| SHARK | Mark Cuban and Lori Greiner |
| STATUS | In Business |
| Buy on Amazon | Buy Now! |
Index:
Who is the founder of Palmini?
Started in 2016 as a business native to Bolivia, where quinoa had a name. The entrepreneur got to know about the trend of zucchini noodles and brought to life Palmini with a non-patented machine that could make pasta-shaped linguini style out of palm hearts.
This idea was attempted the first time by the founder of Palmini, Alfonso Tejada who consulted with his bother about the idea. His brother owned a palm factory, so as to supply the raw material for the pasta. Alfonso Tejada is a graduate of the University of Florida.
Alfonso's dream is to see the fame of quinoa to come to this pasta brand and believes it should grow and be known worldwide.         
Did Palmini get a deal on Shark Tank?
Alfonso Tejada's pitch was a rather hilarious affair after the mascot of Palmini showcased his ninja skills on stage. He comes to the shark tank with an investment of 300,000 for 10% equity in the company OA foods.
This type of pasta hates to be with a bad company so the mascot punches the carbs cut out in the face then kicks the calories in the stomach and practices muay Thai on them with sugar.
The pasta to taste is offered to the sharks and there are some discussions between the sharks relating to the product. The guest speaker Betheney is out of the deal as she is not satisfied by the answers, while the next person out of the deal is Daymond.
Finally, Robert doesn't like the idea of a substitute for pasta therefore he is out. Now the two sharks Lori and Mark whisper their plans to each other and agreed on a deal of 300,000 for 25% of the company.
What Happened to Palmini after Shark Tank?
Within a day quite a few miracles happened for Palmini. They sold out on amazon their biggest distributor and four months later they saw a rise in sales at retail stores like whole foods, Albertsons, Kroger.
They even got calls from the retail giant Walmart and wegans after appearing on the show shark tank. The business that started with quinoa products now saw a valuation of 1.2 million after the shark tank deal.
Also, the revenue has grown from $10k to $100k in the phase of two years. Since appearing on the show, Palmini has continued to grow and expand its product line, including introducing new flavors and launching a direct-to-consumer website.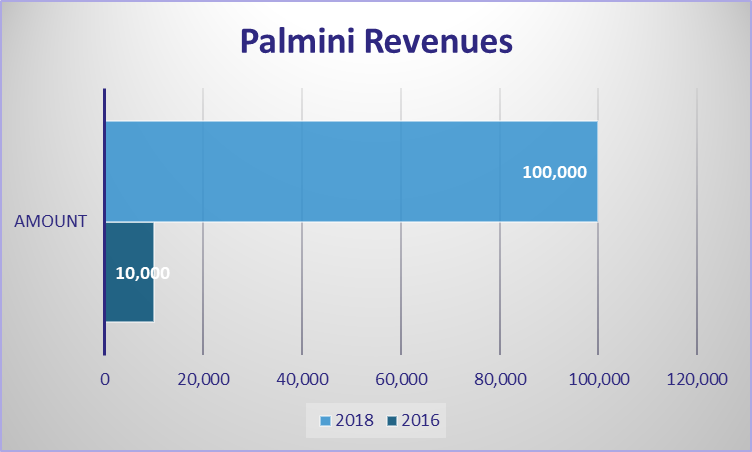 The company has also received investment from other sources and has expanded its distribution into major retailers such as Whole Foods and Walmart. As of January 2023, Palmini remains in business and continues to grow.
What are the Products of Palmini?
Business with their own Quinoa product line and chia product line, today the main ingredient is the heart of palm and this product line is known as Palmini.
Benefits of the product are: GMO-free gluten-free sugar free15 to 20 calories contains 90% water.
Popular as a keto diet product.
Packaging comes in an eco-friendly manner
Introduced a range of pasta made from the heart of palm
Later introduced Products made in the form of rice and mash.
What's Palmini's net worth?
At the time of the shark tank appearance, Palmini was valued at around $1.2 million. The valuation of Palmini has changed from $ 3 million to $4.6 million from 2018 to 2019.
The product is sold at a high scale on its own website and on Amazon (the biggest distributor). They saw a bright future up ahead as publicity is done by the QVC queen to reach more retail outlets. Palmini receives calls from two giants about starting sales in their outlets. They sold 10,000 cans within 24 hours after they aired on the shark tank.   
Competitors of Palmini:
Name
Braxilla
Pink harvest farms
Wicked good fusilli pasta
Queens quinoa
Explore cuisine organic
and many more. The pasta category is a brutal battle for the survival of the fittest. Palmini has secured 2nd place in this competition.
Interesting Aspects:
Made from the heart of palm (a white cylindrical veggie served in a can)
Ready to eat the product, meaning it is already cooked, just mix it with sauce, and voila!
The production process is now perfected.
The pasta can absorb the flavor of any sauce it is served in.
The same plant from which this veggie is extracted can be used for a decade.
It is part of the keto and paleo-free diet plan as well.
Kosher and BPA-free cans are used for packaging now converted to pouches, especially on amazon.
Is Palmini still in business?
The products have been given a new look. This makeover can be seen on amazon as a starter. They hope to open up in new retail outlets like Safeway in the near future. The reviews keep coming.  
The company is doing marvelously well thanks to the deal on the shark tank. They expect to have a golden opportunity to grow their sales by 500% this year. They have excelled in the field of pasta category for amazon and hope to grow in sales in their retail outlets. 
Let's put our hearts into this "heart of palm" pasta!!
Do Share Your Thoughts:
Do tell us all your thoughts in the comments section below, we look forward to reading all the comments in the section below.
Related Articles:
What is Palmini?
Palminin is a low-carb pasta that tastes like ordinary pasta but has numerous health benefits like gluten-free, sugar-free, low on carbs, and made from eco-friendly packaging.
Who founded Palmini?
Palmini idea was attempted for the first time by the founder, Alfonso Tejada who consulted with his brother about the idea.