A pitch deck is a brief presentation that is used to provide the audience a glimpse of your business plan, product, services, fundraising needs, and growth traction to raise funding. The finances for your business come from investors. This pitch deck helps potential financiers know more about your business and interests them in your product or service. A successful pitch deck is one of the many rungs of a ladder to the funding you need.
A pitch deck presentation usually comprises a number of slides that tell an intriguing story about your business. It can be made using software like PowerPoint or Visme. A good pitch deck is one that is not only brief and informative but also visually appealing.
Index:
What is the purpose of a pitch deck?
The purpose of a pitch deck is to excite investors about your company which can get you another meeting to convince them to invest their money and time in your company. Its primary focus is to grab and hold attention to secure funding. Thus, a pitch deck is used in:
Providing a brief overview of your business to potential investors
Catching the eye of potential financiers so that they can be convinced to invest in your business
Earning the next meeting with the investor and making them open to negotiations.
Features of a good pitch deck:
Easy to understand
Informative
Visually appealing
Short and crisp
Trustable
Straightforward
What to include in a pitch deck?
Your pitch deck must be concise and informative. You can include 15-20 slides in your pitch deck. It should highlight the most important information for the investors. Relay your information using appropriate images, animations, and even graphics which makes it visually appealing.
According to Forbes, the average pitch deck has 19 slides. Your audience doesn't have a high attention span so keep it short and informative.
DOs and DON'Ts of a pitch deck: Let us look at some common DOs and DON'Ts to follow while designing and presenting your pitch deck.
DO tell a story
DO use bullet points, but not too much
DO use readable fonts
DO include your contact details
DO show the people behind your idea
DON'T add information about various ideas in a single slide
DONT just read the slides, engage with the investors
DON'T add too many texts
What are the slides in a deck?
A great pitch deck tells an engaging story and answers all the possible questions investors might have. On average, there are 15-20 slides in a pitch deck. Usually, a pitch deck contains the following slides:
Overview of your company, and its mission/vision. It should be short and sweet.
Identify the problems your target audience faces that you aim to solve. This will illustrate why your product is necessary for the market. You can use figures and statistics to show how many people face this problem, at what pace this problem is growing, etc.
Every product launched is aimed at a group of people who'd be interested in it. This slide should contain information about the common audience that faces the problem.
Denote how you plan to solve the problem. You can list different solutions to your problem and then move on to the solution you have chosen and why. Focus on your potential to solve the problem. This should be diligently coordinated with the product slide of your deck.
Here you can discuss your solution means how it's better than the previous existing solution in the sense of price, technology, or anything specific or worth mentioning in your product.
Predict the size of your target audience; this will determine the funding you get. If your target market is too small, investors may find it too risky to invest in your product. Research and show in the form of graphs the future potential of your market. Here you can also show ur target audience with help of TAM, SAM, and SOM.
TAM: Total Addressable Market which means the total market or demand of the product or service which you will be offering.
SAM: Serviceable Available Market which tells about the market which is in your current potential reach in the near future,
SOM: Serviceable Obtainable Market means the market that you can capture later on.
You can show TAM, SAM, and SOM with a graphical figure to capture attention and make it easier to understand for the audience.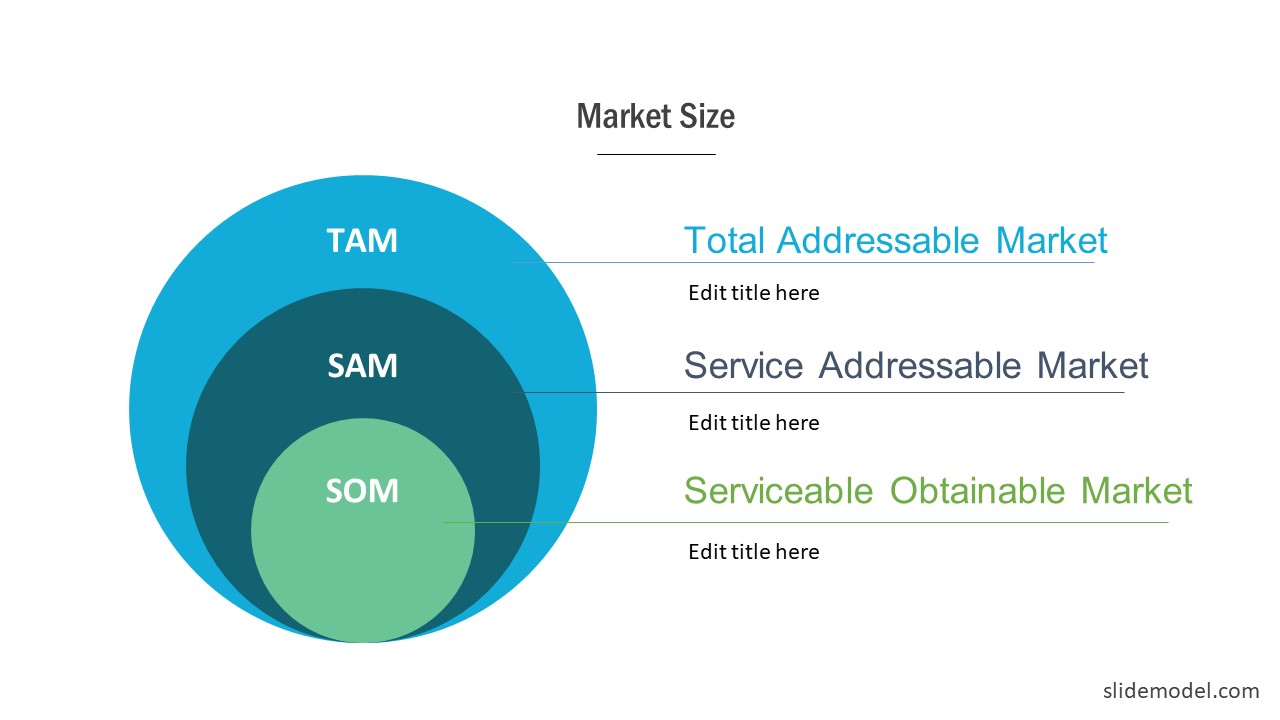 Describe the product or service that your business is going to sell. Articulate the key features you plan to give your product and how will the features be different from other products.
This slide should show the growth of your business and the major goals you have achieved until now. This reassures the investors that it isn't too risky to invest in your business. It can be as simple as a bullet point list with the number of users, annual revenue rate, and profit margins.
You can also think of showing the growth of your user base, user engagement, sales figures, etc with help of figures and graphs.
Pictures and the designation of your team members and their experience shall be included here so that the investor knows you have all the skills to grow your company. You can also add consultants, advisors, and board members which could denote the credibility of your company.
Include who are the competitors of your company. Relay how your solution is special and how it is different from the solutions already present in the market. Answer why people will prefer your solution to the others, and what gives your product a competitive advantage. You can get this information from the competitive analysis.
You can either use quadrant competitive analysis with two major comparison factors as shown below
Also, you can create like this with multiple factors to compare with your competitors.
It should include the predicted growth of your company in the next three to five years along with the details of your business models and finances. The projections should be realistic. You can make the information attractive using charts and graphs.
Investment and use of funds:
Use this slide to convey to the investors what amount of funding you need from them and how you plan to use them. Don't go into details, just a few bullet points reminding them of your goals and how you are gonna use the funding.
No matter how perfect your product is, you need to have a good marketing strategy to find customers. Include all the key marketing channels you are going to use, the PR you are going to employ, and the early press or buzz you have got.
Leave your contact details so that people know how to contact you directly.
Sample pitch decks:
Well, now that we know what pitch decks are, their purpose and the slides to be included there, a few samples would make our knowledge clearer. Links to a few successful pitch decks are as follows:
Do Share Your Thoughts:
Do tell us all your thoughts in the comments section below, we look forward to reading all the comments in the section below.
Also, don't forget to download our Android app which contains startup and business book learnings, verified business strategies and concepts, and no bullshit!!
Related Articles: