In episode 16, Four companies came on the show. First Bamboo India by Yogesh Shinde and Ashwini Shinde, Second was Flying Fur by Jessica Madan, Third was Beyond Water by Shachi Singhania and Devang Singhania and Fourth was Let's Try by Nitin, Chithra,  Gitanjali and Neelma all Kalras.
At the end of the episode, the shark lesson of the day was given by Anupam about White Labelling which means when a manufacturer gives their product to the brand company, that branded company sells the product in the market under their brand name.
Do follow us on Instagram and remain updated with Indian Startup Updates!
Index:
Bamboo India:
Bamboo India is a business model which was started in 2015 and made bamboo products which include Bamboo toothbrushes, sunglasses, and others. It is sustainable and easily compostable in the environment, till date it had sold 40lakh+ bamboo toothbrushes and also delivered it in 18 different countries. In India, it has covered 20250 plus Pincode areas. It is available on bambooIndia.com, Amazon, Flipkart, and other marketplaces.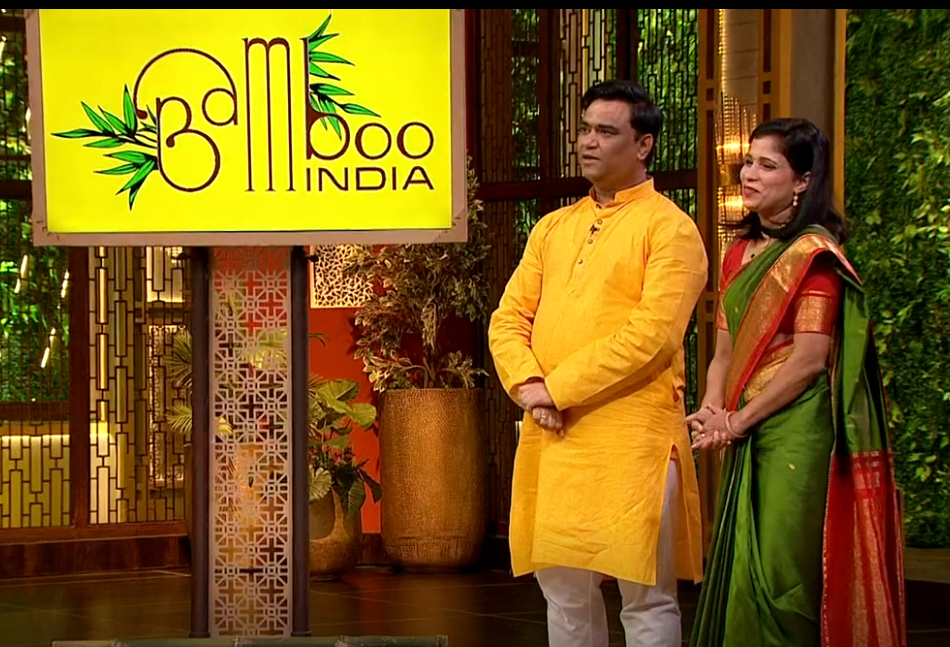 It is spread across 300 plus retail shops in India. It manufactures 50,000 brushes per day in its Pune manufacturing unit. India is the second-largest country in the production of Bamboo, especially from the city of Pune. It is India's first bamboo toothbrush manufacturing company and it claims to produce the world's softest toothbrush called Nano bristles. Firstly, it used to sell it for 180 Rs then over a period it came down to 45Rs. It had earned a revenue of 2.8 Crore in 2019 even in the pandemic, 2.2 Crore in 2020, and estimated to touch 3 to 4 Crore in 2021.
Who were the founders of Bamboo Toothbrush?
Yogesh Shinde and his wife Ashwini Shinde are the founders of Bamboo India and they are from Pune. He shared that plastic toothbrush was started in late 1938, 80 years ago, and still the first plastic toothbrush which we used exists on earth and harming the environment to which Bamboo India founders decided to take some steps and started Bamboo India. He shared that during its initial stage, they were not able to manufacture 100 toothbrushes in a day due to the lack of resources but currently, they manufacture 50,000 brushes a day.
Ashwini and Yogesh had done their K.G to P. G education from Pune. Yogesh had completed his graduation in Computer Management and had also worked for it as a team leader, software developer, he had also been the company head in Germany and received lots of awards for his creativity which he thought why he was doing it for other countries and came to India to develop something.
Bamboo is not much used raw material to which Yogesh used his potential and made it a market. Ashwini takes care of the online portal and administration work.
Did Bamboo get a deal on Shark Tank?
Yogesh and Ashwini came to Shark Tank with a piece of bamboo on the show and need of investment and experience. They pitched it for 80 lakhs in exchange for 4% equity, company valuation is around 20 Crores. After the demonstration and discussion about the numbers, Aman directly gave them an offer of 20 lakhs for 4% equity and the remaining 60 lakhs for debt.
Namita said that Aman's offer was good to go and she could not offer them a better offer than that. Also, she didn't have much expertise in brand building and went out. Peyush suggested they should focus on manufacturing excellence because once it was done, they would earn huge revenue and use as much as they want in the marketing sector and gave an offer of 80 lakhs for 20% of the company.
Anupam and Ashneer gave them a combined offer of 40 lakhs for 8% equity and 40 lakhs as debt. Aman said that they needed automation support where Peyush could help them and joined Peyush's deal of 80 lakhs for 20 % equity. Yogesh took a moment and gave a counteroffer of 50 lakhs for 3% equity and 30 lakhs for debt. Anupam said that they would do the same offer for 6% equity. Peyush and Aman gave a counteroffer of 50 lakhs for 5% equity and 30 lakhs as debt.
Ashneer encountered that with 50 lakhs for 4% equity and others remained the same. Aman said that they would also do it for 4% equity, Ashneer again gave 50 lakhs for 3.5 % equity to which Aman and Peyush went out. Yogesh and Ashwini took the deal for 50 lakhs for 3.5 % equity and 30 lakhs, company valuation 14.28 Crore.
Flying Fur:
Flying Fur provides all types of services to all the pets in their service truck, which includes grooming the pets, giving a stylish haircut, Tic and Flee treatment, Full body massages, pan massages, nail clipping, and a lot more. It was started in 2016 with a single truck and today, it is India's biggest mobile pet grooming chain in the market.
Currently, it has 14 trucks operational in 8 cities. One truck earns an estimated revenue of 2.5 to 3 lakh rupees. It is a franchise business. They have served 15,000 plus pet parents and 50% to 60%  are on their repeat scale. It has its own central helpline number through which people can make their appointments. They have their own website for bookings and queries.
Who were the founders of Flying Fur?
Jessica Madan from Delhi is the founder of Flying Fur. Jessica has a cute little white dog with little black spots on it. She mentioned him as her business partner and his name is Zorawar. She shared that Zorawar is very nice but he doesn't like to groom or shower. He also doesn't like to stay away from his pet parents. But just like the human species, pets also need to take shower and be groomed.
Just like Zorawar, there are so many pets ( cats, dogs, and others) who hate to groom to which she had an idea to overcome this problem and started Flying Fur. Akshay Gupta and Vikaram Khanna are the two business partners.
Did Flying Fur get a deal on Shark Tank?
Anupam revealed the secret during the demonstration of the Flying Fur service truck that except for him, all the sharks are scared of dogs. Jessica, the founder of Flying Fur, came into Shark Tank India in episode 16 of season 1 with a small dog named Zorawar and his two other business partners. She had a requirement of 75 lakhs in exchange for 7% equity of her business, Company valuation is 10.71 crore.
After the demonstration, Ashneer disclosed his decision that he found their business as pure operations and went out of the pitch. Aman was next to go as he is not much passionate about this industry. Namita shared her common statement that she doesn't have expertise in it for which she turned herself down. Peyush was impressed with the idea and also suggested they should keep going with the business but didn't put his money in them and went out.
Anupam cracked a joke that if they really wanted a deal, he told them to leave a dog before all the sharks. Anupam also moved out with the best of luck for them. No deal was done and the pitch got closed.
Beyond Water:
Beyond Water is India's first liquid water which follows a three-step process. Just Flip it – Squeeze it and Drink it. It makes your water tasty and nutritious and even it doesn't even need to be stirred. A small pack of Beyond Water can be used up to 24 Squeeze, and can also be used to make 5 liters of flavored drink.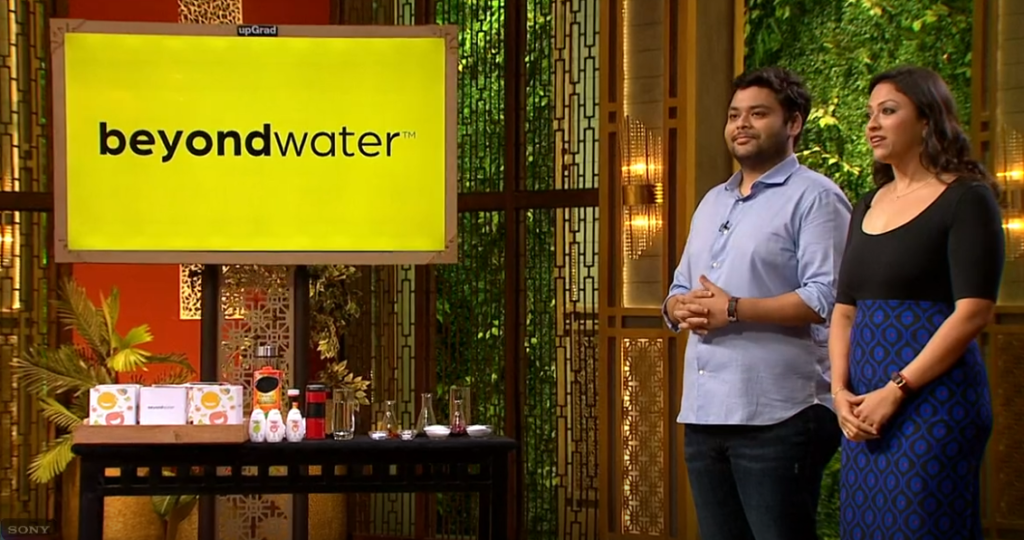 Customers can have it with soda, green tea, coffee, tonic, and plain water. It is completely safe to have. It is available on its own website and Amazon. It uses natural stevia in it instead of water. I know many medical experts would be thinking how is stevia good for health?
Taking this point in mind, its founders had used stevia from a pharma industry which serves 99% safer stevia as compared to what we get in the market. It has no chemicals or preservatives in it. It is completely organic and natural. It has different flavored packs which include Lemon mint, Mango peach, Electrolytes, Ginger Lime, and Orange.
Who were the founders of Beyond Water?
Shachi and Devang Singhania are the founders of Beyond Water and they are brother and sister in blood relation. As per the research of WHO, an individual needs to drink 3 to 4 liters of water every day to stay healthy but people forget to do so.
Nowadays, if people are thirsty, they somehow avoid water and have soda, aerated water, and juices which include a huge amount of sugar in them. To overcome all this, Beyond Water came into the market.
Did Beyond Water get a deal on Shark Tank?
Beyond Water- a business which came in episode 16 with a pitch of 75 lakhs for 4% equity, company valuation is around 18.75 Crore. After tasting Beyond Water's all flavors, Anupam asked them if they both in real life drink 3 to 4 liters of water with the addition of Beyond Water, to which Devang replied that yes, he drinks that amount of water but he uses Beyond Water only half.
Anupam was a bit confused about their business model whereas Namita and Aman gave an offer of 50 lakhs for 20% equity and 25 lakhs as debt for 12%, company valuation went down to 2.5 Crore. Anupam said that he could give them an offer of a complete amount for equity, but Aman was continuously knocking between the discussion which made Anupam go out of the pitch.
Peyush said that he didn't want to invest as he didn't find it investable and instead of Beyond water, it is more of Beyond mixture. Devang asked Namita and Aman to do it bit down on the equity side. Namita asked him to do it for 15% equity, they took a moment and gave a counter to do it for 10% equity.
Namita and Aman finally gave the last offer which was also non-negotiable as it was for 12% equity in business along with two sharks' expertise, if they needed the sharks, they needed to pay the value, and the deal was made.
Let's Try:
Let's Try manufactures and serves all homes with healthy and quality ingredient snacks. It has 50 variations of healthy snacks and uses 30 to 50% base product. For eg:- In Flaxseeds bhujia, flaxseed is used 40%. Let's Try uses groundnut oil in all the products with no preservatives and additions.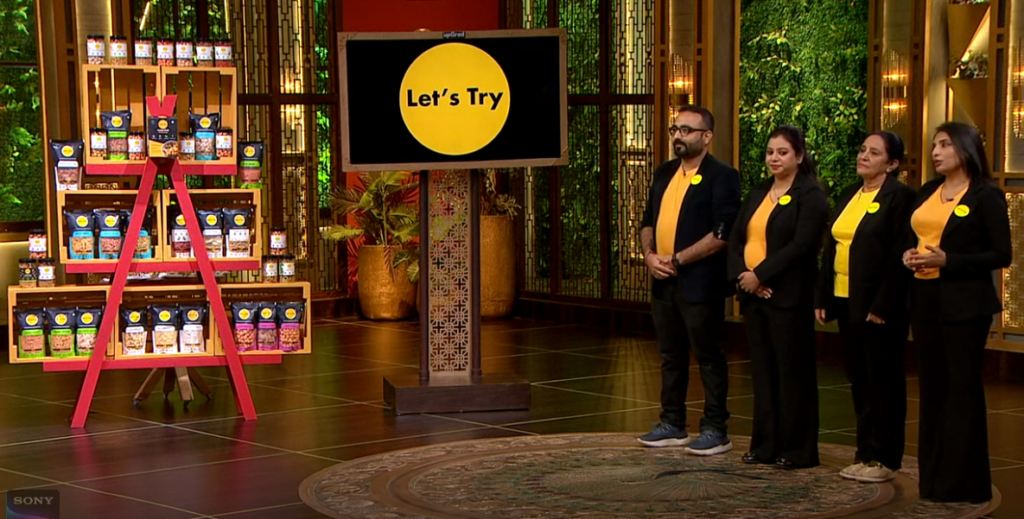 Currently, it is available in the world's top trade store and E- platform and is also available in more than 600 stores along with their own website. It was started with 50,000 sales and currently, it has touched 16 lakh sales only through the mouth advertisement. Peanut party mix with potato flavor for gums is its most selling SKU. It has recently launched Makhana, which is air roasted and has earned 4 lakh sales.
Who were the founders of Let's Try?
 Nitin, Cithara, Neelma, and Gitanjali from Delhi. Just like every child, Gitanjali's child also likes junk food but when he had thalassemia major, she tried to give him healthy snacks as all the market products are made of palm oil and other artificial ingredients and flavors.
To overcome this problem and to raise a good amount of money for Gitanjali's child's health issue, Kalra's started Let's Try. Chithra is UX- designer and she had designed all the visual aspects of it, Neelma takes care of the factory. She had also managed the business for 15 years in Sadar Bazar and Gitanjali does the actual product designing.
Did Let's Try get a deal on Shark Tank?
Kalra family came on Shark t Tank India in episode 16, season 1 looking for an investment of 45lakhs for 2% of the company, company valuation 22.50 Crore. After the demonstration, Peyush was first to go and said that he had already invested in a similar product holding, so he went out.
Ashneer was very excited about this kind of product but didn't find anything unique and different and also, they are at their early stage and went out. Namita also moved out due to no USP and fried base product but said Gitanjali to stay in contact for her child's treatment. Anupam asked about the sales distribution numbers to which Nitin shared that 90% is through Morden Margin and 60% of Gross Margin.
Anupam was very interested in the business but found it too risky and would require huge capital in the future, Aman asked Anupam if he could join and together gave an offer of 25 lakhs for 10% equity and 20 lakhs as debt. Nitin shared that he had already taken a debt of 80 lakhs from the bank and done F.D of it so, he cannot take a load of debt again.
Aman and Anupam changed their offer to 45 lakhs for 15% equity, Nitin gave a counter of 45 lakhs for 10% shares in the business. Anupam asked him to do it for 12%, 6% each. Kalra's family accepted the deal and took their check, they also received the Flipkart platform after the pitch.
Do Share Your Thoughts:
Do tell us all your thoughts in the comments section below, we look forward to reading all the comments in the section below.
Also, do check our Startup Resources section, and don't forget to join our weekly newsletter 📰 which contains pure startup and business wisdom and no bullshit!!
Do follow us:
Related Articles:
Which companies presented in Episode 16?
In episode 16, Four companies came on the show. First Bamboo India by Yogesh Shinde and Ashwini Shinde, Second was Flying Fur by Jessica Madan, Third was Beyond Water by Shachi Singhania and Devang Singhania and Fourth was Let's Try by Nitin, Chithra,  Gitanjali and Neelma all Kalras.
Who are the investors in Shark Tank India?
Ghazal Alagh – Co-founder and Cheif Mama of Mamaearth
Aman Gupta – Co-founder and CMO of BoAt
Vineeta Singh – CEO & Co-founder of SUGAR Cosmetics
Ashneer Grover, Founder, and MD of BharatPe
Peeyush Bansal – Founder & CEO of Lenskart.com
Namita Thapar – ED of Emcure Pharmaceuticals
Anupam Mittal – Founder and CEO of Shaadi.com