In episode 14, three companies came on the show. First ' The Renal Project' by Shashank Modhia, Second was Morriko Pure Foods Private Limited by Bipin Shah, Kalyani, and Tanmay Shah, and lastly GoodGood Piggy by Purva Aggrawal.
Episode 14 was quite interesting to watch and learn as all the sharks shared and suggested a few ideas related to business models. In episode 14, Ashneer explained that Pre-revenue means Zero Revenue. At the end of the episode, the shark lesson of the day was given by Anupam about evaluating senior employees.
He shared that he takes 2 to 3 meetings in a line and checks whether their confidence level is increasing or not. If it increases, it means they are on the right path, and If decreases, it means they are on the wrong path and should take a step towards it.
Do follow us on Instagram and remain updated with Indian Startup Updates!
Index:
The Renal Project:
The Renal Project is not anything new or unique but it is a modified factor in the field of dialysis centers. It is a dialysis service provider business. It is planning and opening up to 2 to 3 beds dialysis centers in all small cities, districts, and subdivisions where it is actually needed. But still, there must be something unique in it?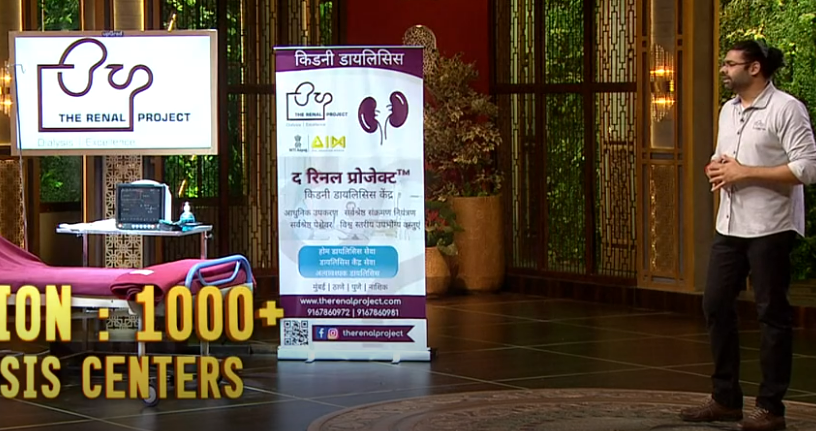 Yes, its execution game, its management is something through which it can lead in the market. They started this project in 2019 when they built their first center and till now they have 21 centers (2021). They are available in Mumbai, Pune, Thane, and Nashik. They also serve home treatment as per needs. In its initial six months, it had earned 7.5 lakh rupees from home Dialysis only and still growing. It claims that it is an untapped market and they are the perfect managers in the field of Dialysis which is also their USP ( Unique Selling Proposition ).
Who was the founder of 'The Renal Project'?
Shashank Modhia is the founder of ' The Renal Project'. He is a biomedical engineer and holds his master's degree from the University of Texas, and he had lived there for 10 years. In his last corporate job, he used to work for Asian Pacific Region which is a dialysis-related company. He worked for them from 2003- to 2018.
He has the vision to open more than 1000 Dialysis centers across India. He and his team are planning to manufacture an in-house management software for easy run and management of all their centers which makes them unique and will help them to stand in the market against their competitors.
Did 'The Renal Project' get a deal on Shark Tank?
Renal Project founder came on the show who left his U.S  job to do something in India. His work is actually working towards the societal problem of Kidney Failure which is around 15 lakh plus available in India, and each upcoming year 2.5 lakh are getting added.
He wanted shark expertise along with an investment of 1 crore for 3% equity, company valuation is around 33.33Cr. He called Jitesh Pedenekar to explain the working model of Renal Dialysis equipment. Jitesh Pedenekar is the operational head of the business.
Ashneer directly came to the point and gave an offer of 25 lakhs for 1%equity and 75 lakhs for 12% debt with a time duration of 5 years, company valuation is 25 Cr. Namita offered 1 Crore for 10% equity as she is the Pharma expert. Peyush didn't like much about it much and went out as he didn't find it investable due to the large competition.
Anupam also moved out as it had not achieved the level he would be convinced to invest in. Aman joined Namita's offer of 1 crore for 10% equity, but what difference does it create? Two sharks with two different expertise can make this business a successful business.
Shashank shared that he had an offer in his hand from outside investors which will give him a valuation of 20 Cr. Namita and Aman gave him another offer of 1 Crore for 8% equity. Ashneer also jumped and changed his offer to 50 lakhs for 2% equity and the remaining amount at a 12% interest rate. Shashank asked for a moment and gave a counteroffer of 1 Crore for 4% equity to which Namita asked him to do it for 6%, Shashank needed a pharma expert, thus making his deal with Namita and Aman, took his checks with his right decision.
Morriko Pure Foods Private Limited:
In the past, the company used to be named Kamdhenu Foods which was started in 2002 but got destroyed due to the flood in Valsad. Now it is famous as Morriko Pure Foods in market. It was the dream of its founders to do such. It is a solar-based manufacturing company that, with the help of solar dehydration, manufactures tasty, delicious, healthy, and nutritious fruit items which include rolls, slices, bars, and powders.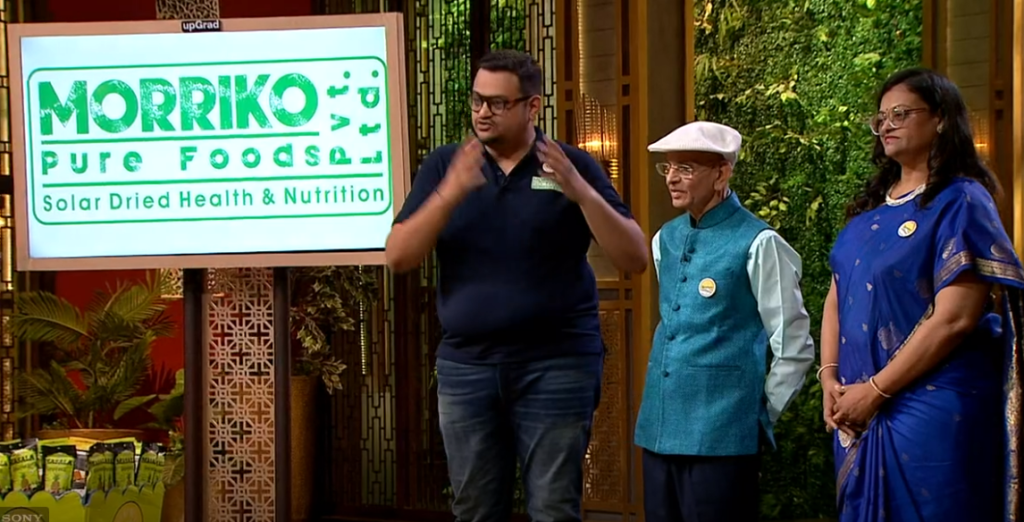 All these variant items are sold with the brand name Kamdhenu Foods. It is the health snacks company in India's Map. It has tied up with  APMC and farmers across India, for raw materials and supplies. It was started in 2018 and has earned 5.95 Crore sales till now in 2020, and  1.43 in 6 months of 2021.
It follows B2C and B2B models. B2C -at a small level where it serves directly to customers and B2B- as major target and also have a few of the known business; Paper Boat, ASAP, Mojo Beer, Kellogg's, and many more.
Who were the founders of 'Morriko Pure Foods'?
Bipin Shah – Selector, Advisor, and director, Kalyani Shah co-founder and Director, Tanmay Shah founder and CEO of Morriko Pure Foods. It was the dream of Bipin Shah. Bipin is the father of Tanmay and Kalyani. They are from Valsad, Gujarat.
Bipin shared that 15% of the grown fruits go into waste in India each year because of no solution to it which also affects the income of our farmers. We all will be agreed to this that the first sorted fruits in the market are sold easily, small size fruits also go out for small price, but fruits that are not good in size and color go to waste. That's how Kamdhenu foods were born and then Morriko Pure Foods came into fame.
Did "Morriko Pure Foods" get a deal on Shark Tank?
Bipin Shah and his two children came on Shark Tank India in season 1, episode 14 looking for an investment and a vision in hands and eyes. They placed their pitch for an amount of 1 crore for 3% equity in the business, company valuation is 33.33 Crore.
They served a few samples to the sharks to taste and after that, the sharks fired a few questions to them. Anupam asked how he would grow his B2B in the future to which Tanmay replied that in Breakfast, Energy Bar, Protein Bar, Ice -cream, Milkshakes all of them require dehydrated fruits and this demand will help them to grow their B2B  and for B2C. They are available on Amazon.
Aman said that all the sharks liked the product and were coming together which included Aman, Anupam, Ashneer, and Peyush, except Namita. Namita went out because she thought that other sharks would be the better option for them to go with. 4 sharks together gave a combined offer of 1crore for 25% equity as it requires a lot of work.
They took a moment for discussion and gave a counteroffer of 1 crore for 8% equity, 2% each to which all the 4 sharks rejected to go with and moved out. No deal was made and Morriko went with no taste from the show.
GoodGood Piggy:
It is India's first Digital Piggybank and habit builder. It is also India's first Ed- Fintech Application which is claimed by its owner. This application gives complete control in the hands of parents to create and build their children's behavior and development. It helps children to learn about the transactional process and financial management from saving, sending, and earning.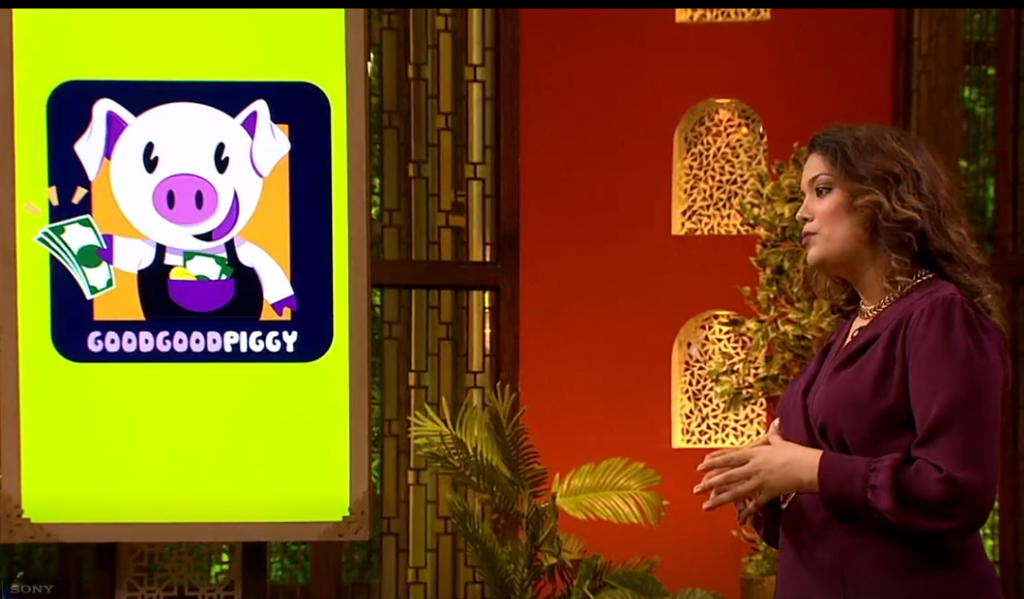 Kids will only get the number of rupees from their piggy bank if they perform their daily tasks appointed by their parents and become good kids by marking their work done. It was a D2C start-up and is at the Pre-revenue stage ( zero revenue ). It is an annual selection programming application. It is at the stage of prototyping.
Founder story and details:
Purva Aggrawal from Delhi is the founder of GoodGood Piggy. She is a 25-year-old entrepreneur, who came on the show with enthusiasm in episode 14 of season 1 of Shark Tank India. She shared that the idea of this came to her mind from a small but very impactful incident.
Purva has a four-year-old nephew for whom she bought a piggy bank from a shop and gave him. He went to everyone and asked to put a coin in it. No one had a coin and someone said that if there was some digital method for it, then it would be easier and helpful which clicked for Purva and that's how GoodGood Piggy was born.
Did 'GoodGood Piggy' get a deal on Shark Tank?
Purva came on the show full of confidence and hope. She was looking for an investment to grow her business of amount 45 lakhs for 5% equity in the business. She called a very cute little girl, Maya on the show for the presentation of GoodGood Piggy, and was really a great presentation to be shown on the show.
But the pitch was not great for Purva as Ashneer and all the sharks except Namita were completely against Purva's claim about her business' uniqueness. Ashneer made his decision between the pitch and went out as she needed to do a lot of work and suggested her to learn some humility.
Anupam also went out with a suggestion that she could go forward with the education tech line but Purva went on talking high, Peyush was not able to control his laughter, but gave her a chance as he had also gone from the same stage. He asked if she was ready to give 50% of the company and wanted the answer is Yes or No, again Purva went on explaining which made Peyush go out.
Aman also moved out but suggested her if she believed in it, then she must go on. Namita encountered Anupam during the pitch when Anupam said that it was impossible to go with this business, Namita asked why. Namita in the end applauded Purva's attitude, but she also took her steps back from investment as she doesn't invest in a zero revenue company but wished her all the best for her future. Unfortunately, no deal was made on the show.
Do Share Your Thoughts:
Do tell us all your thoughts in the comments section below, we look forward to reading all the comments in the section below.
Also, do check our Startup Resources section, and don't forget to join our weekly newsletter 📰 which contains pure startup and business wisdom and no bullshit!!
Do follow us:
Related Articles:
Which companies presented in Episode 14?
In episode 14, three companies came on the show. First ' The Renal Project' by Shashank Modhia, Second was Morriko Pure Foods Private Limited by Bipin Shah, Kalyani, and Tanmay Shah, and lastly GoodGood Piggy by Purva Aggrawal.
Who are the investors in Shark Tank India?
Ghazal Alagh – Co-founder and Cheif Mama of Mamaearth
Aman Gupta – Co-founder and CMO of BoAt
Vineeta Singh – CEO & Co-founder of SUGAR Cosmetics
Ashneer Grover, Founder, and MD of BharatPe
Peeyush Bansal – Founder & CEO of Lenskart.com
Namita Thapar – ED of Emcure Pharmaceuticals
Anupam Mittal – Founder and CEO of Shaadi.com