Introducing the xTorch – the flashlight that never dies! Want to explore the great outdoors without worrying about dead batteries? Look no further than xTorch, the rechargeable flashlight that uses kinetic energy to power itself.
With its sleek design and durable construction, the xTorch is the ultimate survival tool for any adventurer. Get ready to light up the night and never be left in the dark again with xTorch!
We have all bought normal standard torches that we use when the light is gone at home or the office. Did you know that 2 Billion people live in darkness and almost 1 in 4 almost have little or no reliable energy?
Would you imagine how to run your torch without battery cells is also a possibility, yes that's how our Solar Light Torch – XTORCH was born and shed light on the world. XTORCH is a very sturdy Solar Light Torch as it is multifunctional with 1 Flashlight, 2 Front Lanterns, and 1 Side Lantern and allows you to charge your phone using a USB. Self-charges on Solar or power using a USB cable. Thanks to Gene and Keidy for bringing XTORCH their invention to light.
XTorch at a glance:
| | |
| --- | --- |
| BUSINESS | Multipurpose Solar Powered Flashlight |
| ENTREPRENEUR(S) | Gene Palusky And Keidy Palusky |
| ASKED FOR | $150,000 For 10% |
| ACCEPTED OFFER | No offer |
| SHARK | No Shark |
| BUSINESS STATUS | In Business |
| Buy on Amazon | Buy Now! |
Index:
Who is the founder of XTorch?
Gene Palusky while helping children in Equatorial Africa witnessed living in darkness. Gene's fiancé Keidy because sick with malaria and due to darkness in the surroundings the doctor was unable to check her temperature. Gene and Doctor frantically searched nearby villages for medications to save Keidy's life.
Gene experienced Africa, The Dominican Republic, and other remote world areas that lacked lighting and power. Children and unable to study post-sunlight and have no work after sunset due to darkness. XTorch founder Gene Palusky experienced these issues firsthand and came up with the EJ Case design that was rugged for extremely remote places and at the same time is ideal for everyday home usage also.
Bob their lead engineer was instrumental in reengineering the development process multiple times to develop EJ CASE XTORCH. Keidy was the secret behind the success as it was by her grace and understanding that XTorch has reached various parts of the world that needs it the most.
Did XTORCH get a deal on Shark Tank?
Gene and Keidy sought $150,000 in investment in exchange for 10% equity. Their plan was to increase direct customer sales and not use a third-party retailer. During the product demo, Sharks knew the product was not yet patented so had the risk of being tapped by big players in the market.
Pulasky's did ship $113,000 worth of units but did not have expertise in the field of direct to customers sales. Most of the sharks were holding back, but Robert came back with a bold offer of $500,000 to buy the company outright.
The couple countered 1$ Million but that was rejected. Robert did explain that he had the expertise to sell directly to customers. Gene and Keidy were not comfortable giving up the entire company, unfortunately, had to walk away without a DEAL.
What Happened to XTORCH after Shark Tank?
Post the shark tank episode the viewers did realize the worth. Guess the duo got over 2000 orders post they were aired. It's a great product with a 4.5-star rating proving there is a market for the product. Gene and Keidy were noble as they also contributed 25% of their profits to International Relief Partners across the world.
Gene and Keidy were able to venture into the business with moderate growth. In 2018 the duo gave away around 1,500 torches and could sell 1200 units at a cost to nonprofit organizations and only sold 200 torches for a list price of $60. The good news is in 2019, their sales doubled and went up 350% in 2020.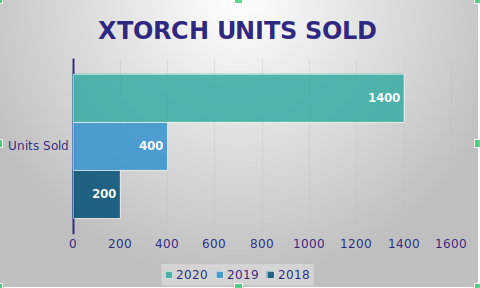 The Paluskys have invested over $300,000 into XTorch since 2015. In 2018, EJ Case gave away 1,500 torches and sold around 200 at the full price of $60. They also sold 1,200 torches at cost to non-profit organizations. Retail sales increased in 2019, and in 2020, the couple planned to send another 2,000 solar-powered torches to Haiti and the Dominican Republic. To date, they have donated more than 4,000 XTorches and have given away most of their profits.
Palusky and his wife have received widespread media coverage for their product, with local newspapers such as The Star Tribune featuring the XTorch.
The couple aims to double their sales every year and plans to generate an annual revenue of $3.2 million by 2024. They are running XTorch as a family business, with Palusky's mother and two young children assisting them in their efforts to increase online sales.
What's the Xtorch's net worth?
XTORCH is valued at around $1.4 million at the time of its Shark tank appearance. XTORCH is a sturdy product with multifunctional features very well accepted in the market and performing well in the market. The duo has explained the product features and how to operate XTORCH. How to operate XTORCH:
Interesting Facts:
Light Run time :

8 hours of solar charge ≈ 9 hours of flashlight run time on low.

Charging

Using Solar Panel in 22 hours of full sun
Using USB Cable in 1.5 hours

LIFEPO4 Battery life is ≈ 7 to 10 year

Battery holds power up to 3 years without charging
Solar panel ≈ 1 watt output
LED technology – 30,000 hour life span

Resistant
Floats in Water
Tested across 30 countries in the world
Light Weight – Weighs 9.4 Ounces and Height 8.5 inches.
Is XTORCH profitable?
XTORCH is doing well with average sales and is profitable as the founders Gene and Keidy are into philanthropy. The duo has been contributing 25% of their profits to International relief teams and donated multiple thousands of units for free. The company has been able to grow in sales over the last 2 years and made 1000+ unit sales in 2020.
Due to Covid Constraints, there is an impact on production. Their website has clearly defined that the orders can be placed as they will be back by mid-November. Any pre-orders are being given a discount of 20% on the original price of $49.95. In case of any refund is required just email info@xtorch.org and they are happy to cancel your order and refund your amount.
Is XTORCH still in business?
Gene and Keidy took this XTORCH business for serving the community and not only for making money. Their business is growing well across the world approx. 30 countries. Due to COVID, there is a scarcity of electronic parts so soon the orders are expected to pick up once production is back on track.
Do Share Your Thoughts:
Do tell us all your thoughts in the comments section below, we look forward to reading all the comments in the section below.
Also, do check our Startup Resources section, and don't forget to join our weekly newsletter 📰 which contains pure startup and business wisdom and no bullshit!!
Related Articles:
What is XTORCH?
XTORCH is a very sturdy Solar Light Torch as it is multifunctional with 1 Flashlight, 2 Front Lanterns, and 1 Side Lantern and allows you to charge your phone using a USB. Self-charges on Solar or power using a USB cable.
Who founded XTORCH?
Gene Palusky and Keidy founded XTORCH.