Life Insurance Corporation also known as LIC is an investment corporation owned by the Government of India. It is under the ownership of the Ministry of Finance, Government of India. LIC is a statutory corporation and was founded on September 1, 1956, when the parliament of India passed the LIC Act that nationalized the insurance industry in India.
Its headquarters is in Mumbai, Maharashtra, India. Over 245 insurance companies and the provident societies were merged to create the state-owned LIC of India. The current number of employees as of 2020 is 1,14,000.
The Oriental Life Insurance Company was the first company in India which offered life insurance coverage, and was established in Kolkata in 1818. Surrendranath Tagore had founded the Hindustan Insurance Society which was later named into Life Insurance Corporation.
The slogan of LIC is yogakshemam vahamyaham (in Sanskrit) which translates into English as "your welfare is our responsibility".
Do follow us on Instagram and remain updated with Indian Startup News!
Index:
How do LIC policies work?
Life Insurance acts as a shield of faith for your family in times of difficulty. Nowadays, Life Insurance has become one of the top priorities among individuals and families. Many people don't have any idea about types of LIC policies, so here are the types of LIC policies:
Endowment plan: Endowment plan is typically a combination of protection and maturity benefit. This policy is related to the uncertain death of policyholders and it gives financial protection to the family of policyholders. A lump-sum amount is also paid at the time of maturity. There is also a bonus that is given every year, but it is not paid every year but at the time of maturity of the policy or if the policyholder dies.
Group plan: It is the protection of groups of people, this scheme is beneficial for societies, employers, associations, etc. This will allow you to enjoy benefits at a really very low cost.
Money-Back Policy: Money-Back policy provides full life coverage during the period of the policy and the maturity benefits are paid in installments by way of survival benefits at regular intervals, rather than giving the lump-sum amount at the end of the term. There is also a bonus that is given every year, but it is not paid every year but at the time of maturity of the policy or if the policyholder dies. So, because more benefits are given in the Money Back policy than in the Endowment policy, the Money-Back policy is a popular insurance policy.
Pension plan: LICPension plan is mostly taken and suited for senior citizens and for those who are planning to secure their future. This pension aims to secure and save the money of an individual for the future so that life can be secured after their retirement.
Term Insurance: Term Insurance is financial protection to the insured's family in case of unfortunate demise with very low investment. Under this policy, the insurer agrees to pay the beneficiaries the sum assured, against payment of regular premium, if in event of the premature death of the insured person during the policy term. But, if the person survived till the end of the policy term, then nothing is payable to that person. 
ULIP plan: Unit Linked Insurance Plan returns depend on the investment performance, it is actually a combination of insurance as well as investment. ULIP plans are costlier than endowment or any other term plan. Some part of the premium paid is invested in equity and debt schemes while the remaining are assigned towards the life cover, so we can basically say that ULIP is a kind of mutual fund.
Business Model:
Key Partners:
LIC partners with Paytm to facilitate digital payments. LIC has previously partnered with another payments business but as most of the firm's payments are digital, Public Sector Undertaking (PSU) — decided to seek out a company that could provide an end-to-end solution and therefore chose Paytm.
Key Activities:
LIC subscribes and underwrites the shares, bonds, and debentures of various financial corporations and companies and grants term loans. It also maintains a healthy relationship with other financial institutions such as IDBI, UTI, IFCI, etc. for coordination of its investment.
Key Resources:
The key resources of LIC are its value proposition is to protect people from any loss. LIC always tries to partner with a company so that they can grow in every direction either it is digital or door to door.
Value propositions:
The objective/ value proposition of LIC is to cover the loss of people from any unfortunate event. LIC always ensures to minimize loss and offers low premium rates so that people can have no difficulty in taking the insurance.
Customer Relationship:
LIC always respects its customers.
Making insured savings more attractive to mobilize maximum savings of people.
LIC always acts as a trustee of the insured public in their individual as well as collective capacities.
LIC's aim is to cover every insured person under the insurance umbrella.
Customer Segments:
LIC is divided into 2 customer segments, individual and corporate. The individual segment is further divided into 4 sub-segments investment, pension, protection, and savings.
Channels:
LIC always tries to stay connected with its customers. LIC has its website, LIC is connected with authorized banks, and LIC has franchisees. So, LIC tries its best to stay connected with customers from various channels.
Cost Structure:
LIC cost ratio is around 3-5%. LIC cost structure is such that the return of investment it makes is 8%, managing expenses costs around 4% and the return to policyholders falls to 3.5- 4%.
Revenue Streams:
LIC recorded revenue of Rs. 56,078,439 lakhs (US $79 billion) in 2019.LIC's premium for the full year 2020-21 increased by 3.5% to 1.84 trillion. In Financial Year 2021, LIC collects the highest ever premium of Rs. 1.84 trillion.
Valuation, expenses, and revenue:
LIC is among the nifty companies. LIC holdings in terms of value in 2012 were estimated to be the highest in ITC i.e. Rs. 27,326 crores. LIC also holds a 51% stake in IDBI bank. LIC booked a profit of Rs. 37,000 crore from share sales in 2020-21, the highest in its 65-year history. The latest profit is a 44.4% jump against its ₹25,625 crore profit from stock sales in the fiscal year 2020.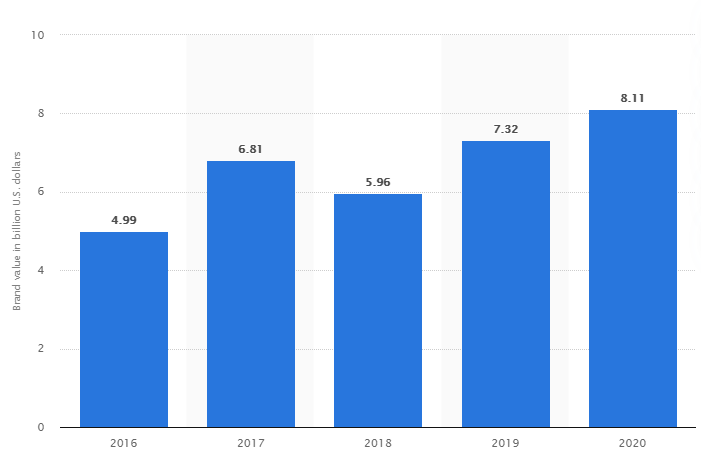 SWOT Analysis of LIC:
Strength:
LIC is the largest state-owned life insurance company in India.
LIC has over 2,000 branches all over India and more than 10,00,000 agents.
LIC is the 8th most trusted brand of India, according to The Brand Trust Report.
Weakness:
Because of the slow process of Government agencies, it lacks innovation.
Government agency bureaucracy and red tape cause problems.
Opportunities:
The use of technology is to provide effective services for the urban population.
Government Schemes implementation will be beneficial for LIC as well as for people.
Threats:
The economic crisis can be a burden to the government.
Entry of new NBFCs in the sector, which will increase the competition.
Varying government policies can create a problem for a PSU.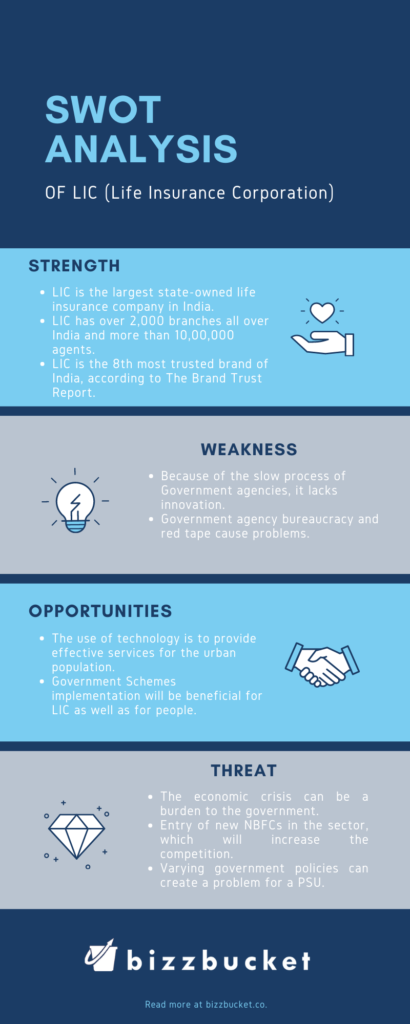 Do Share Your Thoughts:
Do tell us all your thoughts in the comments section below, we look forward to reading all the comments in the section below.
Also, do check useful Startup Resources and Tools below and do join our newsletter 📰 for free for more interesting Business Case Studies 💰, Startup Insights 🚀, and Startup founders podcast 🎙️ delivered to your inbox every Sunday morning.
Do follow us:
Related Articles:
What is LIC?
LIC is an insurance and investment corporation under the Ministry of Finance, Government of India.
Who founded LIC?
LIC was founded by Surrendranath Tagore had founded the Hindustan Insurance Society which was later named into Life Insurance Corporation. Currently, it works under the Ministry of Finance, Government of India.