In episode 24, Three companies came on the show. First was The Sass Bar by Rishika Shetty, Second was KG Agrotech by Kamlesh and Third was Nushka by Alpna and Viral. At the end of the episode, the shark lesson of the day was given by Ghazal that attitude is everything, the attitude of not giving up and figuring out is the important aspect in business.
Do follow us on Instagram and remain updated with Indian Startup Updates!
Index:
The Sass Bar:
A concept of gifting artisanal brands with fun, perky and sassy products. The Sass Bar is soap making production company but it serves in the gifting field. Sass Bar manufactures different variations of soap which includes desserts soap, candy soap, and many other segments. The Sass Bar is a paraben-free, vegan, and cruelty-free products manufacturing company. The Sass Bar brings smiles to the face of customers.
Who were the founders of "The Sass Bar"?
Rishika Nayak Shetty from Mumbai is the founder of The Sass Bar. Rishika wanted to do something sustainable and she herself is very environment-conscious to which she started this business. Rishika said that she had once visited UP where she saw handmade cold process soap where heat is not applied and when she used it, she loved it.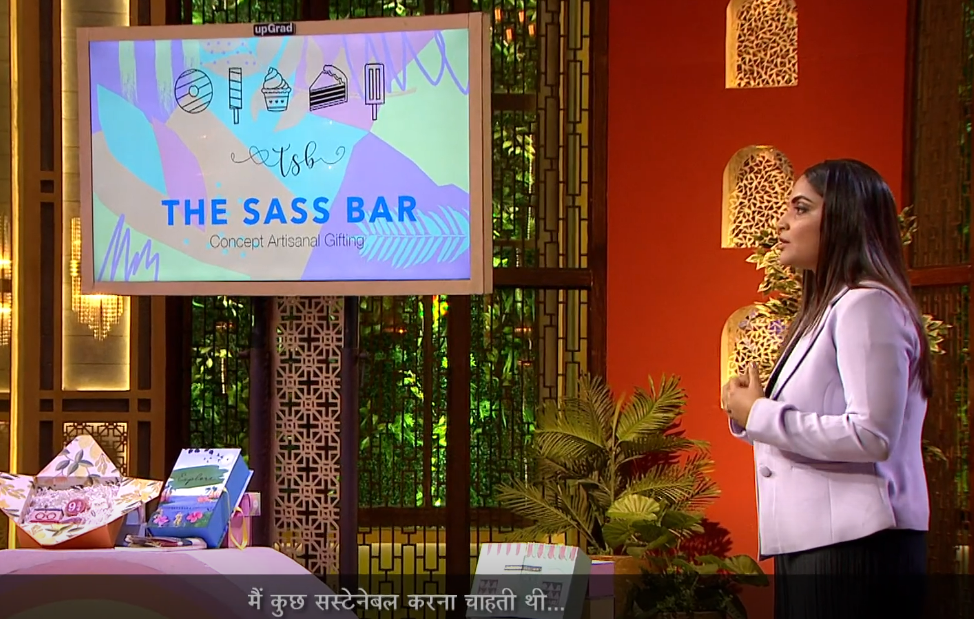 After that incident, she had done research on this and found a gap in this field to which she started this business but has the vision to make this Unique soap-looking product as a gifting business. That's how The Sass Bar came into the market.
Did The Sass Bar get a deal on Shark Tank India?
Rishika Nayak came on the show looking for an investment and expertise of 40 lakhs for 8% equity, company valuation is around 5 crore. Before starting the pitch, sharks got confused about what actually the product was? Rishika had placed candy, ice cream, and other eatables-looking products and when she came on the show, she disclosed that it was a soap.
Namita said that it smelled heavenly. Anupam asked whether she was making a soap company or a gifting company. Vineeta said that she didn't find her choice of business right and went out. Peyush also moved out as he also didn't find clarity in the words of Rishika. Ghazal suggested that her focus should only be soap manufacturing which is a USP of it rather than following so many segments.
Anupam and Ghazal came together with a few conditions that she would only focus on bathing shower segments to which Rishika agreed and got an offer of 40 lakhs for 40% equity in the business. Rishika gave a counteroffer to do it for 30% equity, Anupam said that he would do it for 35% and it was non-negotiable.
Rishika gave a counter again for raising the amount, Anupam said to do it for 50 lakh rupees for 35% equity. Rishika again asked him to increase the number to 60 lakhs, Anupam said either she took it or left it and the deal was finalized at 50 lakhs at 35% equity. Rishika took her checks and went out.
KG Agrotech:
KG Agrotech is an agriculture-based start-up that makes products useful for farmers. KG Agrotech came on Shark Tank with its multiple-purpose bicycle that does seeding, spraying, and luggage carrying. This prototype model saves the time of farmers.
KG Agrotech had made it from his home and is made with simple technology and Desi Jugaad. KG Agrotech sample product requires a very low maintenance charge and will cost 12,000 to the consumers once launched in the market.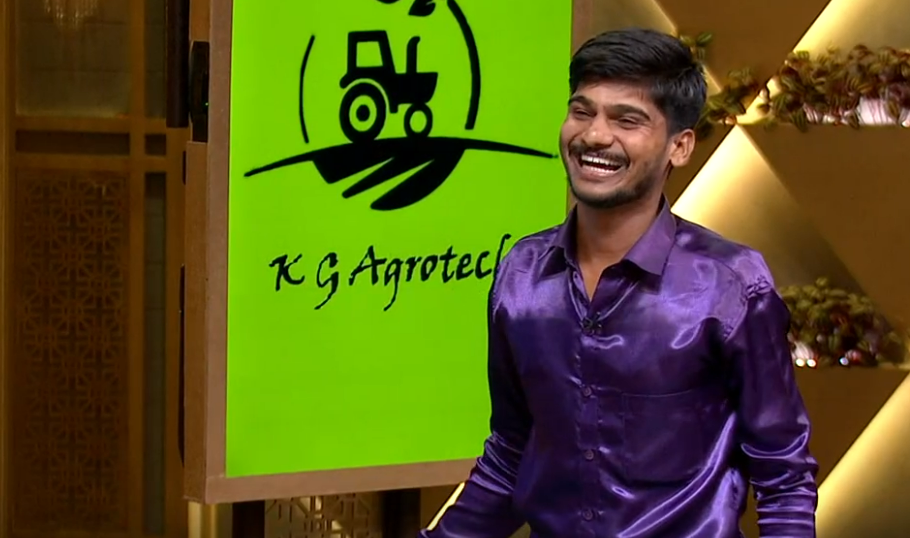 Who are the founders of KG Agrotech?
Jugadu Kamlesh is the founder of KG Agrotech. Improvisation Master Kamlesh belongs from Malegaon and he is a farmer. Kamlesh's father is also a farmer and he used to carry a 20 liters tank on his back to do the process of fertilization, which slowly affected his back. Just like Kamlesh's father, lots of farmers face this problem to which he decided to make a product that will completely end this problem and that's how KG Agrotech came into the market.
Did KG Agrotech get a deal on Shark Tank?
 Kamlesh came on Shark Tank looking for an investment and sharks' support in the hope to do something for farmers. Kamlesh came on the show with his friend Naru, Naru is his friend who believes in Kamlesh and always supports him. Kamlesh pitched for an amount of 30 lakhs for 10% equity, company valuation is 3 Crore.
Kamlesh put his words on the tank that if anyone will get a similar product he would, leave the product. Kamlesh said that if any shark will support him, he would set a benchmark in the market with this product. All the sharks were very impressed with the idea of Kamlesh and his past story.
Anupam was the first to share his opinion and said that he didn't find business stable in the market and went out. Vineeta asked him to go for crowdfunding rather than giving his equity and went out. Ghazal appreciated Kamlesh's work and she said that she also couldn't add value to the company and turned it down. Namita also suggested he should go for crowdfunding and promised him to help in getting it and leave the pitch.
Peyush was the only shark left in the tank, Peyush asked him why he hadn't taken a loan to which Kamlesh replied that who would give him. No one! Peyush said that he would give him and gave an offer of 10 lakhs for 40% equity of the company and 20 lakhs as a loan with 0% interest. Kamlesh got emotional and accepted the deal and took his check.
Nushka:
Nushka – Artisanal crafted handmade remedies. Nushka was founded in 2019. Nushka provides 50 days complete post-partum course, which is after the delivery course. Nushka helps the mothers of newborn babies in recovery.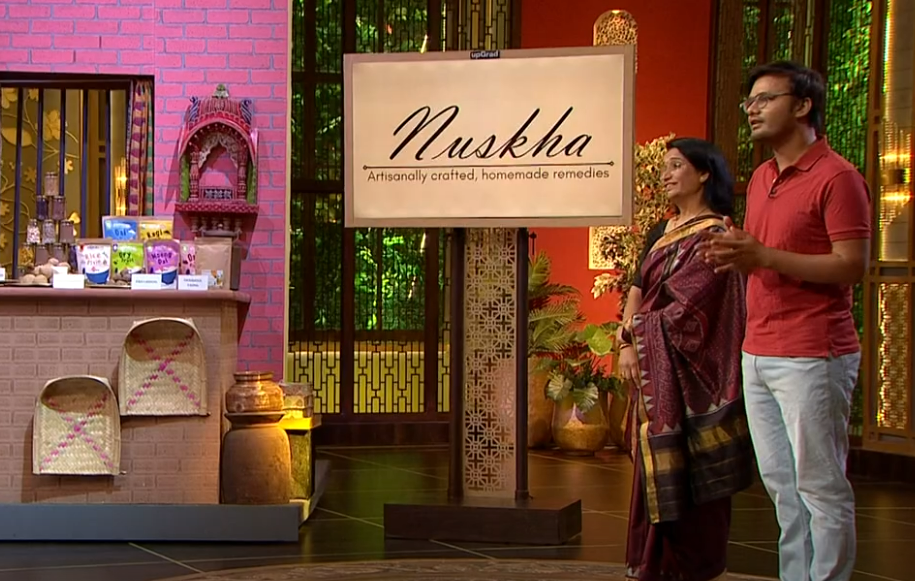 Nushka has 20 ingredients on which it works. Nushka also includes the traditional Indian diet. Nushka includes ladoos, Ajwani, Massage oils, potion mixes with herbs and shrubs. Nushka performs a customized diet as per weight, body type, and conditions in which an individual can have it. Nushka gives 24 ×7 helpline support to all the individuals on its website. Nushka also serves baby care products.
Who were the founders of Nushka?
Alpna and Viral, a mom-child duo, is the founder of Nushka. Alpna shared that being a mother is a very pleasant moment. When she had her first child, he was very roly-poly and healthy. Alpna's father was an Ayurveda Physician who took care of her diet during her pregnancy. Many mothers don't know about the after-birth problem which creates complications for them afterward, to which she used to share her recipes with her friends and neighbors. Viral is a Mechanical engineer and had left his job to support his mother and that's how Nushka was born.
Did Nushka get a deal on Shark Tank?
Nushka came on the show Shark Tank India in season1, episode 24 in search of an investment of 20 lakhs for 10% equity, company valuation is 2 crore. When Viral was serving the eatables to the sharks, Peyush clarified whether men can have it or not to which Alpna said yes, men can also have it, except one or two items.
Namita was first to go and said that as per the sales number which was very low, she didn't find it investable and went out. Vineeta said that she had also made the same mistake in her earlier stage of customized product and suggested they should focus on other aspects and went out. Anupam said that he finds this field very competitive so he would not be able to invest and move out.
Peyush said that he believed in the product and suggested them to go with mouth marketing rather than looking for an investment and moved out. Ghazal asked if anyone can copy her or not. Alpna said that their recipe couldn't be copied, even then, Ghazal didn't get convinced and moved out. No deal was made on the show and the pitch was closed. Alpna and Viral got an Up Grad course in Supply Chain Management.
Do Share Your Thoughts:
Do tell us all your thoughts in the comments section below, we look forward to reading all the comments in the section below.
Also, do check our Startup Resources section, and don't forget to join our weekly newsletter 📰 which contains pure startup and business wisdom and no bullshit!!
Do follow us:
Related Articles:
Which companies presented in Episode 8?
First was The Sass Bar by Rishika Shetty, Second was KG Agrotech by Kamlesh and Third was Nushka by Alpna and Viral.
Who are the judges in Shark Tank India?
Ghazal Alagh – Co-founder and Cheif Mama of Mamaearth
Aman Gupta – Co-founder and CMO of BoAt
Vineeta Singh – CEO & Co-founder of SUGAR Cosmetics
Ashneer Grover, Founder, and MD of BharatPe
Peeyush Bansal – Founder & CEO of Lenskart.com
Namita Thapar – ED of Emcure Pharmaceuticals
Anupam Mittal – Founder and CEO of Shaadi.com