In episode 21, Three companies came on the show. First was Get- a – Whey by Jimmy and Jash Shah, the Second was Sid Seven Designs by Siddharth and the Third was The Quirky Naari by Malvica Saxena.
At the end of the episode, the shark lesson of the day was given by Peyush that an entrepreneur should find a real cause and should work for the development of the globe.
Do follow us on Instagram and remain updated with Indian Startup Updates!
Index:
Get-a -Whey:
Get-a-Whey is India's first healthy ice-cream business brand. 'Whey' here means protein. Get-a-Whey has 4 times more protein in its ice cream as it is made with the help of Whey. Whey is made from the leftover water of Paneer which is one of the nutritious resources.
Get-a-Whey serves all its ice creams completely sugar-free with low calories. It is better in taste and creaminess as compared to other market products. How many flavors does it have? It serves a total of 12 flavors of ice cream out of which 4 are Keto friendly ( safe and healthy ).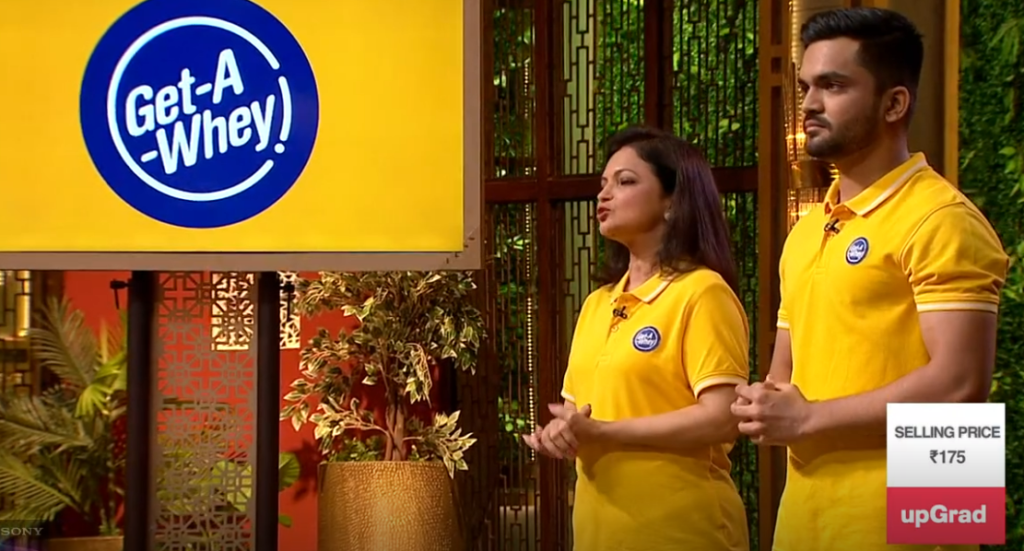 Get-a- Whey is popular in Mumbai, Pune, Delhi, Gurgoan, and Chennai as an ice cream brand. It has a total of 22 cloud kitchens and will be doubled by the end of December 2022. Are you wondering why it is named so? Get – a – Whey means get protein instead of getting guilt for eating sugar ice cream. They have also launched their website Get-a-Whey. In, during lockdown 2020.
Who were the founders of Get-a-Whey?
Jimmy Shah and Jash Shah are the founders of Get-a-Whey. Jimmy is the lovely, and fit mother of Jash. Get- a – Whey was started 2.5 years back from a very cute mom-child incident. Jash said that Jimmy is a very good chef and he always wanted his mother to try and make ice cream for him. 
Jimmy didn't feel to do so but after continuous nagging of Jash for 2 to 3 months, Jimmy finally made it and she got a very positive response towards it from where a cup of ice cream got the name 'Get-a-Whey' and became a business model in the market.
Did Get- a – Whey get a deal on Shark Tank?
Jimmy and Jash, the duo of mom and son, came to Shark Tank India in season 1, episode 21 looking for an investment of 1 crore for 8% equity, company valuation is around 12.5 crore. After tasting the ice cream, sharks appreciated the work and were also impressed with the vision and sales number after which they said that Get- a – Whey sounds like a travel agency, and if anyone reads it, it relates to protein, so, this name? Jash replied that they were modifying the name to Get-a-Whey, which means getting away from the guilt of eating unhealthy.
Vineeta didn't waste a second and gave an offer of 1 crore for 15% equity in exchange, Aman and Ashneer also jumped into the pitch with an offer of 1 Crore for 12% equity. Vineeta immediately matched their offer with them and did it to 12% equity. Peyush said that he found this market very competitive, so he went out. Anupam said that he wanted to give an offer but believed that the other sharks could help him better and turned down. After which Vineeta, Ashneer, and Aman all three came together and gave an offer of 1 crore in exchange for 15% shares.
Jash gave a counteroffer of 1.5 crores for 15% equity or 12% for 1 crore. Sharks said that they needed their value so it was a non-negotiable offer. Jimmy and Jash locked the deal at 1 crore for 15% equity, the company valuation is 6.67 crore and took their checks. They also received a digital marketing course from Up Grad.
Sid Seven Designs:
 Sid Seven is a brand that does different kinds of inventions. It does not have any one kind of product to be sold in market. To date, Sid Seven has done a total of 11 inventions, which includes a collapsible coffee cup that can fit inside your pocket, a holder clip, the drilling machine with 0% dust, and many more.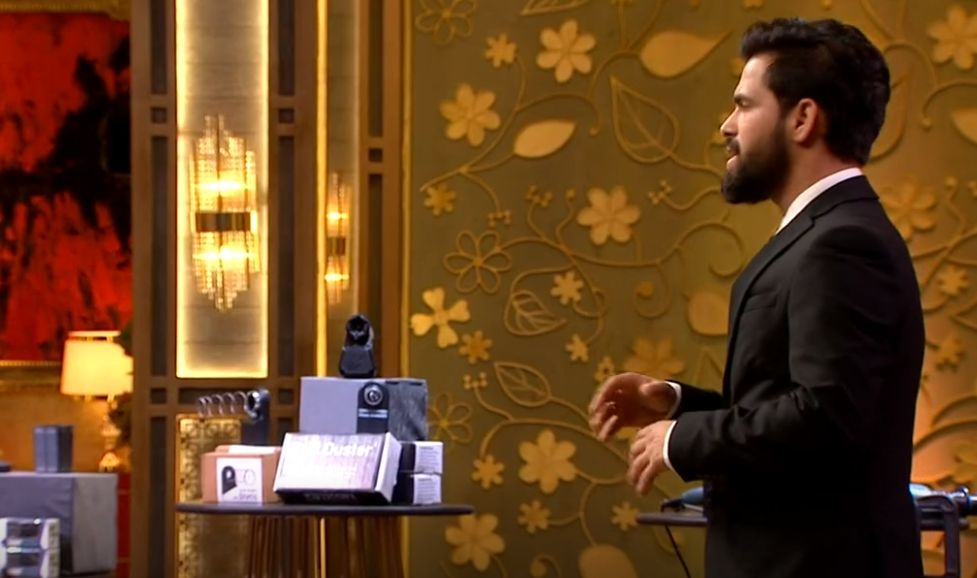 Sid Seven has 3 granted patents and 2 are at the pending stage. Sid Seven was launched in 2020 in the market. Sid Seven is currently under Lens-kart owner with 75% of equity.
Who was the founder of Sid Seven Designs?
Siddharth from Jammu is the founder of Sid Seven Designs. Siddharth calls himself a curious man who likes to do inventions since his childhood. He also holds his bachelor's degree in Mechanical Engineering and master's degree in Auto Motive Engineering from Germany. Siddharth has a vision to somehow make life easier because of which he started Sid Seven Designs.
Did Sid Seven Designs get a deal on Shark Tank?
Siddharth gave a superb entry like a superstar in the show. He came in a black and white shoot with a drilling machine in his hand, a bearded guy, and reminded everyone of James Bond. Siddharth explained about his vision and products and placed his pitch for an amount of 47 lakhs for 10% of the company, valuation 4.7 crores.
Ashneer was very disappointed with Siddharth's work and got aggressive and said that he was wasting his degree there and suggested he should close the business. Siddharth defended himself by saying that he had worked hard for this, he was not wasting his time and he was very clear about what he was doing. Anupam also went out as he also did't find it investable.
Vineeta appreciated Siddharth as he motivated thousands of students who are not getting admissions to IIT. Aman cut her and said that he had confused thousands of people by going there, also said that Siddharth was self-obsessed and went out. Peyush said that he was still in the game and he could retail himself with him and gave till now the craziest offer of 75% equity for 25 lakhs in addition to all the capital funding in future requirements and the remaining 22 lakhs as debt.
Aman said that if he was ready to do so, he would give the same offer for 65% equity, Aman said that Peyush was playing a game with him. Peyush requested Aman to stay out of it. Siddharth took a moment, as Peyush had asked him to accept the deal with one condition that he would leave all this and work on the problem given by him. Siddharth, after a moment, accepted the deal and took his checks. Aman said that Peyush had cheated a young child and the pitch got closed.
The Quirky Naari:
The Quirky Naari is for Quirky people. Quirky Naari is a lifestyle-approved brand. Did you know what Quirky means? It means different from everyone. The Quirky Naari is India's first Hand portrait denim brand. The Quirky Naari is a specialised  and personalized fashion, also manufactures customized bridal sneakers and kid's clothing.
The Quirky Naari had done many collaborations with Indian Celebrities, which also includes our desi girl Priyanka Chopra. The Quirky Naari was started with zero investment.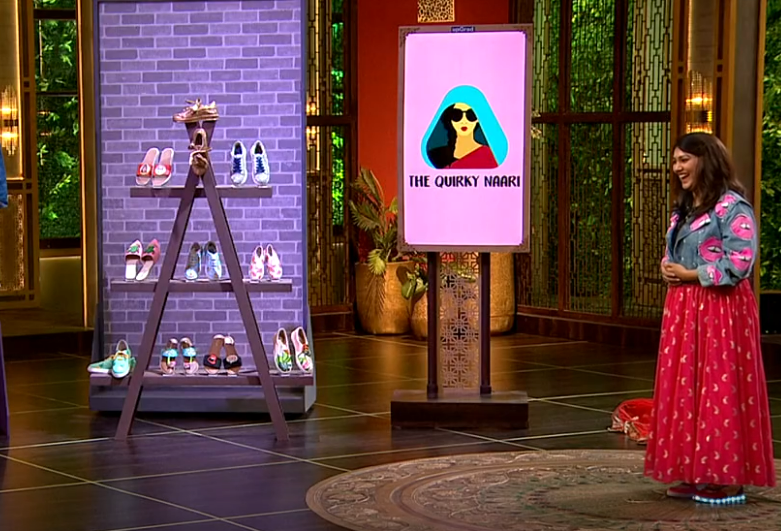 Who were the founders of The Quirky Naari?
Malvica Saxena from Mathura is the founder of The Quirky Naari. Coming from traditional backgrounds, launching Quirky products is not easy. Malvica had done MBA and fashion diploma and even then she didn't find a useful job and got depressed. Quirky Naari was started with a simple shoe design.
Malvica was cleaning her shoe drawer when she found some old shoes and decided to do something with them. She changed the complete look of it and asked her sister to wear it in her college from where she got the demand and positive response and that's how The Quirky Naari was started.
Did The Quirky Naari get a deal on Shark Tank?
Malvica came on the show with a Bollywood DJ song with an outfit of modern Indian Bride – A Quirky Style. She said that she was there to take her product from customized to standardized. Malvica pitched for an amount of 35 lakhs for 5% equity, company valuation is 7 crore. Vineeta was not able to take her eye from the shoes made by Quirky Naari. After the demonstration, all the sharks suggested her to go only with the sneakers instead of doing so much.
Vineeta directly gave her an offer as she loves this market. Vineeta offered 25 lakhs for 20% equity and 15 lakhs as debt. Anupam believed that Vineeta could really help her as she knows much better than him in this category but asked Vineeta to join. Vineeta wholeheartedly welcomed him for the same offer. Peyush was not much interested in it so went out. Aman said that he was feeling jealous and hurt as Malvica had gifted a pair of shoes to Vineeta and turned down.
Ashneer also turned down but said Anupam and Vineeta could help her. Anupam changed their offer to 35 lakhs for 25% equity, valuation 1.40 Crore. Malvica gave a counter of 35 lakhs for 20% equity. Anupam said that they would do it for 24% equity and Malvica accepted the deal and took her checks.
Do Share Your Thoughts:
Do tell us all your thoughts in the comments section below, we look forward to reading all the comments in the section below.
Also, do check our Startup Resources section, and don't forget to join our weekly newsletter 📰 which contains pure startup and business wisdom and no bullshit!!
Do follow us:
Related Articles:
Which companies presented in Episode 21?
In episode 21, Three companies came on the show. First was Get- a – Whey by Jimmy and Jash Shah, the Second was Sid Seven Designs by Siddharth and the Third was The Quirky Naari by Malvica Saxena.
Who are the investors in Shark Tank India?
Ghazal Alagh – Co-founder and Cheif Mama of Mamaearth
Aman Gupta – Co-founder and CMO of BoAt
Vineeta Singh – CEO & Co-founder of SUGAR Cosmetics
Ashneer Grover, Founder, and MD of BharatPe
Peeyush Bansal – Founder & CEO of Lenskart.com
Namita Thapar – ED of Emcure Pharmaceuticals
Anupam Mittal – Founder and CEO of Shaadi.com