In episode 20, Three companies came on the show. First was The State Plate by Muskan and Raghav, Second was Bakarmax by Sumit Kumar and Third was In a Can by Sameer Mirajkar and Viraj Sawant.
At the end of the episode, the shark lesson of the day was given by Aman that he didn't have any money for 38 years but he didn't leave his hard work and today he has his company's valuation in billions. So, don't run after money, just work on the project.
Do follow us on Instagram and remain updated with Indian Startup Updates!
Index:
The State Plate:
The State Plate itself says its delicacy with its name. It means a dish from every state, from Punjab ki Pinni to Karnataka ka Murukku, from West Bengal ki Jhal Muri to Gujarat ki Dry fruit Barfi. It serves everything currently in 4 different states.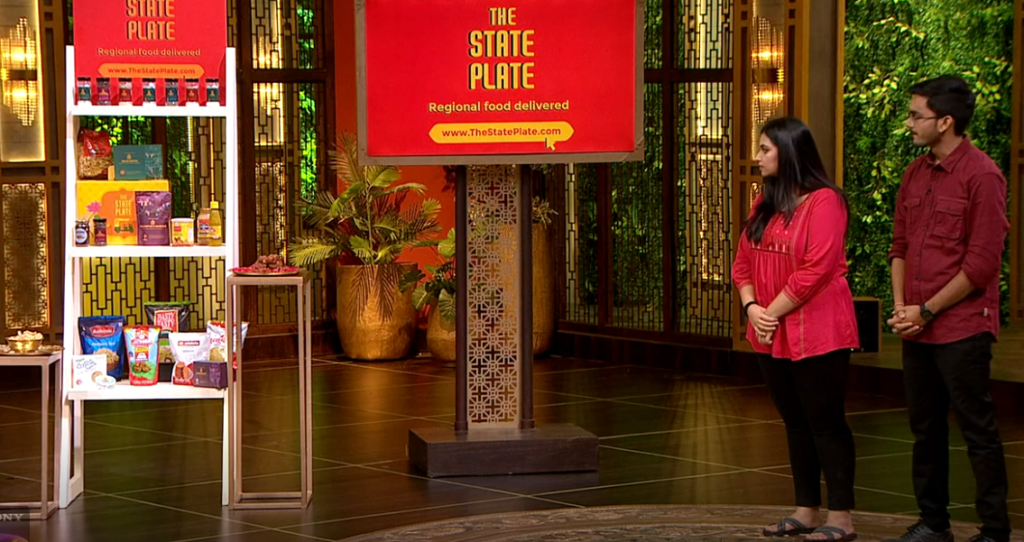 Anyone can place a direct order from their website and it will deliver to their doorstep. The State picks the best sweets from each state and delivers them over Pan India. India's first recognized, original and regional product – The State Plate. State Plate had delivered 40,000 plus consumers to date.
Who were the founders of The State Plate?
Muskan and Raghav are the founders of The State Plate. They have completed their education from Shri Ram College of Commerce, they hold their degree in B.Com honours. India is a combination of infinite ethicists and communists and all of them have different food cultures. So they thought why they couldn't get any dish in their hands with a few clicks and launched The State Plate – Serves a flavoured food in your hands.
Did The State Plate get a deal on Shark Tank?
Pitch was started with a dancing song, four girls in 4 different traditional outfits came on the show with different flavours of food items, then the founders entered. It was actually a visual treat to see such a beautiful starting of the Pitch. After tasting and discussing, Raghav placed the pitch which was for 65 lakhs rupees for 2% equity of the company, company valuation 32.5 Crore.
Namita was first to go out as she found the valuation demanded too high and also, she doesn't have any expertise in it. Anupam was asking something about the brand into which Aman asked how they would make The State Plate, a niche product, which disappointed Anupam. To answer the question, Muskan said that they have the vision to make it a household product.
Raghav said that Murukku is a local product but State Plate wants to deliver it all over India which will help them to make it mass. Aman said that in this category, competition is very high, so he moved out. Ashneer said that he had also done this kind of business but it didn't work and went out. Anupam said that he would be ready to give an offer if they followed it as an Ethnic Snack Company, to which they said no and Anupam went out.
Peyush gave them an offer of 20 lakhs for 3% equity and 45 lakhs as debt, he would bring strategic value. Muskan and Raghav took a moment and gave a counteroffer of 20 lakhs for 1.5 % equity and 45 lakhs as debt or 40 lakhs for 3% equity and 25 lakhs as debt. Bit negotiation took place where Muskan and Raghav stuck to their counter and Peyush agreed at 3% equity.  The deal was closed at 40 lakhs for 3% equity and 25 lakhs as debt.
Bakarmax:
Bakarmax is such a comic name. Does it make something related to comics? Yes, it creates full-fledged webcomics and animations. Bakarmax makes 4 webcomics and 2 animated shorts on its website Bakarmax.com.
Forty other platforms also release their comics, which increases the data. Bakarmax is connected with Airbnd, Amnesty and International Doctors without boundaries. One of the famous characters is Babugosha.
Who was the founder of Bakarmax?
Sumit Kumar is the founder Bakarmax. Sumit is a fan of comics and animations since his childhood. He had left his engineering in mid and had his first experience as an intern in the cartoon sector. He had also worked in the famous cartoon project, Cha-Cha Chaudhary. Sumit shared that the Indian animations VFX and comics industry is worth 3.5 lakh crore.
A common thought comes to everyone's mind that if we say comics and animations, we believe that it is completely for children and after doing R and D on this factor, Sumit had started comics and animations for adults. That's how Bakarmax was born.
Did Bakarmax get a deal on Shark Tank?
Bakarmax has till now had the funniest pitch, as its founder Sumit had delivered a pitch in such a funny way which made all the sharks interested. He placed his pitch for 35 lakhs for 5% equity of the company, company valuation is 7 crore. After the explanation and web demo, Ashneer asked if Cha-cha Chaudhary is still bought by people or not. Sumit said that yes, it is still in demand.
Anupam asked if they wanted to make Bakarmax as the biggest animations company like webtoons.com, so where they were lacking. Sumit said that they mainly lack in marketing due to the inappropriate funds. Namita said that she didn't like the video clip and didn't find it funny so, she went out.
Ashneer said that Sumit liked his own comic and laughed himself madly, and turned down. Anupam said that he was also out but asked them to continue doing the work as it would be on-demand in near future. Aman said that his pitch was much funnier than his video clip and moved out, but asked him to meet once after doing a bit of work.
Peyush was also interested in the business but didn't find it investable and asked him to meet him after improving themself. Pitch was closed with no deal.
In a Can:
In a Can is India's first ready to drink cocktail Can. In a Can doesn't require any ingredients, no glass, no ice, not even a bartender. Just open- take a chill and enjoy. In a Can is served as a cocktail in 5 different flavours, which include LIT, GIN and Tonic, Whiskey Collins, Vodka Mule and lastly, Rum Lattle.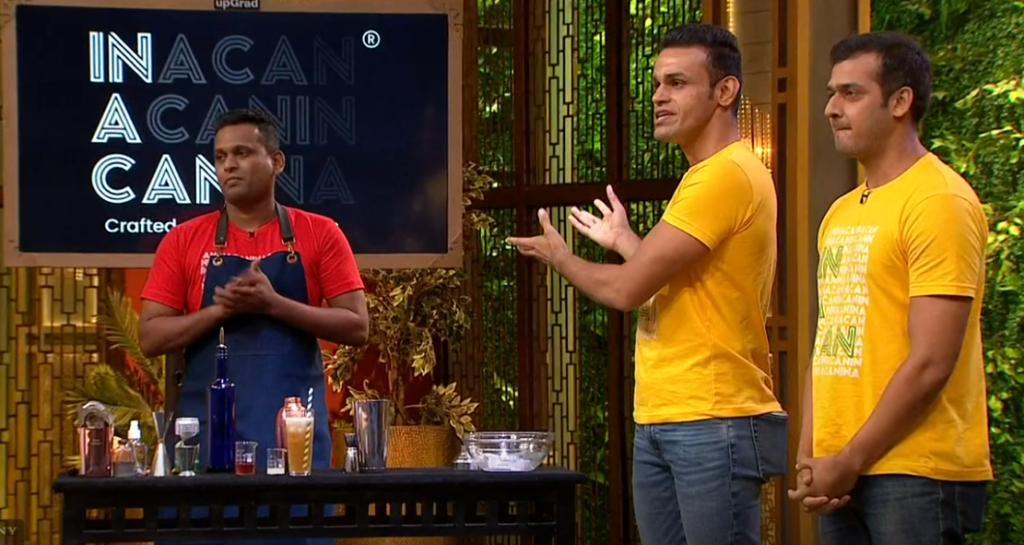 In a Can makes its cocktail with the help of standardised recipes. In a Can says it will taste consistent, either you drink it in UP or Goa. In a Can is a convenient and economical solution for a party night, date night, campaign, anywhere. In a Can has a shelf life of 9 months, which is commendable. In a Can is currently available in Goa and U.P. market.
Who were the founders of In a Can?
Sameer Mirajkar and Viraj Sawant are the founders of In a Can. Their vision is to make it a global cocktail brand. Viraj is from a Hotel Management background and had a special interest in wine, he further did studies in wine only and also worked in the same industry for 6 years.
Sameer is from a hospitality background. He had also done Hotel Management but he had his past experience as a chef. In the 2020 lockdown, they were sitting together and talking that there are only typical drinks available in the market so why not start something mixed like a cocktail in India. Also, there is no availability of such drinks in the market. They did R and D, trial and error, sample testing after which it is made available in Mumbai and Pune markets also.
Did In a Can get a deal on Shark Tank?
Pitch was started where a bartender made a cocktail by flipping the bottles after which founders entered in the show and gave details about their brand and placed a pitch of 50 lakhs for 2% equity, company valuation is around 25 Crore.
They shared that the packaging of the bottles is done by an agency. During its initial stage, it started with 45,000 sales and as of 2020, it has done 60 lakh sales, a growth of 40% each month. In a Can costs Rs 140 in Goa. Namita went out, Aman was ready to give an offer where all the other sharks decided to come together and gave an offer of 1 crore for 10% equity. In a Can accepted the deal and took the checks.
Do Share Your Thoughts:
Do tell us all your thoughts in the comments section below, we look forward to reading all the comments in the section below.
Also, do check our Startup Resources section, and don't forget to join our weekly newsletter 📰 which contains pure startup and business wisdom and no bullshit!!
Do follow us:
Related Articles:
Which companies presented in Episode 20?
In episode 20, Three companies came on the show. First was The State Plate by Muskan and Raghav, Second was Bakarmax by Sumit Kumar and Third was In a Can by Sameer Mirajkar and Viraj Sawant.
Who are the investors in Shark Tank India?
Ghazal Alagh – Co-founder and Cheif Mama of Mamaearth
Aman Gupta – Co-founder and CMO of BoAt
Vineeta Singh – CEO & Co-founder of SUGAR Cosmetics
Ashneer Grover, Founder, and MD of BharatPe
Peeyush Bansal – Founder & CEO of Lenskart.com
Namita Thapar – ED of Emcure Pharmaceuticals
Anupam Mittal – Founder and CEO of Shaadi.com