In episode 10, three companies came on the show.
First was Menscape by Anushree and Ananya, Second was MeatYour by Vardhaman, Arnav, and Saishram Gandhi and last was EventBeep by Rakhi Pal, Venkatesh Prasad, and Saurabh Mangrulkar.
Episode 10 was quite interesting to watch and learn as all the sharks shared and suggested a few ideas related to business models. In the episode, Anupam explained about White labeling which means a manufacturer sells his product to a famous brand, who further sells this product in the market.
At the end of the episode, the shark lesson of the day was shared that the internet has many benefits and as an entrepreneur, they should use it very effectively.
Also read: Who are the judges in Shark Tank India?
Index:
Company 1: Menscape
Menscape is the company name that currently manufactures Nutjobs brand under it. Nutjob.com is the official website of it. It is a male intimate hygiene brand.
It focuses on the root cause of the problem which is heat, sweat, and daily grinding.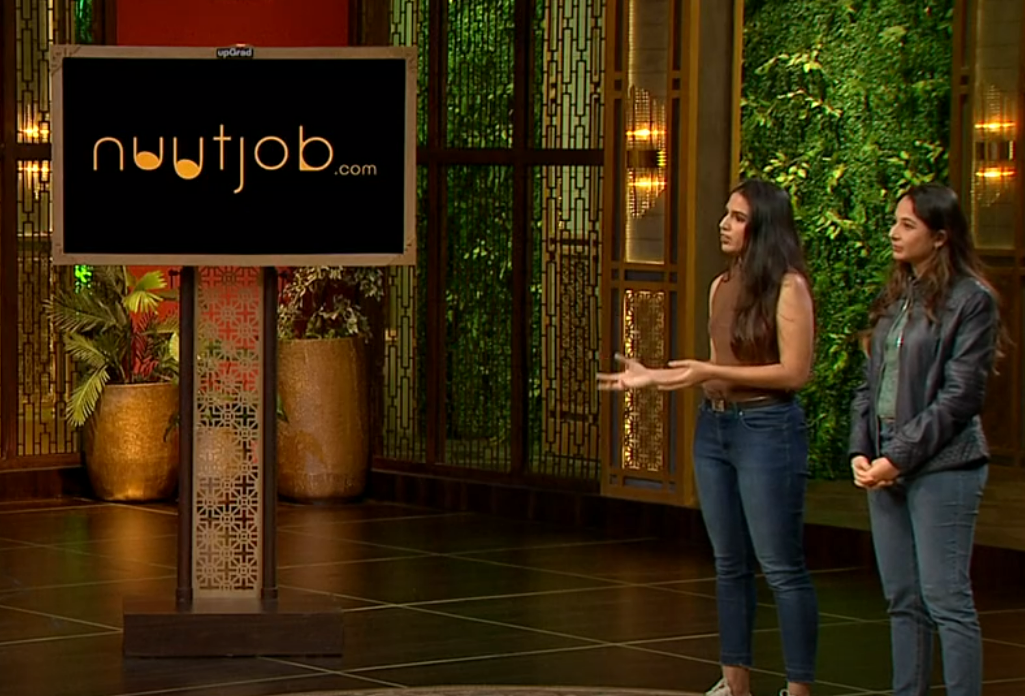 It serves a bunch of products which include Nutwash, Nutfresh and Nutliquid, and deo. Nutwash is four in one, which means it can be used for nut, butt, body, and hair wash.
Nutfresh helps to clean and moisturize the private area of males. It is a made-in-India product, which is free from talc, Aluminium, and Parabens. Its packaging is also very raw. It is a three-step usable product- first wash, then moisturize, and at the end deo. It is gentle with your genitals.
Who are the founders of Menscape ( Nutjob)?
Anushree and Ananya are the founders of it. They are the Maloo sisters from Ahmedabad. Evolution of Nutjob is an interesting story- Ananya shared that they live in a joint family because of this, they get to use their washroom very late.
They shared that they slipped in the washroom due to the talc lake which was created by their fathers due to itching in the intimate areas. As it went on for a long period, they asked their fathers about it and then decided to do something about that, which gave birth to Nutjob.
How was the pitch of Menscape?
Anushree and Ananya came to pitch for 25 lakhs for 5% of the company. Ashneer was first to go and was very impressed by the product and gave an offer of 25 lakhs but didn't share the equity for a moment to which Anupam asked to join Ashneer and they both gave a common deal of 25 lakhs for 25% equity as they are going to need a lot of work.
Peyush, Namita, and Aman took a moment and gave an offer of 25 lakhs for 20% equity. Ashneer encountered that with 15% for the same amount.
Pitch was not negotiable from the sides to which they took the deal of Peyush, Aman, and Namita of 25 lakhs rupees for 20% equity in return. They received their checks from the sharks and went with confidence and happiness.
 Company 2: MeatYour
Meatyour is a brand that serves brown eggs at the doorsteps through a click on its official website. It has 9 hubs in Pune and 3 hubs in Mumbai. They allow their chickens to move and live in an open environment. Chickens eat fruits and vegetables, worms, and insects.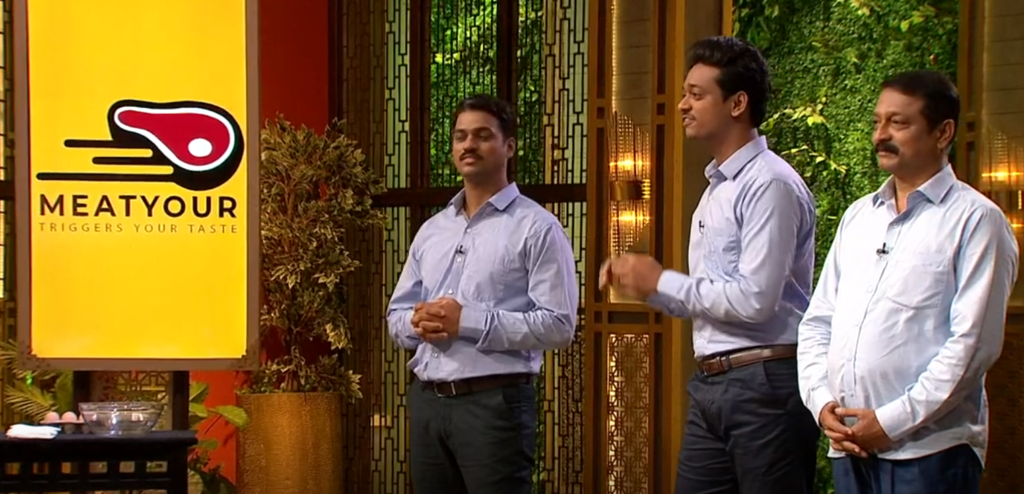 MeatYour doesn't serve chickens, it provides only eggs. These eggs are smell-free eggs. It costs rupees 5 per egg and is loved by younger ones to all adults. Everyone can have it as it is full of nutrition. From the last six years, they are serving and following the B2B model and now they have started D2C in business.
Who are the founders of MeatYour?
Vardhaman Gandhi, Arnav Gandhi, and Saishram Gandhi are the founders of MeatYour. Arnav is an IT engineer and Saishram is a civil engineer.
Both left their dream jobs and helped their father as he loved and wanted to attach to nature. Starting of Meatyour is quite an interesting story- Saishram shared that in 2015, his father brought 15 hens, and now in 2022, they have 20,000 hens. When the first chicken gave the first egg, they sold it for 50 rupees and from there, they started MeatYour.
How was the pitch of MeatYour?
They came up with a pitch of 30 lakhs for 5% of the company. After smelling the sample, as it is smell-free, sharks were quite impressed. Ashneer said that delivering any product worth less than 300 rupees in India is not a profitable business to which he went out.
Namita said that she won't be able to give time and went out. Aman and Peyush suggested that if they want to go along, they have to add chickens to their business and gave an offer of 30 lakhs for 20% shares, Anupam opposed the statement and said that they just needed a strong distribution channel to which he gave an offer of 30 lakhs for 20% equity.  
Saishram encountered Peyush and Aman with 30 lakhs for 14%. Aman, Anupam, and Peyush all together joined and gave a deal of 30 lakhs for 20 % equity. They quickly agreed and accepted the deal. After the pitch, Ranvijay, the host of the show, congratulated them.
Company 3: EventBeep
EventBeep is an application-based program that changes the life of any student in just 3 simple steps.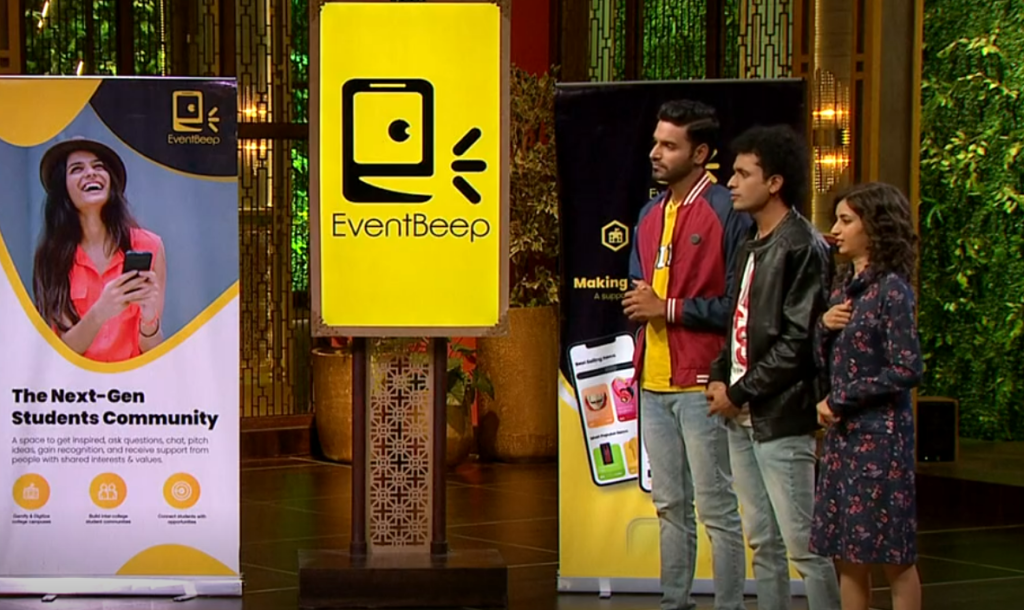 It follows the 3 steps protocol; they first go to a college or campus and digitize it, make it appear on the application, secondly, it provides a community to the students where they can chat with students of professional campus and mentors, and lastly, they bring big companies, provide industrial and practical knowledge to the students, where they also receive opportunities, internships, job options, and growth.
Who are the founders of EventBeep?
Rakhi Pal, Venkatesh Prasad and Saurabh Magrulkar. They researched and got data that differentiates between an IIT and a regular college. They resulted that an IIT student gets professional guidance and community, which seems lacking in regular college.
All of the 3 belong from a regular college. To fulfill this missing element, they developed the application EventBeep. All of them came into contact during college. They earned their revenue from their 3 steps protocol.
How was EventBeep Shark Tank pitch?
EventBeep founders came on Shark ta Tank India with a pitch of just 30 lakhs for 2 % equity in their business, company valuation is 15 crore.
Ashneer gave a quick offer, after the demo, of 30 lakhs for 2 % equity and 10 lakhs to Rakhi's personal account for 0.5%.  Aman also gave the same offer, Peyush also joined the pitch with the same numbers and justified himself that they needed the technological help. They also gave an offer that they can join if they want. Namita went out as she can't help them in the community or technology.
Anupam was not getting a clear picture of EventBeep and went out. EventBeep founders took a moment and gave a counter of 40 lakhs for 3 % to Aman, Peyush, and Ashneer.
Ashneer asked it for 30 lakhs for 3%, they agreed and the deal was made.
Do Share Your Thoughts:
Do tell us all your thoughts in the comments section below, we look forward to reading all the comments in the section below.
Also, do check our Startup Resources section, and don't forget to join our weekly newsletter 📰 which contains pure startup and business wisdom and no bullshit!!
Do follow us:
Related Articles:
Which companies presented in Episode 10?
First was Menscape by Anushree and Ananya, Second was MeatYour by Vardhaman, Arnav, and Saishram Gandhi and last was EventBeep by Rakhi Pal, Venkatesh Prasad, and Saurabh Mangrulkar.
Who are the investors in Shark Tank India?
Ghazal Alagh – Co-founder and Cheif Mama of Mamaearth
Aman Gupta – Co-founder and CMO of BoAt
Vineeta Singh – CEO & Co-founder of SUGAR Cosmetics
Ashneer Grover, Founder, and MD of BharatPe
Peeyush Bansal – Founder & CEO of Lenskart.com
Namita Thapar – ED of Emcure Pharmaceuticals
Anupam Mittal – Founder and CEO of Shaadi.com