Did you know what the Floridians are found of? The two favorites were their Publix Sub Sandwiches and love for Outdoor Sports. Adam and Desiree Haller the couple from Port Orange enjoyed these favorites too.
Adam was boating 40 miles off the coast of Florida when he pulled a ruined sub out of the cooler for the last time. Many a time he had chosen to not eat at all rather than take a single bite of soggy bread. He realized subs need protection to keep them dry and the cooler was no place to keep them. They need to be kept safe. SubSafe was born.
Adam was not happy with single-use plastic wraps for sandwiches the couple came up with their own SubSafe Holds Sub Sandwich Containers into reality both in sizes of 6" and 12" (Patent Pending). While Shark Tank is a reality show based on the aim to hunt down to invest in the best businesses America has to offer. SubSafe is basically a waterproof container for phones, sandwiches, wallets, and keys.
Subsafe at a glance:
A waterproof container for phones, sandwiches, wallets, and keys.
Founder: Adam and Desiree Haller.
Asked For $50,000 for 13% at $384,000 valuation on Shark Tank.
Received $100,000 for 25% from Mark Cuban and Charles Barkley.
Currently valued at more than $4 million.
Index:
Did SubSafe get a deal on Shark Tank?
The couple kickstarted SubSafe business in 2018 into the market in three colors – pink, blue, and charcoal with a price tag of $17.95.
The sweet couple also did donate $0.50 from each product sale to Provision Packs, an organization that provided food for underprivileged children (really good…). With this stepping stone, the Hallers hoped to reach the next level by seeking Shark Tank for investments. Adam and Desiree sought for $50,000 investment for 13% of the business.
The Couple demonstrated the products and handed out samples. To make each Sub-Safe cost was for just $2.38 and retail it for $17.95, definitely a good margin in the business. The team achieved sales of $40,000 in the first four months in business.
The Sharks were quick to question the Low Sales during this span. The real story was the couple had to sell their boat to finance production and had nothing left for marketing.
In parallel, they were on the verge of negotiating a deal with the largest Sub maker in the nation. The Sharks mulled over the deal for a few moments…
What Happened to SubSafe After Shark Tank?
Mark Cuban and Charles Barkley were chatting off the side and came up with an offer of $100,000 ($50K) each for 25% of the company. The couple was thrilled to accept the offer. A lucky deal for the couple who got 2 Sharks for one deal.
SubSafe featured in every Publix Supermarket, right in the deli section where people ordered their subs. The price was reduced to $14.95 to gain market share and received great reviews.
Revenue of SubSafe:
The heart of any business is usually the financials so let's dig deeper into the revenue model of Sub Safe from their financials.
The no. of employees- 21
Valuation – 4 Million.
How do they make money?
From a cost of $2,38 to sell them in the market for $14.95 brought the right margins for the company. Deal with Shark tank significantly benefitted the business as the products were being sold in bigger stores now. It reached the shelves of Publix, Wawa, BedBath, and more. Currently available in Amazon online stores also.
The product remains a trusted brand for its good policies on warranty (allows 366 days in case of any material defect and workmanship). With a donation to Provision Pack, the couple is helping needy underprivileged children.
SubSafe Net worth:
The company valuation from an initial $400,000 to $4 Million in 3 years speaks for itself. The valuation of the company currently is 4 million.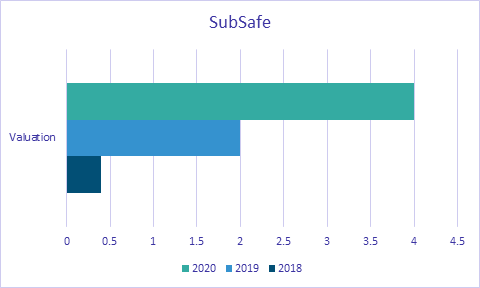 Investors in SubSafe:
Mark Cuban the richest investor of Shark Tank invested in SubSafe.
The MCC Mark Cuban Companies desires to find, train, and fund entrepreneurs and investments in various streams like Healthcare, Sports, Pictures, and almost more than 50+ Startups from Shark tank itself.
Mark Cuban net worth is $4.2 Billion and not to forget he has acquired the Dallas Mavericks.
Mark did get a match from his basketball fraternity, Charles Barkley the "Suns" great player who achieved the rare feat of Basketball Hall of Fame in 2006.
Charles Barkley's net worth is $50 million.
Competitor Analysis of SubSafe:
| | | | | |
| --- | --- | --- | --- | --- |
| Analysis | SubSafe | DIC | TusEasy | Rubbermaid |
| Container Type | Containers engineered for 6" and 12" Subs | Square Sandwiches Container | Boxes of varied shapes | Boxes of varied shapes |
| Features | BPA Free, Crush Free, Waterproof, Floats too | Dishwater Safe | Dishwater Safe | Dishwater Safe |
| Price | $14.95 | $9.96 | $27.99 | $13 – $29 |
| Availability | Publix, Wawa and Amazon | Walmart | Amazon | Walmart |
Interesting facts :
SubSafe brings the Ultimate Sandwich Protector into the market.
The Sub Sandwich containers are engineered to hold 6" and 12" sub sandwiches. Patent-pending for this design. You can eat half of the sandwich and safely store the remaining half also.
It BPA Free and made the same plastic as used to make baby bottles. Made up of thick quality so that it does not buckle under pressure.
A sandwich does not soggy, as you can now segregate the vegetables and condiments on the side.
Yes! After you have finished your sub, load it up with things that you don't want to get wet. Phones, keys, tickets, etc.
Is SubSafe still in business?
The company was profitable and doing great business, having grown from a valuation of $400,000 to $4 Million. SubSafe is now available in big retail stores across locations with a wide network.
Adam and Desiree have now ventured into new products like WineSafe (Protect Wine and Champagne bottles) and Paper Straws which is a major hit in the market. SubSafe is there ..play your outdoor sport but still enjoy your subs safely.
Do Share Your Thoughts:
Do tell us all your thoughts in the comments section below, we look forward to reading all the comments in the section below.
Also, do check useful Startup Resources and Tools below and do join our newsletter 📰 for free for more interesting Business Case Studies 💰, Startup knowledge 🚀, and Startup founders podcast 🎙️ delivered to your inbox every Sunday morning.
Do follow us:
Related Articles:
FAQs:
What is SubSafe?
SubSafe is basically a waterproof container for phones, sandwiches, wallets, and keys.
Who founded SubSafe?
Adam and Desiree Haller were not happy with single-use plastic wraps for sandwiches the couple came up with their own SubSafe.