Everyone finds cruising through water fun. Maybe on a Jet Ski ride or boat or a surfboard.  All these watercraft are made for the people who enjoy the water rides.  Jason Woods came up with such an idea for watercraft that was a whole new way to enjoy the waves.
Kymera Bodyboard is a surfboard that runs on an electric motor. The board runs on batteries which can be changed easily. This product is cost-effective and is made for those people who want to enjoy jet skiing but simply don't want to spend so much of their deposits.
Kymera Body Board at a glance:
Electric jet bodyboard.
Founder: Jason Wood  and Adam Majewski
Asked For $250,000 for 5% at $5 million valuation on Shark Tank.
Received $500,000 for 10% from Robert Herjavec.
Index:
Founder story:
A Jason Wood was a resident of Napa who would visit the ocean. He often notices there were many like him who would just stare at the ski jets in the sea because not everyone can afford it. Jason decided he will be creating something that will be more affordable to people.
Jason is a graduate of new technology high school and was passionate about product design. Jason's family helped him to set up a shop to make his design come true. He spends 10 years trying to make his product into reality. Throughout these years he financed himself by working as a light, video engineer at corporate events.
Jason ran a Kickstarter campaign to raise funds but he couldn't make it to the goal of $250,000 as he raised only $165,000. Jason had appeared on season 5 of the shark tank seeking the investment of $250,000 for 5% of the equity but there was only one issue Kymera hadn't done any sales in the last 10 years and for that reason, sharks stepped out. Jordon Wood appeared on season 10 of the show again taking the second chance. Let's see how it went for him.
Shark tank pitch:
Jason appears on the show seeking the investment of $250,000 for 5% of the equity. Jason brings up the problem that Jet Ski seems so fun to ride off but they are unreliable to transport and expensive. He introduces his product "Kymera Electric Body Board" to the sharks a lightweight water board that runs on rechargeable batteries, and can hold up to 225 pounds heavy rider.
Jason's fiancé Elis gets up on the board to demonstrate the use of the board. Elis lies flat on the board and pulls the trigger to move the board forward and back to move backward. Jason then shows the sharks the Kymera board in action through the video.  The Kymera board goes at 15 miles per hour speed and the battery lasts around 30 minutes to an hour which can be changed. Jason reveals when he started his business 10 years ago he built a gas engine but now he has moved to electric power as this technology is much cheaper.
Lori is first to question to ask how many units has he sold. To which Jason says he hasn't sold any yet. This shocks the sharks as the business is nearly 10 years old. Jason lets the shark know that he ran the Kickstarter campaign but he couldn't achieve the $250,000 goal as he could achieve $165,000. He reasons that it is due to Kickstarter regulation that a person could only buy one unit. Sharks call him out saying he is giving excuses.
John Paul DeJoria the guest shark asks Jason how much has he invested in the business.  Jason replies by saying that he has invested $130,000 from his pocket. Daymond questions why Jason didn't sell first before expanding to the electric-powered engine. Jason simply answers by saying there is a top-end luxury brand that wants to invest in it he further explains that he has a potential patent but money is where he was falling short.
Mark didn't seem very happy with Jason's pitch. He states he has a million-dollar valuation with no sales that why he steps out. Lori states Jason has neither money nor strategy for the business. Mark advises him to let someone else run the business for him.
Lori Greiner says the product has not been tested out in the market and there are so many risks with the business so she steps out. Daymond John declares this as the worst pitch on the show and backs out. Jason leaves the stage with no deal in hand.
A second chance for Kymera Bodyboard:
In season 10 of the shark tank Jason appears again to ask for the same investment of $250,000 for 5% of the equity but this time Jason was selling his product to 7 rental marine shops. He was in-network with the rental business owner and was operating a business with 36 international distributors. Jason hopes for sharks to treat him nicer this time.
Jason Woods ended up receiving an investment of $500,000 for 10% of the equity from shark Robert Herjavec.
Company after shark tank:
After the failure of season 5, Jason Woods took mark Cubans advice and partnered with Adam Majewski who ran the day-to-day operations of the business.  They two did an agreement and made $350,000 for a year, while the season 10 episode was taping the company was projecting $20,000,000 by the end of the year.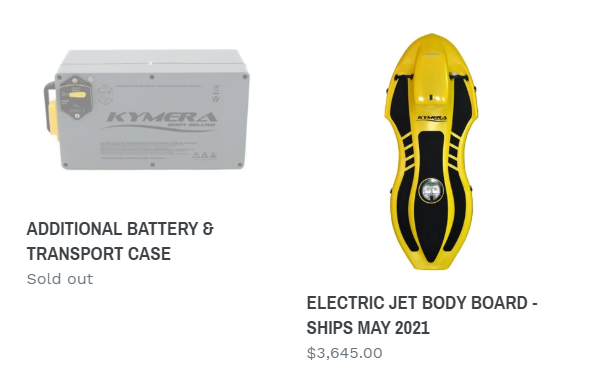 Investor's details:
During the pitch, Jason revealed that he has financed his business himself for 10 years by investing $130,000 from his pocket. Jason states that he ran an unsuccessful Kickstarter campaign as he could only raise $165.000 while his goal was $250,000.
In season 10 of the show, Jason received an investment of $500,000 for 10% of the equity from shark Robert Herjavec.
How do they make money?
The company is now selling the products through 7 marine shops and is shipping internationally. They sell their product on a rental basis, to the retailers, and through their website.
The company allows the retailers to register themselves with the company to sell the product. 
According to the company's website, they now sell four different models. The original bodyboard retails for $3,654, the personal watercraft which allows the user to use the board like a bike for $5,665. Kayak which works as a boat retails for $2995, and surfboard which is a surfboard with an electric motor retails for $4,995, once can also hire Kymera board on rent through the website for $500.
| | | | | |
| --- | --- | --- | --- | --- |
| Model | Body Board | Personal Warcraft | Kayak | Surfboard |
| Speed | 20 MPH | 35 MPH | 3 MPH | 25 MPH |
| Weight | 46 Lbs | 45lbs | 65lbs | 45lbs |
| Bettery | Upto 1-2 Hours Per Charge | 1 Hour | 20 Min | 1 Hour |
| Dimension | 81in×32in×12in | 84in×40in×26in | 96in×40in×18in | 96in×40in×10in |
| Price | $3,645 | $5,995 | $2,995 | $4,995 |

Fun facts:
Before appearing on the shoe Jason had already won an award for "Popular science invention of the year" in 2011.
Jason Woods built Kymera bodyboard for the sole reason of affordable watercrafts
Jason has come up with different models which were launched in 2020
Kymera is currently building robots that will feature in season 5 of Battle on Robots on Discovery.
Jason Wood had designed a rescue model that could be remotely controlled to bring no swimmers to safety.
Do Share Your Thoughts:
Do tell us all your thoughts in the comments section below, we look forward to reading all the comments in the section below.
Also, do check useful Startup Resources and Tools below and do join our newsletter 📰 for free for more interesting Business Case Studies 💰, Startup Insights 🚀, and Startup founders podcast 🎙️ delivered to your inbox every Sunday morning.
Do follow us:
Related Articles:
What is Kymera Body Board?
Kymera Bodyboard is a surfboard that runs on an electric motor. The board runs on batteries which can be changed easily.
Who founded Kymera Body Board?
Jason Wood was a resident of Napa who decided to make something affordable with Kymera so that people can enjoy water rides at cheaper prices.