Birddogs short is an e-commerce selling clothing shorts that comes with built-in underwear. In season 9 of the show, two best friends Chris Mason and Peter Baldwin appeared on the show offering 1.5% of the stakes for $250,000.
The clothing brand is known to be the douchiest most insensitive brand and many people have spoken about it. Their politically incorrect marketing strategy has won them some interesting market base of middle-aged men and frat boys.
Birddogs Shorts at a glance:
E-commerce clothing shorts that come with built-in underwear.
Founder: Peter Baldwin
Asked For $250,000 for 1.5% at a $16.6 million valuation on Shark Tank.
Received no deal.
Index:
Founders story:
Peter Baldwin found the company back in 2014 after he experienced how uncomfortable his pants were while traveling. Peter Baldwin had experience as an IBM sales executive and after this experience; he had decided he wanted to stop climbing the corporate life.
After quitting his job peter started focusing on creating a comfortable pair of shorts. After months he has successfully managed to create a comfy pair of shorts.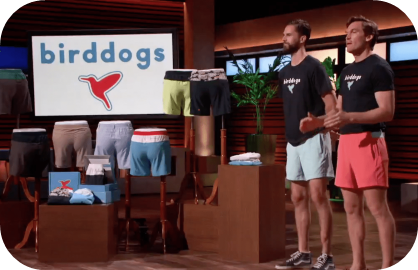 He started selling the shorts at the gym and it sold out his inventory. He then reinvested the profits to produce more shorts and started selling them online; eventually, it became a profitable business. The friends Peter and Chris appeared on season 9 of shark tank. Let's see how the pitch went for them.
Did Birddogs get a deal on Shark Tank?
Peter and Chris introduced themselves as the founder of Birddogs as they appeared on the show in bright-colored shorts. The duo surprised everyone as they revealed they were looking for an investment of $250,000 for 1.5% of the equity.
The duo demonstrated the product revealing that the gym shorts come with a built-in liner. Which makes the underwear obsolete. Peter explains they have combined the feeling of nudity with the functionality of the fanny pack. Chris states the fabric is incredibly soft and can be worn on a date that amuses Lori.
The duo hands out samples to everyone as everyone looks at the product amused Kevin states they just appear as any other gym shorts. To which Peter replies "they are much more than gym shorts, it the most comfortable shorts a man can wear".
Lori asks about the sales of the company to which they reveal they did $200,000 the first year of the company $2million the next and were targeting $6 million in 2018. She wonders how that is possible.
She further proceeds to ask the price of the product, she is told one pair of shorts Is sold at $55 and is produced at the cost of $18 which gives them 67% of the margin he further explains they only have to pay for their things shorts, shipping and marketing and explains they make $37 Per shorts.
Kevin is skeptical asks why the cost price so high is. The duo explains they have the best marketing team as they provide entertainment and jokes to the customers.
Mark Cuban interrupts them asking they are 20% to the marketing and if they are providing such good content and advertising is good they should spend less on marketing as it has potential to go viral.
Robert Herjevec asks if they have raised funds over the first years. Peter explained they have risen over $560,000 from their friends while their company was at $3 to 9 million. They further state they have managed to sell only 11% of the company and the biggest challenge is they do not have inventory one-third of the time.
Lori stated that they are unable to plan inventory ahead of time. Mark calls them out on the statement. Both Lori and mark step out of the deal.
Robert Herjevec speaks on behalf of the sharks saying they are "full of bs". The duo defends them by saying their numbers are too good to be true. This sparks an argument and upon asking why they have not been able to build an inventory peter states it's too much risk.
Robert stated their story is unclear to him he drops out. Daymond john further calls the founder out on the elitist attitude and steps out of the deal as well.
What Happened to BirdDog after Shark Tank?
The company experienced a surge in sales after the episode aired on the ABC network In 2018. The company continues to sell through its online stores.
The stores sell dozens of variety for gym shorts and have now introduced "dad hats" which is given free with the bord dog shorts. The gym shorts are sold for $95 on their website.
Recently, they have also introduced Pants with built-in underwear.
Peter had announced that their company was valued at $16.6 million in 2018 which amused the sharks. The company had seen great sales figures during the last two years as they made 200.000 in the first year that is 2016, 2 million in 2017, and were looking at $6 million in sales in 2018.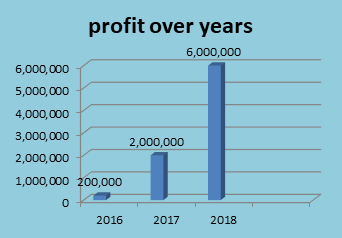 Investor details:
the Birddog company was founded by Peter Baldwin in 2015. Chad  Wilson the team in 2016 and secured an investment of $600,000.
During the pitch, peter revealed they have managed to sell 11% of the company and have had their friends invest $560,000 while their company was valued at $3 to 9 million.
How do they make money?
The founder had made it clear on the show that their company was an e-commerce brand. the company sells its products through its online store and amazon.
In 2020 according to their website, they have dozens of variations and sell at $99 for each pair. During the pitch, peter had revealed that a single pair of shorts cost them $18 to make which gives the 67% of the margin.
Do Share Your Thoughts:
Do tell us all your thoughts in the comments section below, we look forward to reading all the comments in the section below.
Also, do check useful Startup Resources and Tools below and do join our newsletter 📰 for free for more interesting Business Case Studies 💰, Startup Insights 🚀, and Startup founders podcast 🎙️ delivered to your inbox every Sunday morning.
Do follow us:
Related Articles:
FAQs:
What is Birddogs?
Bird Dog short is an e-commerce selling clothing shorts that comes with built-in underwear.
Who founded Birddogs?
Peter Baldwin found the company back in 2014 after he experienced how uncomfortable his pants were while traveling. Peter Baldwin had experience as an IBM sales executive before founding Birddogs.