Louis Vuitton Malletier also known as Louis Vuitton or by its initials LV is a French fashion house of luxury goods which is founded in 1854 by Louis Vuitton. The headquarters of Louis Vuitton is in Paris, France. Louis Vuitton is one of the world's top leading international fashion houses.
LV has a large variety of products in which the label's monogram appears on most of its products from luxury trunks and leather goods to ready-to-wear shoes, clothes, watches, jewelry, accessories, books, and sunglasses.
Louis Vuitton sells its products through lease departments in high-end departmental stores, standalone boutiques, and also through the e-commerce section of its website. Louis Vuitton also was named as the world's most valuable luxury brand for 6 consecutive years from 2006 to 2012. The company operates in 50 countries with more than 460 stores globally.
Also, don't forget to try our Android app which contains startup case studies and business book insights, verified business strategies, and no bullshit!!
Index:
How Louis Vuitton works?
Louis Vuitton doesn't do marketing but they just create products that are exceptional in their design and craftsmanship. Every bag made by Louis Vuitton is handmade and with the utmost care. And even though the company now operates on a very large scale, they still know how to maintain that small company feeling which justifies why it works so admirably. A customer can buy the products of Louis Vuitton either through its website or offline stores.
Business Model:
Key Partners:
Louis Vuitton announced a global partnership with the National Basketball Association (NBA) ahead of the NBA Paris 2020 Game on January 22nd, between the Charlotte Hornets and the Milwaukee Bucks on January 24th at the AccorHotels Arena.
Key Activities:
Louis Vuitton is an international brand and has stores in numerous countries. The key activities of Louis Vuitton are:
Keeping a fine balance between tradition and innovation.
Maintaining the image of "Ultimate Handmade Quality"
'Exclusive Series' make Louis Vuitton pieces more desirable.
Louis Vuitton products are designed and promoted by the Best Talent and therefore people have that zeal to buy the products.
Key Resources:
The main key resource of Louis Vuitton is its access to huge financial capital which actually helps the company in many ways. As the company has a sound financial position they are able to invest a huge amount in infrastructure and processes required for designing and manufacturing. And because of this, it also helped the company in acquiring many other luxury goods businesses and also helped them in global expansions. It also helped the company in aggressive marketing strategies globally.
Value propositions:
The value proposition of Louis Vuitton is the high level of craftsmanship that is put into the making of the products, and the luxurious quality of materials used in production. Louis Vuitton handbags value excellent quality, creativity, heritage, and craftsmanship. The value proposition of the products to the consumer is distinctly sturdiness, beauty, and class. Louis Vuitton takes care of his customers in every way possible.
LV bags are really strong as it goes through certain endurance tests before coming into the market and also they are made up of fire and waterproof material. Also, LV trademark its signature designs to maintain exclusivity.
Customer Relationship:
Louis Vuitton provides its customers with all services possible. The customer service they give to customers helped them in retaining their customers gave exclusivity and extensive loyalty programs. They give lifetime free repairs to its customers and a chance to be a member of an exclusive club. Louis Vuitton also customizes the products as per the choice of the customer.
Customer Segments:
Louis Vuitton's target market consists of individuals who have a higher income and higher propensity to purchase luxury goods. Its target market is both men and women aged between 22 to 65 years of age.
Channels:
Louis Vuitton sells its products through- standalone boutiques, high-end department stores, and e-commerce with its website. The company has successfully maintained its elite and first-class brand image while expanding to new distribution methods that can deviate from the traditional brick-and-mortar.
Cost Structure:
Louis Vuitton uses value-based pricing for its products. Since customers perceive the company's products as high-value products, the customers are willing to pay the amount, as customers' mindset is always that the higher the price the more good the product is.
But, Louis Vuitton actually pays special attention to the quality of the material, the designs, and the make of the products. The products which are unsold, the company burns them all as it ensures exclusivity, prevents theft, and avoids having to discount any items and by this, there will be always the desire in the mind of people.
Revenue Streams:
The revenue of Louis Vuitton in 2020 is €14 billion and the revenue of the company is increasing year by year.
Valuation, expenses, and revenue:
Louis Vuitton is the world's most luxurious brand with a brand value of $47.2 billion. It is one of the most profitable brands in the entire world with has profit margins north of 30%. The revenue of Louis Vuitton is increasing year by year with €14 billion as of 2020. Here, is the graph of Louis Vuitton's revenue: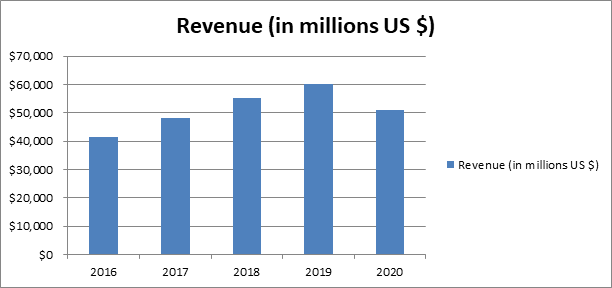 Competitor Analysis:
Chanel
Prada
Gucci
Christian Dior
SWOT Analysis:
Strength
A strong brand with global value.
Superior craftsmanship with exclusive products.
Consistently sound financial performance.
Offers customized products.
Weakness
Limited customer base because of high prices.
The business largely depends on the economic condition, if the economy is depressed; the sales growth slows down sharply.
Opportunities
Capture emerging markets.
Investing in digital capabilities.
Threats
Slowing economic growth as it results in slow sales.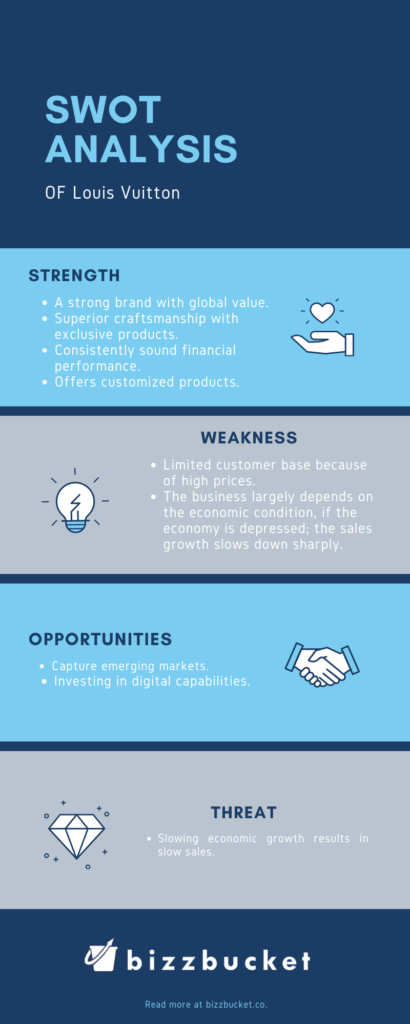 Do Share Your Thoughts:
Do tell us all your thoughts in the comments section below, we look forward to reading all the comments in the section below.
Also, don't forget to try our Android app 📱 which contains startup case studies and business book insights 📚 , verified business strategies, and no bullshit!!
Related Articles:
What is Louis Vuitton?
Louis Vuitton is a French fashion house of luxury goods which is founded in 1854 by Louis Vuitton. The headquarters of Louis Vuitton is in Paris, France.
Why Louis Vuitton is so expensive?
Louis Vuitton products are high-quality and go through several performance tests before entering into markets and they produce limited trademarked design products and never sell at discounted prices.