Square Inc. is an American financial service and digital payments company. The company was founded by Jack Dorsey and Jim McKelvey in February 2009 and launched its first platform in 2010. The company's headquarters are in San Francisco, California, U.S. The company serves in United States, Canada, Australia, Japan, and United Kingdom. The name of the company Square is derived from the company's square-shaped card readers.
The inspiration for the company Square occurred to Jack Dorsey in 2009 when Jim McKelvey was unable to complete a $2000 sale of his glass faucets and fittings because he could not accept credit cards. Square Inc. has been traded as a public company on New York Stock Exchange since November 2015 with the ticker symbol SQ. Square's market capitalization is valued at over US $100 billion as of 2020.

Index:
How Square works?
Once the buyer is ready to make a purchase, after that the seller inputs the transaction into the Square point-of-sale (POS) and presents the buyer with the amount owed to him.
The buyer pays for the transaction either by swiping their payment card or by tapping their NFC-enabled mobile device on the Square Reader or Square Stand, which records the buyer's account information.
The Square POS then sends the payment transaction information to Square that acts as the Payment Service Provider (PSP).
Square passes the payment transaction information to the Acquiring Processor through an internet connection, and for that Square pays a small fixed fee per transaction to the Acquiring Process.
With Square you can:
Sell online on the website, social media, book appointments.
Take payments through debit cards, take loans, transfer funds.
Connect with customers through messages, loyalty programs, etc.
Manage and pay teams, provide with payroll, timecards, etc.
Connect with third-party apps or build custom solutions.
Business Model:
Key Partners:
The partners of Square are Celtic Bank, another Utah-based industrial bank. The other partners are RED for offering the SQUA (RED) reader to fight aids, Jobvite for recruiting the best people, and Sumitomo Mitsui Card Cooperation.
Key Activities:
Square offers its financial services to many countries like United States, Canada, Australia, Japan, and United Kingdom. The key activities of Square are also rethinking buying and selling and also building hardware and software.
Key Resources:
Square's main resources are its human resources, which includes the employees of engineering background that design and develop its software and hardware and also the customer service employees that provide support. As a startup Square has relied heavily on funding from outside parties. The company also places a high priority on its intellectual property, with 493 filed patent applications and133 issued patents in the U.S. as of December 2015.
Value propositions:
Square offers seven primary value propositions; they are accessibility, price, convenience, customization, performance, risk reduction, and brand/status.
Accessibility: The company creates accessibility by enabling businesses of any size (small or big) to easily accept card payments but the service is particularly beneficial for small firms and one-man shops. Clients can accept Visa, Discover, American Express, and MasterCard payments, as well as Android Pay, Apple Pay, EMV chip cards. Square also allows the users to connect their existing service applications with its solution so they can sync price, item, and sales data.
Price: The company offers a pricing value proposition as it offers its magnetic stripe card readers to businesses for free. It charges for other readers but with low costs and it provides bulk purchase discounts. Square also charges a single, low rate of 2.75% per card transaction- compared to typical payment processors that charge multiple fees, such as authorization, chargeback, batch, PCI compliance, return, business card, international card, early termination fees, etc. The company also offers no long-term contracts, no set-up fees, and hidden fees which is a plus point for any user.
Convenience: The company offers convenience by making its offering easy to use as it only takes a few minutes for businesses to sign up and no credit checks are required. Clients can see how their business is doing across their geographical locations on their mobile phones through a Dashboard with a real-time reporting feature.
Customization: The company enables customization in which clients receive point-of-sale (POS) kits with guides that explain how to set up devices and software. The guides and kits are made by the industry sub-sector.
The company has demonstrated strong performance through tangible results as it claims that clients that use its customer engagement tools for a given customer visit witness a spending rate on the next visit that is 20% higher than normal.
Risk reduction: The company reduces risk by maintaining high satisfaction and security standards by offering free 30-day returns for hardware purchases and a one-year limited warranty for Square Readers.
The company has established a powerful brand due to these all factors.
Customer Relationship:
Square's customer relationship is primarily focused on the self-service nature. Clients utilize its products while having limited interaction with the employees. The company's website provides guides for the clients that explain what to do in detail and enable rapid set-up. The company also features a Support Center that includes articles, videos, and tips. The company is also available on the phone, e-mail, and other social media platforms. The company gives 24×7 supports for larger businesses.
Customer Segments:
Square has a mass-market business model with no differentiation between customer segments. The company's target market is all firms of all industries and sizes.
Channels:
Square's main channels to connect with the clients are its direct sales team and its website. The company promotes its offerings through its several social media accounts, search engine marketing, display advertising, TV and radio advertising, print media such as newspapers and magazines, direct mail campaigns, and trade shows and events.
Cost Structure:
Square has a cost-driven structure that aims to minimize expenses through significant automation and low-price value propositions. The company's biggest cost driver is the cost of revenue, transactions, software, and hardware costs. Other major drivers are mainly in the areas of product development, sales & marketing, and administration, all fixed costs.
Revenue Streams:
Square mainly generates its revenue through product revenues and transaction revenues. The revenue for the year 2020 is the US $9.49 billion which is almost double the revenue of 2019.
Valuation, expenses, and revenue:
Square was founded in 2009 and made the move to go public just six years later i.e. 2015. It priced its first IPO at $9 per share, which can say slightly short of its targeted range of between $11 and $13. Square raised $243 million at a valuation of around $2.9 billion. Now, let us revenue of several years for the company through the graph,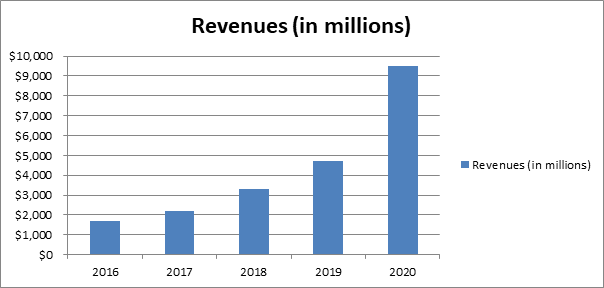 Investor's Details and funding:
Square has a total of 10 funding rounds with total funding amounted to $601.2 million. Square is funded by 44 investors like Philip Odegard, Cota Capital, Sapphire Ventures, CrunchFund, etc.
Square Alternatives:
There are many competitors of Square and some of them are:
PayPal
Chase Bank
Braintree
Shopify
Is Square profitable?
Square's gross profit climbed 45% year over year to $2.73 billion, as of 2020. Cash App generated $1.23 billion in the fiscal year 2020 gross profit, up 168% year over year. Cash App generated $4.57 billion of bitcoin revenue and $97 million of bitcoin gross profit for Square in the year 2020.

Do Share Your Thoughts:
Do tell us all your thoughts in the comments section below, we look forward to reading all the comments in the section below.
Also, do check the useful Startup Resources and Tools below, and do join our newsletter 📰 for free for more interesting Business Case Studies 💰, Startup Insights 🚀, and Startup founders podcast 🎙️ delivered to your inbox every Sunday morning.
Do follow us:
Related Articles:
What is Square?
Square is an American financial service and digital payments company. The company was founded by Jack Dorsey and Jim McKelvey in February 2009 and launched its first platform in 2010.
Who founded Square?
Square was founded by Jack Dorsey and Jim McKelvey in February 2009 and launched its first platform in 2010.