How incredible would it be if you can have a $12 steak dinner delivered to your home? Munchery could do it for you. They provided a gourmet meal experience at low prices while sitting at home. Besides being unique in their startup idea, why did they fail?
Also, don't forget to download our Android app which contains startup case studies and business book insights, verified business knowledge and concepts, and no bullshit!!
Founder Details
Tri Tran, Van Tran, and Conrad Chu founded Munchery in 2010. They wanted to transform meal delivery into a gourmet experience beyond just pizza or Chinese takeouts. So they came up with a unique business model, differentiating them from other food delivery companies.
Later James Beriker became the CEO, replacing the earlier co-founder Tri Tran.
Funding and Investor Details
Munchery was successful in raising $85 million through Series C funding reaching a valuation of $ 300 million. By 2017, the company raised a total of $125.4 million through venture capital fundings. It was known that about 20 investors have funded the company among which Greycroft, ACME ventures, Zipdragon ventures, and Menlo ventures were few.
Business Model
Their arrival completely reinvented the food delivery model. The model was not beneficial for the customers but also for the staff that worked with the company. The model opted by them was to make and deliver their own food rather than involving any other food outlets.
Chefs: To have a gourmet experience in every meal, they hired celebrity chefs who just didn't make healthy meals but also created delicious appetizers and desserts. Unlike the overworking and underpaying world of restaurants, chefs were given great salaries. Chefs were given revenue shares, i.e., some percentage of revenue depending on the sales of a particular dish. An added perk was personal recognition on the website and a regular 9-5 job, the same as office hours. This boosted the enthusiasm of chefs to work diligently with the company.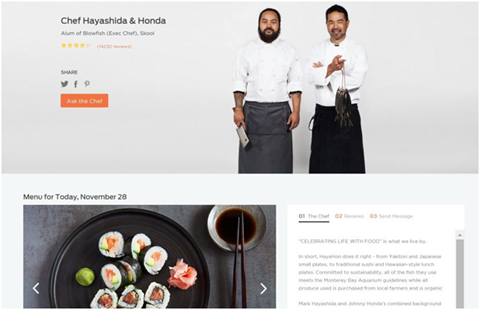 Food: They invested considerably in cooking technology. Instead of traditional restaurant spaces, food was prepared in centralized industrial kitchens in large quantities. Totally fresh and natural ingredients brought directly from local producers or farmers were used to prepare meals. A wide range of cuisines with daily rotating menus was provided. Prepared meals were chilled to preserve freshness and then delivered to customers. The customer simply had to reheat it in the microwave.
Delivery: Two types of services were offered- in-demand delivery and Schedule ahead delivery. Meals could be ordered a few days in advance in the schedule ahead delivery system. To achieve a better delivery experience they hired high-quality contracted delivery drivers who are carefully trained. Their delivery process was similar to FedEx by optimizing delivery routes, this ensured on time and satisfactory delivery for customers.
Feedback: Munchery had all its focus on customer satisfaction. They build a feedback feature on their site for users to rate the meals or post reviews about it. Users could even directly message chefs through the website to put reviews directly across the chef. Including such an efficient service didn't make it costly. Munchery stuck to high-quality experience at reasonable prices.
Revenue Model
Munchery had about 50 restaurant-quality offerings to provide an extensive product mix. Their entree ranged from $9-15 and $2-5 for desserts. Munchery also had a new membership program. The benefits of taking a membership were to lower the individual meal price by 20%. This means that for a $10 meal you would only pay $8. This membership program was free of cost for the first 30 days. The company's addressable market grew from 8 million to 23 million people after introducing such a program.
The company was strategic about reducing expenditure. They combined technology with the delivery model. They would batch orders in a schedule ahead model so that deliveries are done in one courier within a span of 1 hour. Hence making it possible to expand market reach from one single production facility to Manhattan, Brooklyn, Long Island City, Westchester, New Jersey, and Long Island. This would save a hefty sum of money on deliveries. Moreover, they didn't spend money to buy storefronts. Only 1% of the revenue was spent on renting or lease. The aim was to achieve a lower turnover rate and maximized creative production.
No matter how controlled the expenditure was, the company had desperate revenue needs by mid-2017. They were looking for new revenue sources by negotiating partnership deals. But as a hoped business couldn't grow as much. Major regional coffee chains walked away declining their partnership offer.
Competitor Analysis
A vast number of companies emerged providing delivery services, meal kits, and prepared foods. But most successful till today is UberEats, it emerged as a leading startup.
Uber Eats:
In 2014, Uber launched an online food ordering and delivery service known as Uber Eats based in San Francisco. Despite starting late, they emerged as successful startups becoming extremely popular in America. They focused on delivering food rather than making it. Customers had endless options to choose from various restaurants and easy lookup.
Blue Apron:
Blue Apron made cooking at home easily by the service of ingredients and recipe meal kit. American based company which provides fresh ingredients and detailed recipes for customers to prepare their own meals.
Hello Fresh:
Hello Fresh became the No.1 meal-kit company. Instead of providing a few meal box options, customers could choose for themselves. They even had an option for picky eaters to choose meals.
Plated:
Another ingredient and recipe meal kit company based in America. Founders Nick Taranto and Josh Hix participated in the show Shark Tank and were successful to crack a deal. The headquarters were based in New York.
Home-Chef:
Home-Chef services were very similar to Munchery. They offered the largest variety of meals to choose from. Besides food deliveries they also had meal-kit services to prepare home-cooked meals.
Failure Analysis
The company declared bankruptcy in 2019. Let's know the reasons for the abrupt shutdown but no so abrupt failure of the company:
It is very well said "You can't sail on two boats at the same time", you could either be a good delivery startup or a good food startup. You can't excel in both. On-demand food delivery is really tough in itself due to very low margins. A vast number of companies failed to generate profits from this business model.
To produce and deliver high-quality meals that include fresh ingredients, labor, and packaging have massive costs associated with it. Providing all these at reasonable rates to build a user base means to impede the profits and cut down gross margins. Hence the money raised was eventually burnt.
The company came up with a membership program to acquire new customers. This program was difficult to make it work. After taking a membership if the customer ordered enough times, then it was a loss to Munchery. They couldn't generate margins out of those meals. This plan was only profitable when customers took the membership plan and would order less.
Besides sacrificing their margins their models backfired. They were unable to neither retain customers nor attract new customers. The reason for this was a significant increase in well-financed companies who made their presence through social media platforms and aggressive promotions. It became very difficult to evolve as this business relies heavily on acquiring a new user base.
The business model was only sustainable in short-distance food delivery. To accommodate large distances delivery, the company expanded too aggressively. They set up new expensive kitchens in other parts of the country which put the company in a heavy debt troll.
The variety offered by companies like Uber Eats and DoorDash as they became a source to multiple restaurants was no match for Munchery. After the rise of competitors, the company couldn't find any ways to generate profit.
All these were paving the way to bankruptcy.
Possible Fixes
Being unique doesn't always mean good. In the plight of providing the best services, the company forgot to look out for itself. They wanted to create a fine dining experience at home with world-class meals but didn't think of expenses. It's almost impossible to generate revenue by being both a food producer and a deliverer. They started on the wrong path and continued doing the same. They came up with a great business model and revenue model that would lead to fewer expenses. But fewer expenses are not a guarantor of high profits. They should have started off by sailing in one boat; either by opting for food delivery or food making. Then slowly investing in promoting their services before bringing other features.
Customers always look for affordable prices and more variety in the least effort. Making good food and getting feedback is great but this won't retain users until you keep bringing new offers to them. They brought world-class chefs but failed to invest in promoting this in the market. Targeting the right audience at the right platform by highlighting the key features that make them different from others is a stepping stone to success. They should have tried shifting to other business models to make things work.
Do Share Your Thoughts
Do tell us all your thoughts in the comments section below, we look forward to reading all the comments in the section below.
Also, don't forget to download our Android app which contains startup case studies and business book insights, verified business concepts, and no bullshit!!
Related Articles:
What is Munchery?
Munchery provide a gourmet meal experience at low prices while sitting at home. Munchery wanted to transform meal delivery into a gourmet experience beyond just pizza or Chinese takeouts.
Who founded Munchery?
Tri Tran, Van Tran, and Conrad Chu founded Munchery in 2010. They wanted to transform meal delivery into a gourmet experience beyond just pizza or Chinese takeouts.