I am sure some of you are fans of bacon, how would you feel if you get the smell of bacon to wake you up?
The idea sounds great and became a reality too. All that one had to do was, to set the Wake n' Bacon alarm clock which is putting a strip of pre-cooked bacon in the pig-faced oven before hitting their bedtime. The process involved is, ten minutes before you're set to wake up, the clock would start reheating the bacon and the smell would wake you up.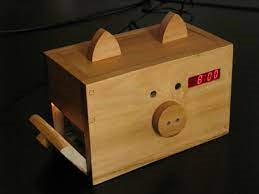 Wake N Bacon at a glance:
| | |
| --- | --- |
| EPISODE No. | Season 2 Episode 2 |
| Idea | Wake n' Bacon is an alarm clock, bacon maker. |
| Founder | Matty Sallin |
| ASKED FOR | $40,000 For 20% |
| ACCEPTED OFFER | No/None |
| SHARK | No Shark |
| BUSINESS STATUS | Out Of Business |
Index:
Founders Story:
For Sallin, when he was a recent college graduate, it all began while he was taking the introductory electronics class, he took a survey and asked fellow students what was the ideal way to be woken up in the morning would be. After surveying the thought and collecting data and analyzing them, he concluded that most people enjoyed waking up to the smell and taste of bacon. This leads the idea to be born, that Matty Sallin went home and designed an alarm clock that wakes you up with bacon.
Inside the alarm clock is a chamber that can hold up to 2 or 3 slices of precooked bacon. Once you've put in your slices of bacon, you would set the alarm like you usually would. In the morning, about 10 minutes before you want to be woken up, the Wake N Bacon alarm clock quietly turns on and begins to heat the bacon you have left inside. This way the bacon is nice and crispy and the aroma is strong enough that it will wake you up.
In March 2011, the inventor of Wake n' Bacon, Matty Sallin, pitched the product on Shark Tank and asked for a $40,000 investment for a 20% stake.
What Happened to Wake N Bacon After Shark Tank?
Sallin had pitched for $40,000 and while explaining the product, Kevin O'Leary had a serious concern what if the unit catches fire? For which Sallin states it needs to be deemed safe for home, which did not convince the sharks. Kevin went on to question the cost of 13$ per unit, how does he plan to mass-produce, and how many he would be able to sell? Unfortunately, Sallin was not aware of the actual sales figure.
With Robert, Kevin, and David out of the deal, the last shark left interested was Mark. When interrogates on the lowest production run costs is expected?  Sallin explains its 10K and per unit of $13 would be approximately 130K. Now, Mark is clear that with an investment of $40,000 when the actual need is $130,000 it's a problem – this can't happen. The last shark is also out, Sallin has to walk away from the Shark Tank without a deal.
The business did not thrive much post the shark tank show. There are a few who have enquired about potentially buying one but it did not turn into a real product. One of the key lessons learned was not to ask for investments too early in the cycle. The sharks have clear evaluation methods like is it established product, safe, orders secured in the recent past and in hand, patents to protect the individuality.
Matty has decided to move far away from being an entrepreneur, in any case, now currently working in User Experience (UX) at a financial technology firm.
Product Analysis:
The potential design of the new Wake N Bacon, which displays a toaster oven-type alarm clock that has ears and hooves that resemble a pig was a creative one. The costs at $13 and higher production overheads, on top of it with its risk on safety and no sales projections, did not see the future.
Is Wake N Bacon still in business?   
Unfortunately, Wake n Bacon didn't the business make it beyond their prototyping stages. It did not go any further than the prototype model. Wake n Bacon is Out of Business now.
Interesting facts:
Alarm Clock cooking Bacon near their bed.
Can hold up to 2-3 bacon pieces which are served nice and crispy.
Intelligent enough to make it crisp within 10 minutes of the alarm time.
Do Share Your Thoughts:
Do tell us all your thoughts in the comments section below, we look forward to reading all the comments in the section below.
Also, do check useful Startup Resources and Tools below and do join our newsletter 📰 for free for more interesting Business Case Studies 💰, Startup Insights 🚀, and Startup founders podcast 🎙️ delivered to your inbox every Sunday morning.
Do follow us:
Related Articles:
What is Wake n' Bacon?
Wake n' Bacon is an alarm clock, bacon maker.
Who founded Wake n' Bacon?
In March 2011, the inventor of Wake n' Bacon, Matty Sallin, pitched the product on Shark Tank and asked for a $40,000 investment for a 20% stake