Are you a fussy eater when it comes to your French fries and sauce? Well, this is the product for you!! Don't go by its size or shape but look at the fact that it is truly a novel idea!
By now you may be guessing what am I talking about? Well, it's a small sauce dipper clip that holds your sauce container in place created by none other than SAUCEMOTO, headed by Michael Koury, Tony Lahood, and William Moujaes and owned by a parent company Milkmen Design.
This is a novel idea and truly relatable because they realized the product from their own life experiences. Every day driving and eating at fast-food joints and the question arises where do I keep my sauce? Did you know 20% of Americans eat their meals in automobiles? Go ahead and buy your Sauce Dip Clip today!
Sauce Moto at a glance:
Small sauce dipper clip that holds your sauce container in-car.
Founder: Tony Lahood, William Moujaes, and Michael Koury
Asked For $45,000 for 15% at $300,000 valuation on Shark Tank.
Received $45,000 for 25% from Kevin O'Leary.
Currently in business.
Index:
Who is the owner of Saucemoto?
Don't go by my size read more to find out….The history may not be saucy but never the less here it goes. This idea of a sauce dipper clip all started in high school when the trio decided to put their heads together. The trio sat to eat French fries from their favorite fast-food joint and came up with this accessory due to the spillage created in the other's car.
Really this tiny business product may be small but this has made the business soar! Sizes can really be deceptive! The trio decided to put the product to production when they created milkmen their parent company.
At Milkmen, as a group of entrepreneurs, engineers, and designers they aim to make small accessories that make people's lives better. SAUCEMOTO has done just that!! The current range includes clips in different sizes and shapes namely Burger King, Chick Fill-A, MacDonald's, Dairy Queen, and many more to suit your needs.
How was the Saucemoto Shark Tank pitch?
When it comes to business you need a good investor but luck is not always by your side. The trio of Milkmen LLC approached the shark tank team with the proposal of their product being a car accessory a sauce dipper clip that could be attached to the air vent of the car. They even ended up showing a model to demonstrate the same to the Shark Tank team. Tony, William, and Michael enter seeking $45,000 for 15% of their business.
What Happened to Saucemoto After Shark Tank?
The trio claimed the days of Fries without sauce are over and handed out the samples and their story. Sharks were amused by the story but one of them questioned will it work?
Couple of Sharks opted for outpost questioning, but Kevin liked the idea and was clear that they have other ideas like tying up with fast-food chains and car manufacturers which will allow them to grow and expand in the future. Kevin O'Leary came with an offer of $45,000 for 25% which makes all four of them equal partners. The team accepted the offer immediately.
The Shark Tank reviews and blog triggered the required marketing boost to the company. SAUCEMOTO Dip Clip is featured in Amazon stores with a discounted price of $9.75 for two and $17.49 for four pieces to gain market share. The Sauce Lovers have been giving great reviews which now allows them to enjoy Fries/Nuggets that will never miss the sauce even in cars.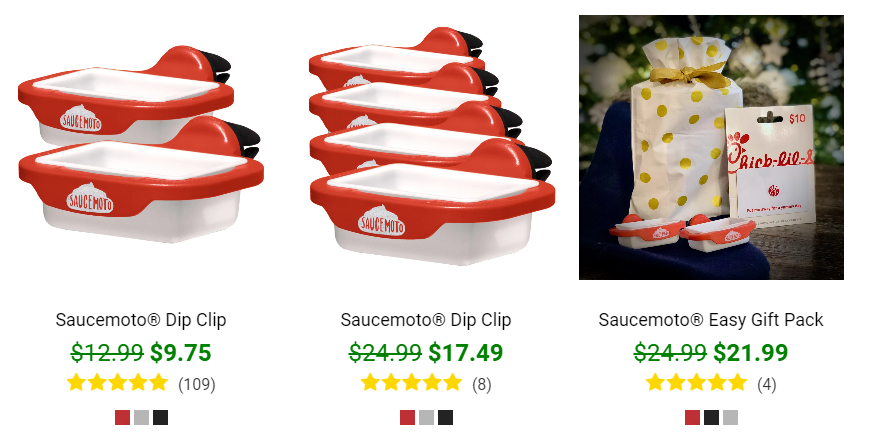 Investors in the company:
Kevin O'Leary is the Mr.Wonderful investor of Shark Tank invested in SAUCEMOTO.
1998 O'Leary's company Mindscape and Broderbund were the undisputed world leader in educational, reference, and home productivity software, and the world's second-largest consumer software company, with annual sales over $800 million, was sold to Mattel for $4.2 Billion.
Kevin's net worth is $400 Million.
A gamut of Investment choices from Kevin in Companies like Storage Now, Financial Group, and Co-Hosted Project Earth Television Series on Discovery Channel.
Revenue of Saucemoto:
Saucemoto just costs $0.80 for each unit to manufacture but is available for sale at $9.75 for 2 packs which is a whopping margin. Deal with Shark tank significantly benefitted the business as the products were being marketed and sold in bigger stores like Amazon now.
After Shark Tank Saucemoto has sold 12,000 units for $77,000. The product remains a favored brand as the entrepreneurs have created a series of clips that amount to 44 Million views in total. To bring this tiny innovation into a true business success story.
Their marketing ideas are a hit as they are also offering Coupons to get these Dip Clips cross-sold with products like Sauces, Dips, etc.
Net worth of Saucemoto:
At Shark Tank, they asked For $45,000 for 15% at $300,000 valuation on Shark Tank but received $45,000 for 25% from Kevin O'Leary at the valuation of $180,000.
Product Analysis:
The novel idea with a strong marketing sense created a niche for this product. In the past few months, some challengers have emerged. Like LUTER is offering in-car sauce holders. Some other companies are also offering similar products. However, not any of them has managed to affect Saucemoto's business.
Interesting Product Facts:
SAUCEMOTO brings the Sauce Dip Clip into the market. Saucemoto is a rectangular-shaped holder with a two-prong clip that fixes onto the air vent of any automobile.
The rectangular shape fits universally for ketchup and sauce dips of all brands and food chains.
The holder is made of industry-grade plastic and boasts a clean design that doesn't make your dashboard look all cluttered. Usage variants within the same dip clip are also feasible. (5 in 1 Aperture Model).

The engineered design of the dip clip doesn't obstruct the flow of air from the vents, either.
Is Saucemoto still in business?
The company is profitable and doing great business, with its innovative marketing strategies and attracting Fast-Food chains and Car Manufacturers on promotional offers to sell their products.
On Saucemoto's Amazon page results, one can witness the wide margin between this Shark Tank-featured in-car sauce holder and its competitors.SAUCEMOTO …with their handy Dip Clips, will never let your Fries or Nuggets remain dry.
Do Share Your Thoughts:
Do tell us all your thoughts in the comments section below, we look forward to reading all the comments in the section below.
Also, do check useful Startup Resources and Tools below and do join our newsletter 📰 for free for more interesting Business Case Studies 💰, Startup knowledge 🚀, and Startup founders podcast 🎙️ delivered to your inbox every Sunday morning.
Do follow us:
Related Articles:
FAQs:
What is Saucemoto?
Saucemoto is a small sauce dipper clip that holds your sauce container in place created by Michael Koury, Tony Lahood, and William Moujaes and owned by a parent company Milkmen Design.
Who founded Saucemoto?
SAUCEMOTO, headed by Michael Koury, Tony Lahood, and William Moujaes, and owned by a parent company Milkmen Design.