Are you struggling with hefty loads of luggage at the airport and do not know where to find an easier traveling solution? Here's a product for you the Ride-on Carry-on a stroller that helps you do the same. It is an easy foldable child's chair that gets attached to any luggage with ease eliminating the need for an additional stroller.
When the customer boards the plane, it is neatly foldable and stable in the above compartment for even more ease in travel.  
Ride-On Carry-On at a glance:
| | |
| --- | --- |
| EPISODE NO | Season 2 Episode 4 |
| BUSINESS IDEA | Fold Out Child Seat That Attaches To Luggage |
| FOUNDER | Randy And Darryl Lenz |
| ASKED FOR | $50,000 For 25% |
| ACCEPTED OFFER | $50,000 For 25% |
| SHARK | Barbara Corcoran |
| BUSINESS STATUS | In Business |
| WEBSITE | Ride-on Carry-on |
| BUY ON AMAZON | Buy Now! |
Index:
Who is the founder of Ride-on Carry-on?
The couple Randy and Darryl Lenze, having flight experience had stumbled across a common problem on the airport with passengers with children. They believe that carrying hefty luggage and taking care of a child can truly stress the parents out. That's how they devised a plan for stress-free travel.
They thought of this idea when Darryl had completed 27 years as a flight attendant.  The way to create the invention came to them when their son was two. The product is TSA compliant and is safely tested in Europe and America for the passengers to use.
Did Ride-on Carry-on get a deal on Shark Tank?
Randy and Darryl Lenze enter the tank with hefty luggage with a stroller a diaper bag and much more than they can handle. These items were brought to show the struggles families face in the airports. Finally, he demonstrates the Ride-on Carry on the stroller. The founders are seeking $50,000 for 25% of their company.
The sharks are convinced about the two important features namely the safety and viability of the product. They dive straight into the sales numbers. Next, the guest shark asks about what the couple is planning to do with the $50,000 investments in their business. Darryl says the money is needed to expand their sales in the retail scape by marketing the product there and renovating their website. 
The deals came after a while. The first shark to back out Jeff Foxworthy told them that he loved their enthusiasm and vigor but he was not into the business. The next shark to go out was Robert as he believed they should license the product and not sell it to retail. Barbara comes into the zone and puts an offer of $50,000 for 25% of the business.
She has big plans for the product ahead and helps them in the long run. Lastly, it's Kevin who has a counteroffer of $50,000 for 20% promising them of negotiating offers with large luggage companies in the country. Daymond says they have got a good deal from Kevin. The couple agrees to the offer made by Barbara and leaves Kevin complaining.  
What happened to Ride-on Carry-on after shark tank?
The deal made on the shark tank with Barbara did wonderous things for the couple and their company Ride-on Carry on. The day the deal was made the next day the website was revamped and it received an overwhelming response on the orders for the product. They made close to half a million dollars worth of sales after the show. They are now known for their product worldwide. They upgraded and redesigned the product as per their liking.
They come back to the shark tank after their first episode and show a container attached to an 18-wheeler filled with the product. Barbara has earned back the investment. The company now is known as Think King.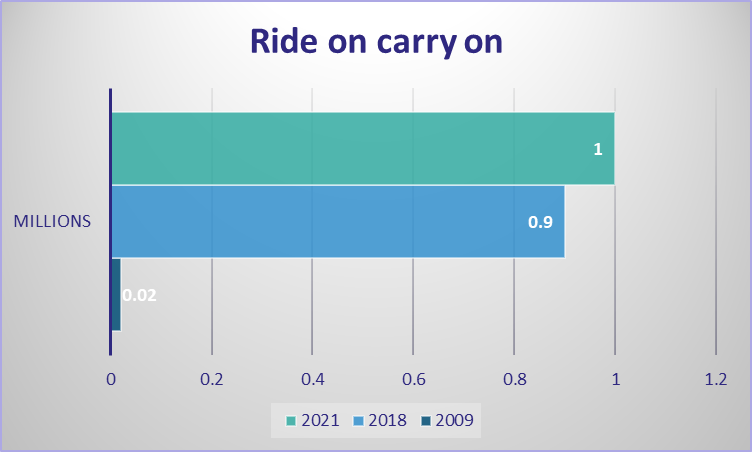 Revenue changed from $20,000  to $1 million in the years 2009 to 2021
The product is a foldable chair that has a headrest that easily converts into a table so that the child can use it as a play time-space or eat a snack or two while waiting. The headrest is used for children who are taller. Carries children of age 8months to 5 years.
They have sold $20,000 of the products and have 2000 orders waiting in queue for further delivery. The product is sold for 39.99 and costs $7 to make. They are selling in all major retail outlets in America. They have additional products like tote bags and stroller hooks.   
Competitor's analysis of Ride-on Carry-on:
Steve Madden
Chanel
Burberry
Nine west
Cole Haan
Prada and many more.
Interesting Facts about Ride-on Carry-on:
It is used to carry any child between the age of 8 months to 5 years.
The headrest converts into a table that can be used to play or to eat a snack for the kid.
Safely tested in the USA and Europe.
Fully TSA compliant. 
Is Ride-on Carry-on still in business?
The company started out small and couldn't see progress. After the shark tank deal, they changed their name to Think King and sold new products like tote bags and stroller hooks. Their website is not visible anymore. The Think king website is owned by another lady known as King-Yee-Man. The deal they made with Barbara helped them to sell $4 million worth of products.
Do Share Your Thoughts:
Do tell us all your thoughts in the comments section below, we look forward to reading all the comments in the section below.
Also, do check our Startup Resources section, and don't forget to join our weekly newsletter 📰 which contains pure startup and business wisdom and no bullshit!!
Do follow us:
Related Articles:
What is Ride on Carry on?
It is an easy foldable child's chair that gets attached to any luggage with ease eliminating the need for an additional stroller.
Who founded Ride on Carry on?
Randy and Darryl Lenze founded Ride-on Carry-on.
Did Ride on Carry on Get a deal on shark tank?
Ride on Carry on get a deal with Barbara on shark tank.