Aleesha Chottani and Faheem Kajee were both successful management consultants but suffers from a hectic life schedule due to the nature of their job.
Due to all this, Aleesha states they lead a stressful life. Aleesha and Faheem practiced meditation for years, But due to their job, they barely had time to do it.
In 2020, the couple came up with a drink that would make one feel at peace just like after doing meditation or taking a hot bath. The moment drink comes in three flavors i.e. Hibiscus Dragon Fruit, Tulsi Lemon, and Rooibos Blood Orange.
Moment Drink at a glance:
Drink that makes one feel at peace just like after meditation or a hot bath.
Founder: Aleesha Chottani and Faheem Kajee
Asked For $200,000 for 10% at a $2 million valuation on Shark Tank.
Received no deal.
Index:
Founders story:
The founder both worked as management consultants for almost ten years. This meant they would have to seat at hours-long meetings, the stress of deadlines, and conversations. The couple practiced meditation for years but their schedule was no longer allowing them to have that time.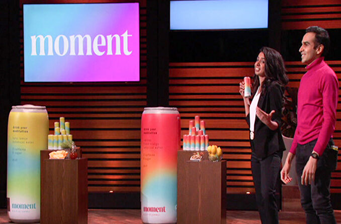 Aleesha and Faheem were familiar with the benefits of a botanical adaptogen. Adaptogens help produce the alpha brain waves which change your mindset and make you feel refreshed.
According to owners, they tried mixing thousands of ingredients in their kitchen to find the perfect recipe. These ingredients included a variety of herbs from various cultures and were backed by science.
They wanted to create a healthy drink that would create alpha brain waves and reduce stress.
How was their shark tank pitch?
Aleesha and Faheem the CEO and CFO appeared on season 12 of shark tank, they went there to seek an investment of $200,000 for 10% of the equity.
They had only launched their business two and half months ago before they appeared in front of sharks. The company had only made a $15,000 profit. Faheem stated they wanted to start the subscription business which would deliver moment drinks to people bi-weekly or monthly.
The shark liked the product and the design, but they weren't really happy with the business model. And eventually, all the sharks stepped out.
What Happened to Moment Drink after shark tank?
Moment Drink is still trying to work subscription business on their website. The company was hoping to make $1.5 million in sales last year.
They continued selling on its online platforms and won the beverage industry premier award for BevNET for New beverage showdown in 2020. Aleesha now hopes to enter the retail business after this achievement.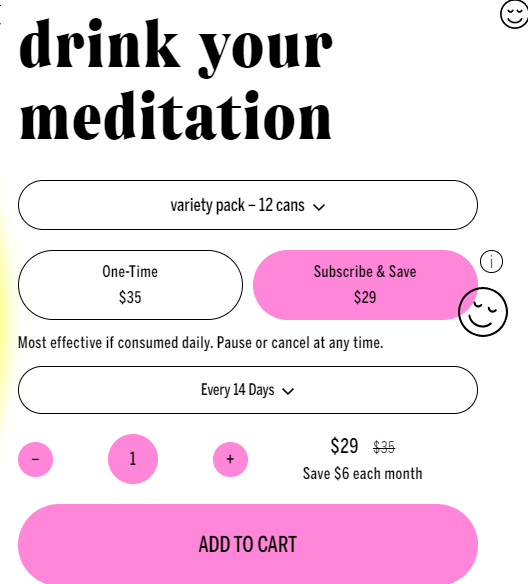 How do they make money?
The moment drink costs $0.90 to make and sells for $1.69 which also includes shipping charges. A batch of six can cost $21.
The moment drink is sold on the company's official website and amazon.
Competitor's details:
Although the moment drink is making growth in the beverage industry there are multiple competitions already available for the product.
Created by Eliza Ganesh who was dealing with auto-immune diseases and Jordan Sanchez. It is a bottle of sparkling tonic water. This helps one to reduce stress.
Celeste Perez had to be hospitalized multiple times due to heart palpitation. Perez was a certified holistic nutritionist who learned the way to use adaptogen, but they didn't taste as pleasing. She partnered with Adrienne Borlogan of wanderlust bakery based in L. A and created droplet and drink which would produce alpha waves in your brain.
Jen Batchelor who had a bad past with alcohol after leaving this habit behind decided to research people with the same problem. She wanted to keep the social ritual of drinking without compromising people's health. She and her partner Mathew Cauble and with herbal and neuropharmacologists they finally came up with the brand which would be cheaper than a patron.
Erika Henson a Finland-based herbalist when came to the US found out there was no alternative for people who didn't like alcohol and also didn't wanted anything surgery. So she made Suu Kuu hemp tonics.
Interesting facts:
Faheem traveled for years to find the perfect ingredients for the moment the ingredients come from different cultural backgrounds.
The drink had healthy benefits as it only has 9-15 calories in total and is keto-free.
The company website has mentioned they give a Zen guarantee means one gets promised benefits of mediation.
1% of the proceeds go towards helping children in school to learn about mindfulness.
Do Share Your Thoughts:
Do tell us all your thoughts in the comments section below, we look forward to reading all the comments in the section below.
Also, do check useful Startup Resources and Tools below and do join our newsletter 📰 for free for more interesting Business Case Studies 💰, Startup knowledge 🚀, and Startup founders podcast 🎙️ delivered to your inbox every Sunday morning.
Do follow us:
Related Articles:
FAQs:
What is Moment Drink?
Moment Drink makes one feel at peace just like after meditation or a hot bath. The moment drink comes in three flavors i.e. Hibiscus Dragon Fruit, Tulsi Lemon, and Rooibos Blood Orange.
Who founded Moment Drink?
Aleesha Chottani and Faheem Kajee were both successful management consultants due to their hectic schedule and love of meditation lead to Moment drinks.