"Are you tired of lugging around a heavy suitcase? Trunkster has got you covered! This Shark Tank product promises to revolutionize the way you travel, with its zipperless entry, built-in scale, and GPS tracking. But has Trunkster been able to scale up after striking a deal with the Sharks? Let's find out in this Shark Tank update."
Jesse Potash and Gaston Blanchett two revolutionary entrepreneurs appeared on the shark tank in 2014. They introduced their product Trunkster a modern suitcase.
The product impressed the sharks as they received $1.4 million for 5% of the equity which is the highest investment done on the show till that time. Trunkster is a smart suitcase bag that has a USB port to charge the device while traveling, a removable battery, and a GPS location tracker which helps you track your bag with the help of the Trunkster app.
The bag comes -in two designs "carry-on" and "checked" unlike the other bags Trunkster didn't have zips, it slid open like a garage door. Both the designs offered a quality product with GPS and USB ports.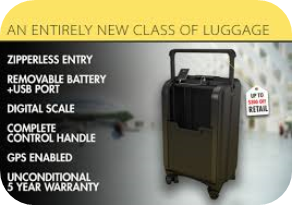 The company remained the highest-valued company to appear on the show with a $30 million valuation in 2015.
Trunkster at a glance:
A smart suitcase bag that has a USB port, GPS, charging station, and a digital scale.
Founder: Jesse Potash and Gaston Blanchet
Asked for $1.4 million for 5% at a $28 million valuation on Shark Tank.
Received $1.4 million for 5% to be repaid back from Mark Cuban and Lori Greiner.
Currently out of business.
Index:
Trunkster Founders story:
The Trunkster Company witnessed success quite from the beginning of the business. In 2014, Jesse Potash and Gaston Blanchet found the company.
In 2015, they introduced their product to the world with Kickstarter funding where they immediately made $50,000 by the end of the campaign they had raised $1.4 million by 7000 backers. They did so well on Kickstarter that people kept requesting pre-orders.
But Kickstarter had rules against it.to keep up with the order the duo decided to put their product on IndieGoGo for funding. With the help of these two campaigns, the company raised over 2.7 million in 2015 which would help them get their production started.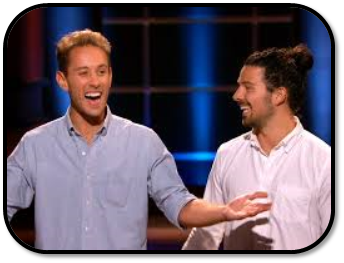 It was not a bad deal for people who started the business from a sketch on a napkin. With the product, they also won Shopify build a business competition in 2015. The next duo will be appearing on the shark tank to receive their next investment.
Did Trunkster get a deal on Shark Tank?
In season 7 of Shark Tank, two best friends, and partners Jesse and Gaston appeared on the show to seek an investment of $1.4 million for 5% of the stakes. Kevin O'Leary shook by this said they were out of their minds.
The presentation started with the duo demonstrating their product to the tank. They showed both their designs "carry-on" which is made for boarding on the plane as its lighter and "checkers" which are made for checking in. Sharks were impressed by the quality of the product as it was made from aircraft-grade aluminum.
The duo revealed that they have had funding from the crowdfunding campaign they already had 500 bags in production and were to be shipped in December 2016. Barbara wasn't sure about investing in the business as nobody had used the product.
Sharks were still confused about the 28 million valuations of the company. The partners had to convince the sharks they were truly worth 28 million. Potash explained they were expecting $9 million in sales in 2016 and $6 million in profit.
Cuban stated there were so many risks involved with pre-orders and asked if they were ready to carry on this big business.
 Barbara was concerned with the masculine design of the product so she stepped out of the investment. Robert Herjevec offers to invest $1.4 million for 30% of equity which would bring the valuation to 5-8 million.  O'Leary offers to partner with Robert which upon rejecting O'Leary makes his offer of $1.4 million for 37% of equity. Lori then offers $1.4 million for 15% of the investment while Cuban says he is open for negotiation.
The duo requests some time to discuss and come back with an offer for Mark Cuban and Lori of $1.4 million for 5% for each and if they don't pay the money back in 2 years their equity in the company would double to 10%.  Satisfied with the offer both Mark and Lori accepted it.
Trunkster net-worth and revenue:
The company had raised $2.4 million just with the pre-orders. They received a total of $2.8 million worth of crowdfunding campaigns.
On the website, the carry-on model retails for $495, and the checker model for $535. The bags are available for pre-order of the bad but according to many reviews many people still received their orders and many receive a poor-quality product.
Let's take a closer look at the profit of the company. There has been no news about the business since its shark tank appearance which has left thousands of backers disappointed.
What Happened to Trunkster After Shark Tank?
Trunkster was supposed to ship its product in January of 2016. But there hasn't been any news about the company. The people who pre-ordered the product still haven't received the product and those who did receive a really bad quality of the product. The company feedback section is filled with complaints.  Due to a lack of transparency and communication, many backers were left without their product.
The founder of the company Jesse has seems to have disappeared, and Gaston Blanket has started his company humanity.tv. the people are saying he should have addressed his previous business before starting a new project. The backers who pre-ordered the product are taking the action against the company and filing a lawsuit.
Trunkster Competitor's details:
Trunkster offered a slide open design that made them different from other smart luggage available on market. People understand that this was to reduce the hassle people feel when they have to use a zip or when it gets stuck in urgent situations.
There is multiple smart luggage available in the market that could give the company tough competition. The ban on smart luggage by airlines got into effect in 2019 which resulted in many companies shutting their business.
Samsonite remains the biggest competition for trunks as the company has to reach worldwide. The company provided many designs along with smart luggage. Samsonite produces from smart bags to small toiletries. Samsonite continues to sell its product on its website and on amazon.
Josh Udaskin who was so tired of the outdated luggage design and the quality entered the luggage business after his uncle helped him. According to josh Raden is more than just a container to keep your clothes it also has GPS sensors, weight sensors, and removable batteries that make travel less hassle.
Founded in 2013 by Isaac atlas fugu luggage is the first expandable bad-made. Named after the Fugu fish the bag has resizable walls which help one while boarding or checking in.
samsara is a carry-on bag made with fine-cut aluminum. The case bridges the gap between technology and travel. According to zoom info, the company had made revenue of $6 million in 2019 which gradually declined in 2020 to $2 million.
Do Share Your Thoughts:
Do tell us all your thoughts in the comments section below, we look forward to reading all the comments in the section below.
Also, don't forget to try our Android app 📱 which contains startup case studies and business book insights 📚 , verified business strategies, and no bullshit!!
Related Articles:
FAQs:
What is Trunkster?
Trunkster is a smart suitcase bag that has a USB port to charge the device while traveling, a removable battery, and a GPS location tracker which helps you track your bag with the help of the Trunkster app.
Who founded Trunkster?
Jesse Potash and Gaston Blanchett two revolutionary entrepreneurs appeared on the shark tank in 2014. They introduced their product Trunkster a modern suitcase.