In the past, one had to do processing of the negatives in order to get to the final photo. This has changed and modern technologies have come into place. Lumi brings a unique proposition of individual solar-based printing which was a completely innovative idea in the market.
Lumi product presents a unique method of printing custom designs on fabrics, t-shirts, and textiles using only the power of the sun.
Quite an easy process withholding a Template over the item in sunlight it would transfer its design over to a textile, t-shirt, or other product.
Lumi is an invention of Jesse Genet. She has been operating as a Startup for over 3 years on this innovative idea before she could present it to the sharks.
Lumi at a glance:
| | |
| --- | --- |
| EPISODE NO | Season 6 Episode 19 |
| PITCH | Online Print (Light) and Packaging |
| ENTREPRENEUR | Jesse Genet |
| ASKED FOR | $250,000 For 5% |
| DEAL | No Deal |
| SHARK | No Shark |
| STATUS | In Business |
| WEBSITE | Lumi |
Lumi
Index:
Who founded Lumi?
Jesse had an entrepreneurial spirit even in her teens as she had started selling t-shirts from the age of 16. Jesse grew by selling t-shirts to boutiques in her college days.
Jesse was a student of Art Center College of Design in Pasadena and met Stephan Ango her business partner while they started exploring the "Lumi process" in their own laundry room.
The duo needed funds to continue with their research in 2010 sought Kickstarter funding and luckily raised $13,597. Lumi can be used on all kinds of things using the Lumi process, on furniture fabrics but their final goal was to sell a kit that allowed people the use their Inkodye (inks) to develop their own genuine art on their t-shirts or furniture.
Later in July, their second Kickstarter campaign was a bumper success in raising $268,437 on a $50,000 goal!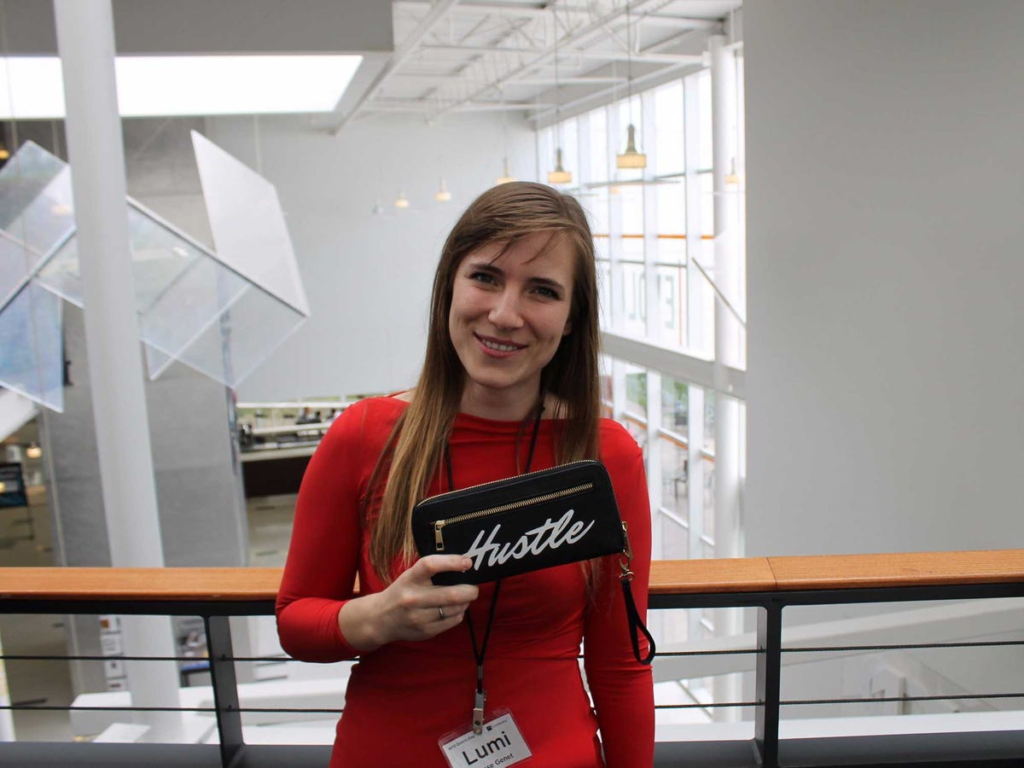 The duo got a big leap by engaging Puma in "creative factory workshops" to develop the concept across Europe, Asia, and the Middle East. Already sold over 30,000 kits and with their product on renowned outlets like Urban Outfitters, Michael's, and JoAnn Fabrics was a cool business ride.
The idea of Lumi Features brought like-minded communities to share their designs on YouTube. Went on to develop an app to present your mock designs, place supplies orders, and access the guides to learn also.
In 2014, Lumi moved into Los Angeles into a sprawling 12,000 sq ft factory before they could seek Shark Tank support. Will Lumi be able to Ink the Deal?
Did Lumi get a deal on Shark Tank?
Jesse Genet pitches for an investment of $250,000 for 5% on the shark tank episode. Jesse patiently explains the Lumi process and explains the do-it-yourself aspect of how to make the print on the t-shirt is what makes it cool. With $1 million in sales, they made good profits but had been re-investing into the business.
Currently available online and in big box craft outlets. Kevin questions the evaluation as the plan was to double the sales next year which was not easy. Mark was not interested in the DYI business and Barbara is also out. Lori is interested to put an offer but Mr. Wonderful wants to go first.
Kevin proposes $250K for 50% stake or $250K on an 8.5% interest loan with 12.5% equity. Jesse knew she could take a loan but was looking for an investment and not a loan. Robert and Lori make a counteroffer of $250K for 5% plus a $100K loan for a 2% equity.
Kevin, Robert, and Lori deal with equity and loan deals. Jesse didn't want to give equity for a loan as she had the credibility to get her own loan. Unfortunately, there was NO DEAL.
What Happened to Lumi after Shark Tank?
The Shark Tank community does product updates and follow-ups on the erstwhile entrepreneurs. The duo refocused on their business to package it for brands and worked with certain Shark Tank companies like Bombas.
Currently, in 2021, the company is flourishing in its business and growing with leaps and bounds and reaching multi-millions ($2.5 Mio) in annual revenue.
In spite of No Deal in Shark Tank, Jesse had the patience and knew that to grow your own business one should grow with patience. She consistently started seeking funds and finally applied for Y Combinator a well-known startup incubator in Silicon Valley.
Post three months into this venture has been able to increase its product line, revamped its website, and managed to reach a bumper $2.5 million sales with sales from 50 states and 25 countries across the world.
Lumi Product Analysis:
Jesse and Stephen have spent a considerable amount of research on their product to come up with innovative products. Jesse Lumi's story is explained in this video –
The product offers independence and ease as a DIY kit to print your own canvas pouch using items in-house and just the sunlight. Inkodye is an innovative water-based dye that brings life magically in sunlight as it develops the picture once dried.
One can get beautiful prints and even personalize your home and wardrobe. The best part is everyone can use the kit and access their online video workshop with Jesse Genet, Lumi Founder for free.
DIRECTIONS:
Spread the Inkodye packet onto the canvas pouch.
Remove the excess ink using the paper towel.
Place flat objects on the textile or fabric piece to make your own pattern.
Sunlight exposure of 10-20 minutes and magically the color appears on the object.
To remove the unexposed dye use Inkowash with machine wash.
Do remember to double your exposure in gloomy weather conditions.
How much is Lumi worth?
At the time of the shark tank appearance, Lumi was valued at around $5 million. Also, in 2021 they have peaked their revenue at around $2.5 million.
Lumi Competitors:
Jacquard Cyanotype provides Photographic blueprints similarly on fabric and paper.
Interesting Facts about Lumi:
Typical Lumi Kit comprises of:

1 Inkodye – Orange snap sack.
1 Inkodye – Magenta snap pack.
1 Inkowash – snap pack.
Canvas pouch (8×4″ inches)
Acrylic Overlay and Instructions

Inkodye is an innovative way to print t-shirts and fabrics whereby color develops when exposed to sunlight or UV binds with the fabric permanently.
Did you know that Inkodye – can be rolled using a brush, dipped in it, stenciled, stamped, or even screen printed?
Inkodye binds permanently to natural fabric like cotton, rayon, linen, and canvas.
Is Lumi profitable?
Lumi is now a highly successful business venture which caters to large brands, business includes individual consumers. While the Shark Tank deal did not go through due to a lack of cash flows, the major investment group Y Combinator has seeded the startup LUMI to give the right momentum.
Is Lumi from shark tank still in business?
Lumi has now grown into a printing and design business destined to connect textile and product printers to companies that can expand their services and provide a transparent supply chain to get their own ideas printed at ease with just a bit of sunlight. Lumi is now worth multiple millions of dollars and proudly boasts great clients under its banner.
Do Share Your Thoughts:
Do tell us all your thoughts in the comments section below, we look forward to reading all the comments in the section below.
Also, do check our Startup Resources section, and don't forget to join our weekly newsletter 📰 which contains pure startup and business wisdom and no bullshit!!
Related Articles:
What is Lumi?
Lumi brings a unique proposition of individual solar-based printing which was a completely innovative idea in the market.
Who founded Lumi?
Jesse was a student of Art Center College of Design in Pasadena and met Stephan Ango her business partner while they started exploring the "Lumi process" in their own laundry room.