For years people used bulky clothing such as sweaters to protect themselves from extreme cold weather and if the clothes accidentally got wet then everything was back to being cold again and could result in extreme sickness.
Dale Lewis had the solution for this situation nobody had thought of. Dale Lewis appeared on season 11 episode 10 of the Shark Tank.
He introduces his product which would protect one from extreme cold conditions even when the clothes get wet. The Fortress clothing line offers gloves, pants, jackets, base wears, and socks.
All these clothes are comfortable to be worn at a temperature range from -5⁰ F to 70⁰ F.
Fortress Clothing at a glance:
Clothing to be worn at an extreme temperature range from -5⁰ F to 70⁰ F.
Founder: Dale Lewis
Asked For $600,000 for 15% at a $4 million valuation on Shark Tank.
Received no deal.
Currently in business.
Index:
Founder's story:
Before starting his company Fortress Clothing Dale Lewis owned a telecommunication company that was sold at $33 million. This helped him, retiree, at the age of 40. Dale states that technology like fortress couldn't be ignored and he dived into the business.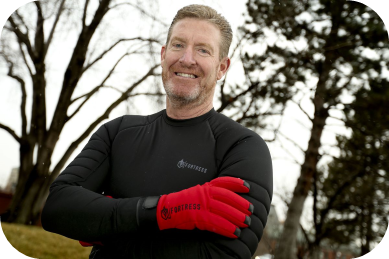 He launched his company fortress clothing in the year 2012. Since then they found their customers to me the workers who have to work in extreme condition. They were mainly Paragliders, oil industry workers, miners.
Dale raised over $46,264 with a Kickstarter campaign in 2017. In the same year, he pitched the company to CNBC's adventure capitalist back in November 2017. The real business behind the fortress is the licensing of the clothes. A company called Thick Skin tried to sell the blanket with the same technology on Kickstarter. Lewis simply wanted to license his technology with the help of the sharks.
The Shark Tank pitch:
Dale Lewis appeared on a Shark Tank seeking an investment of $600,000 for 15% of the stakes. To demonstrate his product he asked one of the sharks to volunteer and enter into a cryogenic tank that could bring the temperature down to -112 degrees. Shark Robert Herjevec volunteered to go into the tank and when he came out he said that he felt fine as the clothes kept him warm.
He explains the problem is the cold weather clothes make the wearer warm and the heat makes them sweat ultimately making the clothes wet and once the clothes get wet that's where everything starts going wrong. Dale says to overcome this problem they have created proprietary insulation.
He further shows a video of a person falling in ice water and once he comes out he gets warm in the next 45 seconds. Claiming the fortress clothing made him warm. The owner further explains the product is made for people working in the oil industry that has to do their jobs in extreme conditions.
Upon asking about the sales dale informed the company had made only $3,500,000 in sales since 2012 which is not a great number. This is a reason why Lewis has had a problem licensing the product as the companies had problems with the product's "market validation".
Barbara states that since the secret formula for fortress clothing is the base layer they should focus on making it. Lewis lets her know that base is not enough as it would not stop the wind. Barbara still suggests they should stop making all the other products and should have made the base and called fortress underwear. Barbara steps out of the deal as she states that.
Next is Lori as she states she doesn't understand how she could be of help and sees it as a risky product. Kevin O'Leary states he doesn't see a strategy and $600,000 is a risky investment in such a condition. Robert Hervajec steps out saying the product is too confusing for him. Mark Cuban is next stating the new technology needs a clear message and fortress clothing hasn't ever started spreading awareness and is out of the deal.
Dale Lewis walks out of the stage without the deal. Later dale admitted that it shocked him that he couldn't get any deal from the sharks.
Company after Shark Tank:
The company makes a profit as this year they generated $5 million in revenue. The company claims to have the product for tasks as simple as a dog walking and for the air force officers in extreme weather too.
The products from fortress clothing range from $129 to $299 on their website and amazon.
Dale Lewis expressed that he was rather "shocked" that he didn't get the deal. He states that this isn't the only deal that he failed to make and he wouldn't let this bring him down.
The company is still in business and since the Shark Tank episode aired they introduce the fortress socks which will keep you warm even if they get wet.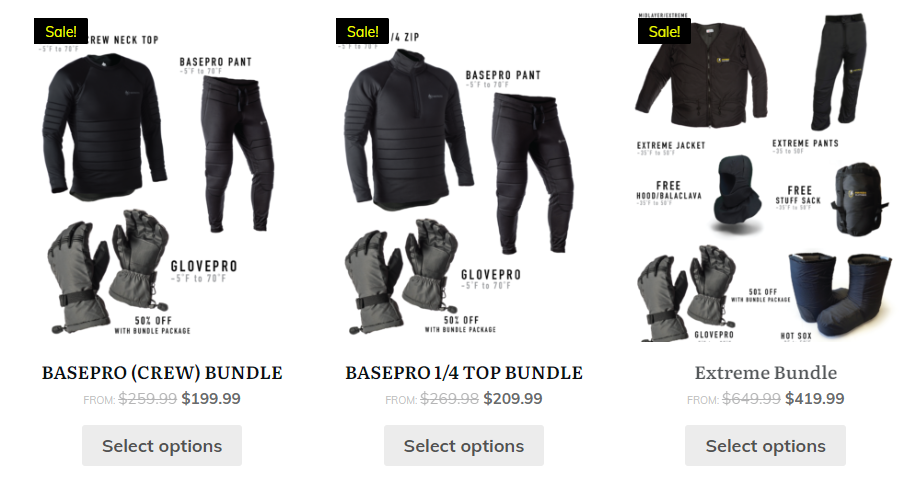 Fortress currently sells Bundles, tops, bottoms, gloves, and several accessories.
Investor's details:
Dale Lewis appeared on the show seeking an investment of $600,000 for 15% of the investment. Sadly he didn't get the deal from any of the sharks. Lewis states it isn't the first time he has had unsuccessful pitches and he doesn't let it demotivate him.
In 2012 Lewis ran a successful Kickstarter campaign which helped him raise $46.264 to get his company started.
Company valuation and revenue:
In 2019 while on Shark Tank Lewis announced his company to be valued at $4 million.
The company had only made sales worth $35 million since its inception. The company has made revenue of $5 million this year and is still in business.
Do Share Your Thoughts:
Do tell us all your thoughts in the comments section below, we look forward to reading all the comments in the section below.
Also, do check useful Startup Resources and Tools below and do join our newsletter 📰 for free for more interesting Business Case Studies 💰, Startup Insights 🚀, and Startup founders podcast 🎙️ delivered to your inbox every Sunday morning.
Do follow us:
Related Articles:
FAQs:
What is Fortress Clothing?
The fortress clothing line offers gloves, pants, jackets, base wears, and socks. All these clothes are comfortable to be worn at a temperature range from -5⁰ F to 70⁰ F.
Who founded Fortress Clothing?
Fortress Clothing was founded by Dale Lewis who owned a telecommunication company that was sold at $33 million.