This application is with the acronym Cate which is meant for Call and Text Eraser.
The Cate App allows mobile phone users to hide the texts and calls on their devices and this can be managed by maintaining the names and numbers that one wants to be kept hidden in this privacy app.
It's quite a coincidence you are not caught until you are proven guilty. However, if your partner finds out your message which was not anticipated it does relationship issues. This app is just a software application to avoid such incidents. 
Cate App at a glance:
| | |
| --- | --- |
| PRODUCT | Allows you to hide text & Voice messages from your partner |
| FOUNDER | Neal Desai |
| Investment PITCH | $50,000 For 5% |
| DEAL | $70,000 For 35% |
| SHARK | Kevin O'Leary And Daymond John |
| STATUS | Out Of Business |
| WEBSITE | Cate App |
Index:
Founders Story:
The origination of the Cate App was initially the ideation of Phil Immler a Law Enforcement officer at West Palm Beach. The purpose of this application was sole to reduce domestic violence and relationship issues. Phil is in the police force had witnessed a large number of domestic disputes because one spouse had read another's texts or seen their call history.
The intention was to reduce the instances of domestic violence under such circumstances. But Immler couldn't find enough support and time to work on his invention. Hence, Immler decided to sell Cate App to Neal Desai for $17,500 dollars.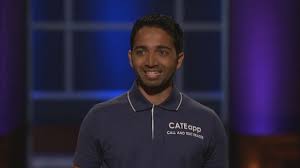 Neal did manage to get his funds primarily from trading Pokémon cards online. Neal Desai, the final owner partner with his sister to purchase the Cate app from Immler on a popular site Flippa known for buying and selling websites. Neal also acquired over 10,000 subscribers after the deal.
Definitely, it would take some bold moves for someone like Neal and his sheer determination to get the privacy app on Shark Tank to get his most needed investment.
CATE app SHARK TANK PITCH:
Neal Desai came into the Shark Tank episode seeking an investment of $50k for a 5% equity stake of Cate App. He started off with a bang, we have known someone who has been cheated or cheated themselves or guilty of cheating.
Neal demo's a video of a couple lying in their bed and the guy gets a text and the woman wants to know the same so takes the phone and reads the message. It's  "Jenny from work" texting and accusing the guy of cheating. He denies but she slaps and the video ends. All Sharks laugh it, and when questioned by Barbara and Kevin, Neal was nervous but explained that the app helps prevent fights like this from occurring by keeping those conversations more private.
The demo shows how the app looks like with options like Stealth Mode, Quick Clean. Neal shows that one can input contacts and flag them to be kept as a secret. If one of such calls is received app keeps them hidden and stores it. Surprisingly if the jealous partner looks at the phone they cannot see anything. Guess if Tiger Woods had this CATE app, he might have still been married exclaims Neal.
Neal brings another strong statistic that "80% of marriages comprise at least one cheating partner". Robert tells Neil to shut up but Neal claims it's true and completes with a tag line "If love is blind, we keep it that way."
The Sharks do state it's a cheater app and Daymond questions Neal why he decided to develop this as he was not of that type. He clarifies he did not develop but paid $17,500 for this app to procure it. The app is completely developed and were available now on both Android and Blackberry platforms.
Kevin proposes an offer to Neal of $50,000 for 50% of the business. Neal reviews around and asks he would like to hear from others too.
Robert and Daymond were out by now. Barbara was interested in the idea and sees wider use. It can do better just as a privacy app for usage for investigative purposes. Barbara is ready to CATE app at $50,000 for 30% with a caveat to allow re-branding it is a privacy app.
Daymond and Kevin offer another proposal of $75,000 for 35%, Barbara offers $60,000 at 35%. Neal counters all three at 15%. With a few tough negotiations, Neal accepts Kevin and Daymond's offer of $70,000 at 35% by shaking hands. Barbara was not happy with this move.
What Happened TO CATE App After Shark Tank?
What happened after the episode, CATE App got 10,000 new downloads, and guess new customers were mostly women? Neal was able to persuade the CATE app for the government, law enforcement markets too. However, the company has not been able to go beyond. There is no news and the website is down for CATE App.
CATE app has about 10,000 customers out of which 4,000 free customers and 5,500 paid ones. Neal also explained the pricing model CATE app retails at Android and iPhone for $4.99 and Blackberry at $9.99 on their respective websites. Neal had made revenues of around $5,500. Since 2013 the company is out of business.
CATE App net worth:
At the time of the shark tank appearance, the CATE app was valued at around $200,000. Although since 2013 it is out of business.
Investors in the company:
Kevin O Leary is known as "Mr.Wonderful" as a Canadian business and has a net worth of $400 Million. Daymond John is the founder of FUBU and Shark tank and has a net worth of $350 million.
Competitor's analysis:
Other apps in similar businesses are Vaulty Stocks,  Tiger Text, Sly Dial, Invisible text, and Black SMS.
Product Analysis:
CATE App is a privacy app that allows hiding texts and voice messages. Calles as Call and Text Eraser. The product is a software app and can be downloaded for $4.99 on Android and iPhones and $9.99 for Blackberry Phones. It comes with various features like Stealth mode, Quick clean operations.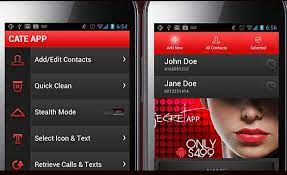 Is the company still in business?
CATE App is currently Out of business. Post-2013, there is no news of the CATE App and their website is also down.  
Do Share Your Thoughts:
Do tell us all your thoughts in the comments section below, we look forward to reading all the comments in the section below.
Also, do check our Startup Resources section, and don't forget to join our weekly newsletter 📰 which contains pure startup and business wisdom and no bullshit!!
Related Articles:
What is Cate App?
Cate App allows mobile phone users to hide the texts and calls on their devices and this can be managed by maintaining the names and numbers that one wants to be kept hidden in this privacy app.
Who founded Cate App?
Cate App was initially ideation of Phil Immler a Law Enforcement officer at West Palm Beach. Later acquired by Neal Desai and pitched at Shark Tank.