The Lafz app is all you need if you want to hone and flaunt your learning of Urdu Poetry. The app has many features to help you float easily through the refined art of Shayaris. The app lets you navigate through couplets on the basis of your liking among many categories.
The app is well-equipped with all the essential features to make your journey of learning and refining Urdu Poetry easy. With Lafz App, we are trying to capture the beauty of the Urdu language.
Index:
Features of the app:
Urdu Shayari Editor:
With our inbuilt editor, you can create any number of images with Urdu Shayari and poetry of your choice and save them locally on your device. You can create any image in 3 simple steps:
Choose Shayri or poetry you want to share, and select anyone from the categories section or Poets section.
Select the background you want for your final image.
Choose the color and size for your text as per your choice and finally click on save to download.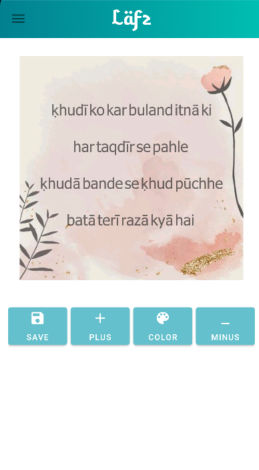 Image Status Collection:
If you want to flaunt your love for Urdu poetry to your family and friends, our app can be of help to you. From the plethora of choices, you can choose your favorite couplet and accompany it with your choice of background and then share it wherever you want.
There is an array of poets that you can choose from, from Allama Iqbal to Mirza Ghalib, from Faiz Ahmad Faiz to Ahmad Faraz.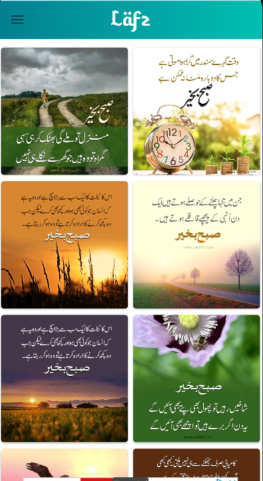 Read:
Do the vastness of the sea of Urdu poetry intimidates you too? Then you need not worry as on our app, we have compiled the best of the poetry of more than 20 poets. Here you can get acquainted with the very best of Urdu poetry without having to muddle in the endless options generally available on the net.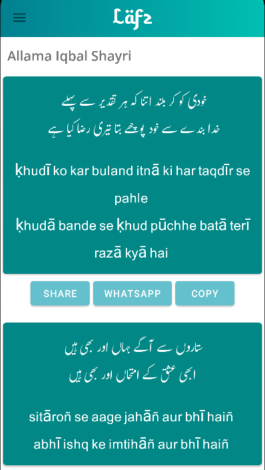 Categories:
The couplets are categorized in many categories so that you can directly go to your favorite one and enjoy the bliss of reading poetry. This comes in handy as well when you want to share it with someone else or want to put it up as a status. Now you can wish for birthdays, and talk about your feelings in an elegant and cultural way without having to exhaust yourself by searching about it on the net.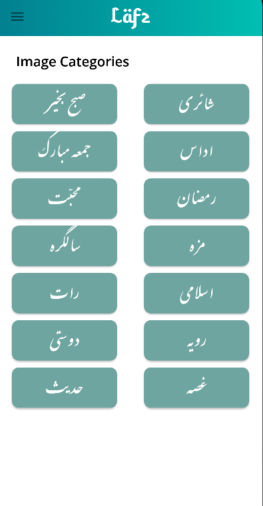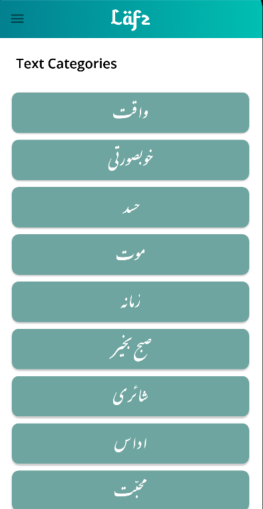 Authors:
There are many authors to choose from. More than 20 eminent authors of Urdu are listed on the app. Authors from the early era of Urdu to the very recent ones, you can find all in one place on our app.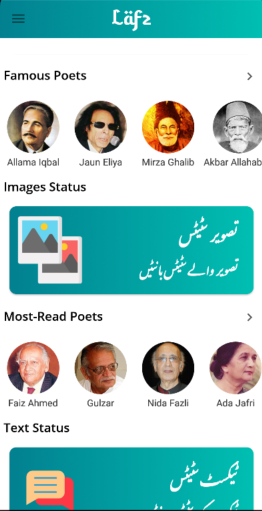 Why this app?
Our app has simplified the complex task of learning Urdu Poetry. Classification based on different topics and authors has made it easy to navigate through the overwhelmingly large sea of Urdu poetry.
On our app, you can not only learn but also flaunt your learning by sharing on WhatsApp status or anywhere in general. It lets you choose the background and font as well and you can download and save any Shayari, poetry, etc, and share it anywhere.
Download here.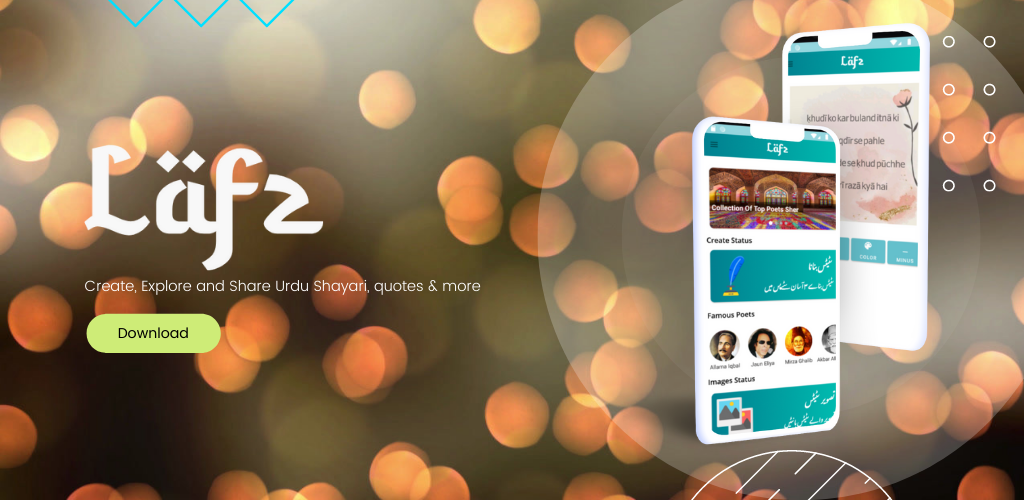 Do Share Your Thoughts:
Do tell us all your thoughts in the comments section below, we look forward to reading all the comments in the section below.
FAQs:
Who is the father of Urdu poetry?
Amir Khusro is known as the father of Urdu Poetry.
Who are famous Urdu poets?
Some of the most famous names among Urdu poets are Allama Iqbal, Rumi, Faiz Ahmad, Jaun Eliya, Mir Taqi, Ahmad Faraz, Bashir Badr, Firaq Gorakhpuri, Ameer Minai, Ada Jafri, and many others.